ERCB (previously EUB, soon to be AER), Alberta energy regulator, trots out fracking regulations, Directive includes bulletin issued after January well blowout by Dan Healing, December 6, 2012, Calgary Herald
The directive is designed to update Energy Resources Conservation Board regulations covering hydraulic fracturing, said spokeswoman Cara Tobin. "It would also replace Directive 27, which is related to shallow hydraulic fracturing operations, more related to coal bed methane operations," she added. The new regulations are designed to clarify rules surrounding communication from a "fracked" well to other wells — the apparent cause of the Innisfail incident in which pressure being applied by a fracking crew on a Midway Energy well led to the eruption from a producing well a kilometre away operated by Wildstream Exploration. The incident is still under investigation and a report is expected early in 2013 which will explain what happened and what enforcement, [if] any, is recommended, Tobin said. The directive is also designed to ensure well integrity and clarify rules for wells completed in shallow zones, defined as less than 100 metres below the base of groundwater protection. It provides for increased setbacks from water wells. It gives pumping volume restrictions and exemptions to setback distances for nitrogen fracturing in coal bed methane formations and imposes new requirements to notify the ERCB when fracking is planned and in the event that there is an unintended leak into an offset well or non-saline aquifer. David Pryce, a vice-president with the Canadian Association of Petroleum Producers, said the regulations don't contradict fracking guidelines it issued in January that encourage producers across Canada to use additives with the least environmental risks, protect groundwater, and disclose fracking fluid additives. "Folks will say our guidelines are voluntary, and indeed they are, but our intent is for them to be complementary to a sound regulatory environment," he said. "I think the two pieces work well together."
The draft directive applies to subsurface impacts. Above ground impacts are expected to be addressed within months. Feedback on the directive will be accepted until Jan. 18, the ERCB said. [Emphasis added]
ERCB Seeking Feedback on a Draft Hydraulic Fracturing Directive News Release by ERCB, December 6, 2012
The Energy Resources Conservation Board (ERCB) is accepting feedback on proposed requirements for hydraulic fracturing activities. Over the last 75 years, the ERCB has developed and enforced regulations to ensure the responsible development of Alberta's oil and gas resources. Constantly working to improve and ensure the relevancy of all regulations, the ERCB reviews and updates its rules in light of new issues, risks, opportunities, and challenges and adapts as technology, experience, and social expectations have evolved. The ERCB has reviewed the challenges and opportunities related to the use of hydraulic fracturing in combination with horizontal drilling in the development of Alberta's conventional and unconventional oil and gas resources. The ERCB is now seeking feedback on a draft directive that addresses sub-surface issues related to the increasing use of this activity. The draft directive provides clarity on:
Preventing interwellbore communication impacts,
Ensuring well integrity, and
Requirements for wells completed in shallow zones, which apply to any depths shallower than 100 metres below the base of groundwater protection.
…
The draft directive builds upon a strong foundation of regulation to address potential risks identified in the ERCB's review. Surface impacts related to hydraulic fracturing activity will be addressed in the months to come. Albertans are encouraged to provide feedback on the directive and to help shape the ERCB's regulations. Feedback on the directive will be accepted until January 18, 2013. [Emphasis added]
Draft Directive: Hydraulic Fracturing released December 6, 2012
[Refer also to: The Groundwater Debate by Andrew Nikiforuk, June 2006: Yet coal bed methane requires five to 10 times more fracing than conventional gas. … To date no CBM company has disclosed the chemical contents of its fracing fluids. … The province's investigation process would appall fans of the TV show CSI. There is no real written protocol; the process can take a year and in the end an underfunded and understaffed government must ask the same companies that probably caused the problem to ultimately do the water testing. In Strathmore a country veterinarian correctly called the process "unprofessional." … Jessica Ernst, a well respected oil patch consultant who lost her water supply after CBM activity in her neighborhood, poses four good questions:
• Why has the regulator allowed companies to risk Alberta's groundwater without proper safeguards as recommended by the Canadian Council of Environmental Ministers in 2002?
• Why has CBM activity been allowed to escalate at the expense of public health and safety?
• What are the fracing chemicals?
• And how do we bring the mandate of the regulator back into balance for all of Albertans?
The government still hasn't come up with answers yet.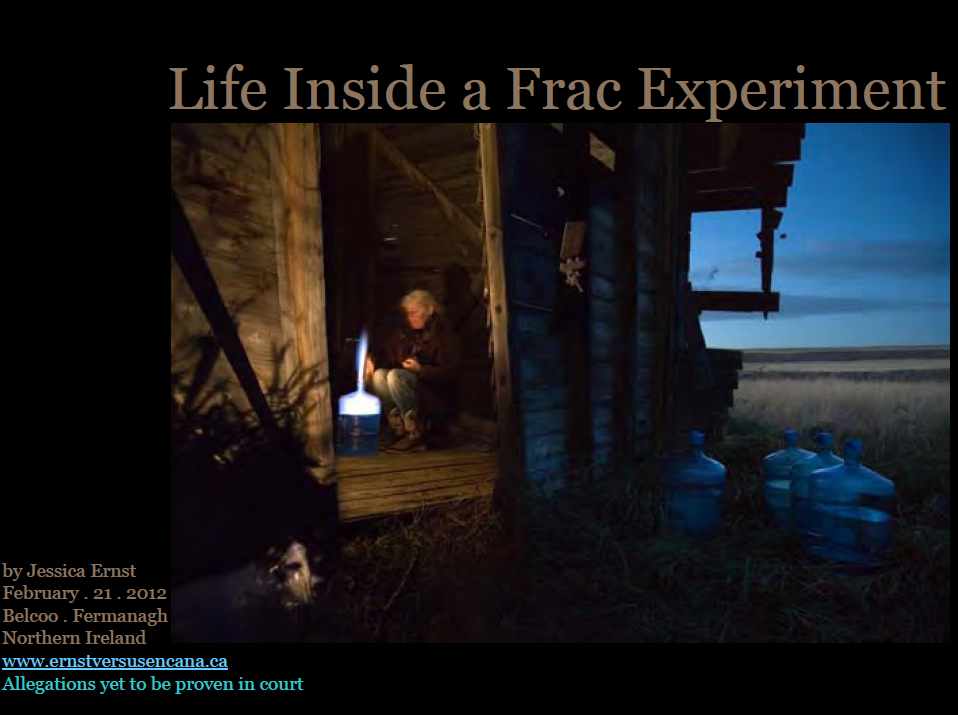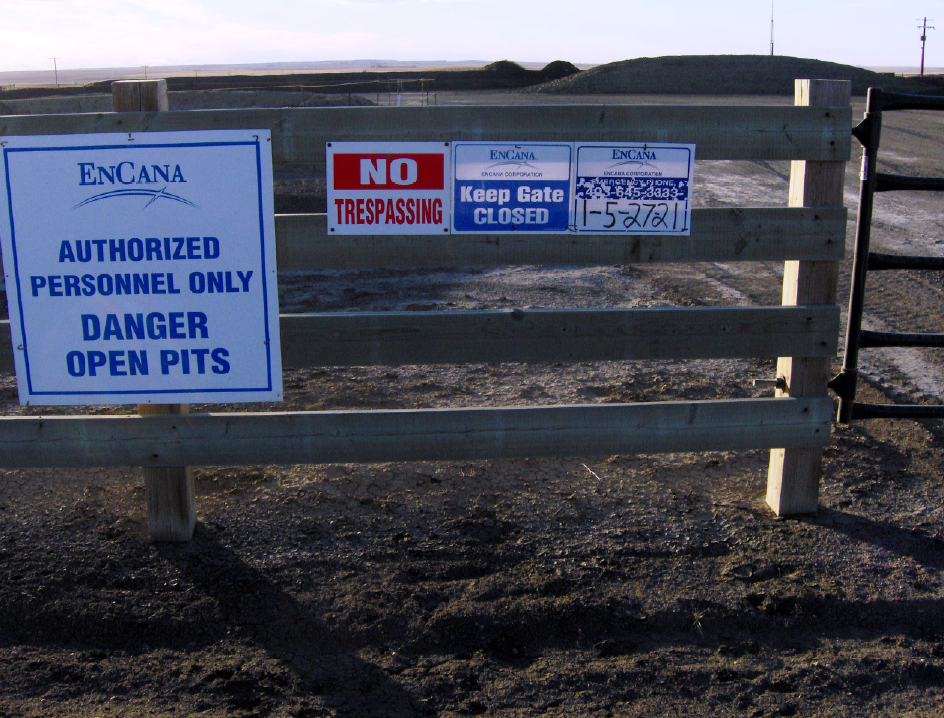 Encana waste pits in Rosebud community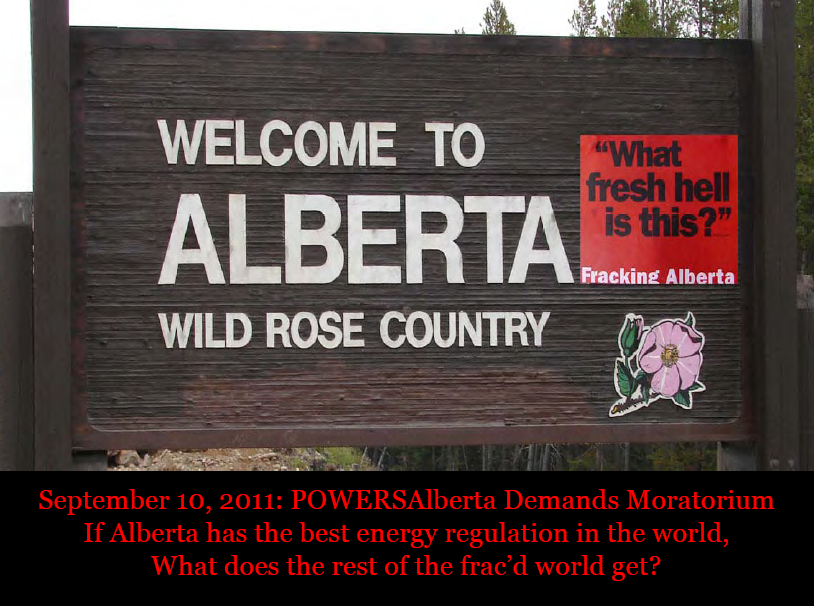 Photo by Will Koop, BC Tap Water Alliance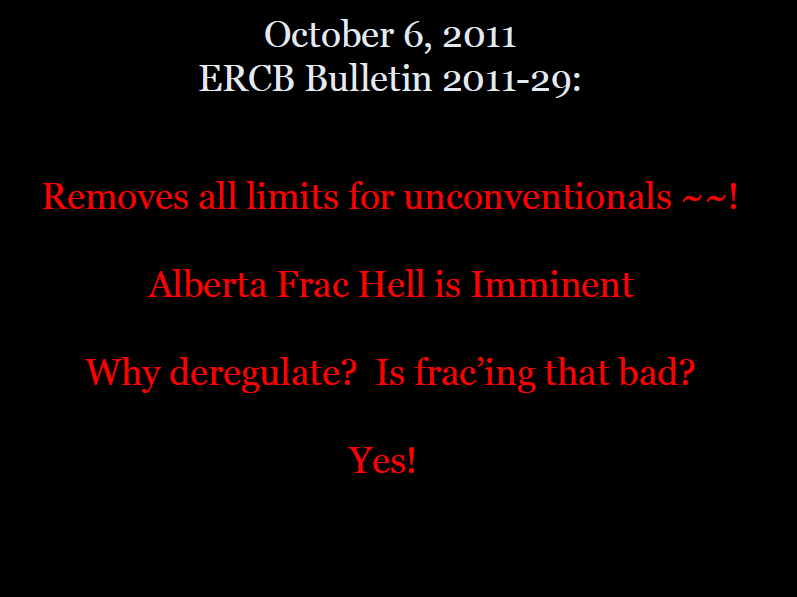 "We all think we have no power," Ernst said. "But what I learned in this frack war is I never knew how powerful I was."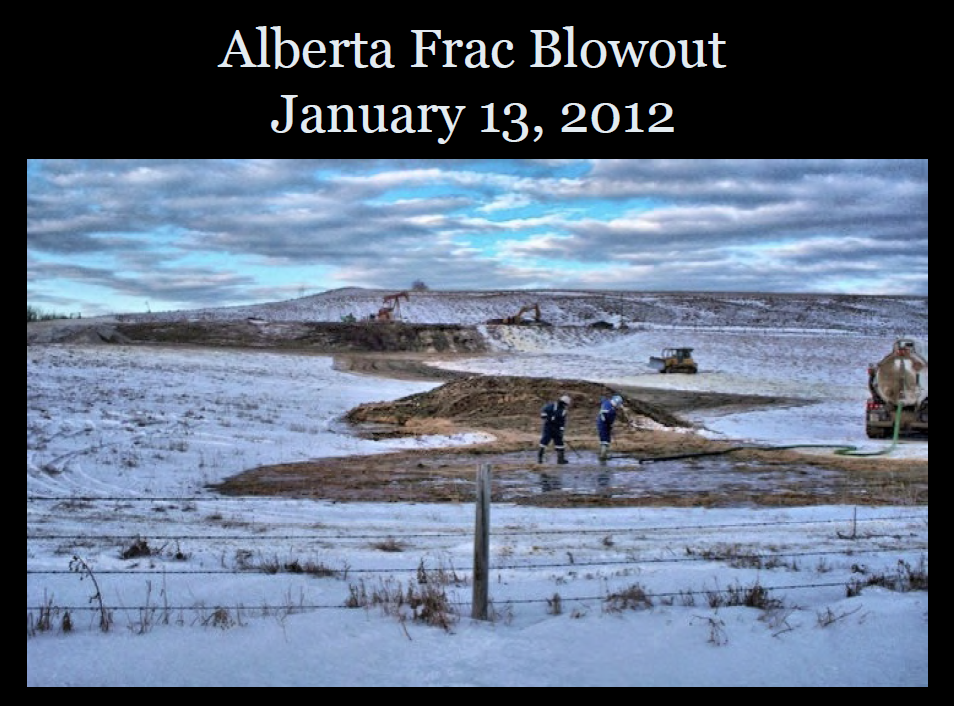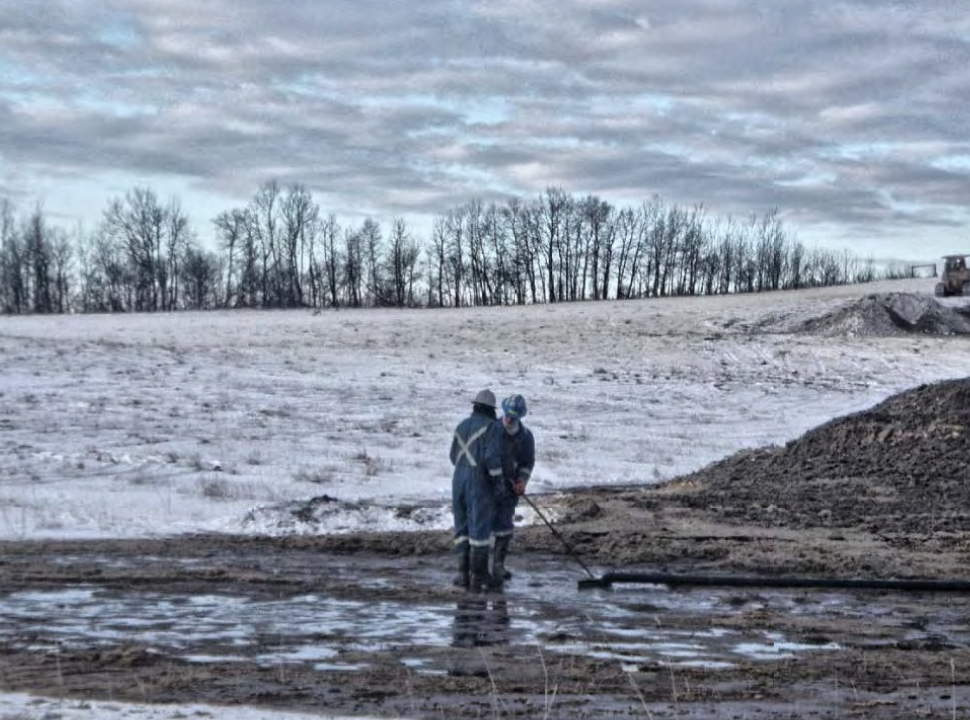 Photos of the frac blow out by the Alberta Surface Rights Group
"Every decision of the Regulator is final and shall not be questioned or reviewed in any court by application for judicial review"
"The Regulator, alone, may reconsider a decision made by it" and "no action may be brought against the regulator"!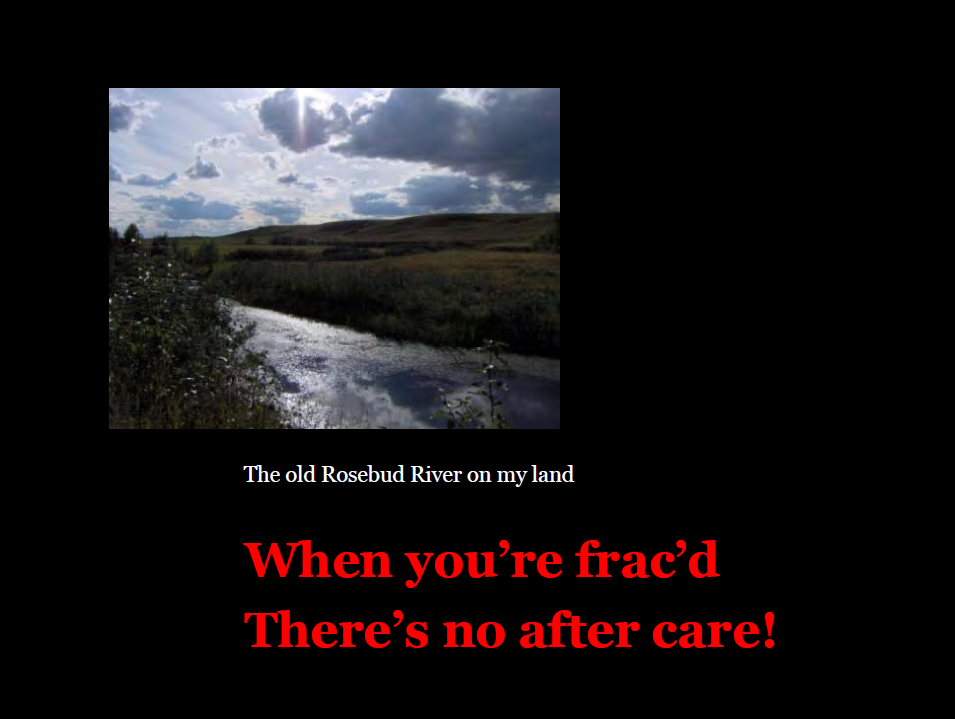 Above snaps from Ernst Presentation in Belcoo, Fermanagh, Northern Ireland on February 21, 2012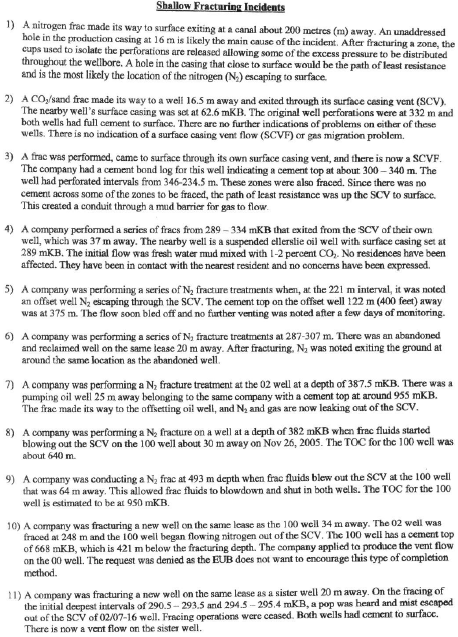 Source: EUB (now ERCB, soon to be AER) Library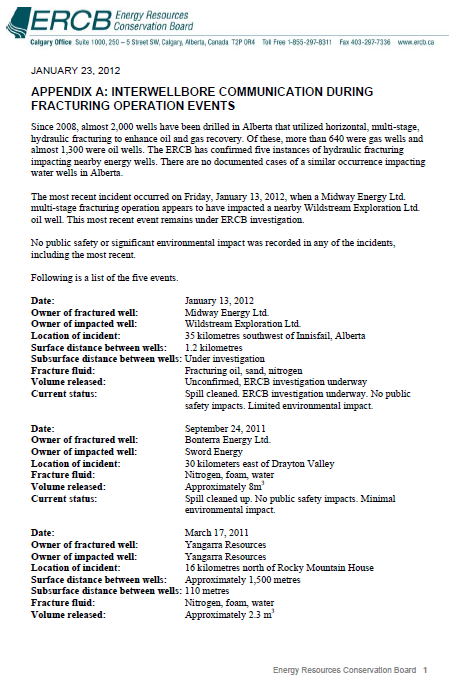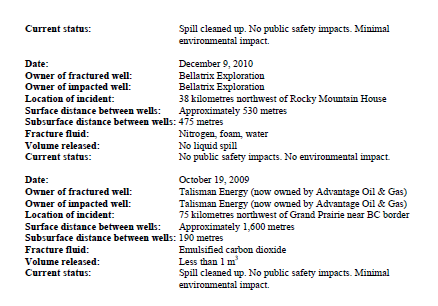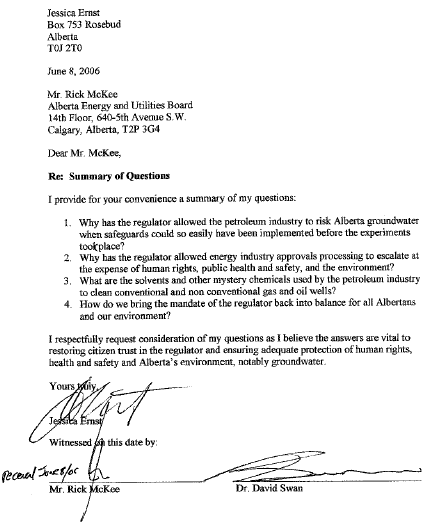 Source: Letter signed during the Interrogation of Ernst on June 8, 2006 in Calgary by EUB  [now ERCB, soon to be AER] lawyer Rick McKee; the deal offered was if Ernst no longer talked to media or in public about EnCana fracturing the Rosebud drinking water aquifers and accepted that the dangerous contamination was natural, she would get energy regulation.