Heavy-handed response to the Elsipogtog blockade in New Brunswick by Peter Raaymakers, October 18, 2013, Ottawa Citizen
Perhaps it can be seen as an extension of the Canadian "pioneer" spirit mentioned by Governor General David Johnston in the most recent speech from the throne. That spirit, according to the current government, pushed settlers to build "an independent country where none would have otherwise existed."
Of course, Canada wasn't depopulated when settlers arrived here from Europe. Our country's wealth and prosperity has been built through the persistent and usually violent removal of First Nations from their traditional lands in order to make room for resource development — and, as we saw Thursday, that's as true today as it was centuries ago.
As we watched the blockade, we also witnessed the violent response that often follows violent provocation. Although thankfully there were no serious injuries reported, five flaming police cars have a way of catching the attention of the general public. After RCMP officers converged on the blockade, Elsipogtog First Nation Chief Arren James Sock — who was allegedly "roughed up" in the process, according to at least one eyewitness — was among those arrested, and as matters escalated, police also began using non-lethal bullets, pepper spray, and physical confrontation in an attempt to break the blockade.
It seems that cooler heads have prevailed and the RCMP pulled back their offensive for the time being, but it's unfortunate that the violence seems to be what's generating headlines in the aftermath. It's distracting many from the injustice of gas exploration and fracking around Richibucto and Canada's relations with First Nations in general.
The Mi'kmaq people of New Brunswick and Nova Scotia, including the Elsipogtog First Nation, have never signed a treaty relinquishing authority to the land on which the Route 134 blockade stands today, or that on which SWN Resources is conducting exploratory testing. They signed a Peace and Friendship Treaty in 1761, which was re-affirmed in 1982 with Canada's Constitution Act and then again in a 1999 Supreme Court of Canada decision, but that agreement included no mention of the surrender of any lands. Although the federal and New Brunswick governments are currently engaged in exploratory discussions to address issues of land ownership, rights, and sovereignty, there has been no agreement yet.
Given this reality, SWN Resources' exploration permits aren't legitimate. Nor was the court injunction criminalizing the blockade, and the police action was ridiculously illegitimate, not to mention unjust, unreasonable in its heavy-handedness, and terribly bad public relations for the RCMP.
In the above-mentioned Supreme Court case, the federal government was encouraged to negotiate with all First Nations in Canada in order to resolve the many outstanding issues and fulfil its treaty obligations. The negotiation process takes a lot of time, but that's the point. It's designed to be a meaningful engagement to avoid violent confrontation and find a mutually acceptable solution to these complex issues. If we hope to avoid more destructive events like that which took place on Thursday in New Brunswick, negotiation is the only way forward.
Negotiations are taking place with the provincial government, too. Premier David Alward and Chief Sock met as recently as last week to find a way to end the blockade, and they agreed to form a working group with representatives from the governments of the province and the Elsipogtog First Nation as well as the energy industry. Why the RCMP felt that it was appropriate to intervene in what was at the time a peaceful protest in the midst of active negotiations is unclear, but thankfully all sides have agreed to resume negotiation now that the police have stepped back. Before gas exploration continues, those negotiations must reach a settlement. Continuing them while the industry conducts testing is disingenuous, putting the cart before the horse and assuming that the settlement will allow fracking without any indication that it's an acceptable component. If New Brunswick was negotiating in good faith, SWN Resources would be required to stop looking for shale gas deposits — and if testing were halted, the blockade and the hugely excessive police response that followed it could have been avoided.
This year marks the 250th anniversary of the Royal Proclamation of 1763, which outlined the First Nations land rights. That proclamation was further guaranteed in 1982 within the Canadian Charter or Rights and Freedoms. With that in mind, it's high time the federal government redoubles its efforts to resolve the many outlying issues that are causing conflicts such as that in New Brunswick.
Peter Raaymakers is an Ottawa resident who thinks 400 years should have been long enough to build peace between Canada and the indigenous people who live within its borders.
Feathers versus Guns: The throne speech and Canada's war with Mi'kmaw Nation by Dr. Pamela D. Palmater, Mi'kmaw lawyer and member of the Eel River Bar First Nation in New Brunswick, October 18, 2103, West Coast Native News
MUST READ RCMP bring 60 drawn guns, dogs, assault rifles, to serve injunction on the wrong road, After van, main blocker, removed the night before, RCMP seem hell-bent for violence in early dawn encounter with Warriors by Miles Howe, October 18, 2013, Halifax MediaCoop
…
Mi'kmaq Warrior Suzanne Patles, in a last-ditch attempt to defuse a situation now spiralling into a screaming match with police guns pointing in every direction, ran into the middle of the field screaming: "We were given this tobacco last night!"
Now crying, in her hand she held a plug of tobacco, provided to her by RCMP negotiators wrapped in red cloth as a traditional token of peace the night before.
Skirmishes then broke out in every direction.
…
As solidarity actions spring up across the country, yesterday's actions have perhaps invited a far greater climax to New Brunswickers' fight against shale gas.
Finally, while the mainstream media will go far to paint this as a "Native" issue, it is vital to remember that the blockade, until yesterday, had been supported by various allies from across the province. It is also key to note that an original 28 groups, representing New Brunswickers from all walks of life, had demanded an end to all shale gas exploration or development.
This all occurred long before images of bandana-ed Indigenous people, whose veracity as true grassroots activists and not provocateurs is now being closely examined, ever set fire to a single RCMP squad car in Rexton. [Emphasis added]
MUST WATCH: Snipers descend on Mi'kmaq-led camp (children and Elders on site) protesting SWN 1:22 Min. by Suzanne Patles, Mi'kmaq Warrior Society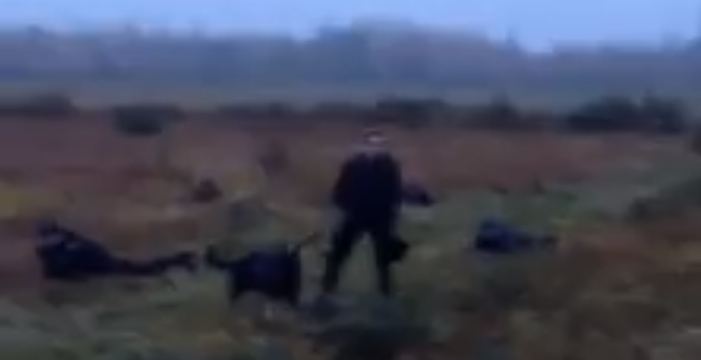 "This is a camera. This is a camera, it's a camera get your gun off me. It's two cameras.
"Well, there's children here too. Hey, this is a phone. Get your guns off me, this is a phone.  Hey, this is a phone, I have no gun.
"I don't have a gun, it's a phone.
"Hey, put your gun down, this is a phone, I have two phones.
"Get me out of your scope."

Letter by Peter Dauphinee to Justice Rideout Oct0ber 4, 2013 Is the injunction obtained by SWN Resources Canada Inc. behind closed doors legal?
Here is something for the misinformed!!! And no media block on this!! 3:41 Min. by Kateri Sa'n, October 17, 2013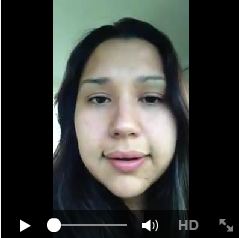 "These so called trouble makers are trying to protect your water. … What happened to Charter of Rights and Freedoms? Where people have the freedom of speech. … Aboriginal people in Canada as a whole, don't have freedom of speech.  …
"Nobody is listening.  You don't care.  You only care about money. You don't even know how this shale gas is going to affect you. … You are going to have polluted water. …
Everything is going to be destroyed and you guys are there supporting the RCMP and Stephen Harper for what he's doing.  Are you insane? They are showing up with guns!  They're showing up with guns! …
"Freedom of speech right?  No! Not for an Indian. That's why they are there blockading. They care."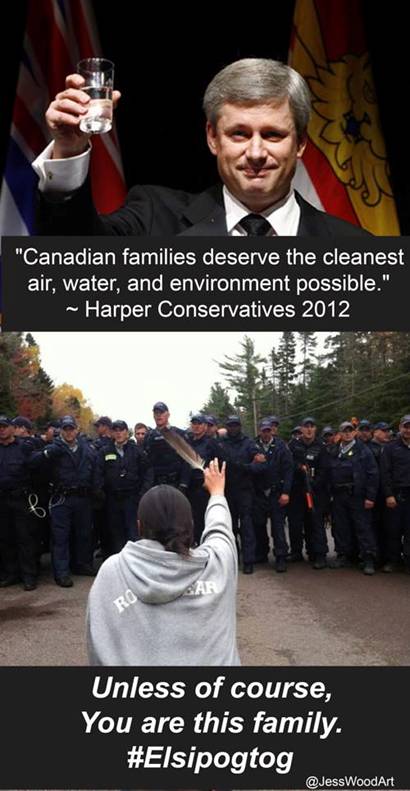 By University of Victoria's Women's Studies Graduate and indigenous artist Jessica Wood
RCMP clash with Mi'kmaq fracking protestors: Who provoked whom? by Damien Gillis, October 17, 2013, CommonSenseCanadian
WORLD BRIEFING | THE AMERICAS Canada: Shale Protest Ends in Arrests by The Associated Press, October 17, 2013, The New York Times The Royal Canadian Mounted Police said Thursday that they had arrested at least 40 people in eastern New Brunswick at a violent protest over shale gas development. The R.C.M.P. said the protesters had engaged in firearms violations, threats, intimidation, mischief and the violation of a court-ordered injunction near Rexton. At least five police vehicles were set on fire. The police began enforcing the injunction on Thursday at a site where the energy company SWN Resources, owned by Southwestern Energy, stores exploration equipment. The protesters want the company to stop seismic testing, and they contend that the process used to extract shale gas — hydraulic fracturing, also known as fracking — could pollute drinking water. A version of this brief appears in print on October 18, 2013, on page A6 of the New York edition with the headline: Canada: Shale Protest Ends in Arrests.
RCMP, protesters withdraw after shale gas clash in Rexton, 40 arrested, 5 police vehicles burned but no one seriously injured in violent clash by CBC News, October 17, 2013 The majority of police at the scene left around 7 p.m., to cheers from a crowd of protesters.
Levi later said that First Nations may have "lost the battle" referring to the fact that SWN Resources, the company at the centre of the conflict, has not agreed to stop shale gas seismic testing, as the protesters demand.
But "we have not lost the war," he added. …
Sock said earlier that, for centuries, the British Crown claimed to be holding the land in trust for his people, but since the land is being badly mismanaged, First Nations people are taking it back. …
In a news release, Atwin said the Assembly of First Nations in New Brunswick "strongly condemns the acts of aggression that have taken place today within the Mi'kmaq traditional territory near Elsipogtog. We urge all sides not to resort of violence as history has proven these tactics are not productive." Atwin noted, however, that for the past two years, First Nations in New Brunswick have tried to work within the confines of "a restrictive, compartmentalized consultation process" when it comes to seismic testing in the province. He said the whole process is "completely unworkable because it runs counter to our customs and traditions."
In the same release Assembly Co-chair Chief George Ginnish said the consultation process should include "conversation on potential impacts to our constitutionally protected rights, and provide options to mitigate these dangers." [Emphasis added]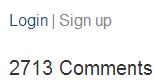 Screen capture from article above by CBC News: 2,713 comments as of 9:15 PM, October 17, 2013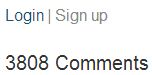 Screen capture from article above by CBC News: 3,808 comments as of 11:40 AM, October 18, 2013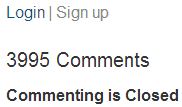 Concerning the Possible Arrest of Reporter Miles Howe in Elsipogtog
Miles Howe of the Halifax Media Co-op may have been arrested by RCMP while covering ongoing Mi'kmaq-led blockade against fracking by MEDIA CO-OP Halifax, October 17, 2013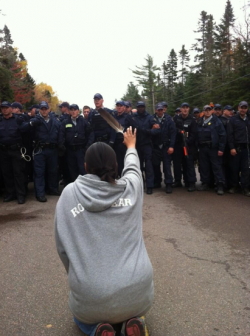 Police line this afternoon at Elsipogtog, as tear gassing of protestors began. PHOTO: Ossie Michelin.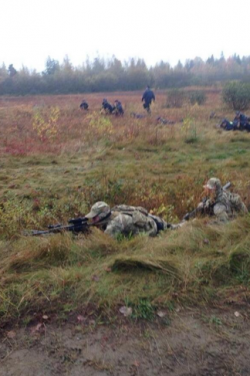 RCMP snipers in camo crawl around the Rexton blockade. PHOTO: Twitter.
Participants in the anti-fracking struggle in New Brunswick have been stormed by an estimated 200 members of the RCMP, some dressed in military fatigues. The police raided the Rexton blockade where Mi'kmaq warriors and supporters are camped out against SWN Resources Canada Inc.
Our reporter Miles Howe, who has been covering the blockade since the spring, has been incommunicado for approximately four hours. We have received a report that Miles was arrested this morning. We are still awaiting first hand confirmation of his arrest.
This morning Miles wrote a note alerting our editorial collective that the camp where he was reporting from was surrounded by police: "There are about 75 of them, about 10 in military fatigues, all guns drawn."
Miles has been in the sights of police for months because of his ongoing reporting about the anti-fracking struggle in New Brunswick. In an attempt to prevent him from continuing to cover the protest, Miles was arrested while covering protests against SWN on July 5. All charges against him were later dropped.
Another independent media maker who goes by @Stimulator and also files reports for the Media Co-op had his laptop confiscated by the RCMP while covering the police crackdown this morning.
There is also a report that Elsipogtog Chief Arren Sock was arrested this morning along with at least one member of Council. It is unknown how many further arrests have been made.
The Media Co-op editorial collective denounces these blatant attempts by the state to violently enforce the will of SWN Resources Canada while silencing independent journalists. This release will be updated as more information becomes available.
Posted 14:35 Eastern Time/15:35 Atlantic Time. UPDATE 17:00 Eastern Time: The RCMP have returned @Stimulator's laptop and equipment. Still no word on Miles' whereabouts. [Emphasis added]
Urgent call for solidarity and support, Support #Elsipogtog and Mi'kmaq anti fracking blocakde
SOLIDARITY MARCH in Vancouver
Friday October 18th
4 pm, gather at the South side of the Vancouver Art Gallery
Robson Street between Howe and Hornby.
Unceded Musqueam, Skwxwú7mesh, and Tsleil Waututh territories 
Violence erupts in N.B. as RCMP move in on anti-fracking protest by Gloria Galloway, October 17, 2103, The Globe and Mail
The cruisers were set alight after the arrest of Elsipogtog chief Arren Sock and several council members who were trying to intervene in the dispute. When the people heard about the arrests, "everybody got mad and the cops were chasing them and they ended up at the row of RCMP cars lined up on the road," Ms. Levi-Peters said. "Now, the cars are on fire." …
"The RCMP has worked diligently with all parties involved in hopes for a peaceful resolution. Those efforts have not been successful. Tensions were rising, and serious criminal acts are being committed," said Constable Jullie Rogers-Marsh, an RCMP spokeswoman.
"There have been threats made to employees who were working with a private security firm at the site, as well as firearms offences, incidents of intimidation, mischief and other criminal behaviour," Constable Rogers-Marsh said. "For those reasons, and to ensure public safety, police action was required."
But native leaders say it was the police who sparked the melee when they arrived with guns drawn. "It is really very volatile. It's a head-tohead between the people and the RCMP right now and the Warriors are in the middle surrounded by the RCMP and then the RCMP are surrounded by the people," said Ms. Levi-Peters, who estimated that hundreds of police officers were at the scene and even more protesters.
"There are people who have been tasered," said Ms. Levi-Peters, who has acted as a go-between for the police and those members of the community who are trying to stop the development, which they believe will lead to fracking operations that could cause irreparable environmental degradation to their reserve and the surrounding area.
Plastic bullets have been fired and the police have dogs, she said.
"It's Oka all over again and it's sad because we said all we need is public consultation," Ms. Levi-Peters said, referring to a 1990 dispute between Mohawks and the government at Oka, Que., that turned deadly. "These Warrriors, they are not militant. They are youth and they have had enough."
The blockade was being mounted with drums and feathers, she said, "and instead the government sent in the army on them." [Emphasis added]
RCMP in New Brunswick enforce [force?] injunction against shale gas protesters by The Canadian Press, October 17, 2013, MacLeans
REXTON, N.B. – A councillor with a native reserve in eastern New Brunswick says police arrested several people and used pepper spray on a crowd of shale gas protesters who have been blocking a highway for weeks. Robert Levi of the Elsipogtog (ell-see-book-took) First Nation said he went to the protest site in Rexton early Thursday after hearing the RCMP had moved in to begin enforcing a court injunction against the protesters. Levi said police sprayed dozens of people after 9:30 a.m. when he arrived at the protest site with the chief and council.
"They sprayed the crowd that was there," he said in an interview. "The chief was manhandled a little bit and all hell broke loose."
Const. Jullie Rogers-Marsh did not immediately return a message for comment. But in an earlier interview, she said she could not confirm reports of arrests, though she said Route 134 near Rexton was closed, along with a section of Highway 11 between Rexton and Sainte-Anne-de-Kent.
She said the Mounties moved in around 7:30 a.m. Thursday, but she couldn't say how many officers were involved or how many protesters were at the site. "To ensure public safety we have closed the road until it is resolved," she said. "It's still unfolding."
Levi said he thought there were a couple of hundred people at one barricade on the site. … Levi said he planned to stay at the site to try to block the movement of the company's equipment. "We're going to stay — I mean, we have to," he said. "This is what our people have been fighting for." The RCMP blocked Route 134 on Sept. 29 after a protest began spilling onto the road. Protesters subsequently cut down trees across another part of the highway, blocking the entrance to the compound. The protesters, who include members of the First Nation, want SWN Resources to stop seismic testing and leave the province.
Last week, Premier David Alward and Chief Arren Sock agreed to set up a working group to find a resolution. Meetings were held in Fredericton and Moncton. At the time, Alward said: "I can say that we have a consensus that we're working towards finding a peaceful resolution and we will continue that work." He said the working group, which would include members from his government, Elsipogtog and the energy industry, was to begin its work immediately. But Sock said there were still many details to be worked out.
Alward has stressed that he doesn't have control over decisions of the RCMP and SWN Resources.
Assistant commissioner Roger Brown, the commanding officer for the RCMP in New Brunswick, said last week he was disappointed that discussions between the provincial government and the First Nation had failed to resolve the issue. At the time, Brown said the Mounties would take a measured [with snipers?] approach to resolving the situation.
Police tear-gas Mi'kmaq protestors of gas exploration in New Brunswick by Martha Troian, October 17, 2013, The Tyee.ca
Details are still emerging, but amateur photos and video have appeared online showing heavily armed police on the site and what appear to be snipers in nearby fields and forests. There are also photos of several police vehicles on fire. Those arrested, which may include elders conducting ceremonies at the site, are being detained by the RCMP. There were also some reports of shots fired.
Early this morning, hundreds of RCMP moved in to the site of a blockade that had been set up on provincial route 134 near Rexton, New Brunswick. … An untold number of protesters were arrested (some say more than 30), with several reporting that they were "roughed up" by officers. Elders who had been conducting ceremonies at the site were arrested as well.
Sock and at least one of his council members from the Elispogtog First Nation were among those rounded up by police. News of the action spread fast on social media, and people near the protest say supporters are supposedly arriving from neighbouring Nova Scotia but also as far away as Alberta. … 
Indian Country Today Media Network spoke with Floyd Augustine, who says he is currently in charge of the Mi'kmaq Warrior Society, a group which claims to be tasked with defending Mi'kmaq lands and communities. He says he's trying to rally what warriors were not arrested — including his brother — and plan next steps. The protests began last spring, when Texas-based natural resources company SWN Canada began exploring for natural gas deposits in the region. … At last report, police had donned riot gear, and Aboriginal Peoples Television Network described the scene as "chaotic." Elsipogtog Warriors told Indian Country Today Media Network that they have put out a worldwide call for Sacred Fires to begin, and blockades were set to run all over the country.
Reaction has reached all the way to New York City, where a protest is planned tonight in front of the Canadian embassy.
Martha Troian reports for Indian Country Today Media Network, where this article first appeared.
Warrior Society Call to Support Elsipogtog Seizure of Fracking Equipment by NO THANKS NO GIVING: MI'KMAQ CALL FOR ACTIONS OCT 18TH #INDIGENIZE
Honourable Warrior of the Mi'kmaq, Suzane Patles:
"even the corporate monster is envious of what we have because we have all the love and support…."