2016 AER Administration Fees (Industry Levy)
May 17, 2016
Energy Regulation Program
The Alberta Energy Regulator (AER) regulates energy resource development within Alberta and has a mandate to ensure the safe, efficient, orderly, and environmentally responsible development of hydrocarbon resources over their entire life cycle [And has no public health mandate, does not have to operate in the public interest, is legally immune for acts in bad faith, gross negligence and even for violating constitutional rights of citizens and, legally owes "No Duty of Care" to any Albertan harmed by oil and gas] This includes allocating and conserving water resources, managing public lands, and protecting the environment while providing economic benefits for all Albertans.
For 2016/17, the revenue required to support the AER's operations, as approved by the Government of Alberta, is $238 403 000.
2016 Administration Fees (Industry Levy)
Allocation ($000)
Sector
2016
2015
Oil and gas
173 081
174 308
Oil sands
61 746
62 184
Coal
3 576
3 601
Total
238 403
240 093
The amount of each invoice depends on the AER's revenue requirement, 2015 production volumes, the number of wells and schemes, and the number of operators within the sector. Any change in the above factors changes the invoice amount for each operator. Invoices to operators detailing the fee calculations will be mailed on May 18, 2016, and payments are due by June 20, 2016.
The Responsible Energy Development Act (REDA) authorizes the AER to make rules to levy an administration fee on the oil and gas, oil sands, and coal sectors. REDA also authorizes the imposition of a late-payment penalty, which is set at 20 per cent on any portion of the fee that remains unpaid after the due date. Invoices for 2016 administration fees are sent to and are payable by the party that was the operator on record (as defined in section 29 of REDA) as of December 31, 2015. For conventional wells and oil sands schemes, "operator" means the entity that files well production, injection, or disposal data, or all three, with Petrinex, Canada's Petroleum Information Network. If the operator fails to pay the fee, the late-payment penalty will be added and the AER will pursue the approval holder (if the actual operator and approval holder are two different parties) for payment of the full amount.
If the administrative levy or penalty is not paid, the AER may use various enforcement tools to collect payment:
The AER may close producing wells or facilities.
The AER may garnish production from operating wells and facilities to collect any outstanding debts. Under section 103 of the Oil and Gas Conservation Act,if an approval holder has failed to pay debts to the AER, the AER has a lien on its wells, facilities, and pipelines and on land or interests in land, including mines and minerals, equipment, and petroleum substances. The AER's lien has priority over all other liens, charges, rights of set-off, and mortgages and other security interests.
The AER may use other enforcement tools, as set out in legislation.
Oil and Gas
The administration fee in the conventional oil and gas sector is based on individual well production of oil/bitumen or gas and the number of production and service wells for the year ended December 31, 2015.
All operating wells are classified into one of eight base fee classes, as set out in the Alberta Energy Regulator Administration Fees Rules (AFR) and illustrated in the table below. In addition, an adjustment factor is specified and applied to each base fee. This adjustment factor ensures that the total administration fee collected for the sector satisfies the revenue requirement for the AER.
Class
Min. production
(m3/yr)*
Max. production
(m3/yr)
Base fee
1
Service wells
$100.00
2
0.01
300
$100.00
3
300.1
600
$125.00
4
600.1
1 200
$312.00
5
1 200.1
2 000
$750.00
6
2 000.1
4 000
$1 250.00
7
4 000.1
6 000
$1 625.00
8
6 000.1
>
$1 875.00
The adjustment factor is set at 3.840193 of the base fee specified for wells in all classes in the AFR.
Alberta Upstream Petroleum Research Fund (AUPRF) [More on it below]
The Canadian Association of Petroleum Producers (CAPP) and the Explorers and Producers Association of Canada (EPAC) have jointly requested that the AER's administration fee process be used to collect $3 115 105 to fund the Alberta Upstream Petroleum Research Fund (AUPRF) in 2016. The AER has agreed to assist and has included an amount for this funding in the oil and gas well administration fee invoices. As a result, the adjustment factor used for invoicing has increased from 3.840193 to 3.909308. Payment of the AUPRF is voluntary. Funds collected by the AER will be passed to Petroleum Technology Alliance of Canada (PTAC). The AER is not involved in and does not make any decisions regarding the manner in which these funds are spent or to whom the funds are disbursed. On request, the AER may provide information to PTAC regarding paid and unpaid AUPRF amounts by operator.
Oil Sands
Fees are levied in five categories based on operating information for the 2015 calendar year. An operator may have activities in more than one category. Each category is subject to an adjustment factor as identified below.
| | | |
| --- | --- | --- |
| Category | Allocation ($000) | Adjustment factor |
| Primary ongoing | 7 322 | 3.592942 |
| Thermal ongoing | 23 917 | 4.736563 |
| Thermal growth | 14 643 | 4.058984 |
| Mining ongoing | 9 031 | 1.799801 |
| Mining growth | 6 833 | 17.031687 |
| Total | 61 746 | |
Coal
The administration fee for coal is based on each mine's share of total production volumes for the year ended December 31, 2015. It is set at $0.130190 per tonne of coal as specified in the AFR.
Contact
If you have questions about the 2016 administration fees, please contact
Anila Kaceli
Team Lead, Revenue & Cash Management
Finance Branch
Alberta Energy Regulator
Suite 1000, 250 – 5 Street SW
Calgary, AB T2P 0R4
Telephone: 403-297-6985
E-mail: email hidden; JavaScript is required
Appeals
Any appeal must be made in writing to
Tom Heywood, CA
Vice President of Finance & Chief Financial Officer
Finance Branch
Alberta Energy Regulator
Suite 1000, 250 – 5 Street SW
Calgary, AB T2P 0R4
Telephone: 403-297-2133
E-mail: email hidden; JavaScript is required
Payment of all invoices is required by June 20, 2016, regardless of whether an appeal has been filed. Following a decision of the appeal, adjustments will be applied as needed.
<original signed by>
Tom Heywood, CA
Vice President of Finance and Chief Financial Officer
Finance Branch
Bulletin 2016-15: 2016 AER Administration Fees (Industry Levy) FAQs [PDF]
***
Alberta Upstream Petroleum Research [More fraudulent research to hide the truth behind reports by supposedly reputable "independent" sources that are really just more enablers of polluting, law violating companies like the NDP, AER and Alberta Environment are?]
The Alberta Upstream Petroleum Research Fund (AUPRF) is a unique collaborative [Synergizing to better keep secrets, lie, con and frac you with?] platform between the Government of Alberta , the Alberta Energy Regulator, and industry, and is led by the Canadian Association of Petroleum Producers (CAPP), the Explorers and Producers Association of Canada (EPAC), and managed by PTAC. AUPRF was launched with the idea that through innovation and collaborative R&D, we can minimize the environmental impact of our industry economically. [Minimzing environmental impacts "economically" translates into researching how to legalize the pollution, damages and harms, and dump the responsibility of clean up, health care and early death costs on taxpayers and only taxpayers.]
Since inception, 270 applied research projects have been completed through the AUPRF program. Each project launched provides practical science based studies to address knowledge gaps in the understanding and management of high priority environmental and social matters related to oil and gas exploration and development in Alberta, and assists in the development of smart policies, regulations and best practices [Refer to visual below] for the sustainable development of Alberta's world class [Most harmful and polluting in the world?] hydrocarbon resources. The program has resulted in significant contributions in the areas of cost reduction, ease of operations, social license, regulatory impact on risk influenced by science based choice, fast tracking development activities, avoiding unnecessary cost/adversarial hearings, and helping the regulator understand the environmental impact of hydrocarbon development.
In addition, the AUPRF program has proven against the conventional wisdom of economics that there is a trade-off between social and economic performance. Business can indeed make profit while solving social and environmental problems. [By wiping out legal liability and burdening Albertans with not only making them live with the unmitigated impacts but also paying entirely for the health care costs, early deaths and all clean up from the oil and gas industry's many exponentially increasing harms?]
NEWS
Impressive Outcome! [AUPRF Self Aggrandizing?]
The Alberta Upstream Petroleum Research Fund (AUPRF) program continues to support sustainable development and balancing protecting human & ecological health and economic performance. The program contributes to the responsible development of our resources. The Soil & Groundwater projects are a great example of how the funds are applied to generate knowledge and achieve risk & science based implementation. The results are IMPRESSIVE! [Wiping out drinking water supplies for entire towns, blowing up community water reservoirs, more and more and more deregulation, REDA one example, NALA another?]
The Soil and Groundwater Committee (SGRC) invested approximately $0.6M, leveraged an additional $0.9M for a total projects cost of $1.5M in 2015/16. The implementation of selected project outcomes resulted in estimated cost savings for Industry of $9-22M annually.
The PTAC AUPRF Soil & Groundwater team is a collaborative effort between Canadian Natural, Cenovus, ConocoPhillips, EnerPlus, Husky Energy, Imperial Oil Resources, Suncor Energy, Alberta Energy Regulator and Alberta Environment & Parks. For more detailed information, view the presentation by Dr. Ole Mrklas, ConocoPhillips Canada using the following link: SGRC Overview
Slides from Dr. Ole Mrklas' presentation, with comments and emphasis added: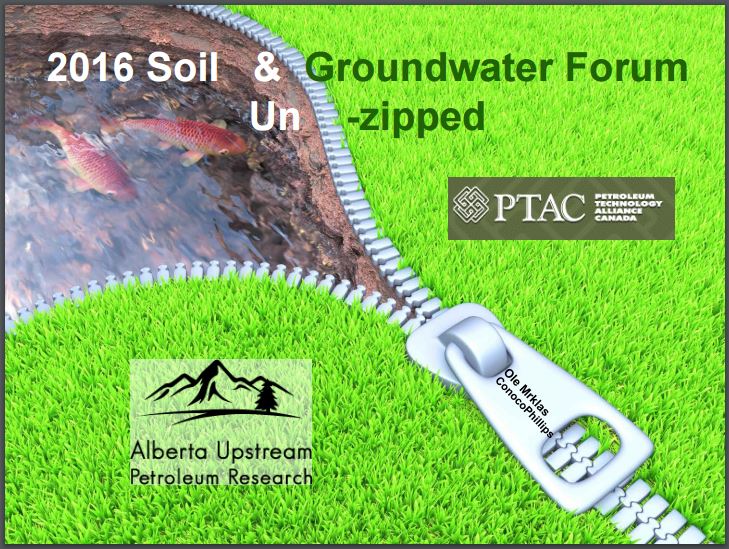 Why doesn't Dr. Mrklas include Encana's soil & water activities (below) in his cover slide?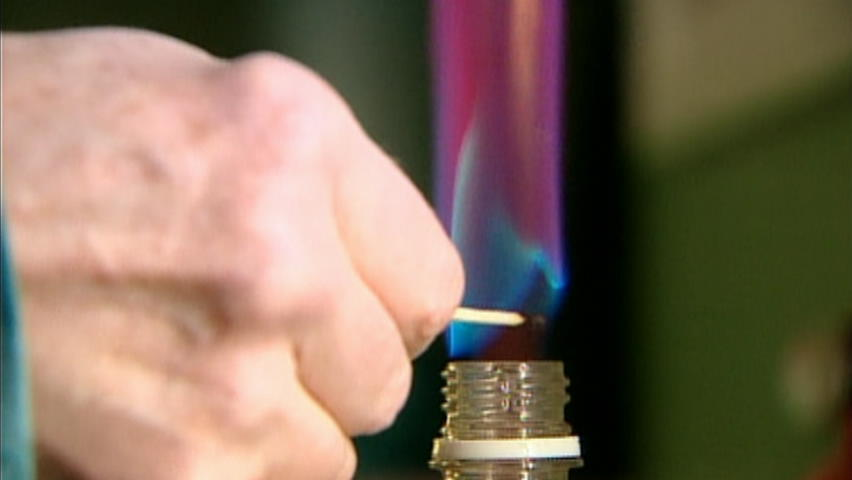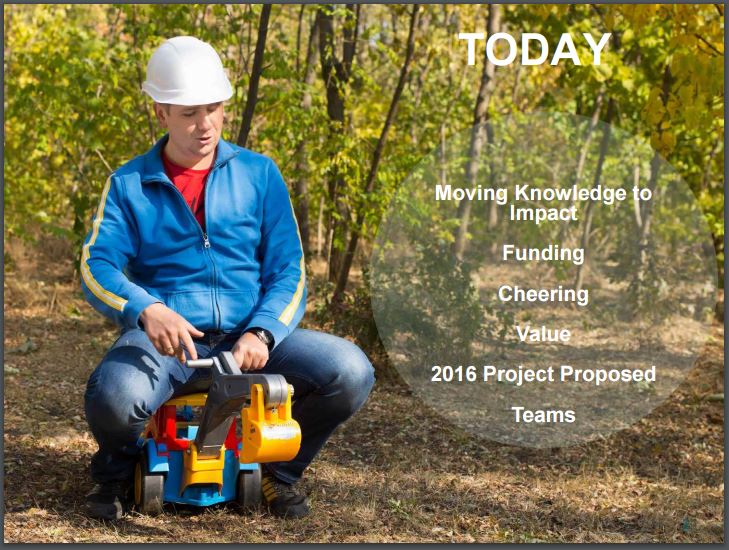 Cheering?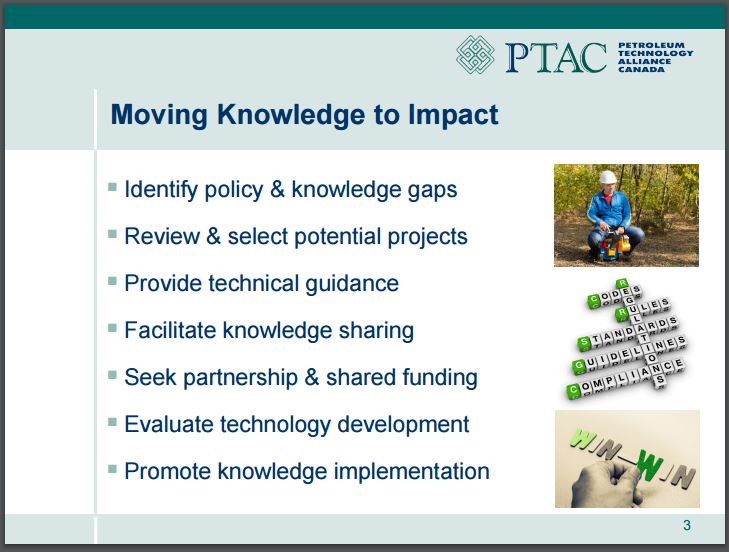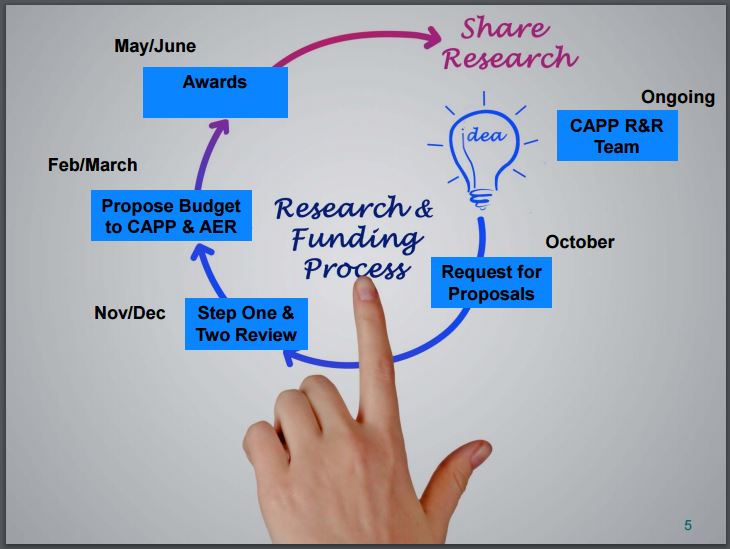 Does Encana get an award for this: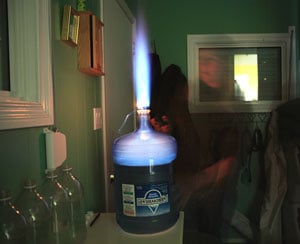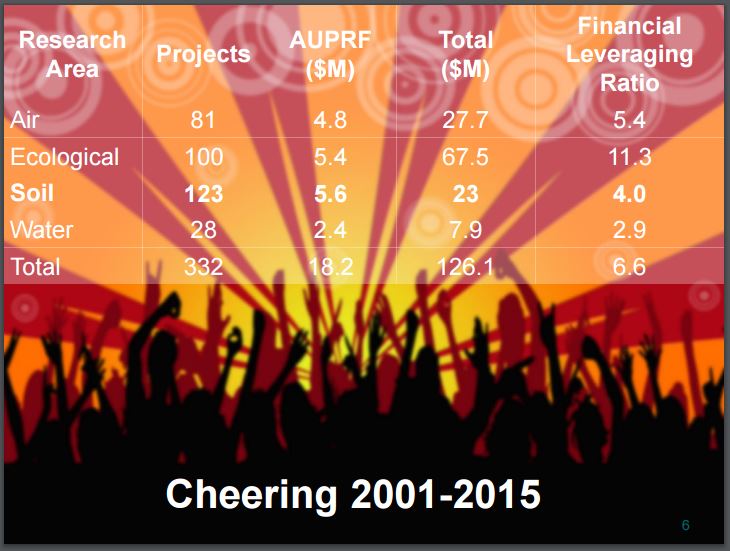 Cheering? What? AER grabbing more money from Albertans to give to multi-billion dollar profiteering oil and gas companies, currently sitting on mountains of cash?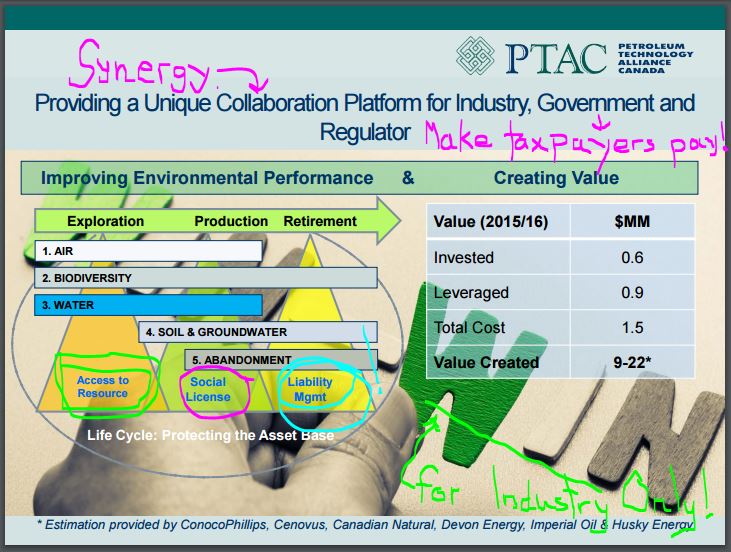 Win-Win: Research to con Albertans to grant industry's social licence (currently in the outhouse) and wipe-out legal liability for law-violating, polluting, health-harming oil and gas companies? Collecting "baseline" or "background" contamination levels in groundwater and soils, decades too late after hundreds of thousands of energy wells drilled with endless spills and underground mishaps? Writing fraudulent reports by "independent" experts claiming landowners and nature are to blame for everything?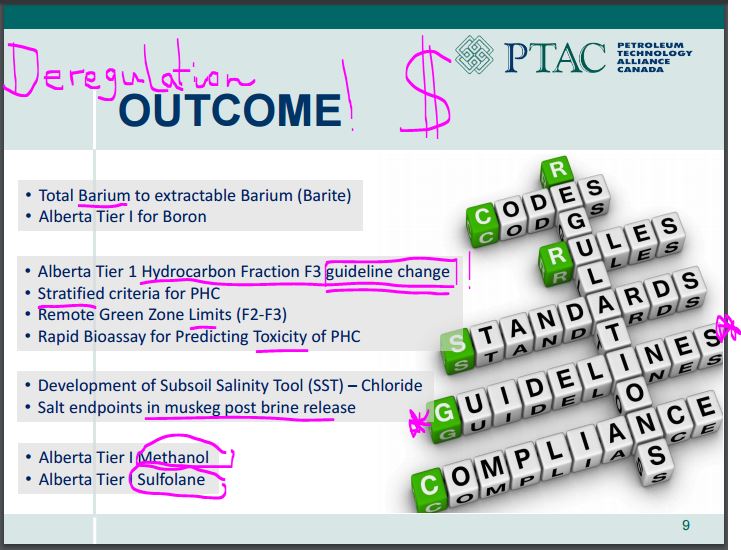 With this pre-planned "research" outcome: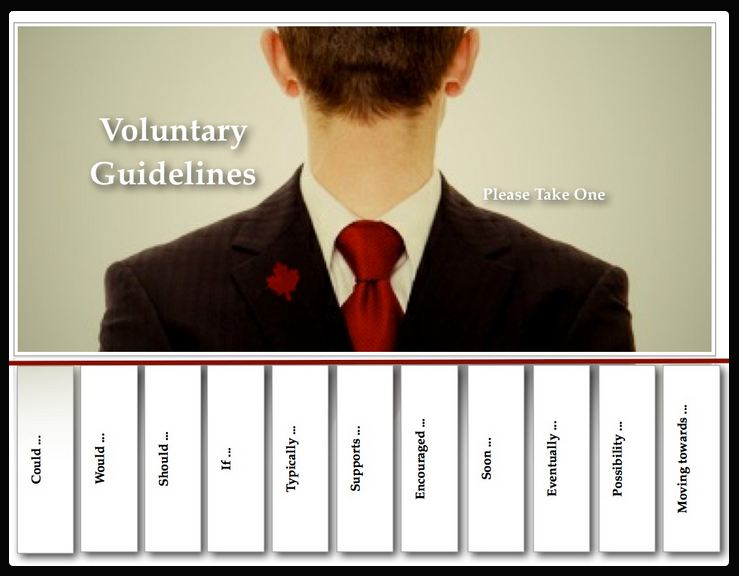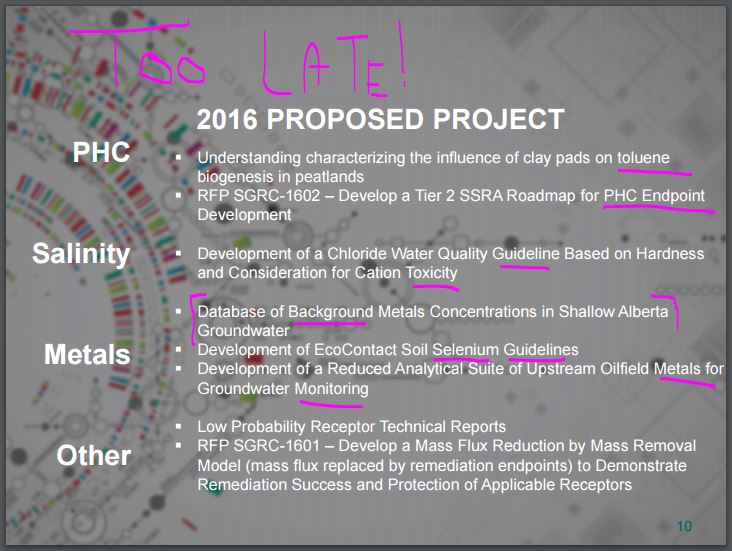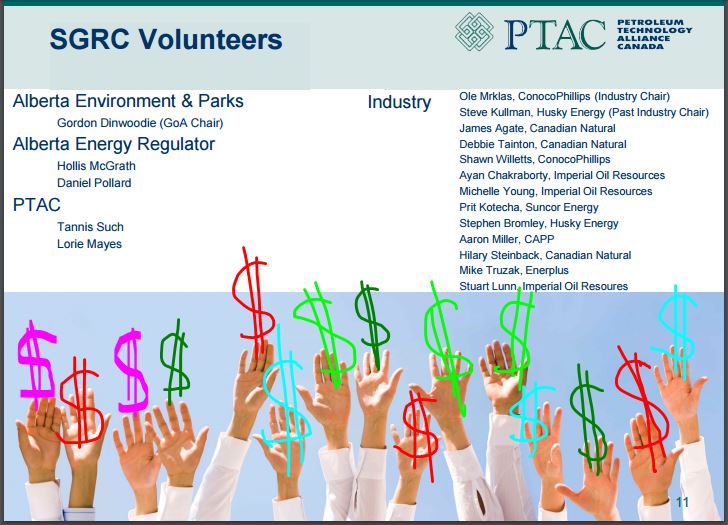 ***
POTENTIAL RELEASE INTO THE ATMOSPHERE OF ADDITIVES USED IN THE HYDRAULIC FRACTURING PROCESS
Jason Olfert, University of Alberta
GL 15-ARPC-02
The proposed research project will investigate the effects of fracturing fluid and flowback fluids on flares. [Will the researcher be given all – meaning all, not just some – chemicals injected by oil and gas companies in all parts of the process that may end up in venting and or flaring or flowback? And, will the researcher make all the chemicals injected public? ]
Policy Issue
Emissions associated with hydraulic fracturing flowback operations are not well understood. [How can they be with industry keeping toxic chemicals injected in drilling, cementing, acidizing, perforating and servicing, and allowed to keep trade secrets in frac fluids injected with the AER lying, claiming anyone can ask for these chemicals but if you ask, you get nowhere?]
Knowledge Gap
Are fracturing fluid additives being released in the atmosphere during flowback operations? [How will the researcher determine this, if companies and the AER do not fully disclose – including trade secrets – all chemicals injected in all parts of the process during drilling, cementing, perforating, acidizing, fracturing and servicing?]
***
WELL ABANDONMENT [A lot too  late?]
Well Abandonment – Current Projects
Identifying, Characterizing and Addressing Soil and Groundwater Issues related to SCF and Other Types of Natural Gas Migration
Investigate the potential for surface casing vent flow/groundwater migration issues
***
INVESTIGATE THE POTENTIAL FOR SURFACE CASING VENT FLOW/GROUNDWATER MIGRATION ISSUES [Also a lot too late?]
Cathy Ryan, University of Calgary
GL 15-WIPC-03