Did EUB/ERCB/AER, BCOGC, CAPP, Gerard Protti, Jim Ellis, Dr. John Cherry/Council of Canadian Academies, Dr. David Wheeler and frac- patent-holder Dr. Maurice Dusseault et al, US EPA, state regulators "look" or  "look" the other way?
Most of state's fracking waste left in unlined pits, study finds by David R. Baker, July 9, 2015, San Francisco Gate
The [EPA] report found several specific instances where poorly constructed drilling wells and improper wastewater management affected drinking water resources. … More than half of the wastewater from fracked oil wells in California is disposed of in open, unlined pits and could contaminate groundwater, according to a state-mandated study of hydraulic fracturing issued Thursday.
The California Council on Science and Technology study presents a cautious assessment of fracking in the state. … The study authors, many of them from Lawrence Berkeley National Laboratory, stress that they found no cases in California of groundwater contamination due to fracking or stimulating oil wells with acid.
[Reality Check:
Head of California energy regulator, Mark Nechodom, accused of favoring oil industry resigned due to scandal involving direct injection of oilfield wastewater into protected Central Valley aquifers. [When is "conflict of interest" Protti going to quit as head of the AER?]
California's oil regulator, the Division of Oil, Gas and Geothermal Resources, has been facing scrutiny from the U.S. Environmental Protection Agency after allowing oil producers to drill thousands of oilfield wastewater disposal wells into federally protected aquifers.
Nechodom was named this week in a federal lawsuit filed on behalf of a group of Kern County farmers who allege that Brown, the oil and gas division and others conspired with oil companies to allow the illegal injections and to create a more lax regulatory environment for energy firms. [When is ex-Encana VP, Ex-Chair CAPP, Ex-Cenovus Advisory, AER Chair Gerard Protti going to be named in a lawsuit for the heinous, biased, blanket approval, unregulated, play-based pilot project at Fox Creek and for allowing Encana to continue fracing directly where Alberta's fresh drinking water is?]
The lawsuit was filed under federal racketeering statutes and claims the conspiracy deprived Kern County farmers of access to clean water. [When is Protti going to be named in a lawsuit for depriving Rosebud Hamlet residents, and area water well owners access to clean water?]
… Attorney Rex Parris, whose firm filed the lawsuit, said in a written statement Friday that the case alleges a broad and complex conspiracy involving other officials. [How many lawsuits will eventually be filed naming the Alberta Energy Regulator and EUB/ERCB/AER officials, past and current, if Ernst succeeds at the Supreme Court of Canada?]
"We are not surprised that Nechodom resigned a day after the filing of this lawsuit," Parris said. "We are confident he is just one of many resignations to come."
… The Department of Conservation failed to meet an April 30 deadline for making public a broad range of information regarding the source, volume and disposal of water used in oil and gas production.  The agency said the law, which legislators approved last year, vastly increased the data that the state is required to collect from oil companies. Regulators are now required to track 200 billion data elements, a task that oil division officials said exceeded the capacity of its antiquated data management system.
Nechodom blamed the reporting failure on "unforeseeable personnel and technical challenges." The law is meant to allow state officials to track the water used in oil and gas production more closely. Up to 19 gallons of water may be pumped out of the ground for every gallon of oil.
Nechodom and other officials defended the agency's response to the discovery that oil wastewater was being injected into protected aquifers. The agency said it would review the location and operations of more than 2,500 wells. But environmental groups and state lawmakers have challenged the oil division's timeline. The agency has said it will take until 2017 to finish the review.
In one tense hearing before lawmakers in March, Nechodom received a barrage of criticism from elected officials who recited one oversight failure after another. [Like the aquifer-fracing enabling, lying, spying, law-violating, Charter-violating, completely legally immune, "No Duty of Care" EUB/ERCB/AER?]
Nechodom sat stone-faced during the hearing, but eventually agreed, saying, "We all fell down."
2015: California now says 2,500 wells dumping frac waste into protected aquifers, up from 532 in February
Nor did they find confirmed cases in which disposal of oil-field wastewater underground triggered earthquakes, a phenomenon that has caused a surge of tremors in Oklahoma. [Did they look?]
But no state agency has systematically searched for water contamination or a link to earthquakes, they write. And fracking can use so many different chemicals — two-thirds of which have unknown effects on the environment — that contamination could slip by undetected.
Contamination question
"We found little evidence of any impacts, of groundwater contamination, and we found few studies that actually looked for that contamination," [Like Dr. John Cherry and his Council of Canadian Academies frac panel did not look for and instead of reality relied on energy lobby group (CAPP) and industry (AER) propaganda and lies?] said Jane Long, lead researcher on the study's science team. "The fact that we haven't looked for it is an issue." [Like the US EPA didnt "look" either, now or in 2004?]
Dumping fracking wastewater into unlined, open-air pits could contaminate aquifers used for drinking and irrigation and should either be closely monitored or stopped altogether, the authors write. More than 900 such pits, many without proper permits from the state, dot the oil fields of the San Joaquin Valley, and some of them lie atop usable aquifers.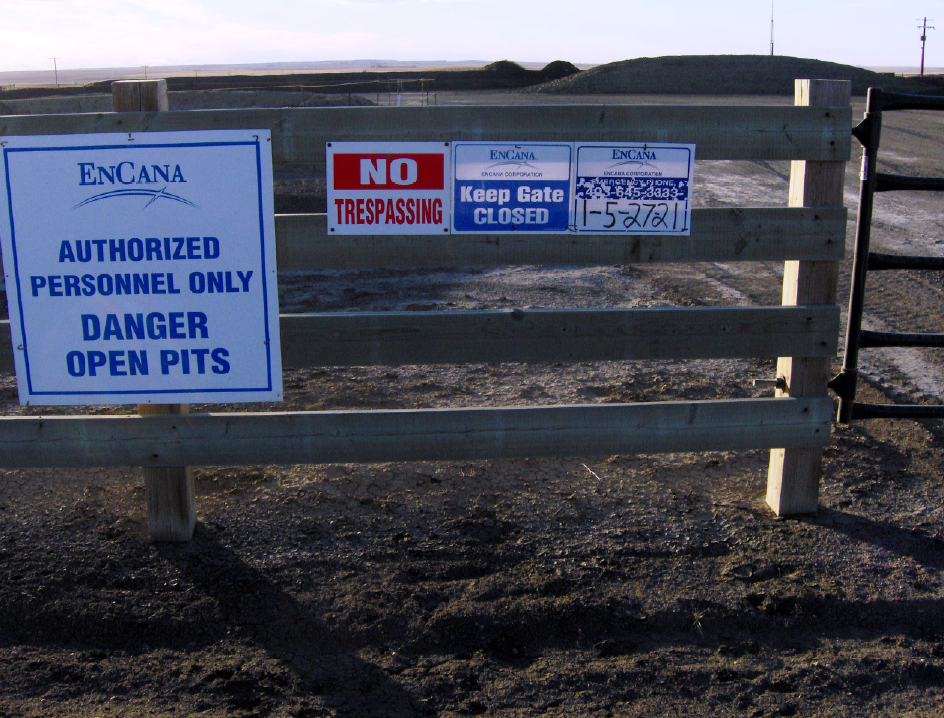 Encana's unlined, open air waste pits at Rosebud. When done with them, Encana covers them up. Do you see a regulator monitoring the community's drinking water?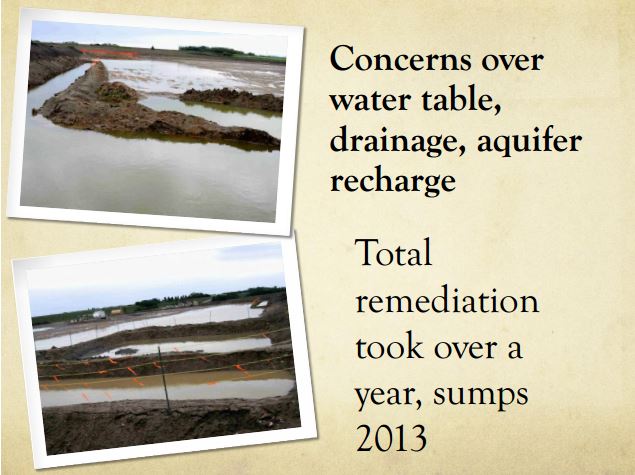 Unlined, open air pits by Angle Energy (Bellatrix) neighbouring Diana Daunheimer's home, water well, farm and family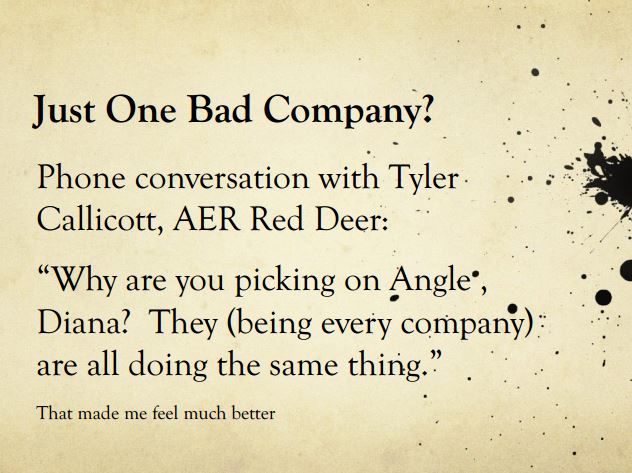 Attention to disposal
"This is a source of contamination that needs to be managed," Long said. "The water needs to be tested and treated, or the pits need to be closed." [Who tests, treats, fixes the endless aquifers frac'd and polluted by waste injection and pits and what about the frac'd caprock, who fixes it? And WHEN?]
The state should also pay special attention to areas where oil companies are fracking shallow wells that lie close to drinking-water supplies. The authors found several places, in both the San Joaquin Valley and the densely populated Los Angeles Basin, where fracking has happened at depths less than 1,000 feet. 
Fracking uses a high-pressure blend of water, sand and chemicals to crack rocks and release oil or natural gas. Acid stimulation employs powerful acids to open channels within the rocks and can be used on its own or in conjunction with fracking. …
"This study exposes California's oil producers as the polluters that they are," said Andrew Grinberg, the oil and gas program manager for Clean Water Action. "The science clearly identifies numerous threats from fracking and other oil-production activities that California's laws, regulations, enforcement and available data do not adequately address."
… The study, however, could produce results in Sacramento. Sen. Fran Pavley, D-Agoura Hills (Los Angeles County), said she would amend a pending bill to phase out wastewater disposal pits. Pavley wrote the 2013 law regulating well-stimulation techniques that triggered Thursday's study. The pits, she said, "pose a risk to the health of animals and humans."
… But the council, created in 1988 to advise the Legislature on technical issues, wasn't authorized to conduct its own water-quality tests. Instead, the group was asked to survey and analyze all the data it could find on fracking in the state. [And what about the companies and corrupt regulator staff refusing to share contamination and chemical data and information?
Large gaps in the data remain.
For example, the authors found only one small California earthquake in 1991 that had been attributed to fracking. They found no recorded cases in the state of earthquakes being triggered by the underground disposal of wastewater from fracking and other forms of oil drilling. But the possible link between tremors and wastewater disposal wells in California has not been researched in a systematic way, the authors wrote. The study includes a map of disposal wells and earthquake epicenters that shows two areas with concentrations of both, in eastern Ventura County and near Coalinga in the San Joaquin Valley. But further study is needed to tell if one caused the other, Long said. "We do see some situations where injection sites are co-located on the map with earthquakes, but we don't know if they're correlated in time or correlated in depth," she said. [Emphasis added]