Earthquakes shake Alberta town's faith in fracking by Justin Giovannetti, July 17, 2015, The Globe and Mail
With dirty pickup trucks in nearly every driveway, advertisements for energy service companies hanging at the local baseball diamond and work camps scattered nearby, Fox Creek cannot hide the fact it is a one-industry town.
One of nearly a dozen communities built during Alberta's oil rush of the 1950s and 1960s, Fox Creek is at the centre of a hydraulic fracturing boom. The process, known as fracking, injects a high-pressure fluid into a well to crack rock and increase the flow of oil and gas.
About 90 per cent of the town's 2,100 permanent residents work directly or indirectly for the energy companies that are looking for oil and natural gas in the surrounding Duvernay shale formation.
While hydraulic fracturing has taken off in the United States, Canada's shale plays have been disappointing. The Duvernay could change that. Chevron, Shell, Exxon[, Encana] and other major players are investing billions of dollars in the hills around Fox Creek, sinking more than 700 wells in the past three years.
But the people of Fox Creek are wondering about the costs of that potential windfall. It was once a seismically stable area with about one measurable earthquake a year. More than 160 have been detected since December, 2013, about the time hydraulic fracturing began in earnest.
The Alberta Energy Regulator has attributed two earthquakes measuring 4.4 on the Richter scale so far in 2015 to hydraulic fracturing. The two earthquakes are the strongest to be connected to fracking anywhere in the world.

After the second 4.4-magnitude earthquake near Fox Creek on June 13, Alberta's regulator issued its first stop order based on seismic activity. [A little bit too little and too late don't you think?]
People in Fox Creek are unsettled, according to Mayor Jim Ahn. The greatest worry is the tangle of aging pipelines that run by the town, some carrying highly concentrated sour gas, a serious public health risk in the event of a rupture.

"People are scared of the possibility of a bigger earthquake," Mr. Ahn said. "We have a sour gas pipeline that runs through town. It's nearly 40 years old, and if there is a major earthquake, people are worried that it or another pipeline would rupture."
The town council is planning to take its concerns about the pipelines to the energy regulator. The mayor says some families have moved away out of concern. [Where are they going to move to?  AER enabled, toxic emissions, gag order, poisonous homes Baytex country in Peace River? AER enabled Encana frac'd dangerously explosive Rosebud community, complete with exploding water tower, kerosene etc laced drinking water, AER/Alberta government cover-up extraordinaire? AER enabled frac'd to Hell Cochrane and Lochend, Bearspaw and Springbank?  Quicksilver and Encana frac'd, earth rising and bubbling Ponoka? Frac'd and poisoned Spirit River? Frac'd and poisoned Wetaskiwin? AER enabled frac'd health and farms at Didsbury? etc etc etc]
Councillor Jim Hailes, a retired school administrator, says he is worried, but was pleased the provincial energy regulator acted quickly with its stop order. Like many in town, he cautioned that a balanced approach is needed.
"There is a cause-and-effect from the drilling out there, but the only reason we exist is for the resources around us. If you take away the resources, there is no reason for us to exist," Mr. Hailes said.
Some in this small town said the tremor just before midnight on Jan. 22 felt like a big truck rumbling past their front doors. It was the first earthquake many had experienced. The second 4.4 earthquake struck 20 weeks later.
"It didn't last very long. I was sitting in my room and it just felt like an oversized helicopter was flying above. You could feel the rumbling," Arden Van Assen said.
A driller based in a work camp south of Fox Creek, Mr. Van Assen said the rest of his drill crew felt the quake and were not surprised when they saw it had been linked with fracking. "I thought it might be a possibility. We are putting a lot of holes in the ground."
Recent seismology conferences have seen a spike in interest around the increasing number of earthquakes being linked to fracking. A number of papers are in the works about a three-fold increase [dramatically higher than that] in earthquakes detected since 2010 across energy-rich Western Canada.
"These earthquakes are a new phenomenon. There were less than one or two earthquakes annually in Fox Creek before 2013. The increase has been dramatic," said Jeffrey Gu, an associate professor of geophysics at the University of Alberta. "There will only be more."
After the second earthquake, Chrevron was told to stop operations at a fracking pad and submit a plan for reducing the risk of future seismic activity. According to the regulator, neighbouring companies voluntarily ceased operations.
"A 4.4 is felt at surface," [so are much smaller earthquakes when caused by oil and gas industry injection, and smaller ones can cause serious and deadly damages] said Ryan Bartlett, a spokesman for the Alberta Energy Regulator. "We saw this as a risk and needing an immediate response." [Industry and the AER knew of the risks and damages caused by fracing decades ago. The AER and Alberta government under pressure from industry only deregulated more and more to enable more harms without any accountability. The AER's silly stop light facade was only put in place to appease the public and try to silence the alarm spreading around the world.]
Alberta's regulator wrote its earthquake rules in February after the first 4.4 quake of the year outside Fox Creek. Those new regulations instituted a code for companies to use when they communicate with the regulator about the severity of earthquakes. The code is based on traffic-light colours: Green is given to any quake near a fracking operation that is less than magnitude 2.0 and requires no response; yellow is for quakes between 2.0 and 4.0, for which a response plan is needed; red is for quakes above 4.0 and invokes a stop order. [Meanwhile, in the UK, red is for quakes above 0.5 and invokes a stop order: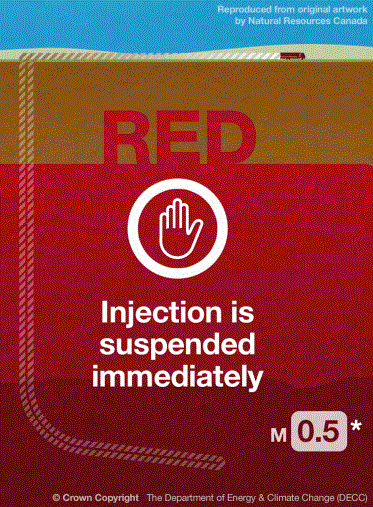 "We need to balance the benefits that are obtained from resource development against risks," said Gail Atkinson, Canada Research Chair in Earthquake Hazards at the University of Western Ontario. "We need to be prepared to suspend operations if warranted, as the AER has already suggested."
The first stop order lasted 16 days. Chevron wrote a protocol to reduce the risk of earthquakes and resumed operations on June 30.
"Chevron is supporting industry efforts to study possible links between oil and gas operations in the Fox Creek area and recent seismic events in the region," Chevron spokesman Cam Van Ast said in an e-mail. "At this time, we have no information on the cause of the June 13 seismic event."
While the town's administration has accepted a link between fracking and earthquakes, some along the main drag remain skeptical. "I don't think it was caused by fracking. That's silly. Earthquakes are way too big for that," said Rudy Andary, the operator of a local pizza parlour. [Emphasis added]
The Chevron Frac Guarantee: Our well won't explode…or your pizza is free!
After fracking blast, Chevron offers pizza
Chevron offers free pizza to make up for deadly fracking
Chevron's Pizza Apology Blunder Goes Viral
Chevron Offers Pizza In Wake Of Bobtown Gas Explosion
Chevron offers pizza to victims of fracking explosion
Frackquake Madness! — 35 Fracking Earthquakes Rock Oklahoma in a Week
Historically speaking, Oklahoma used to be a place where almost no palpable earthquakes happened at all — but hydraulic fracturing, a.k.a. "fracking" has changed all that now.
Between the dates June 17 and June 24, 2015, Oklahoma was jolted by 35 earthquakes greater than magnitude 3.0 due to fracking and fracking wastewater injection activities, the Oklahoma Geological Survey (OGS) has confirmed — this, in a state that experienced less than two such quakes per year before 2009.
… The Oklahoma Corporation Commission (OCC) regulates all oil and gas activities in the state, and had a strong and vocal response to last week's unprecedented episode. Matt Skinner, a spokesman for the OCC told Reuters, "There's been a huge increase. That's a game-changer," insinuating that OCC may need to implement even more rules in an effort to deescalate the frequency and force of the tremors — a shaky situation that has many residents in Oklahoma downright concerned.
Homes have been rattled and damaged to the tune of tens of thousands of dollars, and worrying regulators is the stark fact that some of last week's quakes stretched beyond rural oilfield areas and shook homes and businesses along fault-lines in metropolitan, and heavily populated Oklahoma City.
OKLAHOMA'S MANMADE, INDUSTRY-CREATED, SEISMIC DEBACLE
… In Oklahoma, the problem has become chronic. Decades upon decades of exploitation have left Oklahoma's oilfields saturated with water, and the sheer volume of wastewater injection wells is making it very difficult for experts and regulators to zero out culprit wells that might be upsetting faults.
… Some of Oklahoma's most active oil fields are also its most water-logged, such as the Mississippi Lime formation, where drillers recover, on average, more than seven barrels of water for every barrel of oil, according to a study by Kyle Murray, a hydrogeologist at the Oklahoma Geological Survey.
Oklahoma is home to a staggering 3,200 saltwater injection wells — many of which are in areas where the water-to-oil ratio is very poor. Unlike situations in Kansas and other states where particular injection wells have been definitively linked to seismic events, in Oklahoma, the situation is complex, and regulators have had limited, if any success pinning specific wells to corresponding seismic events.
Frackied Oil Well To add fuel to the water-logged fracking fire, "waterflooding", is yet another "secondary recovery technique" rarely discussed in the media, wherein millions upon millions of gallons of water are pumped underground to re-pressurize entire oilfields that have been deflated to a point of low productivity. Waterfloods have been deployed widely in Oklahoma [And Alberta] and are also surely contributing to underground formational movements. With the escalating and chronic situation in Oklahoma's watery oilfields, and the strong words coming from OCC regarding last week's epic series of seismic events, onlookers are wondering what the agency's next move will be toward cracking down on industry-caused quakes — and if legislation will soon be necessary to get regulators regulating, in a scene that is now reaching crisis levels for citizens and the oil industry alike. [Perhaps an AER stop sign? They're cheap]
IN LANDMARK ADMISSION, STATE OF OKLAHOMA ACKNOWLEDGES FRACKING THE CULPRIT Just two months back, on April 21, 2015, "after years of official skepticism," the Sooner State finally accepted that "billions of barrels of wastewater from oil and gas wells," were officially to blame for the marked and massive increase in seismic activity, reported the New York Times.
… It's important to understand this isn't just a minuscule or questionable increase in seismic activity that is being discussed here. According to state-conducted research, widespread fracking, and fracking wastewater injection have transformed the state from a place that had an average of two tiny earthquakes a year, to the most seismically active area in the United States. In fact, the massive surge in fracking-related quakes has even alerted OGS as to the existence of many formerly stable and dormant underground faults, that it didn't previously know existed.
… The state of Oklahoma has even set up its own earthquake website, whereon it states front and center on the homepage, "Oklahoma experienced 585 magnitude 3+ earthquakes in 2014 compared to 109 events recorded in 2013. … There is a massive connection going on, and Oklahoma has now at least acknowledged that fact, and has even implemented a new rule in hopes of seeing a reduction in events. But after last week's upsetting spike, the state has more pressure than ever on it to put a damper on the shaky ground, before things get out of hand.
Oklahoma's extraordinarily water-saturated oilfields in tandem with the widespread deployment of fracking — blasting underground formations apart and propping them open with sand and deadly chemicals — coupled with widespread waterflooding and 3,200 fracking wastewater disposal wells, have all created the perfect storm — a circumstance that has now generated a manmade, seismically unstable environment — a place haven to bubbling, stewing, emotional unrest, in the correspondingly affected communities.
FRACKQUAKES — AN ESCALATING THREAT NATIONWIDE
Oklahoma isn't the only place shaking from "frackquakes" these days. In addition to documented areas in Texas, Ohio and Colorado, Alabama, Arkansas, Kansas, and New Mexico have also experienced such tremors according to a report issued by the United States Geological Survey (USGS) in April of 2015.
… The problem is not limited to the United States. "Frackquakes" as they have come to be known, are becoming ever more frequent throughout Canada, Europe and the entire world.
Only a couple weeks back, oilfield communities in Alberta, Canada were rattled by two earthquakes and industry regulators and other local experts said that fracking was indeed the culprit in both those cases. 
…
[Emphasis added]
[Refer also to:
Alberta misses target in oilpatch regulatory violations. Violations double since 2010. 610 High-risk violations in 2014
Cumulative Impacts Frack Attack? Double Homicide in "No Duty of Care" AER and Gerard Protti's Fox Creek Blanket Approval Pilot Project
Thank Fracking: Business licence for Fox Creek hotel goes up 133,233 per cent
AER, Chair Protti and CEO Ellis: WHERE ARE YOU? 'Very special person' one of victims of fatal Fox Creek Blanket Approval Frac Experiment Camp knife attack
AER and Gerard Protti trying to erase the murders in the Frac Hell Free-for-all they created and enable at Fox Creek? How will the AER restore those lives? How will they wipe out the horror facing residents and workers?
Do we need another "independent" frac study? The AER asks: How far do we go? Fox Creek residents react to the latest 4.4 Magnitude quake
Chevron reported 3.6 magnitude event; Shut down by AER. Is the AER's Frac Quake Stop Light System Irrelevant? Another 4.4 Magnitude Earthquake at Fox Creek
Town of Fox Creek Water Ban on ALL Non-Essential Use. Does that include fracking in AER's Deregulated, Blanket Approval, Frac Frenzy, Play-Based Pilot Project surrounding Fox Creek?
Fox Creek frac quakes make AER play deregulation with you and your loved ones: "Red Light = Green Light"
Fracking Quakes Pose Added Risks but Oil and Gas Companies Refuse to Share their Collected Seismic Data. "In low seismic environments like Fox Creek where the natural earthquakes are infrequent, the hazards from an induced seismic event can exceed the hazards from a natural source"
Did Alberta Just Break a Fracking Earthquake World Record with 4.4 Temblor at Fox Creek? Sounds of Silence: The Crooked Lake Earthquakes
Alleged groundwater pollution concerns by Trilogy at Fox Creek under investigation; Whistleblower: "cement job didn't go as planned and there was NO cement in the hole"
Synergy and blanket approval to give industry free-for all fracking in Alberta! Watch out Fox Creek and the rest of Canada, Synergy is brainwashing controlled by industry, incredibly evil and works well