Four years without water: How shale drilling impacted one rural community by Wallace McKelvey, Candy Woodall contributed, October 20, 2015, PennLive.com
Uncle Denny knew that long before the Rex Energy convoy pulled up four years ago: a yellow school bus full of pumps instead of pupils and two flatbed trucks hauling water buffaloes — the freestanding tanks that have become ubiquitous in parts of Pennsylvania shale country.
News travels fast in the Woodlands, a hardscrabble community of barking dogs and dirt roads 30 miles north of Pittsburgh, particularly after Denny and his neighbors' taps started spewing black and brown well water, some of it fizzy and smelling of rotten eggs. Residents saw their gardens wither and their pets sickened. Some would later report cancer.
"You look at it, it ain't real clear," says Denny, whose given name is John Denton Fair. He's standing at his kitchen sink, holding a Mason jar full of brown-tinted water with air bubbles rising along the sides.
When left for an hour in the sink, standing water develops an oil sheen, he says. "Leave it set overnight, it'll turn black as your camera."
John Fair talks about his neighborhood, The Woodlands, and how he would just like his water to be fixed. Rex Energy trucked in drinking water for nine months in 2011 until the state Department of Environmental Protection concluded that the benzene and cyanide found at the 61-year-old machinist's well could not be linked to the fracking taking place a quarter-mile away.
The DEP says an increase in demand for water stressed the local aquifer that supplies groundwater. Representatives from Rex Energy did not respond to requests for comment. A number of Denny's neighbors have filed lawsuits that are pending.
Four years on, many here still don't have running water.
"I don't want the money," Denny says, tears welling in his eyes. "I want the water."
No water, no help
Communities such as the Woodlands, surrounded on all sides by newly completed gas wells, have been left to fend for themselves. Residents said DEP officials were slow to respond to complaints here and, once inspectors arrived, they provided sporadic and contradictory advice to residents.
… "I don't think it would be a productive use of my time to review how the agency handled certain cases," the new DEP Secretary John Quigley said in an interview at his Harrisburg office. "I'm much more interested in ongoing instances of pollution of the waterways of the commonwealth."
A common joke among citizens, environmental attorneys and local officials who have dealt with the agency is that DEP really stands for "Don't Expect Protection."
The residents of the Woodlands agree.
"I'm not wasting my time no more," says Denny Higgins, 44, who bought four acres in the Woodlands to be away from the headaches of city life.
Now, he collects rainwater from the roof of his garage. Higgins showers every five days in a janitor's closet at work. Sometimes, he takes his family to a nearby park "to get the government's free water."
"You know how embarrassing it is to load up everybody in the car and go to Moraine State Park to get a shower?" he said.
They shower in the state park to conserve the 1,500 gallons of water they buy every two weeks for $100. That's $200 a month for 3,000 gallons – a stark difference from the average monthly water bill in Pennsylvania of about $30 for 3,000 gallons, according to the Pennsylvania Office of Consumer Advocate. [April 2006 – April 2008, Alberta Environment paid water haulers $300.00 to deliver 900 gallons of fresh water to Ernst.]
All the while, he said, his complaints and pleas for help have largely gone unanswered. It's been about three years since a DEP inspector has been out to check his water. One time, he said, an inspector showed up twice in an eight-month span after losing the first test results.
Everyone at the Woodlands has a story of a DEP inspector. To some, they were frank, saying that the resident's suspicions were valid but that there was nothing to be done. Woodlands resident Janet McIntyre said she was told that her water problem was the result of slugs becoming ground up in her pump. Uncle Denny said he was told that because his property was north of the closest well site, it was impossible his well would be impacted. Gas wells have since been drilled north of him, as well.
The DEP concluded that nearby wells had nothing to do with Higgins' orange tap water.
"After four years, you lose hope," he says. "There's no hope."
Denny Higgins invites Governor Tom Wolf to come see how he is living with no water in the Woodlands in Evans City, Pa.
Connoquenessing Township, home of the Woodlands, had received $788,846 through Act 13 by the end of 2014, according to the Public Utility Commission. Butler County received nearly $6 million.
Residents of the Woodlands, however, say they haven't seen any of that money: The roads remain unpaved, which in turn complicates ambulance service and requires them to retrieve mail and haul trash to the blacktop as far as a mile from home. In the winter, some throughways become impassable for weeks or months at a time. Discussion of extending municipal water lines to the community died last year without any resolution.
"It is not the township's responsibility," said Terry Steinheiser, chair of the township supervisors, at a 2013 meeting. Steinheister, in addition to a number of other county and township officials, did not respond to requests for comment.
Butler County used its 2014 impact fee proceeds to operate its dispatch center and nursing home, renovate a public swimming pool and repair county-owned bridges.
With so much strife and suffering over water, the use of impact fee money on a swimming pool rankles McIntyre. "That infuriates me," she says, "because when am I ever going to use that swimming pool? "I'll go over there and take a bath," she says, in between truckloads of water. "I always threaten I'm going to take my shampoo and towel."
The use of impact fees are, of course, a matter of discretion: "[Act 13] gives those counties the flexibility to use it as they see fit," said former Gov. Tom Corbett, who led the push for the new law, in a June interview. [Matter of discretion? Like Encana giving Rosebud Theatre money while fraudulently offering Ernst "baseline" water tests after illegally fracturing multiple Rosebud aquifers and after regulator fingerprinting of gases in community water wells proved Encana guilty?]
"I don't want the money. I want the water." John 'Uncle Denny' Fair
On a Monday morning this summer, McIntyre was at the White Oak Springs Presbyterian Church, a few miles away from the Woodlands, to help distribute cases of bottled water to her neighbors.
The water bank, as organizers call it, grew from 12 families to about 45, with the demand increasing as word spreads and more wells are impacted.
McIntyre disconnected her well and now pays $200 every two weeks for 1,500 gallons of water to be delivered. Like many of her neighbors, she soon discovered how quickly the water goes.
In order to stretch their available water, many residents forgo showers and laundry, saving as much of it as possible for drinking. Uncle Denny, for example, still uses his tap water to wash dishes and clean clothes. Garfield and TC, the two cats his ex-wife left behind, drink the same bottled water he gets from the water bank.
"A couple times, I made the mistake of giving the cats some of the (tap) water," Uncle Denny says. Within 24 hours, Garfield, the heavier of the two, fell into convulsions. "It looks like she's choking to death," he remembers.
A wing and a prayer
With virtually no recent information from state regulators or the gas company — and no baseline water tests to prove conclusively that the fracking caused the water problems — many residents are left to wonder. [There's so much frac fraud going on by regulators, companies, academics and hired "experts" to cover-up the horrific frac harms, polluted post-frac well water data mysteriously turns into pre-frac "baseline" to let the polluting company off the hook and let the regulator change "historic" conditions or alter entire historic water well data sets (as happened in Alberta in 2010)] 
Norma Jean Kudamik's well water has repeatedly changed in color and taste. Some days, it fizzes. When she was diagnosed with lung cancer last August, her mind immediately turned to the well site a few hundred feet from her backyard.
"I'm 73 years old," she says over the din of an oxygen machine. "I started smoking in my late teens. I've lived for 50-some years cancer-free until this all began. All of the sudden, I had lung cancer and I think it's from all the gasses and chemicals in the air. I hate to say it, but that's how I feel."
Like most residents, Kudamik uses bottled water from the church water bank but if the clean water goes too quickly, she's forced to use the tap. That happened one day this summer.
The result: Her IV bag, which holds nutrients to help her as she undergoes cancer treatment, turned orange, she said. Normally, the fluid is clear.
Beyond the questions about her health, Kudamik said her family feels trapped.
"It makes you wonder," she says. "Our property we paid for all these years is worthless because who in their right mind would want to buy this three-quarter-acre sitting right next to a cesspool?"
Fracking is controversial even at White Oak Springs Presbyterian Church, a small country parish surrounded by a white picket fence. "In our congregation, there are people who are vehemently opposed to fracking and there are some who've signed leases, so I have to walk a narrow line," says Pastor Lee Dreyer, a soft-spoken man in jeans and a Pittsburgh Pirates T-shirt.
Dreyer started the water bank about four years ago out of his minivan, buying out the local grocery store of its 69-cent gallon jugs. He piled them into shopping carts, hauled them out to his vehicle and drove around the Woodlands with McIntyre, hand-delivering them.
When he first brought the ministry to his congregation, Dreyer promised to stay out of the politics of shale. That can be a difficult proposition, but he manages it by speaking of those "without food, water, medical care and so on" in sermons and prayers.
"It was set up as a stop-gap, temporary measure and I honestly thought we'd be done with it by now," he says. "But there's no way. There is no end in sight."
As the ministry grew, contributions came from unexpected places. Poland Springs donated pallets of water that it holds from every batch it ships for six months, ironically enough, in case any of its consumers file contamination complaints. In 2012 and 2013, the Woodlands garnered increasing media attention and so checks came in from far-flung places such as Baltimore and Syracuse.
Two entities, however, have conspicuously abstained from contributing to the collection plate: "The local officials from both the township and the county don't seem very interested in helping one little bit," Dreyer said. Representatives from both did not respond to requests for comment.
Same goes for Rex Energy, although the company paid for water service for a number of residents for nine months.
The fact that most Woodlands residents are among the working poor means they're "out of sight, out of mind," Dreyer said.
"They're in an area of the township that's easily ignored," he says. "If it was a development with $500,000 homes, you can bet they wouldn't be going through this."
Late this August, with demand overtaking supply, the water bank ran out of money. With more than 50 families relying on the church and the flagging donations it receives, Dreyer was forced to close up shop for the first time in four years.
"The last night we distributed, there was disappointment," he said. "You could see it in people's faces, but there was also understanding. They were grateful we were able to do it for so long. It's that reaction that makes me want to get it up and running as fast as possible."
Water is flowing again, at least at the water bank, but Dreyer said its long-term survival is anything but certain.
"It can always flow down again," he said. "We'll just play it by ear as long as we can."
'For sale' forever
Uncle Denny came to the Woodlands 30 years ago and raised a family in a rented trailer off a quiet dirt road. He told the landlord to keep the shade trees on his grassy lot.
He has no intention of moving, and his daughter and granddaughter still live just a short walk across the backyard.
The Woodlands is the kind of place where children adopt affectionate nicknames for their elders — that's how John Fair became "Uncle Denny." These days, it's almost as though he was never called anything else.
When Uncle Denny gets off work at 3 a.m., he can count on at least one of his neighbors stopping by to share a few stories and cans of Keystone Ice. He keeps the porch light on and his screen door unlocked until he's ready for bed.
There have been drug busts in the neighborhood — cocaine and Xanax, bath salts and marijuana — along with teenagers breaking into cars, but there are also people helping people.
"You need a hand, give a yell," is the prevailing sentiment.
The same logic applies to Uncle Denny's current predicament.
"Since I believe it's the drilling company that caused the problem, the simplest thing they could do is buy me a filter system to hook up to the well," he says, sitting at his kitchen table with rolling papers and tobacco laid out in front of him. "You get the system and I'll have to maintain it."
Six years ago, Uncle Denny spent most of his savings buying the land — three-quarter-acre lots for himself and his family — that he had rented for about three decades. He's as rooted as the shade trees on his property, and there likely wouldn't be a buyer anyway, he says. "For sale" signs have remained planted on the lawns of some of the more expensive homes up on the main road for months, as buyers soon learn about the area's water troubles.
Nine months after the water buffaloes had been delivered, the Rex Energy convoy returned to Uncle Denny's. The same hollowed-out school bus and the same flatbed trucks trundled down the dirt road and stopped in front of his house.
"They had the water retested," the man in the Rex Energy jacket said, "and they couldn't find anything wrong with it." [By way of fraud? by not looking? Did Rex Energy disclose all the chemicals injected, including tracers, to ensure appropriate testing or did they avoid testing red flag indicators like Alberta Environment avoided testing for phthalates at Diana Daunheimer's after the regulator knew the family's water was contaminated with phthalates?]
Uncle Denny could keep the water buffaloes if he could afford the money for water delivery, the man said.
"That ain't happening," was Uncle Denny's reply.
Uncle Denny helped them roll the giant green water buffaloes across his yard and onto the waiting flatbeds like he would help any of his neighbors. As they worked on securing the load, he reconnected his well and pumped muddy, putrid water into a yellow plastic bucket.
Before the company men left for the next house, Uncle Denny fetched a glass from his house, dipped it in the bucket and offered the lead man a drink.
"If the water's fine, you won't mind having a glass," he said, holding it out for the stranger.
"No, I'm not thirsty."
To donate to the water bank, send checks to Water for Woodlands, c/o White Oak Springs Presbyterian Church, 102 Shannon Road, Renfrew, PA, 16053. [Emphasis added]
[Refer also to:
Public Herald 30-Month Report Finds DEP Fracking Complaint Investigations Are "Cooked" & Shredded
During the 2011 Atgas blowout investigation in Bradford County, Chesapeake Energy was allowed to dismiss their own pre-drill water test results to avoid liability for contaminating a water supply. This simple act by DEP essentially changed the background water quality data for the area, creating an artificial history of drinking water quality.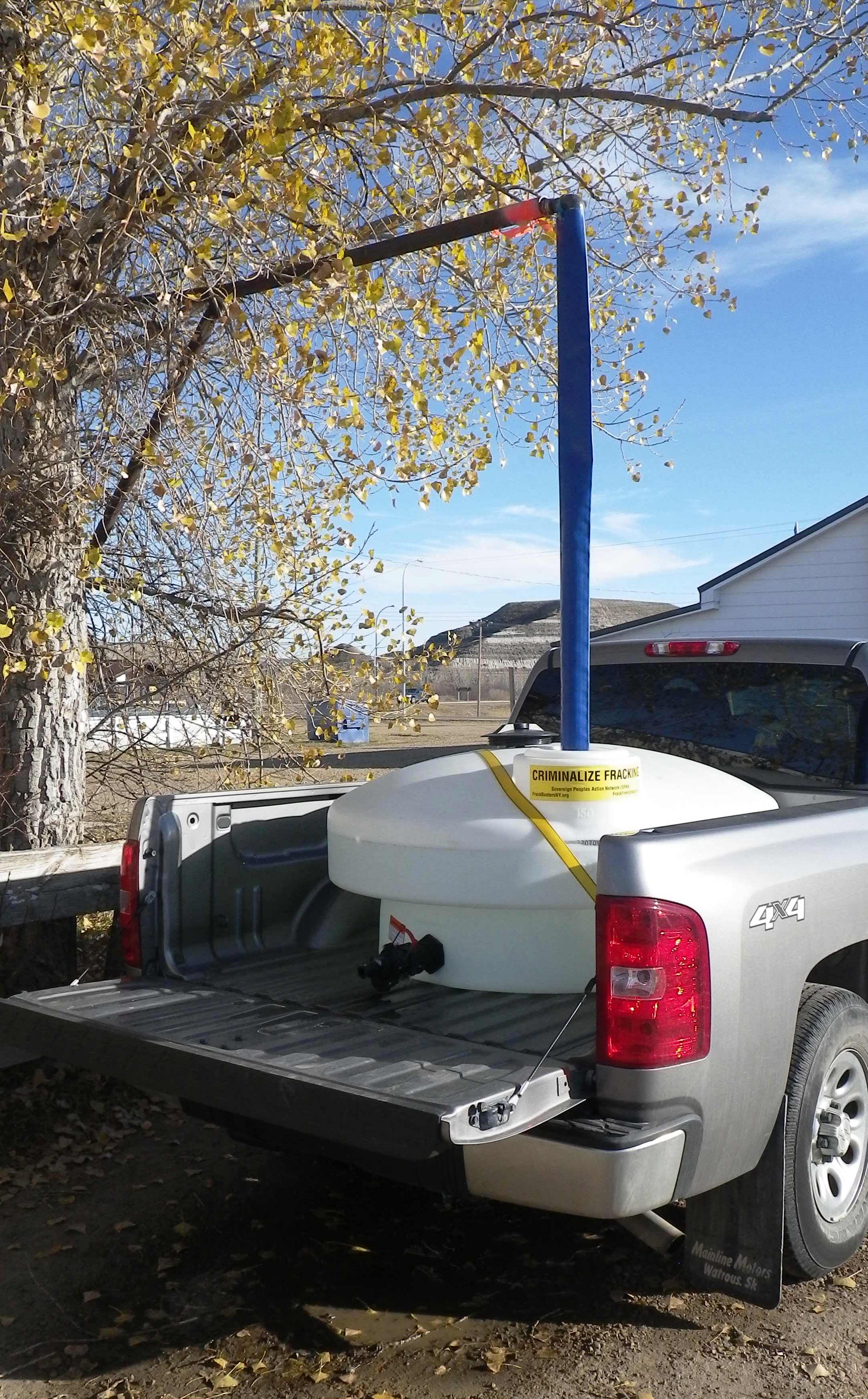 2015 10 21: Ernst loading water at Rosedale, 45 minute drive one way from Rosebud, into 185 gallon tank with "criminalize fracking" sticker from New York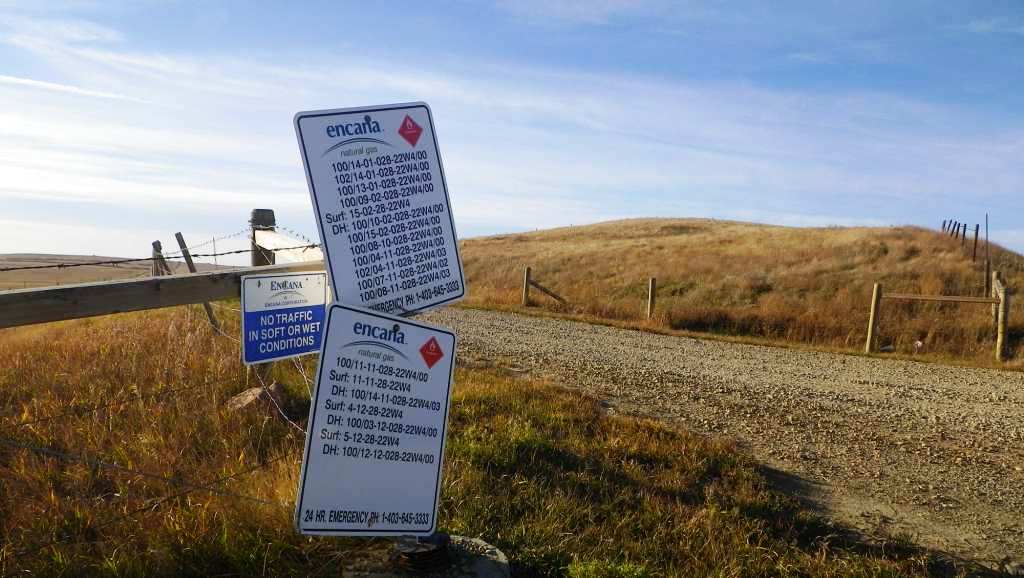 2015 10 21: Cumulative impacts by Encana at Rosebud.
Even after your well water is too dangerously contaminated to be connected to your home, they frac you again and again and again and again and again and again and again.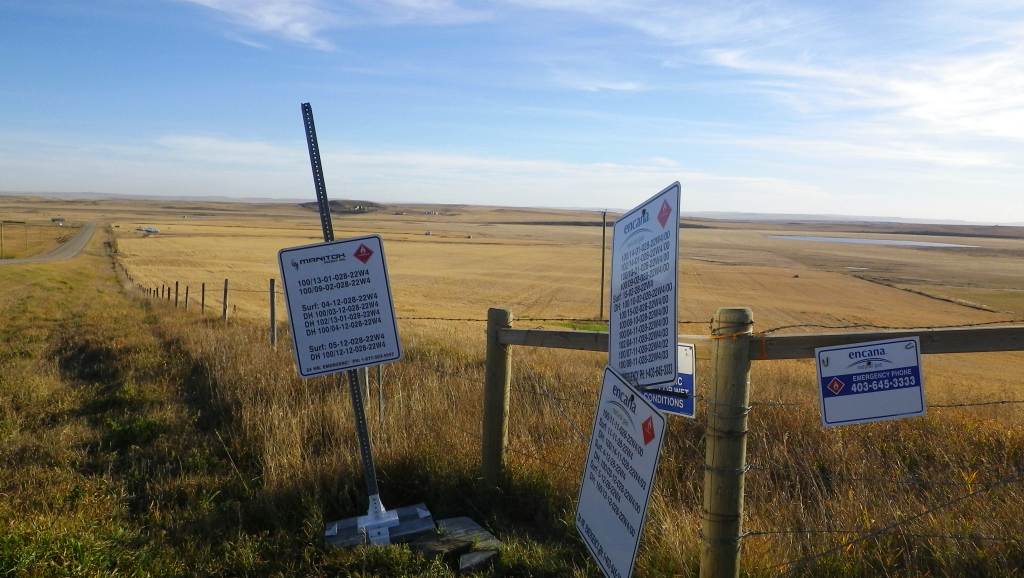 South of above: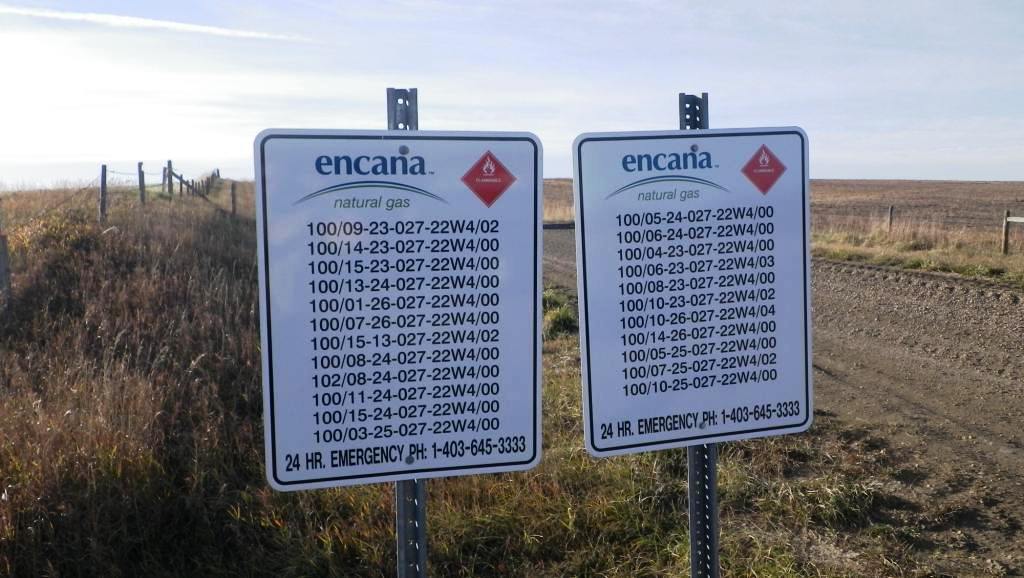 It's never enough. Apparently, there's no such thing as too much risk of explosion in Alberta drinking water.