Nova Scotia still pondering rules for fracking by Michael Gorman, December 4, 2015, Chronicle Herald
After more than a year of work the province's Energy Department still cannot define high-volume hydraulic fracturing.
Energy Minister Michel Samson said the effort, which has been underway since the release of the Wheeler report in August 2014, remains a work in progress, in part because of how much work is on department staff's plate and "because of the implications that certain words in the definitions can have."
"This is one that is a complicated file; it's one that's drawn a lot of attention both positive and negative in various parts of the work," Samson said. "So we want to make sure that, in doing this, that we are doing so in a responsible way and one that Nova Scotians will accept."
The minister said the government has been "working very closely with jurisdictions in both the United States and throughout Canada" that have fracking industries. He said the definition isn't the question, but rather determining whether there is a social licence from communities to host the work.
Progressive Conservative Leader Jamie Baillie said there's a simple reason for the government's delay in producing a definition: "They obviously don't want to." Baillie, an advocate for pursuing fracking in the province, said Nova Scotia needs the jobs, and companies that might be interested in exploration, or communities that might consider such operations, cannot do so without adequate information.
He thinks the government is using social licence as an excuse not to work on the file.
"As long as this remains outstanding, no one's even going to invest in looking to see how much gas we have onshore, and that's a shame, because getting private investment to prove up the resource will tell us just how many jobs could be created, and these are jobs in rural areas where they're really needed."
Samson said work on regulations for fracking continues, including "exactly how do you determine a social licence (and) how do you determine what is a community." [Emphasis added]
[Community definition reality check: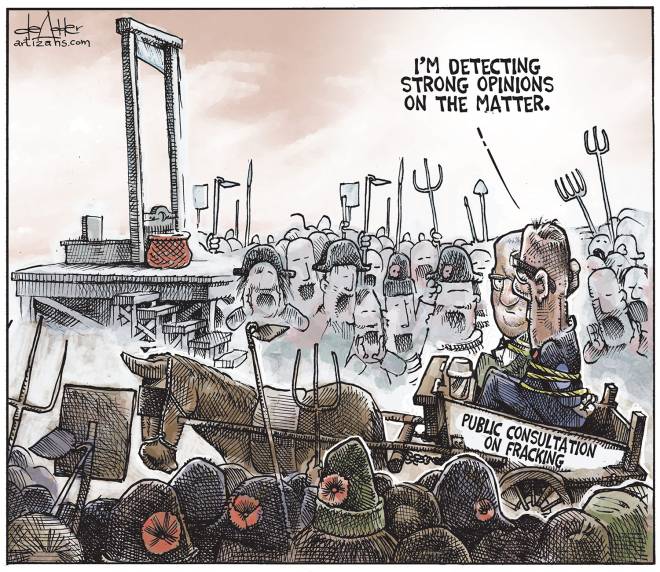 Ontario can't figure frac'ing out either:
While Ontario Government Won't Define High-Volume Fracking and Lies to the Public, High-Volume Fracking Banned in New York State Today!
After 3,600 frac'd/stimulated wells in Ontario: Private member's bill to ban high volume fracing passes second reading
Ontario Minister Natural Resources/Forestry Bill Mauro says "there are currently no applications before the Ministry requesting approval to…use high-volume hydraulic fracturing" but the Ministry hasn't defined "high volume" so how would he know? ]