On Alberta's "rules" of court (revised in 2010) by Osler, law firm representing Encana in Ernst vs Encana, November 1, 2010:
The time period for filing a statement of defence has changed. A statement of defence must be filed and served on the plaintiff within 20 days if served within Alberta…. [Emphasis added]
In 2014, in a hearing on a preliminary matter in Ernst vs AER (100% industry funded) at Court of Appeal of Alberta, the three judges, without any warning, suddenly wanted to hold a trial right then and there without allowing any preparation for it. But then the judges realized they couldn't hold a trial (to their great disappointment) because AER had not filed a Statement of Defence. Are Alberta judges and their "rules" of court fascist?

***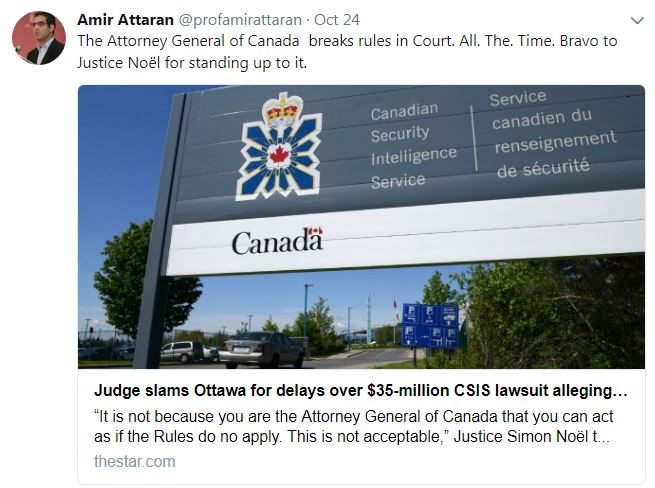 Judge slams Ottawa for delays over $35-million CSIS lawsuit alleging workplace Islamophobia, racism and homophobia by Michelle Shephard, National Security Reporter, October 24, 2017, Toronto Star
"It is not because you are the Attorney General of Canada that you can act as if the Rules do no apply. This is not acceptable," Justice Simon Noël told government lawyers in a September conference call, according to a transcript obtained by the Star.
A federal judge has slammed the Canadian government for not responding faster to a lawsuit launched by five intelligence officers and analysts who allege that they were bullied and harassed while working at Canada's spy service because they are gay, Muslim or Black.
"You can't act as if the Court is not there," Justice Simon Noël told Department of Justice lawyers during a September teleconference call regarding the case. [Who else acts as if the Court is not there?  Encana? AER? Alberta Environment? How many judges? How many Supreme Court of Canada judges?]
The Star obtained a redacted transcript of the call, which was filed with the federal court this week.
"(T)here is a course of action to be followed and you are no different from any other parties in Canada," Noël said. "It is not because you are the Attorney General of Canada that you can act as if the Rules do no apply. This is not acceptable."
At issue is the government's delay in filing a statement of defence regarding the $35-million lawsuit, which provided detailed accusations from inside one of the country's most secretive organizations.
The 54-page statement claim was filed in July and alleges that the Canadian Security Intelligence Service is run like an "old boys' club," creating a toxic work environment. One email cited in the claim, allegedly sent by a manager to a Toronto intelligence officer reads: "Careful your Muslim in-laws don't behead you in your sleep for being homo." The complainant, who goes by the pseudonym "Alex," is gay and has a Muslim partner.
Read more: Five CSIS employees are accusing the spy agency of Islamophobia, racism and homophobia in a $35-million lawsuit
A statement of defence is usually filed after 30 days unless an extension is granted. Department of Justice lawyer Gillian Patterson told the judge that there was a misunderstanding about filing deadlines.
Noël shot back, "give me a break," later stating, "I think there is something unusual happening here, and I am polite in my language."
While the Department of Justice may be slow to respond, reaction from CSIS's director to the allegations was swift.
David Vigneault had only been on the job leading the spy service for a few weeks when news broke about the lawsuit. He quickly issued a statement saying CSIS does "not tolerate harassment."
Soon after, he invited the five complainants and their lawyer to his office.
According to those who attended, he listened intently for nearly three hours, as boxes of Kleenex were shared around the table.
"It was unprecedented quite frankly for us to be invited in to talk," said "Alex," one of the five complainants, who alleges he had tried unsuccessfully for nearly four years to have his concerns addressed. "He listened. It was very heartfelt."
Alex and "Bahira," a Muslim intelligence officer with more than a decade of experience who is also part of the claim against CSIS, agreed to speak with the Star on the condition that their identities were not revealed. In both court documents, and during the interview last month, they used pseudonyms.
"The public would be shocked about this if they only knew; we keep our own secrets."
— A witness's comment about alleged harassment at CSIS, according to a statement of claim filed in Federal Court in July.
Under Canada's Security of Information Act, identifying a spy can be considered an offence.
All five of the complainants are still CSIS employees, but are on medical leave due to mental and physical conditions.
"Some of them are not being paid anymore; they were on disability, some are no longer being paid their disability amounts," their lawyer John Phillips told Justice Noël on the conference call. "And I know things don't move at a quick pace in litigation, but they need to have a resolution of this case."
None of the allegations against CSIS, which was recognized by Mediacorp Canada Inc. as one of Canada's top 100 employers for 2017, have been proven in court.
Justice Noël has given the government until Friday to submit a statement of defence.

 

[Three months. Compare to the years the defendants took to file their Statements of Defence in Ernst vs Encana!]

According to the transcript of the Sept. 13 call with Noël, the government is attempting to "resolve the claim."

Alex and Bahira said the stress of suing CSIS and the publicity it has generated has taken a toll. In the only interviews they have given, they said they felt they had no choice but to sue in order to get the attention of the government.

Both said they were optimistic after their meeting this summer with the director. "That was our hope. He's going to take care of this. He's a new fresh face, hopefully not supportive of the managers who refuse to do anything about this," Bahira said. "So we had hope and we waited week after week."

"I've worked hard in the last 15 years and I've done some incredible work for them," Bahira said as she began to cry. "I wanted my legacy to be the first Muslim hijabi who fought for her country and contributed. They robbed me of that. My legacy is Bahira, the discriminated, the victim … I feel betrayed; I feel angry. Something is wrong when someone like me can't walk into that building."

Bahira said she was often praised during her performance evaluations for having "unique access" in the Muslim communities where she worked. "I understood the culture, I understood the background. I know a lot about religion and can talk about it with credibility," she said about her work on the counterterrorism file concerning extremist groups recruiting Muslims. "I was able to build trust and credibility, to have a son report on a father, and a father report on his son, or a mother compel her son to sit down and talk to me."

But inside CSIS, she claims managers regarded her with suspicion once she began wearing a hijab in 2004. "I still remember going home and wanting to cry my eyes out at time, thinking, 'Why is this so hard because it's not me, I get along with people … colleagues seem to have respect for me,' " she told the Star. "It's what I represented and I knew I couldn't do anything about it … no senior manager is going to stand up for me."

Alex alleges that he had tried since 2013 to get his concerns addressed inside CSIS and never wanted to go public. In 2016, he launched a formal complaint that resulted in a "third-party" investigation. According to the statement of claim, the investigation noted that CSIS was "old school" and that employee complaints about managers were "dismissed and disregarded."

But Alex said no action was taken about the report's findings and his situation got worse. "So who was punished? No one. Come back to work now, and by the way, you get to report back to your accused. Oh, and you're not going to be in your plum position anymore," he said. "My career was done by that point." [Emphasis added]

Read more: Read the explosive allegations of Islamophobia, racism and homophobia levelled against Canada's spy agency

[Refer also to:

2017 04 20: Welcome to Canadian "justice" in Hell: CSIS officials and Federal Justice Dept lawyers being taught to tell the truth and share information with courts! ]