Alberta posts online wages of 3,100 top government earners by The Canadian Press, January 31, 2014, Lethbridge Herald
The names of more than 3,000 of the Alberta government's top money-earners are going online today. The province is releasing its list of names, salaries and benefits of all staff who earn more than $100,000 a year. … The number of workers who earn $100,000 or more has been pegged at 3,100 out of 27,000 employees. The list does not include the names and salaries of 300 Crown prosecutors.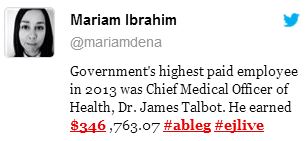 Sunshine list still to be released, despite last minute injunction, Making more than six figures annually working for the province? Your friends and neighbours will now know by Mariam Ibrahim, January 31, 2014, Edmonton Journal
Crown lawyers win injunction to prevent province from disclosing their pay, Edmonton judge granted injunction preventing Alberta government from publishing specific salaries of Crown prosecutors on "sunshine list" by Canadian Press, January 30, 2014, Calgary Herald
Court of Queen's Bench Judge Doreen Sulyma has ruled that giving out such information could jeopardize the prosecutors' right to safety and security under the charter.
Stormcloud bursts on Alberta sunshine list: Judge grants injunction against including prosecutor salaries by Ryan Cormier and Mariam Ibahim, January 30, 2014, Edmonton Journal
Alberta's sunshine list hit stormy weather Thursday when a judge granted an injunction that will prevent the province from publishing the names and salaries of Crown prosecutors. Court of Queen's Bench Justice Doreen Sulyma issued the order Thursday afternoon, the day before the government was set to release the salaries, benefits and severance pay of Alberta public employees who earn more than $100,000 a year. A prosecutor on the list brought the application, citing concerns for her personal and financial safety. The identity of the prosecutor is under a court-ordered publication ban. While prosecutors' salary ranges are already public, releasing exact salaries is a much different disclosure, Sulyma said. "That is extremely personal information and raises the serious question of a breach of her Charter rights," she said. [Emphasis added]
[Alberta Court of Queen's Bench Justice Neil Wittmann ruled that the ERCB (now AER) had breached Ernst's Charter rights but let the regulator get away with it claiming immunity.
Alberta lawyers get protection under the Charter, but not ordinary Albertans?
Note screen captures below:

…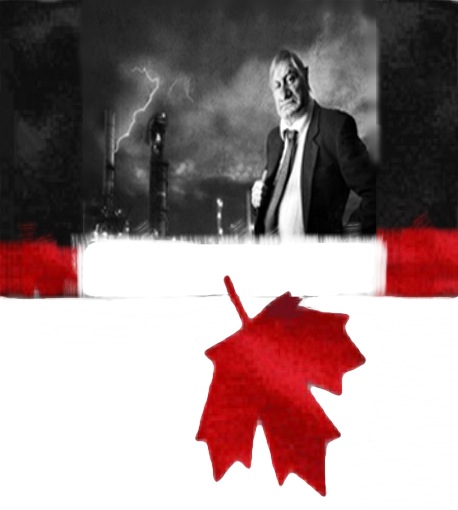 Alberta's new government salary list facing legal challenge by Mariam Ibrahim with files from Ryan Cormier, Janaury 30 2014, Calgary Herald
The release of Alberta's new sunshine list could be delayed after an employee with the Crown Prosecution Service filed for an injunction Wednesday. In December, the province unveiled its new policy, which would release publicly the salaries, benefits and severance pay of public employees in Alberta who earn more than a base of $100,000.
The release of Alberta's new sunshine list could be delayed after an employee with the Crown Prosecution Service filed for a last-minute injunction, citing safety concerns.
In December, the province unveiled its new policy, which would release publicly the salaries, benefits and severance pay of public employees in Alberta who earn more than a base of $100,000. The first list was set to be released Friday, and was to include the names and compensation for roughly 3,400 public employees, including deputy ministers, senior government officials and public workers who fall under the Public Service Act. A hearing into the matter was underway Thursday afternoon in Edmonton Court of Queen's Bench. The employee with the Crown prosecutor's office is seeking the injunction because of concerns over safety, court heard. The employee is also seeking a publication ban to prevent his or her name from being publicly reported during the court proceedings. The government learned Wednesday afternoon that the employee had filed for an interim injunction, said Kathleen Range, press secretary for Service Alberta. "We're going to oppose that injunction application … but in the meantime we are planning to go ahead with disclosure," she said. Range said she couldn't say if parts of the list not including prosecutors would still be released if the injunction were granted. "I can't speculate on that," she said.
Several other provinces have had their own sunshine lists, including B.C. and Ontario, both of which release the names and salaries of thousands of public employees, including prosecutors and judges. Range said Alberta studied the experience of other provinces in drafting its own salary disclosure policy, but also consulted experts closer to home. "We did involve the privacy commissioner on this policy and we have a response back from her that says we join those other jurisdictions across the country that are proactively disclosing salaries," Range said. Touted as the best in Canada when it was introduced in December, Alberta's policy will include contract and termination agreements whenever possible, but won't automatically apply to boards, agencies, commissions or municipalities, unlike in other jurisdictions.
Premier Alison Redford committed to a policy last October after controversy erupted over her office's refusal to release the severance paid to her former chief of staff Stephen Carter.

Carter ended up revealing in a tweet his severance was $130,000, which was equivalent to six months' pay for a position he'd held for only six months.
[Emphasis added]
Immorality and greed by B. P. Schimke, April 16, 2009, East Central Review Alberta
The majority of Albertans just want to work hard, make a decent living, give their children good opportunities for the future and have some fun. But do we really have a fighting chance with a corporate world and governments gone mad with unconscionable acts of immoral behaviour and greed? When you finish reading the article 'Bonuses, Pay Raises and Severance Packages' in this issue expect your blood pressure to boil, again. What happened on Wall Street is happening right here in our back yard, albeit on a slightly smaller scale.  Let's think about what a government bureaucrat does to earn a bonus?
Senior Alberta Justice officials received $15 million in "achievement bonuses" over the last three years. What in the world do they do to get a bonus? Did they get extra bonuses for prosecuting and persecuting small businessmen like Ray Strom, who had the audacity to take on Big Oil?
How does a senior bureaucrat in charge of Social Services get an achievement bonus? Could it be that he comes in under budget even though under his watch there is a 20 per cent increase in homelessness or child abuse [and more in child deaths] or gambling addictions? What about a senior bureaucrat in Seniors Services? Maybe someone got a big "achievement bonus" for coming up with the new "drug strategy" where middle-class seniors will pay an additional $3 million dollars more in drug costs in 2010? These are all hypotheses but just ask yourself, what do our government employees do to earn an achievement bonus? Whether we like it or not most programs run by the government have qualitative outcomes, not quantitative.
Then there are our corporate boys. When times were good we were told, "these people deserve their big salaries, bonuses and share options because it is "they" who are responsible for making us wealthier. Now, when the economy collapses, we've told these bonuses and share options are necessary either because (a.) we need to retain these geniuses so that they can get us out of these tough times, or (b.) we're legally obligated to pay out even though companies are reporting huge losses. Bonuses and share options are the major reasons why capitalism and free enterprise has gone amok. Bonuses and share options encouraged the guys on top to make bad decisions so that they personally would keep getting financially rewarded.
…
So what happens when corporate profits go south. Those in charge start to manipulate the results. Voila, the economic crash the world is enjoying today.
It is completely illegal for a hockey player to bet on or against his team, but in business and government, bonuses do exactly that. When you really think about it, business executives were manipulating their own performance results so that they would personally benefit and the investors and public enjoyed the ride until the manipulation could no longer be sustained and the "house of cards" imploded.
We have lost the fundamental principles of free enterprise . . . hard work, honesty and community. … It's time we get back to paying an executive, or bureaucrat or employee what the job is worth. And if that is $15 million a year, then pay it. If that person doesn't perform, then fire him. Let's stop the nonsense of bonuses, share options and severance packages. All of them just breed me-ism and corruption. [Emphasis added]
Bonuses. Pay raises. Severance packages by B. P. Schimke, April 16, 2009, East Central Review Alberta 
Alberta Health Services Health Minister, Ron Liepert has given the members and chairman of the year-old health superboard, remuneration increases of 92 per cent to 105 per cent.
Ken Hughes, board chairman of Alberta Health Services will now earn a salary of $75,000 a year. In addition, Hughes can earn an additional $48,000 per year by holding at least four public meetings a month. His maximum remuneration can now be $123,000 up from $60,000.
Board members will earn $60,000 a year and have the potential of earning an additional $36,000 through meetings. Their maximum remuneration is now $96,000 up from $50,000.
Alberta Government
Senior bureaucrats were paid an additional $40 million in bonuses in 2007-08 and more than $110 million in the past three years. … It is argued that bonuses are necessary to retain quality managers. Deputy ministers receiving these achievement bonuses were paid $253,668 in salaries this fiscal year and are looking at an increase to $264,576 on April 1sth, 2009.
Senior political appointees in the premier's office were also eligible for bonuses.
Nortel Networks Corp.
Nortel although under bankruptcy protection and in the process of laying off thousands of employees, will pay a combined $7.3 million US to eight top-level managers in Canada and the United States. The company argued before the Courts that these retention bonuses were necessary to keep key personnel from leaving the company as it undergoes court-protected restructuring.
Quasi-Judicial Boards in Alberta
Since 2005, there has been automatic bonuses awarded to heads of quasi-judicial panels and panel members who sit on boards such as the Energy Resources Compensation Board and the Alberta Utilities Commission. Heads of these boards receive an extra $28,000 to $38,000 on top of their salaries that range from $188,700 to $253,668. [Emphasis added]