Alberta doctor to meet U.S. senators to discuss health effects of oilsand development by Sheila Pratt, February 25, 2014, Edmonton Journal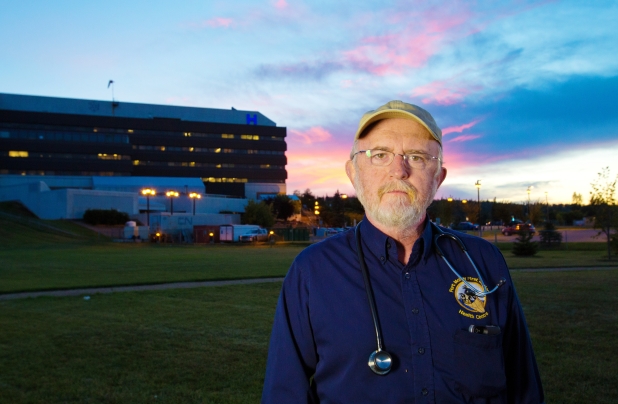 Dr. John O'Connor poses for a photo outside the hospital in Fort McMurray on September 9, 2013. Photograph by: Ryan Jackson , Edmonton Journal
Dr. John O'Connor, who drew fire as an advocate for health concerns in Fort Chipewyan, is heading to Washington, D.C. to brief some U.S. senators looking at the health impacts of oilsands development. O'Connor said he was invited to speak to members of the U.S. Senate committee on environment and public works and he will take the same message south that he tells in Alberta — that there is an urgent need to study health impacts of oil and gas extraction.
O'Connor's appearance Wednesday at the briefing with California Senator Barbara Boxer, the ranking Democrat and chairwoman of the committee, comes at a sensitive time as Alberta awaits the U.S. decision on the Keystone XL pipeline to take oilsands bitumen south. O'Connor stressed he's not going to "preach anti-pipeline. That's not remotely my goal" and not his expertise.  But he's hoping international pressure will help speed a long-promised study into health effects of oilsands in downstream communities like Fort Chipewyan. "It's my firm desire this will push us across the line for an independent health study," O'Connor said Monday. "There are a lot of health issues here and a considerable reluctance to do any independent study. Until we do a study, the impact on health we don't know."
In late January, Boxer called for a thorough review of the environmental and health impacts of extracting, transporting, refining of bitumen after the U.S. State Department released its final impact statement for the Keystone XL pipeline. "My biggest concerns continue to be the serious health impacts on communities, and the dangerous carbon pollution that comes from oilsands oil," she said at the time.
Keith Wilson, lawyer for Peace River area residents who left their homes due to bitumen fumes from a Baytex oil extraction facility, said he's "not surprised" legislators in Washington are taking an interest in related health issues. Alberta has been talking about its commitment to "responsible energy development" but the words and actions don't line up, he said. A month after the Alberta Energy Regulator held an inquiry into Baytex's operation, the company is still operating without proper pollution control equipment, he said. "This is not responsible energy development and as long as these Albertans continue to be treated this way we won't have responsible energy development," said Wilson.
Three other U.S. experts will attend the briefing. Stuart Batterman, a professor a the University of Michigan specializes in environment and health, especially air and water pollution. He also has addressed regulatory hearings in Alberta, including the 2010 hearing into the Total upgrader in 2010 in Fort Saskatchewan. Hilton Kelley is an environmental activist from Port Arthur, Tex., will present work on air pollution in the town that is located among eight major petrochemical facilities on the Gulf coast. Also at the briefing will be Chicago community activist Tom Shepherd who is fighting to clean up the huge mounds of petroleum coke stored along the Culumet River in Chicago. Pet coke is a byproduct of refining Alberta's oilsand bitumen. O'Connor said he has a duty to advocate for his patients — a duty that was backed up the by Physicians of College and Surgeons recently as well as the Alberta Medical Association. Several years ago, the province began to set up a healthy study. But First Nations pulled out when government proposed to put oil industry oversight on the study. Since then, no action has been taken. "They've created this issues by their own in action," O'Connor said. [Emphasis added]