Peace Country explosion raises questions about safety of shut-in wells, No regulations in place to require clean-up, researcher says by Kim Trynacity, August 9, 2016, CBC News
Claude Labrecque was watching the morning TV news a few weeks ago when an explosion rocked his trailer.
"It was such a strong explosion, I've never felt anything like that.
"The first thing I thought was that someone had opened the door and let off a shotgun in my trailer," said Labrecque, who has been cattle ranching near Nampa, northwest of Edmonton, for 30 years.
Once he figured out where the blast had come from, he opened the window and looked toward the burning storage tanks about 500 metres from his home.
"I could see pieces of steel up in the air, flying towards me. It was about 500 to 600 feet up. I was pretty shook up. I hope I never feel another one like that."
The wellsite on Labrecque's land is leased by Baytex Energy, a Calgary-based oil and gas company.
An explosion like the one Labrecque felt that morning should serve as a wake-up call, according to an independent industry researcher.
"It points to the fact of how important it is to properly regulate the hundreds of thousands of inactive and abandoned wells across Alberta," said Regan Boychuk, who was on a team of experts that advised the Alberta government's royalty review panel. [What good would regulations do? The AER, industry's promoter and enabler, ignores regulation violations and bullies and abuses those harmed by the violations instead. The only thing that might get companies to clean up (and even that is highly unlikely because industry's gas migration and pollution is often much more expensive to clean up than years of profits taken out), are 5 or 10 million dollar bonds, paid and put in trust up front, before any drilling and profit-taking begins, and only to be repaid when all clean up is complete. Because regulators and politicians never ask for this in Canada, it's obvious they have no intentions of expecting industry to clean up, or to make companies clean up]
Boychuk said thousands of old oil and gas wells can be found in every corner of the province, but there are no regulations in place to require anyone to clean them up.
"Albertans should be carefully calibrating how much oil we have left to responsibly produce, and how much it's going to cost to clean up the legacy of a century of oil production in Alberta," said Boychuk, past director of research at the University of Alberta's Parkland Institute. "And we should make sure our regulators have a concrete plan in place to make sure it's all cleaned up." [Much too late to be setting that up now. Concrete clean up plans and bonds to pay for the clean up ought to have been set up long ago. Companies are laughing now, with TILMA and NAFTA nicely in place to protect them so that they do not have to clean up (re clean up interferes w future profits, even imaginary ones]
A well could be shut-in for days, weeks or months, Ryan Bartlett, a spokesman for the Alberta Energy Regulator, said in an emailed statement.
There are no specific requirements for licensees to follow when a well is shut-in, Bartlett said, but "they must continue to follow AER requirements for safe operation of the facility." [Companies ignore those requirements and the AER ignores it when companies ignore them even during wells that are not shut-in, why the hell would companies do anything different when wells are shut-in?]
According to Alberta's Orphan Well Association, which is funded mostly by industry and the AER, the number of new orphan wells continues to rise.
When a company goes bankrupt or ceases operations and its owners can't be found, the well and its cleanup costs are handed over to the OWA. Oil and gas companies in Alberta pay into a fund that helps pay the cleanup costs, which can run into hundreds of thousands of dollars. [The fund is grossly and intentionally under-paid into, just how multinational corporations, politicians and the AER like it]
"This year's increase is attributed mainly to an increase in corporate insolvencies, due to the drop in commodity pricing in the latter part of 2014 and in 2015," the association said in its June 2016 annual report.
The number of wells from bankrupt companies has quadrupled in the past two years. It has 768 on the list now to be abandoned and 755 to be reclaimed.
Claude Labrecque only has one lease site on his property. But he estimates there are 50 to 60 storage tanks in the area, and said he expects there will be more in future.
Labrecque wasn't injured in the recent explosion, and there was no damage to his trailer. The blast was felt by residents who live up to three kilometres away.
"I'll always be wondering if there's going to be another explosion," said Labrecque, who has no intention of moving away.
Labrecque said Baytex Energy is compensating him for cleaning up his 30 acres of oats that were damaged by chunks of burned insulation from the explosion.
Bartlett said

Baytex is conducting a detailed investigation into the cause of the explosion, and is required to submit its report to the AER by Thursday.
[Conclusion like Encana's: Nature did it?]
Andrew Loosley, director of stakeholder and community relations for Baytex Energy, said the site had been shut-in since January and the well had been "valved-off." [Emphasis added]
Falher family seeks help two years after fleeing farm, 'It's bitter disappointment … don't tell us you're different than the previous government, show us' by Kim Trynacity, August 7, 2016, CBC News
A family who felt they had no choice but to abandon their Falher area farm in the Peace country more than two years ago are appealing to the provincial government for help and compensation.
Vivianne Laliberte and her husband Marcel said they experienced debilitating health problems after breathing in years of emissions from nearby heated petroleum tanks.
'We were exhausted all the time, we were even having some cognitive impairment.'
– Vivianne Laliberte
Laliberte says they loved their farm but felt they were faced with a "life or death" situation.
"We were exhausted all the time, we were even having some cognitive impairment."
Laliberte says their health has improved "dramatically" since moving away. She and her husband say they can never move back to their former home. The couple believes the emissions have caused irreparable damage to the farm.
Laliberte says when they drop in to check the condition of the house every now and then, they can't stay very long.
"We haven't been able to bring our belongings with us. When we go into that house, I don't know what it smells like, but it's awful."
Reaching out
Last year, Laliberte reached out to the NDP government hoping to get some kind of help.
In November of 2015, she met with Energy Minister Marg McCuaig-Boyd, and last month wrote a detailed letter inviting the minister to visit their farm to see the damage for herself.
"It's ten miles away from her sub-office in Falher, but there's been no follow-up."
The heated tanks across from the Laliberte farm are operated by Baytex Energy of Calgary.
It's the same company that was the subject of a public inquiry by the Alberta Energy Regulator, or AER, in March of 2014.
It was called after several families in the Peace River area fled their homes because of mysterious health complaints they believe were related to emissions from the bitumen extraction process.
The inquiry confirmed long term exposure to the emissions was damaging the health of area residents.
The finding prompted the AER to order Baytex Energy to install equipment to capture odour-causing emissions.
Several families who also fled their homes because of the emissions sued Baytex Energy and reached a settlement for an undisclosed amount, but the Laliberte's weren't part of that legal action.
Vivianne Laliberte believes they

shouldn't have to sue if the regulator and provincial government gave approval for the system that made them sick in the first place.
"These operations had all been approved by the regulator and the government, so we're holding them responsible."
'Don't tell us you're different… show us'
After their meeting, the constituency office for the Minister of Energy encouraged her to put her concerns and requests in writing.
The Lalibertes were hoping for a quick response from the NDP government, but that hasn't happened.
"It's bitter disappointment. And that's what we asked in our letter, don't tell us you're different than the previous government, show us."
Brad Hartle, the spokesman for the Energy Minister, says in an emailed statement they're aware of Laliberte's concerns and are working on a response to her letter.
"We want to do what we can to help her," wrote Hartle. "So we are currently working with the Ministry of Environment and Parks, and the Ministry of Health, as well as the Alberta Energy Regulator to determine how we can best go about addressing Ms. Laliberte's concerns." [Deflect lie bully deflect? Emphasis added]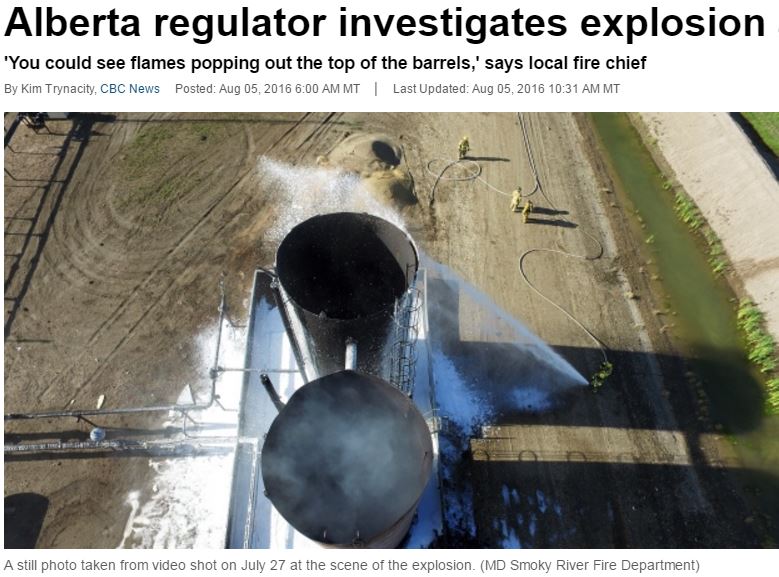 Alberta regulator investigates explosion at shut-in wellsite, 'You could see flames popping out the top of the barrels,' says local fire chief by Kim Trynacity, August 5, 2016, CBC News
The Alberta Energy Regulator is investigating an explosion at a shut-in wellsite near Nampa, south of Peace River.
The July 27 explosion was strong enough to blow the tops off the two huge storage tanks on the site, said Marcel Maure, fire chief of the Municipal District of Smoky River.
The fire was quickly extinguished by the 16-member volunteer fire department, but the explosion frightened nearby residents. [And what did the fumes do to their health?]
Drone video of an oil tank fire near Nampa, Alta.1:05
"When I got onto the highway, you could see big black smoke coming from that area," Maure said. "And as you got closer, you could see flames popping out the top of the barrels."
Maure said the impact of the blast was felt by residents three kilometres away.
'It felt like someone had kicked the door to his house open'
It was especially troubling to the closest resident, who lives only 500 metres from the explosion, Maure said.
"He said it felt like someone had kicked the door to his house open and shot a shotgun in the house."
The wellsite is leased by Baytex Energy, an oil and gas company based in Calgary.
The site was shut-in, meaning it was not producing and the well had been "valved off," said Andrew Loosley, director of stakeholder and community relations for Baytex Energy.
The company uses a process of bitumen extraction known as cold heavy oil production with sand, or CHOPS, where oil is pumped from the ground and stored in heated tanks.
The company was the subject of a public inquiry by the Alberta Energy Regulator in 2014.
The inquiry was launched after several families in the Peace River area were forced to move because of what they claimed were mysterious health complaints they believe were related to emissions from the bitumen extraction process.
The inquiry confirmed there were problems with emissions that could contribute to health problems. The AER ordered the company to install equipment to capture odour-causing emissions. [How many loopholes did the AER provide?]
Baytex said it has taken steps since the inquiry to keep area residents more informed of the company's activities.
"We have an information network when incidents occur," said Loosley. "Whenever there's an incident … we let them (residents) know." [How does that capture poisonous health devastating and home/belongings destroying emissions?]
Baytex Energy posted a notice of the explosion on its website and sent emails to people registered with the company's "good neighbour" email chain.
Though the cause is still under investigation, Maure said he was told by the company that pressure built up inside the tanks, which caused the explosion.
"It's something I talked to them (Baytex) about, and ensured I'd like a report on their findings so that we can prepare if it happens again."
Maure said he's concerned that the explosion happened on a wellsite that was supposed to be shut-in.
"We'll dig in deeper and ensure they do routine maintenance and make sure whatever system they're using to release the off gas is working 100 per cent."
McLennan RCMP say they're not investigating since there are no signs the cause of the explosion was "suspicious." [Emphasis added]
[Refer also to:
2016 05 25: New Study: Alberta's tar sands leading source of air pollution in North America, Tens of thousands of people living within reach breathing elevated levels of fine particles linked in previous studies to lung cancer, cardiovascular disease, diabetes
2016 04 14: The 2 Biggest Risks You Need to Know Before Buying Baytex Energy Corp.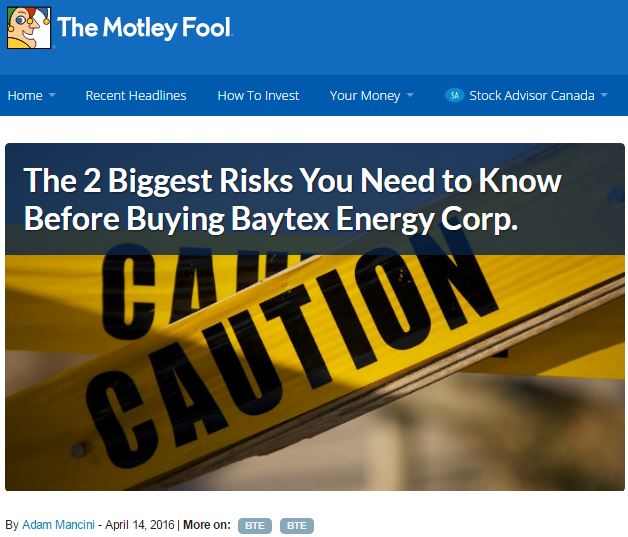 ….the company has three major operating segments: shale oil fracking in the Eagle Ford, conventional heavy oil drilling in Lloydminster, and multi-lateral horizontal wells in Peace River that target heavy oil.
In 2015 Baytex produced 34,974 barrels per day of heavy oil out of a total 69,353 barrels per day of total oil and NGL production. This is a significant percent and, unfortunately, much of Baytex's heavy oil production is uneconomical at oil prices under US$40 per barrel.
It is for this reason that Baytex decided to shut in 7,500 barrels per day of low/negative-margin heavy oil production. In addition to this, Baytex will be suspending its heavy oil drilling program for 2016, directing most of its capital towards the Eagle Ford.
… Baytex's Peace River and Lloydminster assets have breakeven costs at US$46 and US$43 respectively and, as a result, Baytex's production growth and cash flows will be limited in a slower recovery environment due to the large heavy oil exposure.
… Baytex still has a high debt load
The largest concern investors have for Baytex is generally its debt load. …
2016 04 13: Albertans (frac'd more than anywhere else in Canada) face longer wait times for cancer surgery that rank among worst in Canada
2016 01 15: Is "Best in Class, Shut the Frack Up" AER a regulator or abusive enabler of deadly harm? Bad air: Oilpatch toxic air still fuming in Alberta
Snap taken December 2013 from the poisoned families' website Stopbaytex before it vanished after some of the poisoned families gagged, settled and relocated. Stopbaytex was also on Facebook.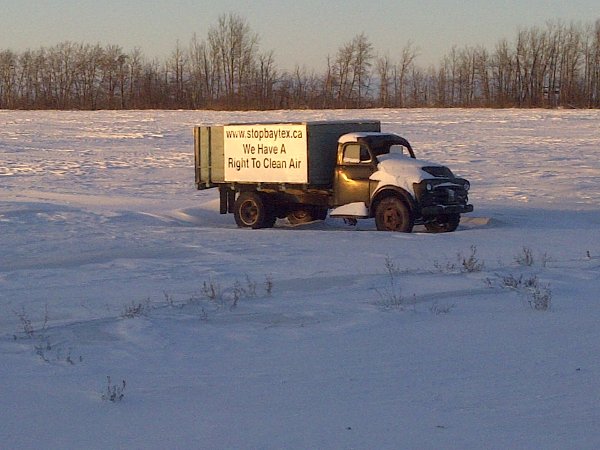 "2015 12 18: "What is the acceptable risk for increased risk for childhood cancer? It's zero." & Open Letter by Canadian Association of Physicians for the Environment to NB Premier Gallant: Termination of Dr. Eilish Cleary, Chief Medical Officer of Health, a concern
2014 10 08: Baytex Finally Successful, Gags & Settles Poisoned Alberta Families: Does a lawyer-touted "positive outcome" of displacing and gagging poisoned families, stop the poisoning? "Our house is contaminated…there's a smell now…Part of the torture of all this is not only abandoning our farm, but the health experts…told us we shouldn't bring anything (with us)."
2014 08 07: Peace River, Alberta: Thieves stole computer, files but left cash, reports farmer Carmen Langer (who spoke out for years about Baytex's toxic emissions)
2014 04 22: Lawyer asks court to shut Baytex bitumen plant releasing harmful pollution that forced Alberta families to vacate their homes years ago
2014 04 16: AER shows its true colours: caves to polluting tarsands company, allows Baytex to continue harmful emissions 4 more months!
2014 04 04: Toxic Air Is Forcing Canadians to Abandon Their Homes
Consequently, as the region's bitumen industry boomed, seven families were forced to abandon their homes. They have developed allergies to their houses and belongings, which are soaked with toxins and give off a hydrocarbon stench. Some impacted residents have remained behind, though they regularly experience agonizing and debilitating side effects from exposure to toxic vapors.
After hundreds of complaints from residents, an inquiry into Peace River's emissions was undertaken by the Alberta Energy Regulator. This newly minted corporation now has total jurisdiction over approving, monitoring, and regulating oil sands projects. It is run by and "100 percent funded by industry," chaired by a registered oil lobbyist, and replaces the former ERCB while taking on the regulatory duties of the Ministry of Environment. …
The report acknowledges that Peace River's bitumen operations have affected regional health, and that there are significant problems with the regional air monitoring program and the regulator itself. It offers an ambitious list of recommendations that may eventually put an end to the troubling era of openly venting carcinogens like benzene and reduced sulphur compounds into the air around Peace River.
Yet, at the same time, the report undermines its own recommendations. It uses weak language, short-lists the symptoms that residents testified to, and offers a baseless dismissal of evidence that Alberta's laboratories have systemic problems. Worst of all, the report recommends temporary measures—like burning off all emissions—which may actually make life worse for some of the residents who have stayed behind.
…
Weak Language
Vivianne Laliberte, another Reno resident who was forced to evacuate her home, doesn't share in this cautious optimism. "Unfortunately, this has been a horrible experience in which we have lost trust in government, the regulator, and industry, because none of them have told the truth. They have told us things and then we find out they're doing the opposite too many times. I think they focus on PR and how to spin things so that people think things are happening, but they're not. And that's where they put their energy."
She also noted that the report leaves some of its most important recommendations open to interpretation. It suggests that the AER should eliminate odors "to the extent possible" and that gas should captured "where feasible." She argued, "That's where the companies are going to be left off the hook. If you say 'where feasible,' who's going to decide where it's feasible? How much money do they have to be making before it's feasible?"
"If things don't change, there will be many more people who will realize that they have the same choice we had: You can stay and be sick, or you can leave," Laliberte warned.
Another significant language choice in the report is its many references to "odors," and its assertion that odors, rather than emissions or vapors or toxins, are causing health problems. The report champions the assessment of Dr. Donald Davies, a former DOW Chemical toxicologist, who argued that "people are not being 'poisoned,' but… the symptoms are a response to the odors."
Dr. Margaret Sears, another expert witness, believes there is no medical basis for the argument that odors from toxic chemicals, rather than their actual toxic properties, are causing health problems. To her, this is a distinction that, "as someone who works with medical doctors and does medical research, I don't understand. They said that there were health effects but they were not direct, toxic effects. I don't believe that there's really a strong medical basis for this distinction between direct toxic effects and other health effects in this case."
Nonetheless, the AER's report recommends setting air quality objectives according to odor perception. This initiative does not take into account odorless chemicals and residents who testified that even when no odor can be detected, they have experienced emission-related symptoms. "We detect the aches and pains in our body before we smell it as it's cropping up in the air," Carmen Langer, a resident of Three Creek, told me.
"It's not an odor that's going to kill us," said Langer. "If we had to live with a slight odor it might be uncomfortable to live with and unnecessary, but we can live it. It's not going to kill us. These emissions are killing us."
…
At the AER inquiry, Dr. Margaret Sears pointed out that labs in Alberta are not standardized and are free to decide how much of a chemical needs to be present in order for their tools to detect it. This allows private laboratories to cater their results to the needs of clients—they can prove, for instance, that no dangerous chemicals were detected in the air even if they are present. Chemistry Matters, the lab retained by Baytex to sample the air in Reno, states on their website that they set high limits "to protect our client's interests." Dr. Sears told me, "whenever I mention that to somebody who knows anything about toxicology, or environmental sciences, their jaw drops. It's appalling."
She argued that in order for labs in the province to produce useful data, these systemic issues need to be addressed. "I hope that the Alberta labs issue will come to the fore, and that they will re-examine these submissions that were given to them and readdress this." Yet, she suspects that "it would be rather awkward for them to be doing that because what it means is the data before them is really not credible."
The AER panel dismissed Dr. Sears' concerns entirely, writing that "criticism about Alberta's laboratories appeared to be based on general statements from unspecified studies and comments on a laboratory's website" and that "with no credible evidence to support her views, the Panel is unable to draw any meaningful conclusions from her submissions and testimony." …
But public records show that this simply isn't true. Dr. Sears explained to me that she "talked about that at huge lengths and went through all of the reports that were available to them. I extracted all of the detection limits; I extracted the limits for health concerns. I presented that really systematically, so for them to say that I didn't substantiate that is flatly wrong. I put a lot of information before them in this regard, including Alberta reports, peer reviewed reports, standards for this kind of analysis, standards for interpretation… They obviously didn't look at what I gave them. Or they forgot." [Or intentionally ignored the information to protect the polluters, they way the ex-Encana VP lead AER protects Encana?]
… Vivianne Laliberte believes a proper monitoring program would need to be independent of industry and government, both federal and provincial. She explained: "With this monitoring, we can't know if it's being done right or not. We don't have the ability to tell that. And so, basically, I think we just have to rely on what our bodies are telling us, and when we're sick and when we're having symptoms. We are the monitors now."
….the AER panel demonstrated a preference for scientific studies that downplay the impacts of industry. They dismissed evidence that there are systemic flaws in Alberta's laboratories and championed a study that insisted that odors, rather than toxins, can explain Peace River's health problems….
… Karla Labrecque, though pleased with aspects of the report, believes she has developed such strong chemical sensitivities that she can never move back home, even if the long-term goal of flaring 3 percent of the time is realized. In spite of the report, her family is suing for an injunction to shut down Baytex's Reno operations as well as compensation for their losses. "We've moved out of there, we've moved on. But there are still families left there, right? It needs to be fixed for the people who are left there so that they don't have to move out." To those left behind, Karla argued, waiting for months for the open-venting to stop is not a reasonable option.
But Vivianne Laliberte, who also abandoned her Reno home, can't afford to sue and isn't quite so optimistic. The AER's recommendations come as little consolation for what has been taken from her and her family.
"Our home… I don't think it can ever be lived in again," she said. "Even when the wind is not coming from the installations, we get sick in the house because it's been absorbed into the material. And even different health experts have told us that we're not supposed to bring our stuff from the house—so we can't bring our beds and things. We walk away from our home with no compensation; just walk away and we can't even bring the contents. And we're just supposed to go out and buy all this stuff as if we have a private bank or something. I don't know, it's mindboggling. My husband is going to be 65 this week. He's in a wheel chair. We're just supposed to do this somehow. I don't know how."
"I think all these houses that have been abandoned are condemned—they cannot be lived in," she concluded. "With all we've been through, with all we've learnt, with all the lies we've been told, we're not counting on that now. We try not to even think about it." [Emphasis added]
2014 04 01: Toxic pollution, odors caused by Baytex heavy oil operations in the Peace River area need to be eliminated says AER; Two-tiered AER? What about the AER saying nothing about Encana fracturing Rosebud's drinking water aquifers? What about the AER violating Ernst's Charter Rights trying to cover up Encana's unlawfulness?
2014 01 31: Carla Labrecque's doctor refused to do a blood test until he consults with a local politician; Mike Labrecque gets sick working for Baytex, Baytex lets him go: "You're done."
2014 01 24: Experts Margaret Sears and Donald Davies at Baytex hearings differ widely on the health effects of emissions
2014 01 23: Baytex commits at public AER hearing to capture tank-top emissions; the regulator granting harmed Albertans a hearing occurs rarely – like winning the lottery
2014 01 22: AER hearing into Baytex bitumen emissions underway in Peace River; families hope the AER will make the company clean up
2014 01 21: Health report: some Alberta doctors refused to treat families exposed to toxic emissions by Baytex in Peace Country, one lab refused to process a test
Reno Landowners Group to AER – January 20, 2014 – Marked at Hearing for Identification Purposes [The Wilson Law Office letter (snap of Pg two below) was publicly available on the AER website but appears it has since been removed. Because of the gag orders the poisoned families signed with Baytex? Who's the AER protecting? Alberta families or polluting and family-harming oil and gas companies?]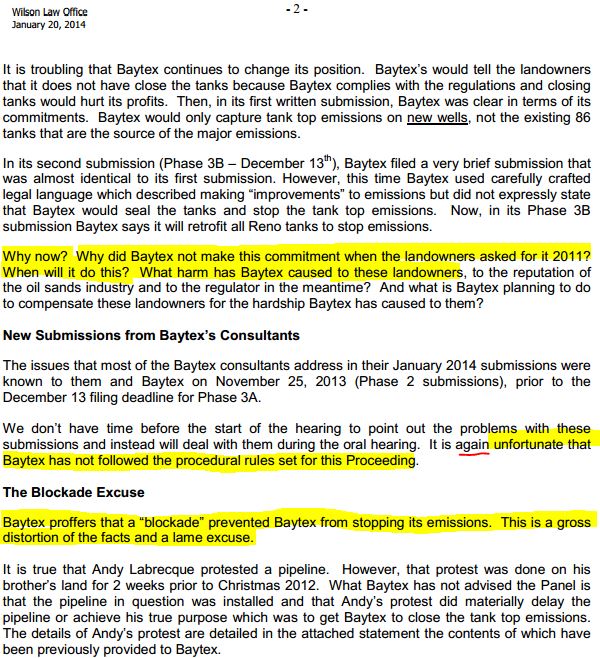 ***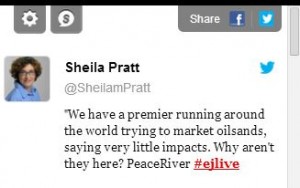 2014 01 19 Screen grab.
Is Alberta's new Premier Rachel Notley any better?
2014 01 18: Court date set in Baytex fumes case for families that were forced to vacate their homes in the Peace River area of Alberta
2014 01 03; Two studies commissioned by the Alberta Energy Regulator (AER) back family's concerns with Baytex Energy bitumen (tarsands) tank venting pollution Where's AER study into Encana breaking the law and fracing and contaminating Rosebud's drinking water aquifers?
2013 12 26: Where are the regulators in Alberta? Fed up with toxic fumes: families suffering ill health ask Peace River court for 8 month injunction to shut down 46 wells and 86 venting tanks owned by Baytex Energy
2013 11 29: Several families taking Baytex (Alberta oilsands company) to court over toxic emissions; Buyout packages allegedly silence Albertans struck with industry-related cancer
2013 09 03; Baytex Gag Order and Can You Silence a Child? Inside the Hallowich Case; Peut-on empêcher un enfant de parler? Le cas des Hallowich
2013 01 16: Three Creeks/Reno area residents are breathing air heavily affected by tar sands open lid tanks; More than 600 complaints over two years lead to little if any change in pollution control
Frustration and more questions than answers came following a presentation from Dr. Ian Johnson at McKinney Hall, outside of Three Creeks last Thursday (Jan. 10). … Johnson has performed air quality testing that correlates to industrial activity and has also been involved with appeals to Alberta Environment (now ESRD) and the Energy Resources Conservation Board (ERCB) in the Cold Lake Oil Sands area. … "It's obvious from the methane numbers or concentration we're seeing, the air they're (the residents) breathing is heavily affected by what's coming from the tar sand facilities…."
…
"All the doors seemed to be closed. The regulatory bodies are not doing their job and we have gotten very little response – the premier (Alison Redford) has not responded to us," a frustrated Vivianne Laliberte told the Record-Gazette following the meeting. … [Emphasis added]
2011 07 19: Baytex submits action plan to ERCB following accidental land spraying with crude oil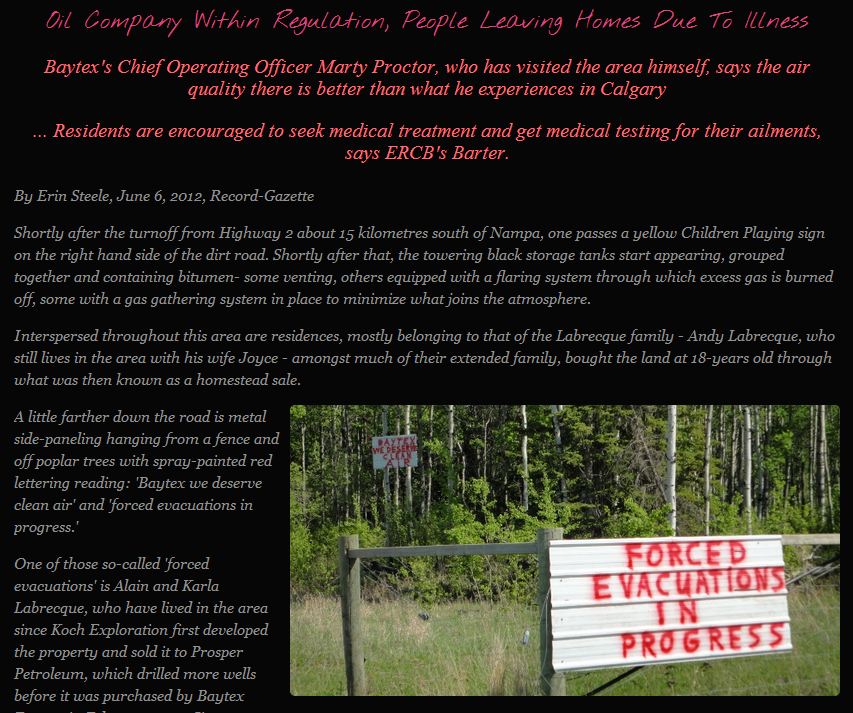 Snap from FrackingCanada Fracking Calgary