The NDP government will review the "conflicting mandate" of the province's oilpatch watchdog with a view to separating its responsibility to both promote and police energy development, says Premier Rachel Notley.
"One of the concerns that I have always had with the Alberta Energy Regulator is that it appears to have a conflicting mandate, in that it is both a promoter of energy and the primary vehicle of environmental protection in Alberta," Notley said in an interview.
"What's troubling about the AER is it has actually taken over responsibility for most of the environmental protection and monitoring part and standards development within the energy sector. … You can't do that job when your overarching mandate is to promote energy development."
Notley said Friday she thinks those mandates have to be "split."
The premier's comments come as the new NDP government is in the midst of several major policy initiatives affecting the province's energy sector, including a review of royalty rates, a new climate change strategy, higher corporate taxes and a promise to ban natural gas drilling in urban areas.
[What about industry's gas venting including sour gas and secret frac chemicals, drinking water contamination, health harm, incessant noise, damages to homes, communities, community-paid roads and infrastructure in rural Alberta (eg Rosebud's drinking water tower that exploded in 2005 after Encana illegally frac'd the community's drinking water aquifers)?  
Why are innocent rural residents and visitors still bathing in explosive water, laden with hexavalent chromium, toluene, kerosene range hydrocarbons, explosive levels of methane and ethane and who knows what secret frac chemicals?
Why are Rosebud residents paying for Encana's, AER's, Alberta Environment's law violations, bullying, cover-up, lies and new water tower? ]
The Progressive Conservatives established the AER in December 2012 to provide one-stop shopping for regulatory approvals after industry [demanded blanket approval in 2004 (The AER's Chair Gerard Protti, when he was Encana VP; Chair of CAPP, has been promoting deregulation since unconventional fracing began causing irreparable, very expensive harms)] complained about the delays and costs of red tape.
The legislation combined duties of the Energy Resources Conservation Board with responsibilities of Alberta Environment and Sustainable Resource Development to create a single entity to administer the Public Lands Act, the Environmental Protection and Enhancement Act, and the Water Act.
[Refer also to:
At Rosebud, Encana repeatedly, illegally frac'd directly and intentionally into the community's drinking water aquifers and diverted fresh water without a permit. The evidence was sent to the EUB/ERCB/AER. The "regulator" did nothing to hold Encana accountable, rather, the "regulator" told the media Ernst is mentally unstable and is fabricating her drinking water contamination to get attention. The "regulator" also told the media it fully investigated and tested Ernst's water, found no natural gas in it and that her water is not flammable. To this date, Ernst has never received data from any AER/ERCB/EUB testing of her water well, not even under FOIP.  Did the "regulator" lie to enable the cover-up so as to continue promoting fracing around the world, unhindered? 
Ernst does have however, May 3, 2006 "regulator" meeting notes (obtained via FOIP from Alberta Research Council (name changed to Innovates, which AER Chair Gerard Protti was appointed Board Director to by Order in Council) admitting:
"still feel bad for Jessica because she clearly has bad water"
And then, there's this:
CAPP's Frac Confession in Calgary Herald advertisement, August 28, 2014.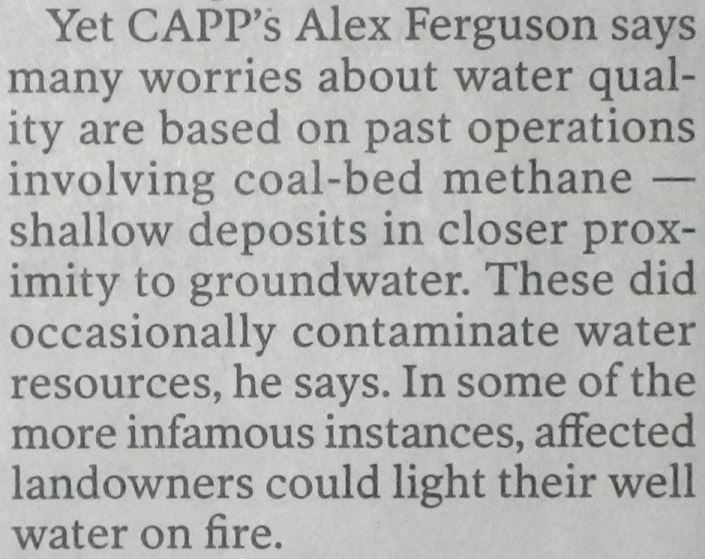 Where's AER's confession? 
Is AER's outside legal counsel Glenn Solomon it?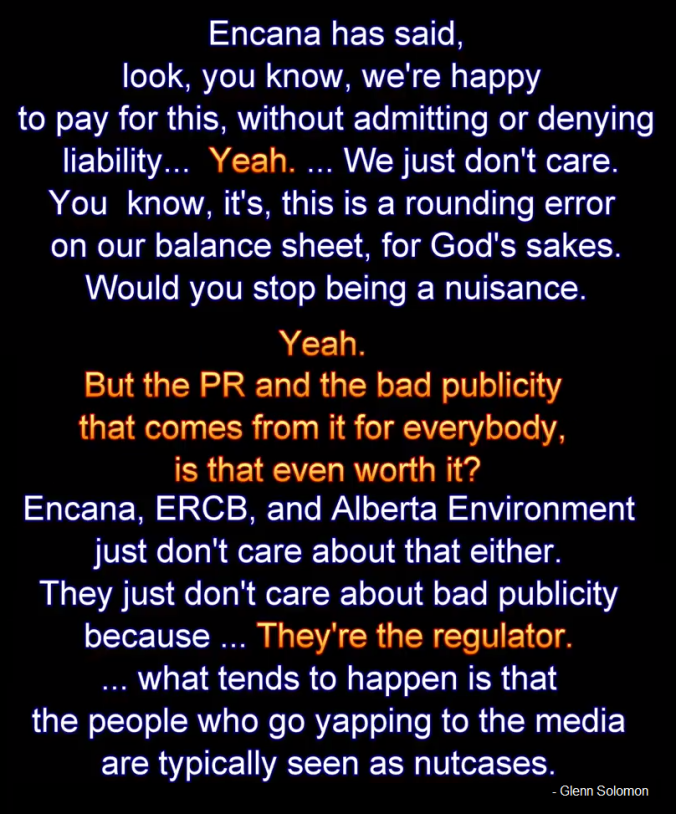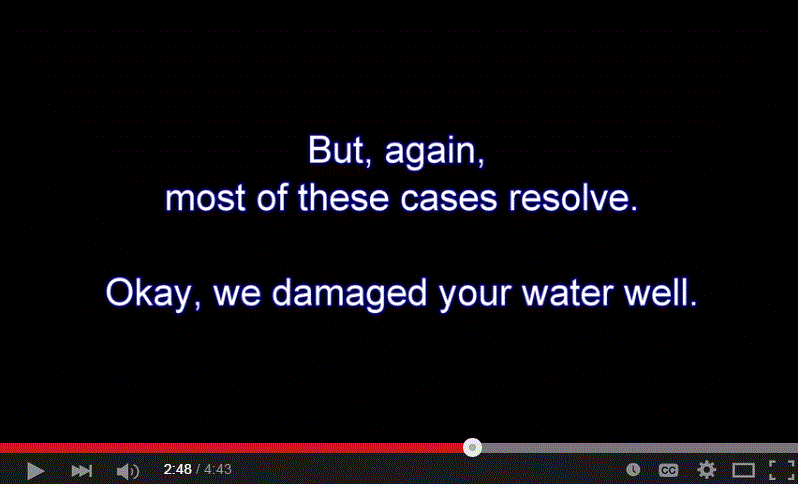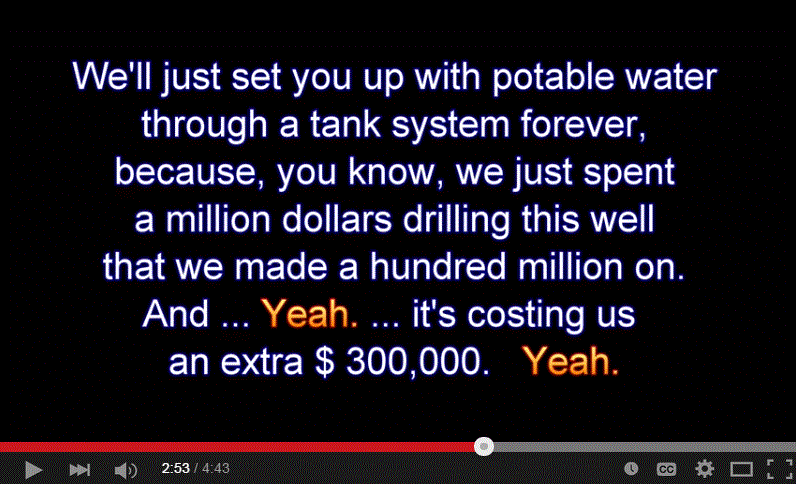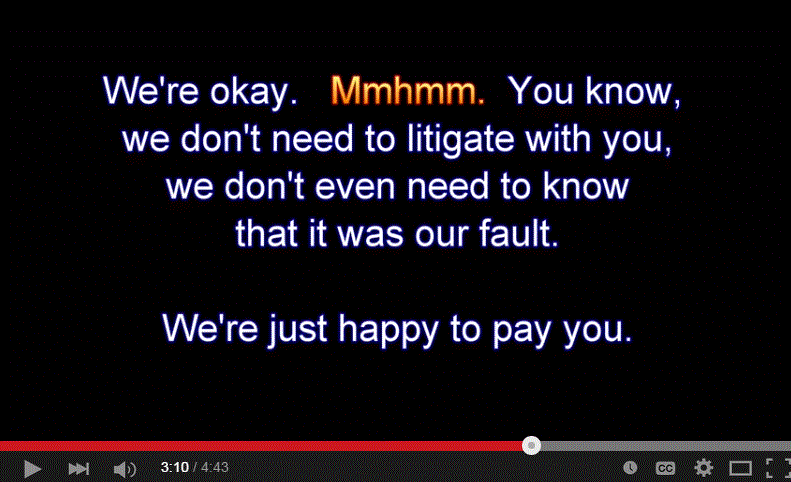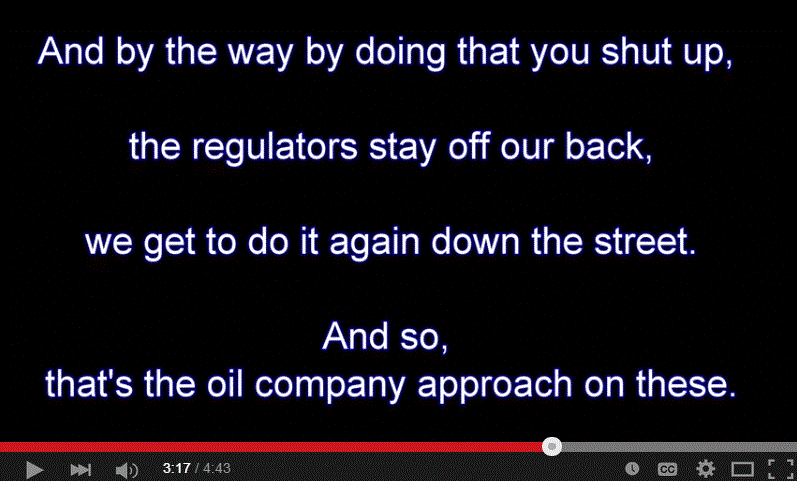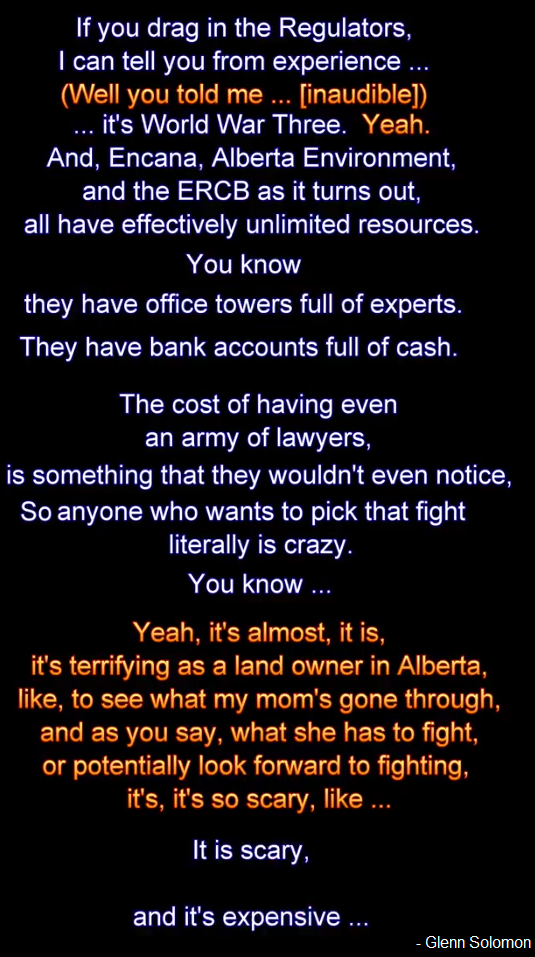 Notley said notwithstanding that there are "good people" working on the environmental files, the agency needs a mandate that "allows for a clear plan of action in every situation." [Including when Encana and other companies violate the law?]
In the past, she has been harshly critical of the PC government's decision to appoint former oilpatch executive Gerry Protti to head the AER. Notley said two years ago she was appalled at the appointment of an industry insider to head the agency.
Response to her suggestion to split the AER was mixed Monday.
Gary Leach, president of the Explorers and Producers Association of Canada, rejected the contention the AER promotes energy development. "The AER is looked to by many jurisdictions in North America and around the world as a leading regulator for energy projects," Leach said in an e-mail. [By allowing companies to frac the caprock?]
"The primary role of the AER … is focused on environmental protection, public safety and resource conservation — not the promotion of energy development." [Is Leach believable when he leaves out "cover-up" of law violations (including its own Charter violations), drinking water contamination and exploding water towers?]
Leach said the AER has taken on some regulatory functions formerly residing at other government departments to facilitate full life cycle oversight of energy projects "from conception through operations to final decommissioning and reclamation."
"We think this provides better and closer oversight of energy projects in Alberta with a view to protecting the public interest." [Why didn't Leach say that the AER "protects the public interest. " What does "with a view to protecting the public interesting" mean legally? Unenforceable, legally immune, no duty of care, Charter and water violating, private profit protecting "best practices?"]
But Bill Andrew, CEO of Long Run Exploration, said there will be support within the oilpatch for splitting up AER's functions because the current regulator has too much on its plate. "The system works very well but … when I was younger, I felt there was a much more hands-on ERCB and they would interact with you a hell of a lot more and try to really steer you forcibly in the right path," said the industry veteran.
Mike Hudema, Greenpeace energy campaigner, said the AER has "long been a broken agency" that has failed in its duty to protect Alberta's environment and communities.
"We commend the premier for being willing to look at its mandate and hopefully reform this body into one that can instil trust, provide transparency and ensure the safety of our environment and communities," Hudema said in an e-mail. "It won't be an easy fix, but is a necessary one."
But Wildrose energy critic Leela Aheer said it would be "a huge mistake" to chop up the AER when it is just getting over "serious growing pains."
"This will seriously promote instability in the sector," [Industry promoted it's own instability with its insatiable greed and "brute force and ignorant" frac technology] said the Chestermere-Rocky View MLA. "If you split it up, it brings uncertainty and political risk and it hurts investment. … It seems inherently wrong to go and change that when it seems to be working."
But Liberal Leader David Swann applauded Notley's decision. "It has long been a criticism, both inside and outside the legislature, that this organization is not improving the reputation of Alberta, partly because it has this internal appearance of conflict of interest, promoting and policing the industry at the same time," he said.
One of the many comments to the above article:

[Refer also to:
2004: NEB Looking Ahead to 2010: Natural Gas Markets in Transition
"Several participants have characterized the exploitation of these resources as a "manufacturing process". … It was suggested that a new regulatory framework may be beneficial, and that regulators could consider a "blanket approach" to approve drilling programs for this type of development."
2014 07 23; AER, Alberta's new energy regulator seeks the world's trust, as Alberta's caprock is frac'd "to Hell"
2015 03 25: How best to enable "No Duty of Care," legally immune Fracing Free-for-all? Deregulate and copy the Alberta Model to create a "single, simplified system"