Earthquake hazard linked to Fracking in Alberta by Derrek, September 2, 2014, West Coast Native News
Earthquake hazard linked with deep well injection in Alberta, Deep well disposal and storage of oilfield waste over time leads to increased earthquake risk by CBC News, September 01, 2014
Alberta officials say deep well injections have been shown to create more of an earthquake hazard then hydraulic fracturing.
Rural Albertans have been saying for years they can feel tremors under their feet near oil and gas activity, especially around areas of hydraulic fracturing — also known as fracking. [In 2009, perforating by Encana about a mile away was felt at the Ernst property]
While the movements are small, and don't cause damage, they have been cause for concern.
The U.S Geological Survey has said in the past there is a connection between oil and gas production and seismic activity. While the science in Alberta isn't settled, researchers say there is a growing correlation.
The Alberta Energy Regulator says they are also keeping a close watch on the pressure in deep well disposals.
"The papers in the science community do reference hydraulic fracturing as a possible cause [of earthquakes]," AER spokesman Bob Willard told CBC News. [As usual, the AER won't admit the truth. Canada's science community, industry and energy regulator in BC and federally proved that fracing directly caused 272 earthquakes from 2009 (when fracing started) to 2011. The evidence was formally and publicly reported in August 2012, with numerous coverage in Alberta media.]
"But I think most scientists would suggest that deep well disposal and storage would be far more likely as an industrial activity that might cause one."
Monitoring underway
Willard says, which are injected with everything from waste water to toxic fluids used in fracking over long periods of time, but that number is expected to grow as the industry expands.
"We are continually putting, typically waste water, deep in the Earth and they are pumping it in over longer periods of time," said Andrew Beaton, the director of the Alberta Geological Survey. "What happens is over that long period of time the stresses can increase in and around that well bore, and if the rate of injection is too fast or if there is a geological feature, such as a fault or fracture in that area, that can be pressured up and that can actually cause some movement."
The province says it's important to remember the disposal wells are regulated and new monitoring is making it easier to identify problems. [Alberta's Water Act prohibits companies diverting fresh water from fracs into community drinking water aquifers too, but didn't stop Encana from doing exactly that.]
"We have a notification system set up so that if our network actually records some high-magnitude events we're notified instantly," Beaton said, adding that information would then be shared among the province's regulatory agencies. [Emphasis added]
[Refer also to:
February 2014: USGS to make separate risk map for man-made quakes; National Research Council excludes 272 frac-caused quakes in BC's Horn River Basin off global map
Federal officials are wrestling with how to account for the hazard created by man-made earthquakes, many of which are triggered by oil and gas activities.
In the past, the U.S. Geological Survey has generally excluded shaking related to industrial activity from its earthquake hazard maps. The maps project the likelihood of large, natural earthquakes and are used to develop building codes, plan roads and bridges, and set insurance rates.
But amid an increase in the number and severity of man-made quakes in oil and gas regions, scientists and engineers at the agency are developing a separate map that will include what geologists call "induced seismicity."
The traditional hazard maps, predicting the risk of natural quakes, are expected to be issued early next year. The map evaluating the risks of man-made quakes will be issued later in the year because the agency is still figuring out how it should be assembled.
… The changes could anger oil and gas companies who get blamed for the damage from the quakes, while proving a relief to those in construction and real estate that their area won't be deemed a natural earthquake zone.
February 2014: Swarms of Earthquakes Shake Up Shale Gas Fields, Do tremors plaguing industry in Texas, Holland, and beyond offer a glimpse of BC's future?
Alberta has nearly 2,000 injection well sites and Oklahoma, which experienced a record 2,600 quakes last year, is home to 5,000 injection sites. As of 2007, B.C. employed more than 100 wastewater wells in its gas fields.
Many of continent's more than 680,000 injection and disposal wells have sprung leaks or have fractured into aquifers."
February 2014: Satellite data sound alarm on safety of high pressure injection; data shows significant ground deformation (subsidence and uplift) in area of CNRL leak, 10 times faster than lower-pressure injection
December 2013: Big oil, big fracing, big problems? The Hawkwoods frac'd in the Lochend: health problems, dead cattle and earthquakes causing property damage
August 2013: Lawsuit: Quakes caused by frack water disposal damaged homes, Two Alvarado homeowners are suing several energy companies saying they induced earthquakes that damaged their homes Includes many links to frac'ing caused earthquakes articles
March 2013: Parts of Low Country in Loppersum, the Netherlands, Are Now Quake Country; Pressure from 90s fracking may have caused Oklahoma's biggest quake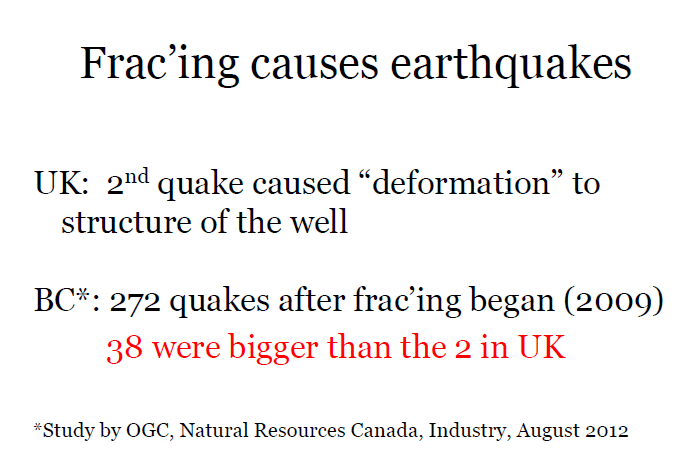 Slide from Ernst presentations
February 2011: Fracking and Quaking: They're Linked And scientists, the military, and frackers themselves have known it for years ]