Edmonton-area residents protest drilling near their homes by Sheila Pratt, September 17, 2015, Edmonton Journal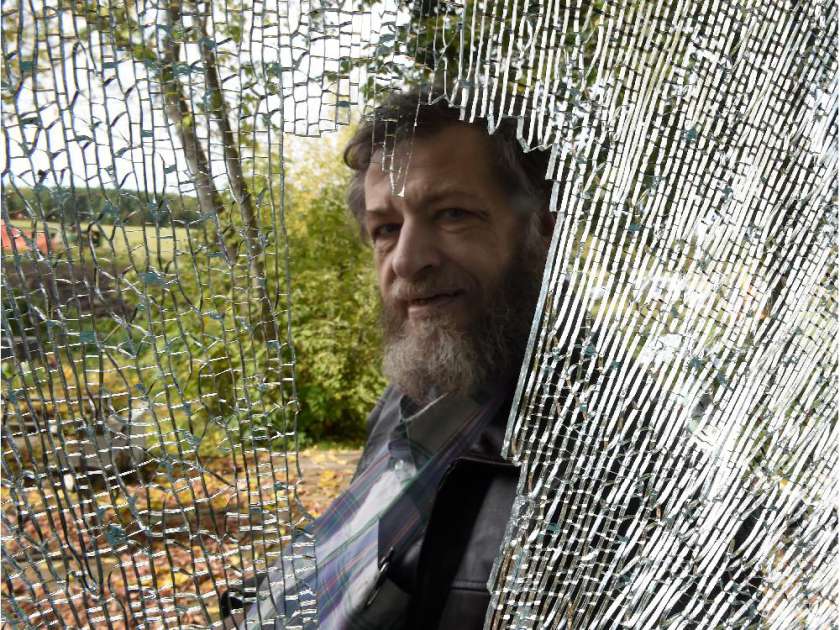 Henry Neumann, who says a nearby fracking operation shattered his patio window, is upset by the enterprise on his acreage near Devon on Thursday Sept. 17, 2015. JOHN LUCAS / EDMONTON JOURNAL
Henry Neumann sat down to supper one evening at his Devon-area acreage while a loud drilling rig pounded away in a nearby field.
"The vibrations felt like a truck running into the side of the house, and then the glass in the patio door shattered," said Neuman. "That was quite a shock."
Neumann, and three other households near the site operated by NEP Canada ULC, have sent a letter to appeal the approval of the drilling by the Alberta Energy Regulator, saying they did not get notification of the project even though they are within 200 metres — the radius of the project's emergency response zone.
Landowners within that radius are entitled to notice, according to AER rules. [Since when has the AER respected or heeded its own rules, other than to madly deregulate when violations and harms are made public and recently to apparently try to impress the Supreme Court of Canada?]
The ["No Duty of Care," legally immune, even for Charter violations, 100% industry controlled, chaired and funded] regulator's failure to give notice means due process was not followed, landowners didn't get the chance to voice their concerns and the approval is invalid, says the letter to the AER.
Paul Barrette, the residents' lawyer, writes: "By failing to ensure the landowners had adequate notice of the application and decision, the AER acted outside its jurisdiction and the decision is invalid."
The letter requests that the AER should stay the drilling approval and hold a hearing.
The residents' concerns are not just loud noise and disturbance of the drilling, but also the company's plans for hydraulic fracturing (fracking) with deep horizontal wells 3,000 metres under their property.
Fracking raises concerns about the possibility of contamination of groundwater — their properties are built on a large aquifer — and air quality issues from flaring of excess natural gas, they say.
Ken Mattson, whose home is nearest the drilling site, said he didn't get notice of the drilling or the fracking plans.
While the company did not mention fracking in its initial conversations with him, he said, it later returned to test his water well. Checking well water quality is a requirement before and after fracking begins, he noted. [Where did he get that idea from? Did the company lie to him? It is not a requirement, it's only a requirement for fracing CBM in drinking water zones. Fracing shales and sands in drinking water zones are exempt, as are deep fracs in any zones]
"I'm not a tree hugger and we need the resources, but fracking so near a residential area doesn't seem right," said Mattson.
The regulator is looking at the residents' request for review and that will include examining the issue of notice, said AER spokesperson Carrie Rosa.
"We have to audit the application to make sure it did meet our requirements," Rosa, she said in an interview.
While the application for well drilling does not specifically mention fracking, it states the company will do horizontal drilling, said Rosa.
"Horizontal drilling occurs frequently under roads, water bodies and other developments, across Alberta; it is common practice," Rosa said, adding the AER has "significant [massively deregulated] rules" in place to govern [enable unaccountable] fracking [free for all].
While fracking was found to be the cause of some earthquakes in Fox Creek, Rosa said the situation is not the same in the Nisku formation around Devon.
"There is no correlation between what happened in Fox Creek and hydraulic fracking operations in other areas of the province," Rosa said. [Sound like a lie to you? ]
The regulator wants NEP and Mattson to settle their differences through its alternative dispute resolution process, Mattson said. [To keep the violations and "damages settlement" secret? The AER's heinous, protect-only-industry ADR process requires harmed citizens to sign a gag order before they even begin the resolution process.] But he said he isn't happy with the process because he had no chance to voice concerns. He came back from a camping trip to find the drilling rig running 24 hours a day nearby.
"I've lived here for 30 years with conventional oil wells nearby but fracking is new," he said.
NEP's Calgary's office did not immediately respond to a request for an inteview. [Emphasis added]
[Refer also to:
AER Master Deregulator promises regulation while bamboozling media and the public. UK frac quake "red light" is 0.5M, in Alberta, it's 4.0M
Fracking Quakes Pose Added Risks but Oil and Gas Companies Refuse to Share their Collected Seismic Data. "In low seismic environments like Fox Creek where the natural earthquakes are infrequent, the hazards from an induced seismic event can exceed the hazards from a natural source"
Netherlands court orders Shell & Exxon Mobil to pay 100,000 homeowners billions of dollars in quake damages
… The Groeningen case is somewhat difference – drilling in a single gas field rather than fracking – but there are enough parallels to make every shale company sit up and pay attention.
Only oil industry diehards could deny the link between fracking and earthquakes. The US Geological Survey's public position is that injecting billions of gallons of water into the earth's surface rock is the primary cause of increased seismic activity in states such as Oklahoma and Pennsylvania. Most activity is low on Richter scale – quakes that won't inflict immediate or significant damage, but that over time, and if frequent enough, will cause homes to crumble. After hundreds of small quakes, many homes in Oklahoma are displaying severe signs of deterioration. 
Damage to homes is probably the least of the fracking industry's concern right now. [Emphasis added]
Eight Industry Leaders to Present at Catastrophe Response Unit Seminar for "all insurance claims management, adjusters and industry personnel" includes feature presentation: "Fracking Induced Earthquakes".
Oil companies can be sued by earthquake victim in 7-0 Oklahoma Supreme Court ruling, Oklahoma has been hit by a dramatic spike in earthquakes in last 5 years
100,000 Netherlands Homes Harmed by Natural Gas Extraction, Over 700 private homeowners and 12 Groningen housing corporations suing Netherlands Petroleum Company (NAM)
New Cornell Study: Because of fracing, Oklahoma now has three times more earthquakes than California; Number of potentially damaging earthquakes – magnitude 3.0 or larger – up more than 120 percent
Lawsuit: Quakes caused by frack water disposal damaged homes, Alvarado homeowners suing several energy companies saying they induced earthquakes that damaged their homes
Dutch government bans shale gas drilling for 5 years
Dutch Court Suspends Gas Production on earthquake fears; Pennsylvania Insurance Dept Issues Quake Notice: Fracking Exclusion Not Allowed, "Endorsements that attach to homeowners insurance policies in this Commonwealth should cover all earthquakes, whether believed to be 'naturally occurring' or caused by 'human activity'"
Earthquakes from onshore gas drilling threaten a disaster, warn residents of Dutch city, Residents of the Dutch city of Groningen are up in arms over onshore gas drilling that has triggered earthquakes, damaging homes and sending property prices crashing
Thumbs down on fracking in The Netherlands, 55 prominent environment professors of Dutch universities issued manifest against fracking Where are the Canadian professors?
NE BC: Monday's 4.5 Magnitude frac quake, felt from Pink Mountain to Fort St. John (180 km), 'likely' caused by Progress Energy, OGC confirms | Ernst v. EnCana Corporation
AER Frac Pilot Project: Earthquakes, tax increases, water restrictions, double homicide, spills and accidents shake Alberta town's faith in fracking; Aging sour facilities in deregulated Fox Creek a big worry for council; AER's FracQuake Red Light stops Chevron only 16 days; Families moving out ]