CBC article below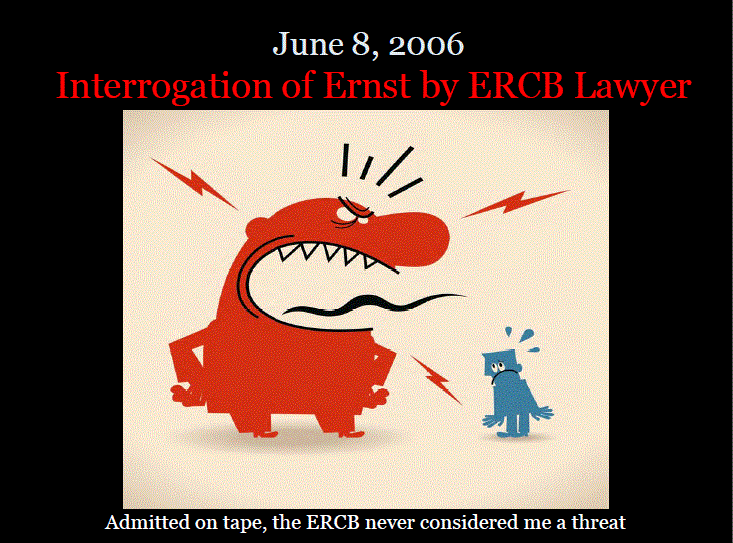 June 8, 2006 interrogation and attempted intimidation of Ernst by ERCB (now AER) lawyer & bully Rick McKee, Ernst presented these questions: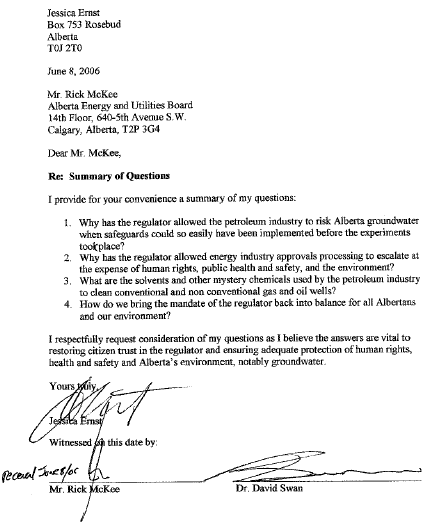 None of Ernst's questions have yet been answered, not even by Dr. John Cherry and his Council of Canadian Academies' Fraudulent Frac Panel in 2014.
2012 04 16: Biggest Ernst Legal Victory so far that Ernst completed without the help of any lawyers: Office of the Information and Privacy Commissioner Orders Alberta Research Council (ARC, later changed to Alberta Innovates) to release baseline testing and water contamination investigation information, including draft reports
Many deliberately and wrongly withheld records – including the draft reports and uncensored emails proving Steve Wallace with Alberta Environment secretly edited Research Council Dr. Alexander Blythe's "independent" reports dismissing Zimmermans, Lauridsens, Signer and Ernst's contamination cases – were finally, 4 years too late, released to Ernst. But, thousands of pages of other records that were ordered released remain withheld, including the "public" baseline water well testing records used to dismiss Ernst's case, and others in Alberta (Zimmermans, Campbells, Lauridsens, Signers):
Those "public" water well testing records must be phenomenally damning for Alberta's "research" council, Alberta Environment and Encana to refuse to release them to Ernst.
Where are the authorities in Canada that are supposed to protect drinking water and enforce our laws?
No courage in any authority?
2012 05 24: ERCB lawyer Patricia Johnston, Q.C.,  wrote Ernst that companies are not even required to tell the regulator what chemicals they inject, including into community drinking water aquifers:

2015 01 30: One of Alberta Environment (the province) many lies, via Alberta "Justice," in their filed Statement of Defence:
27. On or about June 1, 2007 the Province had made concrete plans for further
testing of the Plaintiff's well. Sampling was eventually completed and the Province's
data was provided to ARC for analysis. The Province provided its entire investigation
file to ARC to facilitate this independent analysis and did not withhold any
documentation as alleged by the Plaintiff. ARC concluded that findings could not be
linked to CBM activity. ARC arrived at its own conclusions in this regard and said
conclusions were not influenced by, nor directed by, input from the Province, in
contradiction to allegations made by the Plaintiff in the Claim. Analytical results from ARC were provided by the Province to the Plaintiff. [Emphasis added.
[It's fascinatingly terrible how the water regulator lies! In 2014, the year before the province wrote the above, Ernst filed with the water regulator's lawyer Neil Boyle and in court in 2014, copies of the secret editing emails by the water regulator's Steve Wallace to ARC's Dr. Alexander Blythe, proving that the province (the water regulator) influenced the ARC's "own" conclusions by editing them!
Is this why the province is going to such extremes?
"There could be millions or billions of dollars worth of damages," argued Crown counsel Neil Boyle.
13. In reply to paragraph 27 of the Statement of Defence, and in particular the allegation that "analytical results from ARC were provided by the Province to the Plaintiff', the Plaintiff pleads and relies on paragraph 74(d) & (e), and further pleads that the province has refused repeated requests by the Plaintiff dating back to March 19, 2008 to disclose the data that was relied on as part of the ARC review, including data on the gas and water wells in the areas of reported contamination. The Plaintiff has attempted to access this data through access to information requests, and has obtained some records, but the most important data has been withheld by the ARC. The Office of the Information and Privacy Commissioner of Alberta ordered ARC to provide the records requested, but ARC has responded by saying that they no longer have the records in question as they returned them to Alberta Environment. Alberta Environment, for its part, has refused to release the documents, claiming that they are privileged based on the existence of this litigation. As a result of Alberta Environment's refusal to disclose the data on which the ARC review was based, Alberta Environment has made it impossible for the ARC reports to be subject to peer review and other independent analysis. [Emphasis added.]
2017 05 13: Ernst presentation for ACORRDS Frack Conference at Cochrane Ranchehouse. Ernst presents that even with her lawsuit and Alberta Rules of Court not allowing trade secrets, Encana still has not yet disclosed the chemicals Encana illegally injected into Rosebud's drinking water aquifers in 2004 – thirteen years ago! Happy Canada Day!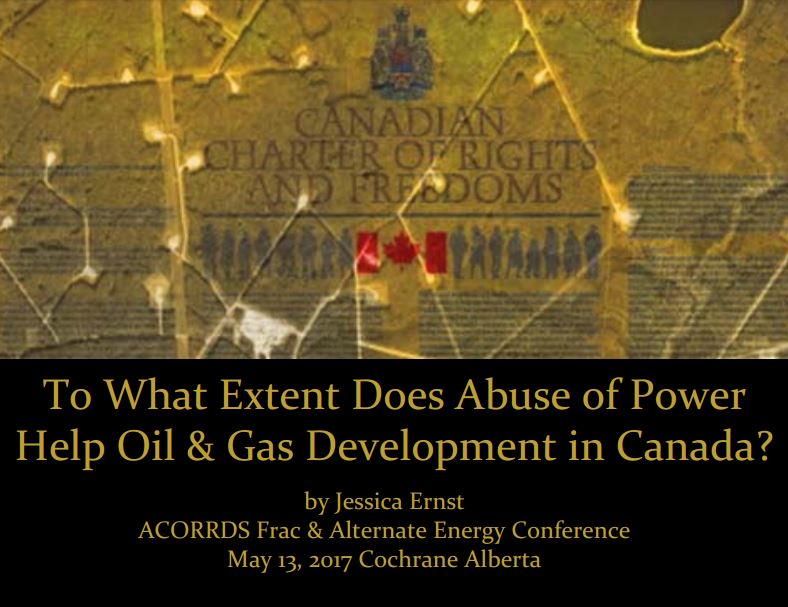 Snaps above from Ernst presentation at ACORRDS Frack Conference in Cochrane, Alberta (Ernst presented after Andrew Nikiforuk, thus the suggestion for the audience to move)
***
June 26, 2017: Encana continues to refuse to disclose to Ernst in document exchange for her lawsuit, the chemicals the company injected into her community's drinking water aquifers and the "public" baseline water well testing records Dr. Alexander Blythe, Alberta Research Council, used to dismiss the fracking drinking water contamination cases, including Ernst's.
***
Alberta a black hole for up-to-date fracking information, 'I would say it's being done elsewhere, so why isn't it being done in Alberta?' says anti-fracking activist by Kim Trynacity, CBC News Jun 26, 2017
Related Stories
There have been more than 1,000 hydraulic fracturing operations in Alberta since January. But finding out what's happening in any region of the province right now is next to impossible.
Numbers provided to the CBC by the Alberta Energy Regulator (AER) show between January 2017 and June 30, 2017, there have been 1,127 fracking operations conducted.
The AER says the holder of a drilling licence must inform the AER about its intentions to frack an oil or gas well five days before starting the work.
But the industry-funded regulator doesn't disclose where current fracking operations are occurring on its website.
Some of that information is available on the website FracFocus.ca, but only 30 days after the operation has wrapped up.
The site is a project of the BC Oil and Gas Commission, and according to information [or a con job of secrets and trickery to shut you up with?] on the site, it is "intended to provide objective information on hydraulic fracturing, fracturing fluids, groundwater and surface water protection and related oil and gas activities in Canada."
A challenge
AER spokesperson Ryan Bartlett said it would be difficult to maintain an up-to-date list of Alberta fracking activity on the AER website because the length of time needed to frack a well varies from as little as "a couple of hours or multiple days" at a stretch.
"The exact start and finish dates tend to be dependent on a number of factors," said Bartlett.
"It could be the weather, it could be availability of equipment."
Hydraulic fracturing involves injecting a mix of water, sand and other additives into the ground at high pressure. It causes cracks in the underground rock formation, allowing oil and natural gas to flow, increasing resource production.
The controversial extraction process has incited protests around the world, and resulted in several provinces, states and countries to declare a moratorium or outright ban on fracking.
A University of Calgary study published in the journal Science in ovember 2016 determined earthquakes west of Fox Creek, Alta., in the winter of 2015 were triggered by fracking near a fault system that industry and researchers didn't know existed at the time.
Potential earthquakes and effects on water have worried some residents who live near fracking sites.
Seventy members of the Trickle Creek farmstead in northwest Alberta are concerned about the increased fracking they suspect has been going on in their region.
"It's kind of like an invasion,"

 [Kind of?] said Josh Ludwig, son of the well-known eco-activist Wiebo Ludwig.

"It seems like every time we take another look, there's more going on," added Ludwig.

The Ludwigs are especially worried about the impact fracking could be having on their water aquifer.

"I know everybody's beginning to realize water is a precious resource. Even though we have a lot of it in Canada doesn't mean we should treat it so recklessly," he said.

The Ludwigs and Alberta's oil and gas industry have a long and troubled relationship.

​In 2000, Wiebo Ludwig, former patriarch of the Trickle Creek community, was found guilty on five charges related to bombings and vandalism of oil and gas wells and served 19 months in jail.

Wiebo died of esophageal cancer in 2012 and the family has since kept a fairly low profile.

Line in the 'fracking sand'

Josh Ludwig says heightened worries about fracking have caused the community to speak out again and to "draw a line in the fracking sand."

But Ludwig wouldn't elaborate on what further action his family is willing to take.

"I don't know if I want to get into some of the details of what we would be planning to do to draw a line," he said. "We have some different ideas, but it is pretty clear to us this has to come to a stop."

The anti-fracking lobby group Fractracker Alliance was formed in 2009, after public-health researchers in Pennsylvania noticed public concern about fracking's possible effect on groundwater quality.

Samantha Rubright with Fractracker said there was no data available at that time about where fracking was happening.

Since then Fractracker has morphed into an influential international lobby group that catalogues maps and locations of oil and gas development.

Daily updates in Pennsylvania

"Now there seems to be a trend towards releasing that data," said Rubright who pointed out there are now many states which readily provide ongoing information.

Pennsylvania now has location and activity information on tens of thousands of unconventional oil and gas wells updated daily, according to Rubright.

"Those systems are already in place and can be replicated. I would say it's being done elsewhere, so why isn't it being done in Alberta?" said Rubright.

The AER points out while it doesn't publicly release current fracking locations on its website, it does sell an $11 quarterly products and services catalogue, which does provide some information of well locations and activity.

According to information on FracFocus.ca, only wells fractured after January 1, 2013, in Alberta are entered into the system, and entries may actually take longer than 30 days "as licencees develop a system to compile and report the information electronically." [And, some entries only list trade secrets! Emphasis added]

[Refer also to:

Is chemical disclosure improving anywhere?

No wonder Ireland is making fracking illegal.

2017 04 19: Amazing New study: Hazardous Chemicals Go Unregulated in Routine Oil and Gas Operations. Chemical regulations that govern hydraulic fracturing do not apply to numerous other uses of same chemicals on oil & gas development fields. (The toxic secrecy is much worse in Canada)

2017 06 01: New study on diesel pollution: "There is strong evidence that particulate matter (PM) emitted mainly from diesel road vehicles is associated with increased risk of heart attack, heart failure, and death." Ever wonder why so many get sick when the oil & gas industry invades your home & community? Air pollution cost Canadians $36 Billion in 2015 alone!

2016 08 09: High Levels of Endocrine Disrupting Chemicals Found Near Fracking Wastewater Site while FracFocus Fraud Continues: "To adequately investigate such reactions, available information is not sufficient, but instead a full disclosure of HF additives is necessary."

2016 06 27: California: Another new study proving oil and gas companies are fracing freshwater formations: "As many as one of every five oil and gas projects occurs in underground sources of fresh water"

2016 02 24: Oil & gas & frac companies poisoning Alberta families, injecting toxic chemicals into community air, on roads & food land & in drinking water aquifers Go Free while Edmonton dry cleaner first person in Canada to get jail sentence for using dangerous chemicals

2016 01 21: Is Frac Focus More Bogus? Harvard Law School EPI Director Publishes FracFocus Findings: "Rates of withheld chemical ingredients are increasing"

2015 11 25: FracFocusFraud? New Study from journal Energy Policy: Industry increasingly using trade secrets to limit disclosure

2015 04 02: Fracing Rerun in New Brunswick Government. Why? Did Jason Kenny and Senior Alberta Government Advisor, frac patent holder Dr. Maurice Dusseault complain that citizens aren't brainwashed yet like they are in Alberta?

2015 03 27: EPA Frac Investigation: Most Drillers Keep Chemicals Secret in Fracfocus; "One or more ingredients were claimed confidential in more than 70% of disclosures"

2015 02 25: Superior Court hears arguments on release of frac chemicals; Range Resources appealing 2013 Court Order to release all chemicals

2014 08 28: Federally commissioned report, California Council on Science and Technology: Fracking is at shallower depths than previously realized, "It turns out that they're fracking right around the water table" [In Alberta, companies, including Encana, are fracing right into drinking water aquifers, enabled by the industry-controlled and funded, legally immune, "No Duty of Care" AER, and industry-controlled but taxpayer funded, not-legally immune Alberta Environment (legal immunity contradiction courtesy of Alberta Court of Queen's Bench Chief Justice Neil C. Wittmann)]

2014 08 13: American Chemical Society: A new look at what's in 'fracking' fluids raises red flags but does not name the toxic chemicals of concern

2014 07 28: Investigative arm of Congress urges EPA to step up actions on fracking and frac fluid waste injection; EPA Program to Protect Drinking Water from Fracing "Needs Improvement"

2014 07 20: North Carolina legislators look to criminalize disclosure of fracking fluids; Group considers suing to stop fracking; "How could they ask us to subsidize our own demise?"

2014 06 24: Diana Daunheimer: Alberta Energy Regulator should be ashamed, AER Directive 60 Deregulation as the frac poisons ramp up

20143 05 06: Colorado Congressman Called A 'Terrorist' For Pushing Community Control Of Fracking [ERCB, now AER, called Ernst a terrorist too, in 2012 legal brief filed in court to justify violating Ernst's Charter rights in 2005, judging her a criminal without a trial, without any evidence, without any hearing, without any due process. Then, in a chilling Canadian twist and to help the regulator get away with violating the constitution, Supreme Court Justice Rosalie Abella, also without any evidence, without any trial, without any due process, make shit up to suit her purposes and named Ernst a "vexatious litigant" attributed to the regulator. What phenomenal evidence Ernst must have, for the top court in Canada to go to such unlawful extremes to keep AER's illegal frac acts secret!]

2014 03 11: US Department of Energy Advisory Board Task Force Report on FracFocus 2.0 concludes 84% of disclosures kept secrets

2014 02 11: USA: Fracking With Diesel Gets New VOLUNTARY EPA Standards, Voluntary yet industry still fought to prevent them

2014 02 14: Hocus Pocus! Decades too late: Canadian regulator, the National Energy Board, asks for fracking fluid info, but not drilling additives which can be more toxic than frac chemicals

2013 11 28: Canada's National Energy Board (NEB) to ask producers to use [Industry PR Scam] FracFocus website

2013 09 03: Evidence Presented by Encana to 41st PARLIAMENT, 1st SESSION Standing Committee Natural Resources; Encana taking step to stop frac'ing with benzene, diesel, chromium, arsenic, mercury etc

2013 08 14: Northest Territories fracking water license allows for company to keep 'trade secrets'

2013 05 03: Chemical soup used in fracking includes hydrochloric acid, antifreeze

2013 05 01: New Alberta Energy Regulator AER now Regulates Fresh Water with 100% Oil and Gas Industry Control

2013 04 23: Legal Fractures in Chemical Disclosure Laws, Why the Voluntary Chemical Disclosure Registry FracFocus Fails as a Regulatory Compliance Tool

2013 02 05: Lobby group PSAC and 11 fracking companies try, with dishonesty, to calm public fears with new voluntary code of conduct, that isn't really new

2013 02 03: Legal loophole keeps fracturing mixes murky

2012 12 20: Alberta to start using FracFocus Just another synergy scam to con Albertans into thinking someone is regulating the poisons they are eating, drinking and breathing?

2012 12 03: Fracking Loophole "Big Enough To Drive A Mack Truck Through", Fracking Secrets by Thousands Keep U.S. Clueless on Wells

2012 12 03: First Study of Its Kind Detects 44 Hazardous Air Pollutants at Gas Drilling Sites, With gas wells in some states being drilled near schools and homes, scientists see a need for better chemical disclosure laws and follow-up research

Methylene chloride, a toxic solvent not reported in products used in drilling or hydraulic fracturing, was detected 73% of the time; several times in high concentrations.

2012 09 19: Voluntary Fracking Reporting? Bloomberg: Chemicals Not Reported, Half of All Wells "Obscured"

2012 08 17: Diesel still used to frack wells FracFocus data show

2012 08 13: Fracking Hazards Obscured In Failure To Disclose Wells

2012 08 13: HYDRAULIC FRACTURING: "Public" disclosure database kept private

2012 08 19: Medical muzzling: Fracking-related gag order on doctors

2012 03 06: Website for fracking fluid disclosure in Alberta planned – eventually

2011 04 20: Truth comes out on 'Fracking' Toxins. Who finally tells us the nasty chemicals used for shale gas drilling in Western Canada? US Congress

2010 07 19: US Congress Investigating EnCana's hydraulic fracturing practices asking about all allegations of water contamination caused by their fracing

[Ernst requested the company's response to Congress. Encana lawyer Jayana Flower refused, claiming the investigation had nothing to do with the community-wide drinking water contamination at Rosebud, including Ernst's drinking water (after Encana broke the law and hydraulically fractured into the aquifer that supplies Ernst's water well!)]

The 2010 Congress letter to companies, including Encana

2010: Natural Gas Operations from a Public Health Perspective

For many years, drillers have insisted that they do not use toxic chemicals to drill for gas, only guar gum, mud, and sand. While much attention is being given to chemicals used during fracking, our findings indicate that drilling chemicals can be equally, if not more dangerous.

***

Why are environmental groups and people only asking for chemicals injected in fracturing? Why not ask for all chemicals injected during all parts of the process, including drilling, cementing, perforating, acidizing, servicing?