U of A law professor and lawyer among those called to bench FRONT PAGE Edmonton Journal, February 11, 2013
Two Edmonton lawyers have been appointed justices of the Court of Queen's Bench of Alberta. Federal justice minister Rob Nicholson announced the appointments Feb. 8 of Thomas Wakeling, a lawyer with Fraser Milner Casgrain LLP in Edmonton, and Russell Brown, an associate counsel with Miller Thomson LLP and law professor at the University of Alberta. Three other judicial appointments were made to fill vacancies in the province, effective immediately. Nicholson appointed Calgary judge Barbara Veldhuis to the Court of Appeal of Alberta.
ALBERTA JUDICIAL APPOINTMENTS ANNOUNCED by the Department of Justice Canada, February 8, 2013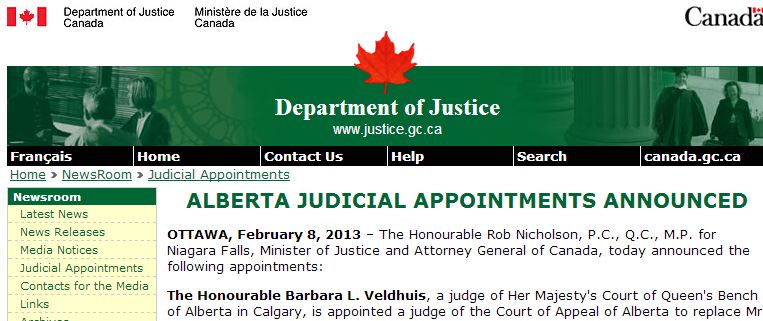 The Honourable Rob Nicholson, P.C., Q.C., M.P. for Niagara Falls, Minister of Justice and Attorney General of Canada, today announced the following appointments:
The Honourable Barbara L. Veldhuis, a judge of Her Majesty's Court of Queen's Bench of Alberta in Calgary, is appointed a judge of the Court of Appeal of Alberta to replace Mr. Justice K.G. Ritter (Edmonton) who elected to become a supernumerary judge as of May 1, 2011. Madam Justice Veldhuis received a Bachelor of Laws from the University of Alberta and was admitted to the Bar of Alberta in 1987. Madam Justice Veldhuis was appointed to the Court of Queen's Bench of Alberta in 2011 and to the provincial court in 2007. Prior to these appointments, she worked with the Department of Justice Canada from 1998 to 2006; additionally, Madam Justice Veldhuis was a Crown prosecutor with Alberta Justice from 1991 to 1993 and again from 1996 to 1998. She was in private practice, focusing on criminal law, from 1988 to 1991 with Logan Watson & Company and from 1993 to 1995 with Clarkson Mochan Veldhuis. Madam Justice Veldhuis was the president of the Grande Prairie Bar Association from 1992 to 1996 and served as vice-chairman of the Grande Prairie Regional College Foundation from 1993 to 1996. ..
These appointments are effective immediately. [Emphasis added]
[Refer also to:
Landmark fracking lawsuit starts with twist by Andrew Nikiforuk, April 27, 2012, The Tyee.ca
 Judge B. L. Veldhuis began the proceedings in a Drumheller courtroom….
How Alberta Will Fight Fracking Folk Hero Jessica Ernst by Andrew Nikiforuk, January 16, 2013
ALBERTA JUDICIAL APPOINTMENT ANNOUNCED: The Honourable Barbara L. Veldhuis Appointed Judge of the Court of Queen's Bench of Alberta in Calgary June 24, 2011
December 2007: Development of a memorandum of understanding between Alberta Environment (AENV) and the Alberta Energy and Utilities Board (EUB, now ERCB) to enhance collaboration for the protection and management of groundwater
EUB [now ERCB] Bulletin 2005-33, December 9, 2005: Shallow Fracturing Operations: New Requirements, Restricted Operations, and Technical Review Committee Incidents of shallow fracturing operations impacting nearby oilfield wells have been reported to the EUB. … The EUB has recently met with most major coalbed methane operators and service companies to discuss their fracturing practices, including program design. These discussions have indicated that design of fracture stimulations at shallow depths requires improved engineering design and a greater emphasis on protection of groundwater [Emphasis added]