Photos of the event: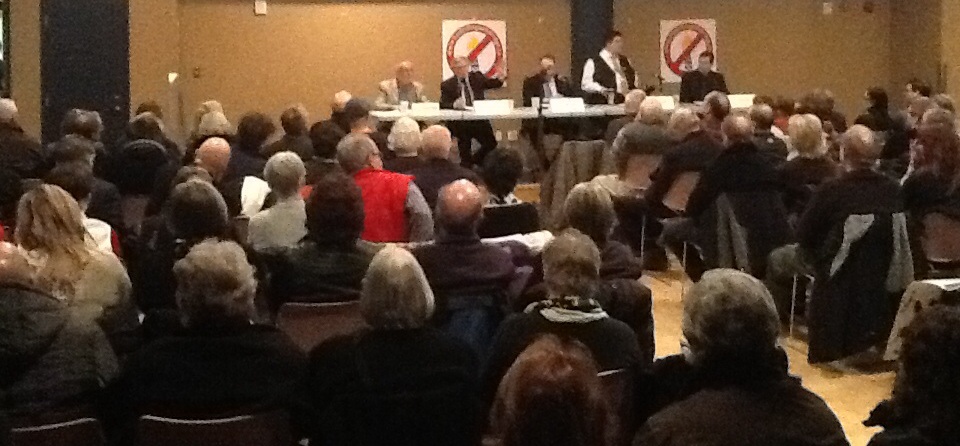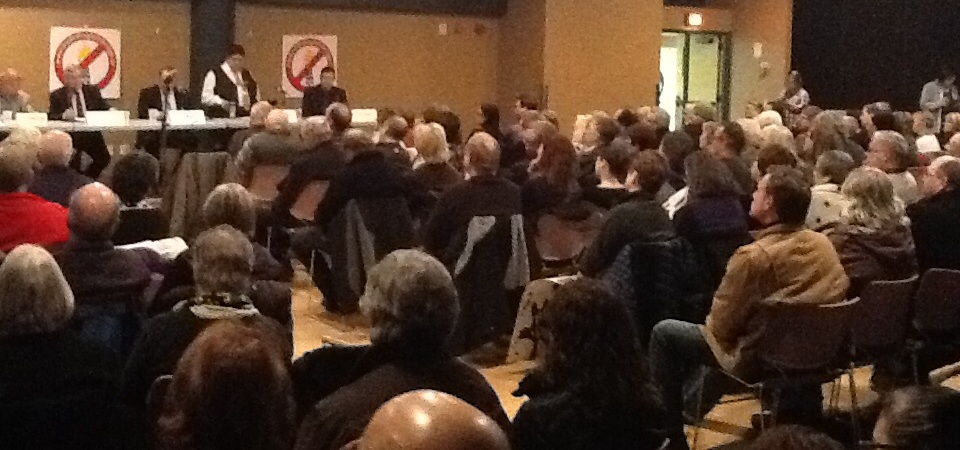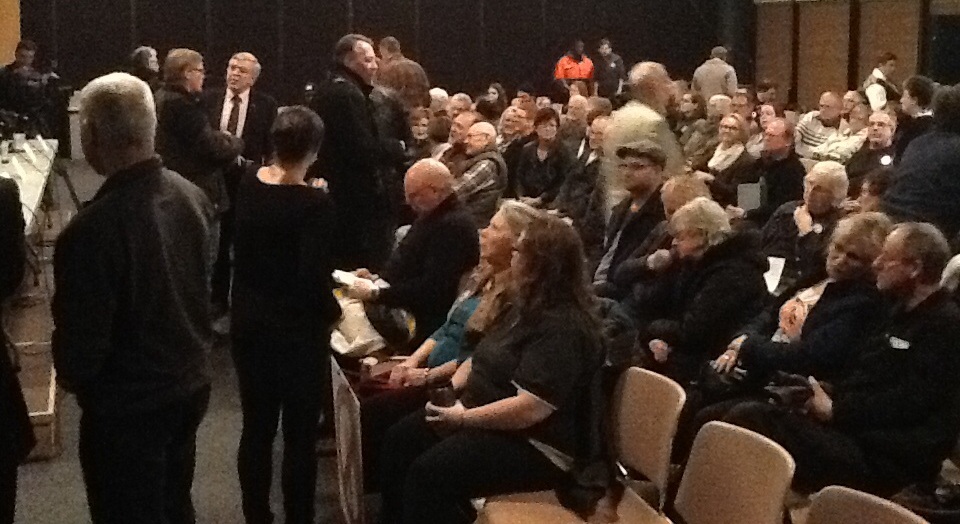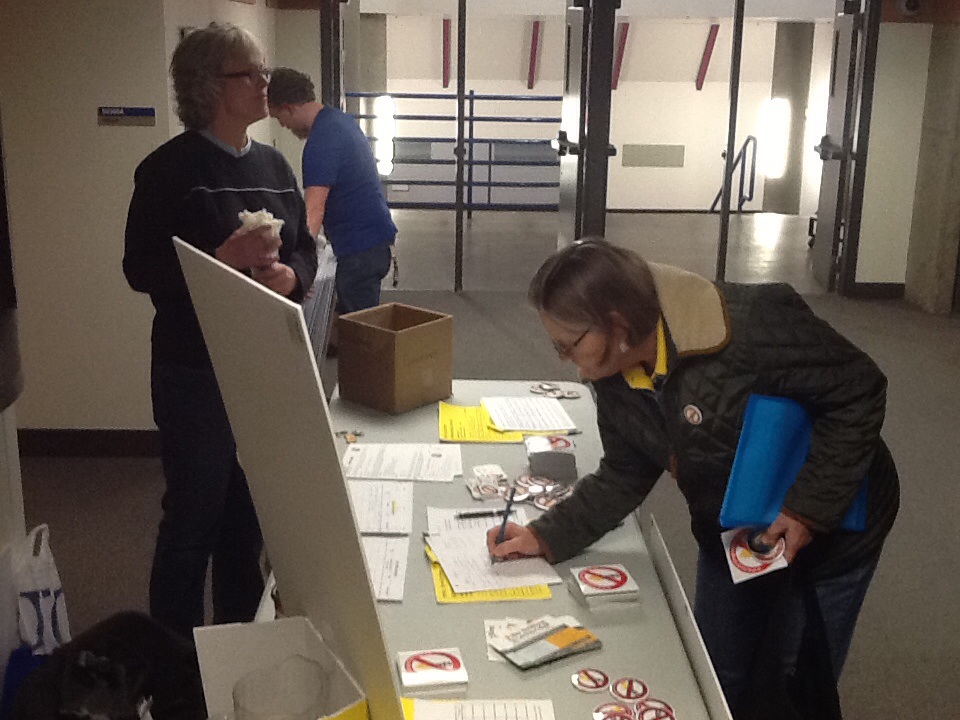 PCs pass on drilling forum by Dave Mabell, February 20, 2014, Lethbridge Herald
No Progressive Conservative representatives have accepted the invitation. But speakers from Alberta's other political parties will be on hand tonight to share their views on exploratory drilling inside Lethbridge city limits. The all-party forum, scheduled for 7 p.m. in the ballroom at the University of Lethbridge Students' Union Building, was organized by No Drilling Lethbridge. The grassroots citizens' group was born after Calgary-based Goldenkey Oil announced plans to drill three wells up-wind from new westside residential neighbourhoods. No Drilling spokesperson Sheila Rogers says Wildrose energy critic Jason Hale, Liberal energy critic Kent Hehr and New Democratic Party leader Brian Mason are confirmed as speakers during the two-hour forum. But Energy Minister Diana McQueen declined an invitation, she says.
And constituency officials confirm neither of the city's two Conservative MLAs – Greg Weadick or Bridget Pastoor – will be attending to represent the government's viewpoint.
"It is disappointing that the minister of energy is unable to attend," Rogers says. Responding to public concerns, she says, the Conservative government has cancelled mineral leases in another city. "We'd like to talk with the minister about doing so here."
After being rejected by McQueen, says Rogers, the Lethbridge group invited Donna Kennedy-Glans – the government's associate minister for electricity and renewable energy – to speak in place of McQueen. But she also declined.
Four days later, at a public forum organized by Lethbridge city council's Community Issues Committee, a speaker from the government-appointed Alberta Energy Regulator's office is confirmed as a participant. Alberta Health Services has also been asked to send a representative to speak on health hazards and concerns Lethbridge residents could face if drilling is allowed. [Alberta Health Services was also invited to attend an important meeting about frac'ing's health hazards in Cochrane on December 6, 2012: On the night of the event, visibly impacted citizens were told:  'Alberta Health couldn't make it.']
At tonight's forum, Rogers says, Mayor Chris Spearman will outline city council's position. Trevor Page, veteran of many lively debates at the Southern Alberta Council on Public Affairs, will be the forum's moderator. He'll open the floor to questions from the public after the political party representatives share their views and then take part in a panel discussion. The opposition MLAs will also be asked to explain their parties' policy position on drilling in urban areas, Rogers says. "The current government has promised an urban drilling policy, but has yet to deliver."

There's no admission charge for the public forum. Rogers says capacity of the ballroom, on the top floor of the SUB, is about 300. [Emphasis added]

Comments:
Fedup Conservative says:
February 20, 2014 at 10:13 AM
When I was growing up, if any bullies picked on anyone in our school I wasn't afraid to confront them, because I knew that in most cases when they were confronted they ran away and hid. This pretend Alberta Conservative Government has been doing it for 21 years, as so many organizations have found out over the years. How many times have people gathered at the legislature to voice their concerns about various issued, and the ministers responsible have refused to appear before them? Thumbing their noses at the people, as they help their rich friends become a lot richer, at our expense, is what they do best. Yet Albertans just keep on supporting them. WHY????? A lawyer said to me several years ago " The people have got to stop letting them get away with it. Haul some of them into court where they can't ignore your concerns, or avoid your questions, and you will change all of their attitudes. You are the boss, why aren't you acting like it". I think he was right. [Emphasis added]

[Refer also to:
TODAY: 1,000+ Health Professionals Call on President Obama to Stop Fracking Press Release by Environment America Research & Policy Center, February 20, 2014
Washington, D.C. – Today, Environment America Research & Policy Center and its state affiliates delivered letters from more than 1,000 doctors, nurses, and other health professionals to President Obama and state decision-makers asserting that fracking should be stopped, given the overwhelming threats to public health. The letters come as public awareness of the health and environmental impacts of fracking is on the rise. For example, in a peer-reviewed study published last month, researchers found an increased rate of birth defects in babies born to mothers in Colorado who lived in close proximity to multiple oil and gas wells.
"Fracking is making people sick—period. Families from Pennsylvania to Colorado to North Dakota are already suffering from dangerous air pollution and water contamination caused by dirty drilling," said Courtney Abrams, clean water program director for Environment America Research & Policy Center. …
There is a growing number of documented cases of individuals suffering acute and chronic health effects while living near fracking operations—including nausea, rashes, dizziness, headaches and nose bleeds. Physicians reviewing medical records in Pennsylvania have called these illnesses "the tip of the iceberg" of fracking's impact on health.
"Fracking harms health in many ways: releasing toxic gases, contaminating huge amounts of water, and contributing heavily to climate change. As a nation, we should develop clean renewable energy instead," said Catherine Thomasson, MD and Executive Director of Physicians for Social Responsibility. "Generating electricity shouldn't be a source of illness; power shouldn't be poisonous."
Fracking operations have contaminated drinking water sources from Pennsylvania to New Mexico. Leaks and spills of fracking fluid, which often contain known carcinogens (e.g. benzene) and endocrine-disrupting chemicals, have polluted rivers and streams. Fracking wastewater—often laced with heavy metals (e.g. lead, arsenic) and radioactive materials (e.g. radon, uranium)—has leached from hundreds of waste pits into groundwater.
Air contaminants released from fracking operations include volatile organic compounds (VOCs); some are carcinogenic, and some damage the liver, kidneys and central nervous system. Researchers at the University of Colorado School of Public Health found that people living within a half-mile of gas fracking wells had a higher excess lifetime risk of developing cancer than people living farther away. …
"As a nurse, I recognize prevention is a key component to health care. That's why research showing infants born near fracking sites have an increased risk of birth defects is cause for deep concern," said Katie Huffling, RN, MS, CNM and Director of Programs for the Alliance of Nurses for Healthy Environments. …
In the letters delivered today, the health professionals state, "the prudent and precautionary response would be to stop fracking." …
"Fracking is a public health emergency. The Obama administration should act with all its authority to better protect communities. And given the onslaught of damage fracking has already caused, we should ban this dirty drilling practice," concluded Abrams. [Emphasis added]