Landowner Rights, How Big Oil Trumps Private and Public Good by Fred Stenson, June 2015, Alberta Views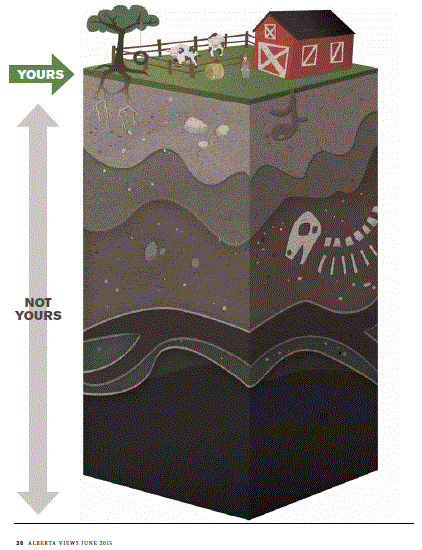 …
When a 1960s sour gas plant south of Pincher Creek malfunctioned (the gas literally eating the high-grade steel meant to contain it), families downwind were regularly dosed with poisonous hydrogen sulphide. Pigs died at such a rate that the farmers gave up on pork production. Families with sick children moved away. When an Alberta government health study found no serious health risks, local families started a lawsuit that was settled 12 years later. This out-of-court settlement was important in that farmers had pushed a big oil company to pay. Otherwise the victory was moral only. Government did not admit its health study was flawed. Industry did not admit it had killed or sickened anyone or anything.
…
When Albertans hear it said that oil companies love doing business in low-tax Alberta, it turns us cynical. The public good has long since become the industry good.
…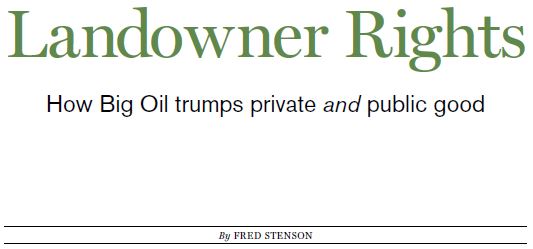 …
The oil sands has been an environmental and public relations disaster for Alberta, but fracking may wind up being the petroleum frontier that shakes Alberta hard enough to
alter its fundamentals. Fracking is farm-by-farm, acreage-by-acreage property invasion. 
…
Ernst called Encana about the water problem and was, she says, "dismissed within minutes." She was also troubled by incredible compressor noise during fracks, well above legal limits, and because of this separate issue, Encana offered to move her. When an Edmonton Journal article appeared about her water problem, Encana cancelled the relocation offer. Ernst pursued her water problem with the Energy & Utilities Board. The EUB told a reporter that the regulator had tested Ernst's water and found no methane. This EUB person also told the reporter that Jessica was making up her story to get attention.
Ernst says this conversation between EUB and a reporter happened before any government investigation of her water had taken place. Something very similar happened when she took the issue to Alberta Environment. Ernst says that before Environment did any testing of her water, someone from that department told a reporter that her water problem was bacterial.
In 2005 the EUB cut off communication with Ernst, denying her access to their investigation and complaints process. The stated reason was a mention of the "Wiebo way" in an Ernst email. (Alberta farmer Wiebo Ludwig was convicted in 2000 of sabotaging oil and gas wells.) Ernst says that, in her email, she made it clear she was quoting a neighbour. Nonetheless, EUB decided what she had written constituted a "criminal
threat of violence" that they reported to the RCMP. Ernst's lawyer at the time thought she should apologize to the chair of the regulator. Ernst refused. "Only in cycles of abuse do victims think they should apologize when they get beaten up," was her comment. Much later, in 2006, a lawyer for the EUB told Ernst that they had never considered her a threat. This suggested the purpose had been to silence her.
…
Ernst's life has been completely absorbed by this lawsuit and by communicating with people and media on fracking and water contamination. Efforts to undermine her credibility have been ongoing, including a whisper campaign about her sanity. When farmers asked oil company landmen about Ernst's problems with fracking, some said not to listen to her, that she was a crazy woman. A dirty business.
…
As Ernst's lawsuit proceeded, the Alberta Energy Regulator (formerly ERCB; formerly EUB) contended it "owed no duty of care" to protect anyone's groundwater in Alberta; also that an eco-terrorist's Charter rights could be violated by a regulator. (Although Ernst has never been charged by the RCMP, the word "terrorist" was applied to her in court documents filed by the Alberta Energy Regulator in 2012.) Alberta Environment
argued that words such as "hazardous," "pollutants" and "contamination" should be removed from Ernst's statement of claim. This department also wanted removed any suggestions that Ernst's experiences were related to those of others claiming
water contamination from fracking.
The Alberta government stands solidly behind its fracking industry. In February 2013, when confronting an NDP contention that domestic water supplies were being contaminated by fracking, Premier Alison Redford described the claims as "completely false." Industry and government had also operated in tandem in the 1960s, when southern Alberta farmers tried to sue for air pollution. No animal deaths were admitted then; no water contamination from fracking is admitted now.
During the years of Ernst's lawsuit, Alberta passed legislation that further weakened the rights of landowners. Bill 19 gave Cabinet the power to assemble land without expropriating it, to make it available later for uses such as pipelines and highways
(a status that would greatly depress property value). Bill 36 confirmed that decisions about the use of private land could be made by Cabinet. Bill 50 removed protections for people living in the path of proposed power lines by moving the decision of whether such lines were needed to Cabinet (no public hearing). Rather than responding to public concerns, the government was creating new ways to keep the public out of the discussion.
In September 2013, Alberta chief justice Neil Wittmann ruled on Ernst's right to sue. He found the Alberta Energy Regulator immune from legal claims. In his summation, however, he supported Ernst's objection to the way the energy regulator had used the email mention of "Wiebo" to restrict her speech. He said she had been denied her opportunity to "register her serious and well-founded concerns."
In response to the finding that the Alberta Energy Regulator was immune from her claims, Ernst felt she had no choice but to appeal. "Justice Wittmann has ruled that ERCB has a duty to protect the public, but not me. I am the public."
…
The Hawkwood ranching family from the Cochrane-Lochend area northwest of Calgary have been running a similar gauntlet to that of Jessica Ernst. They believe that flaring of solution gas at fracking sites has caused them health problems. When they approached AER, they were told go to Alberta Environment. Alberta Environment turned them away because they had 400 similar complaints from southern Alberta.
…
Any suggestion that Ernst's problems are non-existent, isolated or restricted to shallow fracking are contradicted by the number and geographical spread of similar complaints: Spirit River, Wetaskiwin, Cochrane, Ponoka, Didsbury—to name just a few Alberta sources. The struggle by Alberta landowners to get fair treatment from oil companies and government has resulted in a proliferation of landowner groups.
…
On November 10, 2014, Jessica Ernst was back in court before Justice Wittmann. The case had been underway since April 16, 2014. Now the judge was ready to rule—and Ernst came away with a victory. While standing by his earlier decision that Alberta Energy Regulator was immune from prosecution, Wittmann ruled that Alberta Environment could be sued for failure to properly investigate: "I find that there is a reasonable prospect Ernst will succeed in establishing that Alberta owed her a prima facie duty of care." For the improper manner in which her claim had been attacked, Wittmann awarded Ernst triple her costs.
Ernst's response: "This is a big victory for water and for all Albertans. The decision means that landowners can stand up and hold governments and regulators to account."
In another interview, she said, "There is still a lot of hell ahead. The government maintains that fracking is safe and that all methane contamination of water wells is natural. I think my lawsuit, which is built on corporate and regulatory data, will prove things differently." As for her belief that the ERCB denied her Charter rights, Ernst has applied to take that complaint to Canada's Supreme Court. The awarding of triple costs did not impress her, however, for it had cost her far more than the $9,000 awarded to protect her case from the attempts to have it thrown out.
Those who own property in Alberta are more accustomed to bad news than good. But the breakthrough in the Ernst case was one of three late-2014 "good news" land stories.

Includes: HOW THE WILDROSE PARTY GOT ITS THORNS
[Refer also to:
Legal Advice by Will Koop on Dec 1, 2014