Battered oil industry asks for help … from bruised Alberta government by Stephen Ewart, October 26, 2015, Calgary Herald
The Canadian Association of Petroleum Producers has some 60 asks of the province's royalty review panel.
[CAPP needs to clean up their many member's illegal toxic frac harms and messes before they ask for anything from anyone!]
They say it never hurts to ask. And for the oil industry that means ask and ask and ask.
While acknowledging Alberta's current royalty structure has "helped" achieve goals that oil and gas producers support and is responsive to "the evolving nature of the industry," the Canadian Association of Petroleum Producers has put forward "some" changes its members want to see in a new royalty regime.
"Some" in the case of CAPP's submission to the Alberta Royalty Review Panel is five dozen.
"Alberta is losing its competitive edge," it warned.
With the consensus outlook for a "lower-for-longer" commodity price environment, CAPP is looking for the royalty system to adopt much the same mantra from the government-appointed panel that will report back to the NDP government before the end of the year. CAPP is calling on the province to ensure "competitiveness" and "predictability" in its 60 recommendations. To be clear, uncertainty is only an issue for the industry if royalties go up. It'll adjust to lower royalties with little fanfare.
Among CAPP's "asks" of the government to "attract investment" are a few notables:
Implement a "minimum" three-year notice on any changes to conventional royalties; [WHERE'S CAPP'S NOTICE TO ERNST AND ROSEBUD RESIDENTS THREE YEARS BEFORE ENCANA FRAC'D THE COMMUNITY'S FRESH WATER AQUIFERS, RELEASING DANGEROUS LEVELS OF METHANE AND ETHANE INTO THE DRINKING WATER SUPPLY?]
Offset the cost of any government climate policies through lower royalties; [PROFIT FROM their POLLUTION?]
End the bitumen-in-kind-royalty program in the oilsands in favour of cash payments to government;
Make fees for industry groups like the Canadian Oil Sands Innovation Alliance deductible from royalties;
Alter the provincial electricity market to support gas-fired generation at oilsands plants.
The lobby group for the upstream industry also makes it clear it does not want the government to use royalties to support investments in oil refineries and upgraders in the province. In conjunction with the call to end the BRIK program initiated by the Ed Stelmach's Conservative government in 2007, CAPP is stating it doesn't support the government fostering value-added oilsands development.
For years, labour groups that support the NDP have lamented exporting jobs down the pipeline along with raw crude. So that looms as a point of contention. Especially so given CAPP used its submission to urge Alberta to work with provinces and Ottawa to "increase tidewater access" for its oil to generate higher prices — and royalties — from a diverse customer base. [And force "prosperous" fossil fuel addicted Albertans to freeze in the dark?] 
The oil and gas industry has slashed spending and laid off 35,000 workers in the past year as it adjusts to a more than 50 per cent decline in the price of oil since June 2014. CAPP noted that in the most recent fiscal years, its members paid Alberta $8 billion in royalties and $1 billion in corporate taxes.
With the province facing a record budget deficit, it may be too much to ask of the NDP government. [Emphasis added]
Alberta shouldn't change royalty rates for three years: CAPP by Geoffrey Morgan, October 26, 2015, Financial Post
The country's largest oil and industry group is pushing for even lower royalty rates in Alberta to offset the effects of the province's recent corporate tax hike and higher carbon levies.
The Canadian Association of Petroleum Producers submitted a list of 60 recommendations to Alberta's royalty review panel on Monday, which included requests for new cost deductions for oil and gas producers under an updated royalty system.
Among its recommendations, CAPP asked that "any climate policy costs introduced by government be offset through a corresponding reduction in royalties collected."
It's unlikely Alberta Premier Rachel Notley will agree to cut royalty rates. During the election campaign this past spring she described the province's royalty rates were among the lowest in the world.
…
"Any changes that we make on royalties need to take into account all costs," CAPP president and CEO Tim McMillan said…. [WHO IS GOING TO PAY THE DAUNHEIMER FAMILY'S COSTS FOR THE FRAC HARMS DONE TO THEIR HEALTH, WATER AND FARM?]
"We recommend that the royalties be a mechanism through which balance can be found," [TRANSLATION: RIP ALBERTANS OFF MORE AND MORE WHILE LEAVING TOXIC DEVASTATION AS REWARD?] McMillan said.
Alberta Energy Minister Marg McCuaig-Boyd would not comment on CAPP's submission, saying the royalty review panel is operating independently of the government.
"I look forward to receiving the review panel's advice when they are done their work," McCuaig-Boyd said in an email.
. .. CAPP recommended the province give a three-year warning period before any change in oil and gas royalties come into effect, which is roughly double the timeline provided by the province. The government announced Aug. 28 that it would not change the province's royalty rates until 2017.
CAPP has also asked that new royalty rates only apply to new production.
The last time Alberta conducted a royalty review, in 2008 under then-premier Ed Stelmach's government, the new royalty structure subjected all oil and gas production – past and present – to the new rates.
"Alberta was quite an outlier to impose a new financial regime on investments that were committed to under a past one," McMillan said. He said the government of Saskatchewan continues to charge old royalty rates on old production. [Emphasis added]
[Refer also to CAPP Confession ad in Calgary Herald August 28, 2014: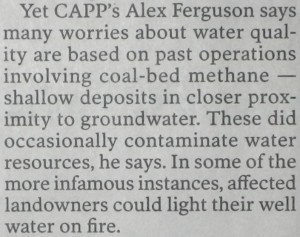 Canadian Association of Petroleum Producers Confession: Coal bed methane operations contaminate water resources by The Calgary Herald, August 28, 2014]