Alberta Energy Regulator validates whistle-blower's casing report.
May 6, 2014 at 8:27 PM
It's been one month since the anonymous whistle-blower Facebook post reported a potential water contamination risk due to an incomplete cement well-casing project. The post appeared, April 4, 2014, on local Fox Creek groups and was shared to friend's pages.
The Investigation
An Alberta Energy Regulator (AER) spokesperson revealed, today, an investigation was conducted and the whistle-blower's account of events was a legitimate cause for concern. The AER confirmed, a breach in proper procedure did occur, appropriate remediation action was taken and potential water contamination was averted.
Exactly as the whistle-blower reported, there were no visible signs of cement at the well hole's surface. The inspector subsequently requested the 'cement bond log' which further confirmed the whistle-blower's observations. The cement was, in fact, 50 m below the surface but, fortunately, above the groundwater table.
Trilogy held accountable.
Trilogy was issued a 'High Risk Enforcement Action'.  High Risk Enforcement Actions are described as "strikes" issued against the company and based on a combination or variety of factors: compliance history, previous reports, sensitivity, breach severity, damage, and / or failure to report. Strikes are cumulative. The more legitimate non-compliance reports filed, the more strikes against a company and the higher the level of enforcement and reporting required of them.
In this case, Trilogy took immediate action; potential damages to land, water and health were averted and the problem was remediated as directed by the inspector.
All enforcement actions are published to the AER website within 120 calendar days of enforcement. The last available report is November 2013. Therefore, this particular incident does not, as yet, appear on the website.
Reports: http://www.aer.ca/data-and-publications/statistical-reports/st108
About the Alberta Energy Regulator
"The AER's role in public safety and environmental protection is based on comprehensive rules, regulations, and requirements. These rules and regulations cover all aspects of industry activity, including exploration, construction, operations, and decommissioning of facilities. The AER enforces its requirements by monitoring industry activity and acting on instances of regulatory noncompliance.
The level of enforcement is determined by the severity of noncompliance and will be escalated if required. By varying levels of enforcement, the AER ensures a fair, firm, and consistent approach in all noncompliance situations. If a company deliberately or repeatedly fails to meet AER requirements, enforcement actions escalate and penalties become more severe.
The AER works with stakeholders to ensure that regulatory requirements are clearly understood."
Source: http://www.aer.ca/compliance-and-enforcement/enforcement#sthash.35YaWRHb.dpuf
Whistle-blower consequences
This incident did not follow traditional reporting channels; the investigation was indeed initiated due to the Facebook post and the Fox Creek community members who reported the post to the AER.
Their spokesperson could not comment on whether there were consequences for the original poster, whether they were protected by a whistle-blower clause, nor if any action was taken by the company against the reporting employee.
In this case, "we have a happy ending," said the AER spokesperson. The concern was reported. The investigation was conducted. Action was taken. The process worked.
 Moving Forward and lessons learned
Local media and Town representatives stated that this incident was reported to the ERCB and AEUB. However, these agencies no longer exist.
The AEUB fell several years ago under alleged ethics violations, (spying on stakeholders, whistle-blowers and landowners) and conflict of interest pressure.  The ERCB replaced the AEUB. It too was disbanded, last year.
The AER is the current regulator. For the most part, it performs the same function and oversees the same regulations as its predecessors but under a new name.
The AER is funded by industry.
http://www.aer.ca/about-aer/who-we-are
Reporting this particular concern to the AER resulted in a prompt investigation. Within 24 hours of the original post, investigators were on site, potentially preventing a much greater effect to land and water, employee health and safety.
Community members and employees witnessing questionable practices or having procedural concerns do have recourse and responsibility to report.
This was NOT a false 'acquisition', as we've been led to believe. There was a breach in procedure. Fortunately, as reported, this incident did not result in water contamination.
Congratulations and thank you to the employee who brought this incident to our attention. You protected the land, the water and the community.  In the process, you taught each of us a little something.
ALLEGED WATER CONCERNS UNDER INVESTIGATION by Brandi Bedson, April 4, 2014, Fox Creek Times
The Town of Fox Creek is aware of a social media posted yesterday, April 3 and are currently taking the essential steps to find out more information. Mayor Jim Ahn, all Town Councillors and local media were made aware of the public post yesterday. The post is being circulated on Facebook. The post stated:
#Breaking #Whistleblower Very Urgent Information for residents of #Alberta #Yeg #IdleNoMore Underground water supply compromised! I received this just now from a whistleblower who works for [Trilogy], the second largest oil drilling company in Canada.
He wrote:
"Had a bad night at work, I have to vent this because it is so wrong and I am so mad!
"My rig drills surface casing to 600 M to protect the watershed north of Edmonton. Basically the well water in the area because after that 600M we drill with petroleum/oil. Well today the cement job didn't go as planned and there was NO cement in the hole to protect not only the underground water supplies, but our lives on the rig if we take a kick, and the frac crews coming in after.
The bosses didn't want to wake up at 3am so the call was to fill the hole with gravel that I scraped off the lease road. I am so not cool with this and when I refused work I got yelled at. This is [email protected]#[email protected]#! wrong!. I walked over and tried to wake up the push and engineer, neither would wake up. Well I wouldn't drink the water in Fox creek for another 150 years, at least.
"The whole underground water supply will be compromised by this oil company being CHEAP!! No one has a [email protected]#[email protected]# backbone tho. I tried to wake up my toolpush and engineer, they told me to @!#! and deal with it or the next crew would! In the next 7-15 days we will be pumping invert into groundwater. And no one will know…"
"We are taking this seriously and we have to ensure the safety of our people. Water is our number one concern." said Acting Chief Administrative Officer, Roy Dell. On behalf of the Town of Fox Creek, A/CAO Roy Dell contacted Alberta Environment [Now AER] yesterday expressing his concerns and relayed the concerned post. Mayor Ahn said, "We also lodged a complaint with ERCB [Now AER] (Energy Resources Conservation Board) and AEUB (Alberta Energy and Utilities Board) on April 3rd. ERCB is looking into the validity of the post.
Without a name or a location, we as a town have no idea where to start looking. Our water is tested daily and we have not seen any contaminants."
Alberta Environment in turn contacted the Town of Fox Creek late yesterday, and informed them they were going to research the concern, explained Roy Dell. "Alberta Environment is presently checking rigs in our area," said Dell. Alberta Environment has all the maps of drilling rigs in our area. The potential area where the alleged incident occurred is unknown at this time, explained Dell. "Hopefully Alberta Environment will get back to us soon and we will let everyone know asap," said Dell. [Emphasis added]
[Refer also to: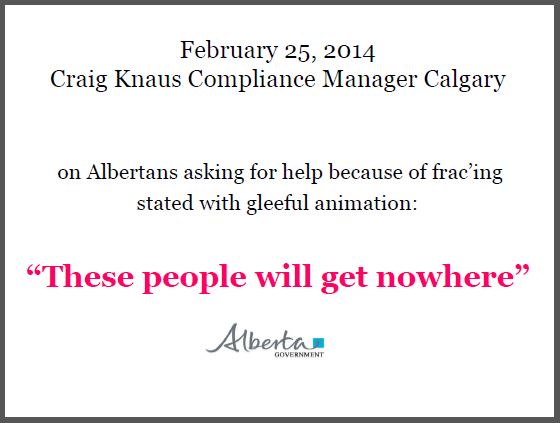 Slide above from Ernst presentations
Duvernay well results pump Trilogy Energy stock, Investors bid up Calgary company's shares after glowing report by Dan Healing, September 27, 2014, Calgary Herald
Trilogy Energy Corp. shares leaped as much as 15 per cent on Friday morning after it unveiled what one analyst described as "fantastic" Alberta Duvernay drilling results. The $3.95 surge in share value to $29.90 came despite a huge miss on estimated third-quarter production due to northwestern Alberta gas processing facility outages. The stock closed at $28.80, up $2.85 or 11 per cent but well off its 52-week high of $33.14 in May.
"Quite honestly, the (Duvernay) results are better than we had anticipated," said Trilogy president and chief operating officer John Williams, who added some experts are comparing the Duvernay to the prolific Eagle Ford shale play in South Texas.
He said hydraulic fracturing technology is evolving to get the most out of the play while driving down costs.
"We started out doing 25 or 30 fracks per well two or three years ago and now we're upwards of 100. I think increasing frack density, pumping less sand, less water, letting the wells soak for a little while, is giving us great recoveries."
Financial analysts were impressed, with Michael Harvey of RBC Dominion Securities upgrading the stock to outperform in a note to investors on implied returns and improving economics from the Duvernay, while also noting Trilogy's successful step-out well in its Kaybob Montney oil play.  Another analyst, Michael Dembicki of TD Securities pointed out third-quarter production of 31,000 barrels of oil equivalent per day was a disappointing 19 per cent below consensus estimates of about 38,200 boe/d and suggested a "reoccurring theme" of Trilogy misses over the past two years. "That said, we believe that investors have been generally looking past short-term production missteps and have been focusing on the longer term NAV (net asset value) creation that the Duvernay could provide," he wrote. Analyst Geoff Ready of Dundee Capital markets said Trilogy's "fantastic" Duvernay results outweighed its production miss. "Based on these and other public production results, we believe payouts on some wells are under a year, a remarkable feat for a resource play in early stage development," he wrote.
In a news release late Thursday, Trilogy said it will revisit its capital budget for the year in November after electing to participate for a 30 per cent working interest in a four-well pad operated by an unnamed partner (identified by analysts as Shell Canada). It said the pad — drilled and completed for $12 million per well or $48 million — was production tested in August and flowed at an average rate of 1,940 boe/d per well, made up of 3.4 million cubic feet per day of natural gas and 1,366 barrels per day of condensate. Condensate is a petroleum liquid that fetches a premium over light oil in Alberta because it can be used to dilute bitumen to allow it to flow in a pipeline.
The four horizontal legs were each about 2,000 metres in length and were completed in 100 fracture intervals, it said.
The pad is expected to be placed on production in late October, Trilogy said. It also plans to participate in a second four-well pad on which drilling is done and completion operations are expected to begin in early October, with first production in December. Trilogy said the partners drilled two wells on the same property in 2012 which were brought on production in August and produced about 500 bpd of condensate, plus associated gas, for 28 days before being shut in due to maintenance work at the Keyera Simonette gas plant. Trilogy also announced successful completion earlier this month of a step-out well on the west side of its Kaybob Montney oil play, noting it is currently flowing over 400 bpd of oil, just under one million cf/d of gas and 100 bpd of water. Trilogy said it has about 32,000 net hectares of Duvernay prospective lands in the volatile oil area and about 19,000 net hectares in what is believed to be the gas condensate area of the play.
Trilogy was formed in 2005 through a spinout of assets from Paramount Resources Ltd. About 52 per cent of the stock is controlled by insiders. [Emphasis added]