Sinkhole on toxic pond has neighbors fuming by ABC Action News, September 16, 2016
The company that kept secret a massive sinkhole that drained a 215 million dollar radioactive pond into an underground aquifer said it didn't go public with the crisis for three weeks because it found "no risk to the public." [Emphasis added]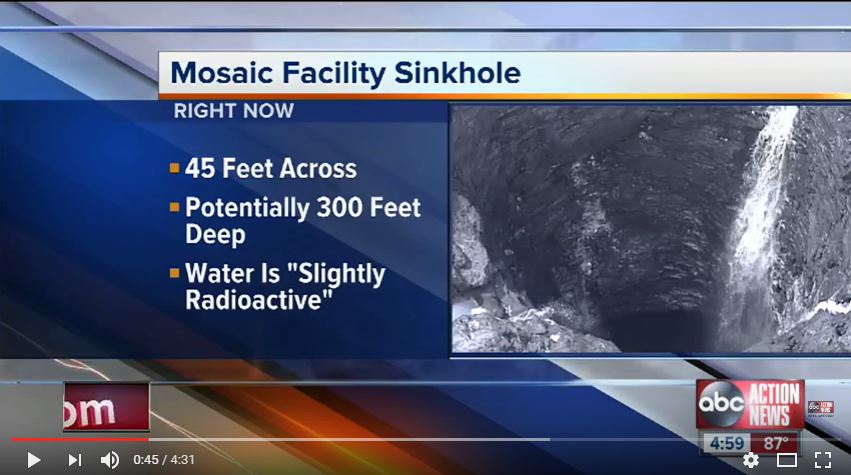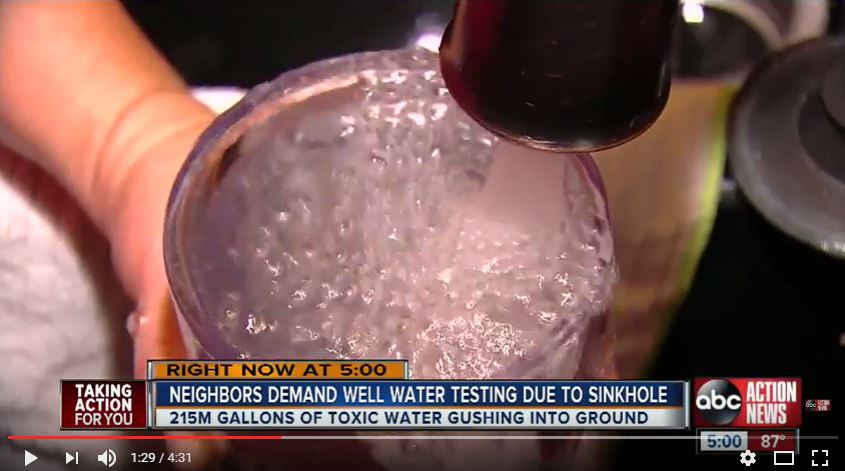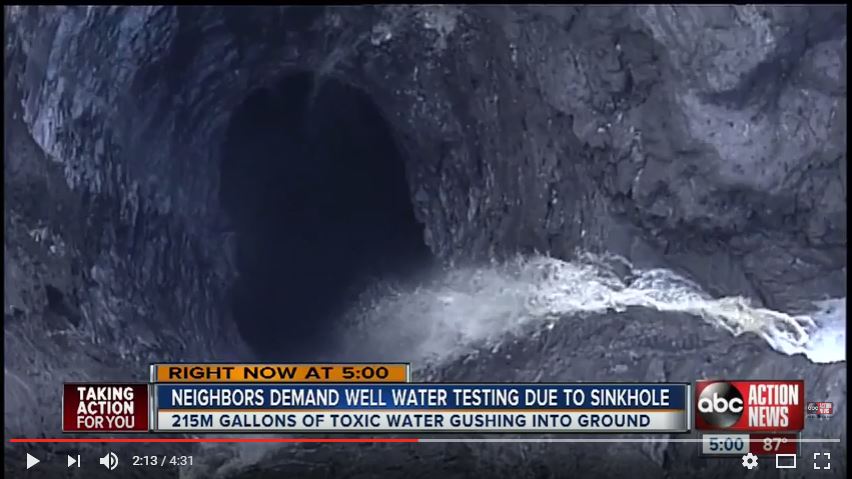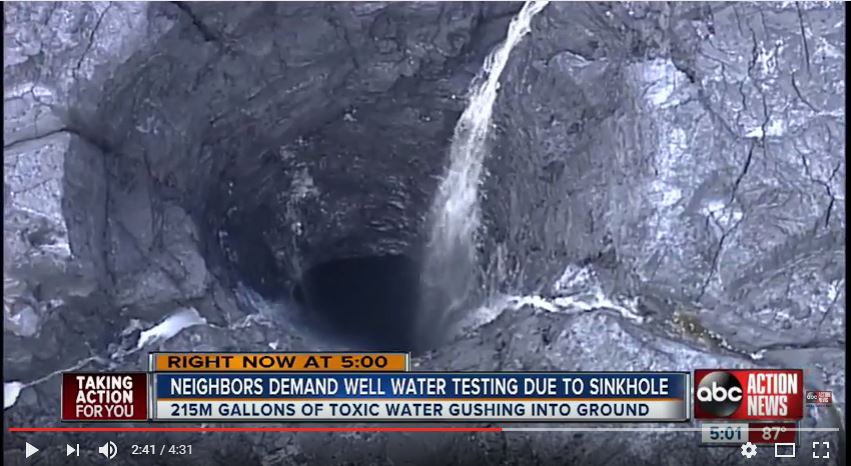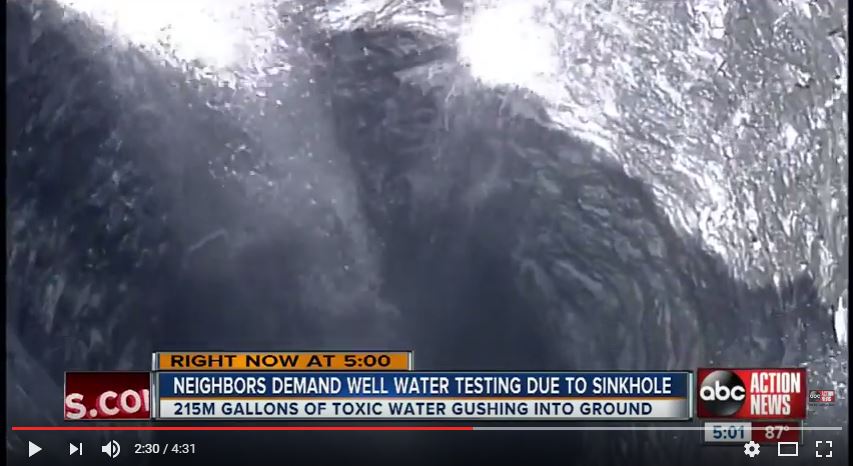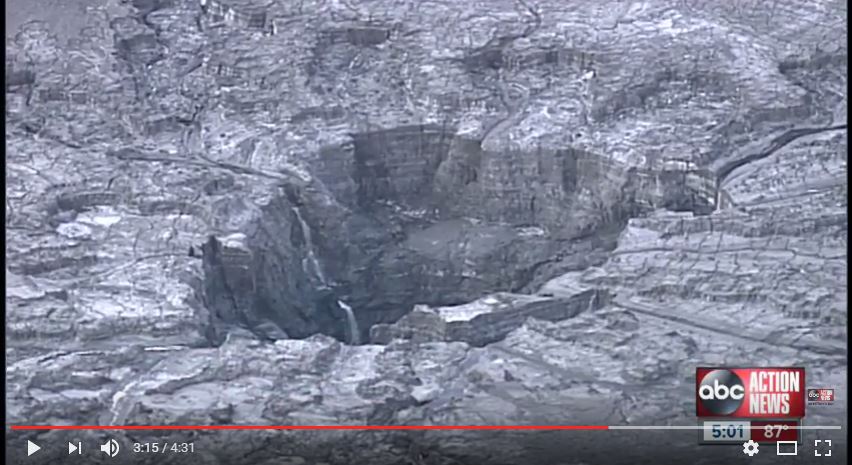 Florida sinkhole causes vast leak of wastewater into drinking water source, Phosphate supplier says 'absolutely nobody at risk' as company monitors groundwater at central Florida fertilizer plant by Associated Press, September 17, 2016, The Guardian
More than 200m gallons of contaminated wastewater from a fertilizer plant in central Florida leaked into one of the state's main underground sources of drinking water after a huge sinkhole opened up beneath a storage pond, a phosphate company said on Friday.
Mosaic, the world's largest supplier of phosphate, said the hole opened up beneath a pile of waste material called a "gypsum stack". The 215m gallon storage pond sat atop the waste mineral pile. The company said the sinkhole was about 45ft in diameter.
Mosaic said it was monitoring groundwater and had found no offsite impacts. [Is the company monitoring anything offsite?]
"Groundwater moves very slowly," said David Jellerson, Mosaic's senior director for environmental and phosphate projects.
[Reality check:
Groundwater in kardst/porous formations can move very quickly, and kill quickly, as it did in
2013 06 21: Are Fracking Wastewater Wells Poisoning the Ground beneath Our Feet? Leaking injection wells may pose a risk–and the science has not kept pace with the growing glut of wastewater
Florida's injection wells, for example, had been drilled into rock that was far more porous and fractured than scientists previously understood. "Geology is never what you think it is," said Ronald Reese, a geologist with the United States Geological Survey in Florida who has studied the well failures there. "There are always surprises." Other gaps have emerged between theories of how underground injection should work and how it actually does. Rock layers aren't always neatly stacked as they appear in engineers' sketches. They often fold and twist over on themselves. Waste injected into such formations is more likely to spread in lopsided, unpredictable ways than in a uniform cone. It is also likely to channel through spaces in the rock as pressure forces it along the weakest lines.
Petroleum engineers in Texas have found that when they pump fluid into one end of an oil reservoir to push oil out the other, the injected fluid sometimes flows around the reservoir, completely missing the targeted zone. "People are still surprised at the route that the injectate is taking or the bypassing that can happen," said Jean-Philippe Nicot, a research scientist at the University of Texas' Bureau of Economic Geology. Conventional wisdom says fluids injected underground should spread at a rate of several inches or less each year, and go only as far as they are pushed by the pressure inside the well. In some instances, however, fluids have travelled faster and farther than researchers thought possible.
In a 2000 case that wasn't caused by injection but brought important lessons about how fluids could move underground, hydrogeologists concluded that bacteria-polluted water migrated horizontally underground for several thousand feet in just 26 hours, contaminating a drinking water well in Walkerton, Ontario, and sickening thousands of residents.
The fluids travelled 80 times as fast as the standard software model predicted was possible.
According to the model, vertical movement of underground fluids shouldn't be possible at all, or should happen over what scientists call "geologic time": thousands of years or longer. Yet a 2011 study in Wisconsin found that human viruses had managed to infiltrate deep aquifers, probably moving downward through layers believed to be a permanent seal.
According to a study published in April in the journal Ground Water, it's not a matter of if fluid will move through rock layers, but when. Tom Myers, a hydrologist, drew on research showing that natural faults and fractures are more prevalent than commonly understood to create a model that predicts how chemicals might move in the Marcellus Shale, a dense layer of rock that has been called impermeable. The Marcellus Shale, which stretches from New York to Tennessee, is the focus of intense debate because of concerns that chemicals injected in drilling for natural gas will pollute water. Myers' new model said that chemicals could leak through natural cracks into aquifers tapped for drinking water in about 100 years, far more quickly than had been thought.
End Reality Check]
"There's absolutely nobody at risk."
The water had been used to transport the gypsum, which is a byproduct of fertilizer production, the company said.
The sinkhole, discovered by a worker on 27 August, is believed to reach down to the Floridan aquifer, the company said in a news release. Aquifers are vast, underground systems of porous rocks that hold water and allow water to move through the holes within the rock.
The Floridan aquifer is a major source of drinking water in the state. One of the highest-producing aquifers in the world, it underlies all of Florida and extends into southern Alabama, Georgia and South Carolina.
According to the University of Florida, it's the principal source of groundwater for much of the state, and the cities of Tallahassee, Jacksonville, Gainesville, Orlando, Daytona Beach, Tampa, and St Petersburg all rely on it. The aquifer also supplies water to thousands of domestic, industrial and irrigation wells throughout the state.
Mosaic began diverting the pond water into an alternative holding area to reduce the amount of drainage when the problem was first detected. The company said it had been "recovering the water by pumping through onsite production wells".
"We have an extensive monitoring system," Jellerson said. "It's already indicating that it's recovering the material, but it will take some time for that process to complete."
Dee Ann Miller, spokeswoman for the state's department of environmental protection, said the company is updating state and federal agencies on the situation.
"Along with reviewing daily reports, DEP is performing frequent site visits to make sure timely and appropriate response continues in order to safeguard public health and the environment," Miller wrote in an email. "While monitoring to date indicates that the process water is being successfully contained, groundwater monitoring will continue to ensure there are no offsite or long-term effects."
The Polk County phosphate plant is still running.
Jellerson said the water typically flowed in a cycle from pond to plant to pond during the fertilizer manufacturing process. He said the pond with the sinkhole was "now dry", and that once authorities recover the water that went into the deep hole, it will be reused in plant operations.
The incident comes less than a year after Mosaic, one of the world's largest fertilizer makers, settled a vast federal environmental lawsuit with the US Environmental Protection Agency (EPA) in which the company agreed to nearly $2bn in fixes, improvements and cleanups at its plants.
Since the 1960s, toxic solid waste from fertilizer production in Florida has been growing – some stored in 500ft-tall piles that sometimes span more than 600 acres. Mosaic makes a common phosphorus-based fertilizer, the production of which creates polluted water and solid waste.
In 2004, during Hurricane Frances, 65m gallons of polluted waste from a fertilizer plant was sent into waters near Tampa Bay, resulting in thousands of dead fish and other marine life.
In 1994, a sinkhole in Polk County opened, sending tons of waste from one of the company's waste piles into the earth.
The EPA found that Mosaic improperly handled its facilities, which posed a threat to the environment and human health. These violations led to last year's legal settlement and the company's public commitment to become more environmentally friendly. [Is the "settlement" working?]
Environmental groups said the damage from the sinkhole could be severe, and added to decades of pollution from the phosphorous fertilizer industry. Florida is a key center of phosphate mining.
"I wish we could say that watching an environmental tragedy unfolding at a Florida phosphate mining site was a new occurrence, but sadly it's happened repeatedly," said Tania Galloni, an attorney with the Florida office of Earthjustice.
"These phosphate companies are playing roulette with our public waters." [Just wait til frac'ing compounds the problems. [Emphasis added]
[Refer also to:
Two new peer-reviewed studies published after Florida significantly increases toxic chemicals allowed dumped in waterways: 1) Chemicals used in fracking, other gas, oil operations increase risk of miscarriages, reduced male fertility, prostate cancer, birth defects, preterm birth by disrupting hormones; 2) Lit review shows increased risk of negative reproductive effects from exposure to fracking, other oil, gas extraction activities, especially for miscarriages, reduced semen quality, prostate cancer, birth defects, preterm birth
Pinellas County Florida unanimously votes to ban fracking; Cites harm to environment, air pollution, damage to Floridan Aquifer, health problems as main reasons
Florida Supreme Court blasts Florida Power & Light's fracking charge, State regulators exceeded their authority allowing the utility, a company, to charge customers for investment in fracing, transferring risk from shareholders to customers
"Your job is to protect Floridians, not to poison us." Deregulation: All the better to frac 'n poison you with. Florida DEP trying to ease restrictions on discharged chemicals into rivers, lakes, coastal waters
The insanity of soon to be "more porous than Swiss cheese" Florida: "It's a shameful day." Will fracing swallow the state in endless sink holes and quakes?
Florida City Council of Bonita Springs votes, unanimously bans fracking: "Preserving our water supply is the No. 1 priority…. Water really fuels our economy—not oil."
Florida jury slams tobacco company with $23.6B in punitive damages in widow's lawsuit; We can say no to smoking near loved ones, can't say no to being poisoned by fracing or dishonest frac promotion by regulators, companies, CAPP, CSUR and frac patent holder, Dr. Maurice Dusseault
Florida: Collier County Goes To Court Over 'Acid Fracking' Near Everglades, charges that state regulators lax in oversight, jeopardizing public health and environment
Florida Department Environmental Protection fines Dan A. Hughes Company $25,000 for fracing without permission; Company says it didn't frac, it stimulated (where have we heard that before?)
Florida Fracking threat to environment
Meanwhile, in Louisiana:
2012 Sink hole, Assumption Parish, Louisiana, over 300 residents' homes sacrificed for profit by the oil and gas industry: Class-action plaintiffs settle for $48 million just before trial to start next week
Louisiana sinkhole expected to keep residents away at least a month, Massive sink hole keeps on growing
Jindal signs emergency order to combat sink holes in Assumption Parish
Homes evacuated near giant sink hole
Hart County Oil Well Operators Sentenced for illegal waste injection into sinkholes and wells
This insane video is why fracking should be made illegal, Raw: Louisiana sinkhole swallows giant trees in less than a minute
Sinkhole salt dome outer edge collapsed, fracked
Sinkhole explosive methane officially life threatening, residents not told
Officials to sinkhole evacuees Go home report new cracks sinking
Louisiana Sinkhole Spurs Evacuations, Lawsuits and a Resignation
Sinkhole: H-Bomb explosion equivalent in Bayou Corne possible
Company to pad fund to aid residents near Assumption Parish sinkhole
Dome issues kept quiet, Ongoing defect preceded sinkhole
Bayou Sinkhole: Radioactive dome issues covered up over a year
Explosion monitor in Bayou Corne sinkhole area 'goes off'
Cavern tied to Sinkhole, Dome may be too close to area
Louisiana sinkhole roils local natural gas network
Sinkhole methane bubbles now 'more prolific'
Sinkhole: Now 372 feet diameter, Only 1500 feet from butane-filled cavern
Giant sinkhole danger zone expansion warning, human rights abused
Bayou sinkhole 380 feet deep: Mandatory evacuation remains, anxiety increases
Bayou officials fear giant sinkhole pipeline explosion, stop providing data
Pipeline bent from sinkhole; La. 70 traffic to reroute
Evacuations ordered near Assumption sinkhole
And in New Brunswick Canada, after mixing potash mining with hydraulic fracturing:
First Penobsquis, now Stoney Creek — what's next?
They who "feed the world" took her water: PotashCorp launches PR blitz, Beth Norrad leaves Penobsquis
The house had been without water for three years but Norrad was reassured multiple times by a government official that the water would be flowing again through the taps of the house in no more than six weeks. Six weeks came and went and there was still no running water.
… "My sister and I took every cent we had and paid cash for the house, trusting we would be getting all but the usual down payment back when the mortgage was in place six weeks later. But no bank will give a mortgage on a house with no water," says Norrad. The sisters soon discovered that the government had been promising the return of running water to several Penobsquis homes for years. [Emphasis added]
Is this New Brunswick democracy or selective oppression?
Yesterday morning I witnessed the mining commission hearing of the 26 Penobsquis citizens asking for compensation for what has been happening to them since 2004.
The citizens believe they have suffered the effects caused by subsidence (sink holes), such as loss of well water, emotional stress, loss of property value and loss of way of life. I have heard and read public comment in defense of the Potash Corporation of Saskatchewan and the shale gas industry development in the area.
Too often the public comments suggest the citizens don't even deserve a hearing.
Arguments are made that subsidence has a history in the area preceding the establishment of potash mines and petroleum industry drilling in the area. [Emphasis added]