2016 10 29: USA National Science in Society Journalism Awards reception at the Witte Museum in San Antonio Texas:
Andrew Nikiforuk's acceptance speech:
To San Antonio/National Association of Science Writers
Thank you for this great honor and for inviting me to San Antonio.
In Canada it would be difficult to fill a bus full of science writers—it is reassuring that you can still fill a entire ballroom here in the United States.
The founder of Pakistan once said that there are two powers in the world; one is the sword and other is the pen. But that there is a third power stronger than both, that of women.
So I would like to thank first my Hebredian wife, Doreen Docherty for her continued support and in making my writing possible.
Second, I'd to thank the other woman in my life: Jessica Ernst. She is a scientist and she has worked in Alberta's oil patch for 20 years. It took her nearly a decade to trust me with her story. Prickly. Fiercely brilliant. Combative. Wedded to evidence. Uncompromising. Meticulous. Pain in the ass. That's Ernst.
As such Slick Water is really a story about the courage of women—and that courage differs from that of men: it is civil, persistent, strategic and selfless.
Ernst's story is dramatic. During a messy resource boom Encana, then one of her clients, fracked into a shallow aquifer in her community near Calgary, Alberta and clearly broke the law. Ernst then caught regulators behaving badly and covering up the deed. She has now spent 9 years pursuing justice and accountability in Canada's byzantine court system.
So I want to thank the Science In Society judges in particular for recognizing her courage and strength of character. Such people can and do change the world.
Let me add a word on the dysfunctional technology of hydraulic fracturing. Politicians and the media often portray more technology as solutions to our problems. But as many science writers know, the thoughtless deployment of previous technologies has multiplied our problems. We have a word for this predicament: complexity.
Industry swore that its cracking rock technology was safe and proven, but science now tells a different story. Brute force combined with ignorance (and that's how one executive described the technology) has authored thousands of earthquakes from British Columbia to Texas. It has called forth clouds of migrating methane in the Four Corner states. The science is complicated but clear: cracking rock with fluids is a chaotic activity and no computer model can predict where those fractures will go. The regulatory record shows that they often go out of zone; extend into water; and rattle existing oil and gas wells, and these rattled wells are leaking more methane.
The French philosopher Jacques Ellul spoke eloquently about technology and its increasingly dominant role in our lives decades ago. He thought that whenever we abdicate our responsibilities to uphold truly human values and whenever we limit ourselves to leading a trivial existence in a technological society with the sole objective of adapting to more technologies and material comforts, we turn out backs on justice and the human spirit.
My deep thanks to the National Association of Science Writers for shining a light on that spirit tonight.
***

Andrew Nikiforuk, far right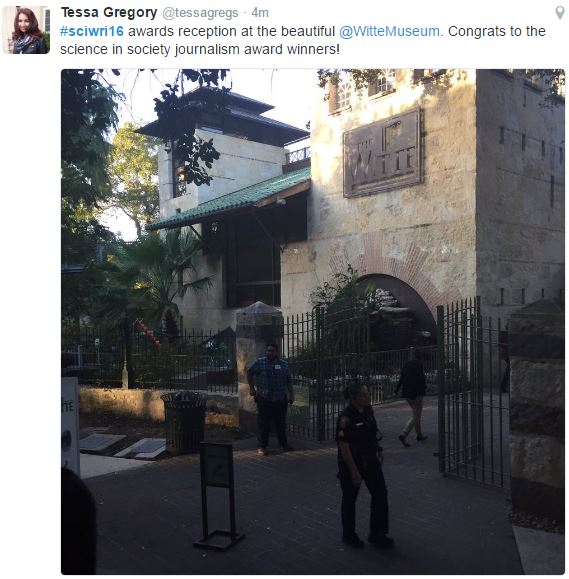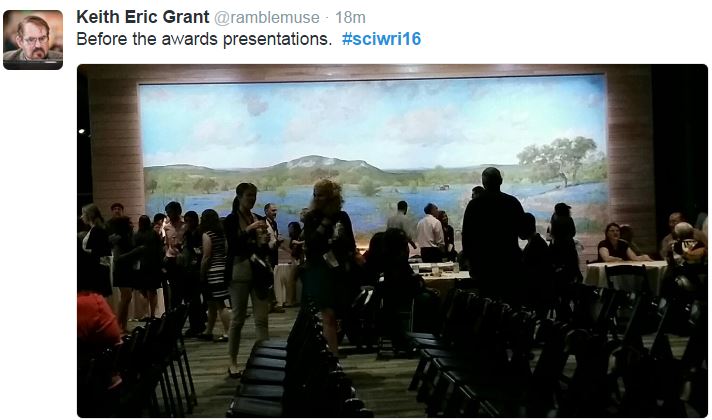 2016 Science in Society Journalism Award winners announced Press Release by The National Association of Science Writers, September 12, 2016 – 13:08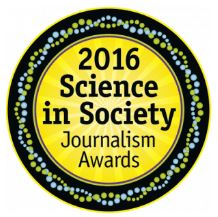 We are pleased to announce the winners of the 2016 Science in Society Journalism Awards, sponsored by the National Association of Science Writers:
In the Book category, Andrew Nikiforuk for his book, Slick Water: Fracking and One Insider's Stand Against the World's Most Powerful Industry, published by Greystone Books.
In the Science Reporting category, Amy Maxmen for "How the Fight Against Ebola Tested a Culture's Traditions," published online byNational Geographic.
In the Longform category, Josh Dzieza for "Bees, Inc.," published by Pacific Standard.
In the Science Reporting for a Local or Regional Market category, Elizabeth Rush for "Leaving the Sea: Staten Islanders Experiment with Managed Retreat," published by Urban Omnibus.
In the Commentary and Opinion category, Emma Marris for "Handle with Care," published in Orion Magazine.
Winners in each category receive a cash prize of $2,500, to be awarded at a reception on Oct. 29, 2016, at the ScienceWriters2016 meeting in San Antonio, Tex. In the book category, the judges also awarded an honorable mention to Adam Benforado for his book, Unfair: The New Science of Criminal Injustice,published by Crown Publishers.
NASW established the Science in Society awards to provide recognition — without subsidy from any professional or commercial interest — for investigative or interpretive reporting about the sciences and their impact on society. The awards are intended to encourage critical, probing work that would not receive an award from an interest group. Beginning with the first award in 1972, NASW has highlighted innovative reporting that goes well beyond the research findings and considers the associated ethical problems and social effects. The awards are especially prestigious because they are judged by accomplished peers.
NASW currently awards prizes in five categories: Books, Science Reporting, Longform Science Reporting, Science Reporting for a Local or Regional Market, and Commentary and Opinion.
In his book, Slick Water: Fracking and One Insider's Stand Against the World's Most Powerful Industry, Andrew Nikiforuk tells the story of Jessica Ernst's stand against the energy company Encana Corporation, after it began secretly using hydraulic fracturing to tap hundreds of gas wells around her home. When she put forward evidence that Encana had violated laws by fracturing the community's drinking water aquifer, Ernst was falsely tagged as a bomb-making terrorist and visited by the Canadian government's anti-terrorism squad. Ernst persisted to uncover a history of liability, fraud, and intimidation, along with a willful denial of widespread groundwater contamination. The judges said, "Here's an excellent book with a strong protagonist who carries the narrative and turns a potentially wonky and bureaucratic matter into a page-turner. The author is facile with the science, and also with the story telling." They added, "We found it a compelling read with clear, crisp writing. We were struck not just with the main character's amazing persistence in pursuing justice against all odds, but also the author's persistence as he nailed down the details. We came away inspired."
…
The final judging committee consisted of Thomas Hayden (Stanford University), Martha Mendoza (Associated Press) and Gene Russo (Proceedings of the National Academy of Sciences). The Science in Society awards committee was co-chaired by Amber Dance (freelance) and Dennis Meredith (freelance).
…
The largest organization devoted to the professional interests of science writers, the National Association of Science Writers fosters the dissemination of accurate information regarding science through all media normally devoted to informing the public. Its 2,482 members include science writers and editors, public information officers, and science-writing educators and students.
For questions or more information visit the NASW web site or email email hidden; JavaScript is required.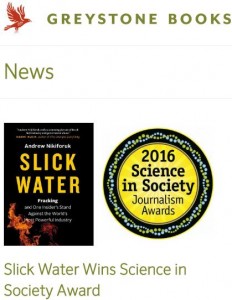 [Refer also to:
Andrew Nikiforuk wins Rachel Carson Environmental Book Award Honourable Mention for Slick Water: As one judge put it, a "story of the women in the fracking horror show." September 2016
Rachel Carson's dedication in her 1962 book, Silent Spring:
To Alberta Schweitzer
who said
"Man has lost the capacity to foresee
and to forestall. He will end by
destroying the earth."
Andrew Nikiforuk's Slick Water Finalist for Lane Anderson Awards, Best Canadian science books written in 2015 Winners to be announced September 30, 2016; announced October 4, 2016: Adult category winner: Alanna Mitchell for Malignant Metaphor, on confronting cancer myths.
Alberta Literary Award Winner: Andrew Nikiforuk's Slick Water wins Wilfred Eggleston Award for Nonfiction Announced June 4, 2016
Andrew Nikiforuk for Slick Water among finalists for 2016 Shaughnessy Cohen Prize "awarded to a book of literary non-fiction on a political subject of relevance to Canadians" John Ibbitson won for his book Stephen Harper, announced April 20, 2016