The Writers' Trust, Politics and the Pen Gala in Ottawa April 20, 2016

Refer to Slick Water for information on Andrew Nikiforuk's book shortlisted.
2015 Writers' Trust of Canada Winner:
John Ibbitson for Stephen Harper, published by Signal/McClelland & Stewart

"With impressive access and meticulous research, John Ibbitson writes a remarkable biography that puts us inside Harper's head during some of the most critical moments of his life, providing the definitive picture to date of one of the most significant Prime Ministers in Canadian history," the Writers' Trust jury wrote about Ibbitson's  book.
2013 Writers' Trust of Canada Winner:
Paul Wells for The Longer I'm Prime Minister: Stephen Harper and Canada, 2006 – , published by Random House Canada
[Refer also to:
Time to flush out the truth in the Duffy investigation by Michael Harris, April 24, 2016, ipolitics
They cut off the wrong leg, mixed up the babies, confused the medications, screwed up the blood types and didn't much like the patient.
If RCMP investigators and ministry of the attorney general's lawyers had been doctors, they would have been facing a malpractice suit over Duffygate.
When will someone call for an investigation into this institutional witch-hunt in which a legal calamity was only avoided thanks to a crusading and indefatigable lawyer and a clear-eyed and fearless judge?
Not the gutless scribes who moaned that just because Duffy was acquitted didn't mean he was innocent. Not the jackass Conservative politicians whose idea of a good judge is someone who does what he's told. This needs to be investigated by someone who can tell his ass from a hole in the ground. Kevin Page comes to mind, with help from Sheila Fraser.
… Since no one else has even mentioned the obvious follow to last week's events – a thorough airing of how this near train-wreck happened, allow me to pose a few questions that need answering. …
First up is the justice system:
What are the names of the lawyers who worked on the Duffy file?
Who assigned the prosecutors to this case?
Did these lawyers meet with RCMP investigators before the 31 criminal charges against Senator Duffy were laid?
Did lawyers express any disagreement with the decision to lay those charges or were the Mounties an prosecution lawyers always on the same page?
Did prosecution lawyers offer any advice to the lead RCMP investigator on this case? If so, what was it?
Will the prosecutor's office release any written advice it may have given to the Mounties, and any minutes of meetings it held with investigators or RCMP executives in the course of their work on this file?
If there were any communications or verbal briefings between the prosecution and the Minister of Justice or his staff, will the department make them public, including private emails and text messages?
Was there any dissenting opinion within the prosecutor's office on the number and nature of charges against Senator Duffy?
Next up is the RCMP:
Did the Commissioner of the RCMP or his staff have any communications from the PMO regarding the Duffy case, and if so, will he make them public?
Did the Commissioner of the RCMP or his staff communicate with the Minister of Public Safety or his staff about the Duffy case? If so, did he offer or receive any advice and will he release those communications?
Will the Commissioner of the RCMP fully describe his role in the Duffy case, including exactly how and by whom investigators were assigned to this case?
Who in the RCMP, if anyone, met with the lead investigator in the Duffy case? If there were meetings, will the Force release any record of their input and advice to Corporal Horton, including any suggestions that may have been given about the nature and direction of his investigation.
Did the lead investigator on the Duffy case seek the legal advice of anyone in either the public or the private sector before charges were laid? If he did, what are the names of those people and what were the areas of the investigation in which Corporal Horton sought advice? If he did seek such guidance, what was he told?
The Privy Council Office houses the emails of the PMO. The RCMP was advised through "external PMO legal counsel" that "Prime Minister Harper had ordered that all emails of PMO staff were to be retained for the RCMP should they be required." Who was that external legal counsel?
The lead RCMP investigator was advised that the emails of Benjamin Perrin were no longer available because Perrin left the PMO in April 2013, and internal practice within the PMO was to removed a person's emails from the computer server once their employment ends. This information turned out to be incorrect. PCO rules in fact require emails with "business value" for government activities to be kept.
A four-day consensual search of PCO computers for all emails relevant to the Duffy case from December 2012 to September 2013, failed to turn up emails from Harper's then legal advisor Benjamin Perrin. These emails were later found on November 29th 2013, almost two weeks after Corporal Horton's ITO was made public. Harper's national security advisor was immediately advised as was the Commissioner of the RCMP. Did the RCMP ever investigate if those emails had been removed from the PCO server and by whom?
Was there any disagreement between the lead investigator, senior RCMP members, or prosecution officials about the number and nature of charges laid against Senator Duffy?

Why did the RCMP proceed with bribery charges against Mike Duffy but not against Nigel Wright?

The RCMP promised to reveal the reason at the appropriate time.

If there was a deal struck with Wright,

will the RCMP make public precisely what it was – such as consideration for Wright having handed over Duffy's diaries,

or proof that Wright had permission from his boss

to do the expenses deal?
Was there any executive input inside the RCMP into either the course of Corporal Horton's investigation or its conclusions. If so, will the Force release any records revealing what that input was?
Was there any dissenting opinion within the Force about either the nature or number of charges laid against Senator Duffy?
Those are just a few of the unanswered questions about Duffygate. Under normal circumstances, if there was no stomach to call an inquiry into how police and justice officials failed Mike Duffy, Canadians could count on the Official Opposition to raise the matter. We can all forget about Rona Ambrose and the Conservatives standing up against the abuse of power so clearly evident in this case. According to Justice Vaillancourt, Ambrose's former leader and his PMO minions were the lead abusers.
The judge ended his 308-page decision with these words: "Mr. Neubauer [one of the Crown prosecutors] stated that Senator Duffy's actions were driven by deceit, manipulations and carried out in a clandestine manner representing a serious and marked standard expected of a person in Senator Duffy's position of trust. I find that if one were to substitute the PMO, Nigel Wright and others for Senator Duffy in the aforementioned sentence that you would have a more accurate statement."
Every once in a while, a defeated political party reminds everyone of why it was thrown out, and more importantly, how unfit it remains for office. Rona Ambrose showed once more that she is a not a leader but a dead-end partisan just as uninterested in the truth as her former boss.
In the wake of last week's court verdict, instead of acknowledging that things had gone horribly wrong in the political persecution of Mike Duffy, Ambrose and almost all of her caucus had nothing to say about the disgraceful conduct of Harper and his PMO. Worse, they had nothing to say for themselves – not even that this kind of political scape-goating and abuse of power was dead wrong and would never happen again under Conservative auspices.
There is no surprise in this. Ambrose and the Conservatives are still operating under Harper rules. [Wanna bet Steve Harper'll be leader of the turfed ReformAllianceManningWildrose Party before the year is out?] Faced with a bad news story when he was the government, the lynchpin of Tory communications theory was don't turn one bad story into two bad stories. In other words, don't respond to negative news and tell journalists to go piss up a rope. But you can't "no comment" your way out of a hand-in-the-cookie-jar moment like this one.
Harper was right about one thing those: loose lips sink ships. The self-styled law and order crowd have been made into monkeys by one of their own. Conservative MP Candice Bergen won the Sarah Palin Award on Twitter for her hapless remarks in the wake of Justice Vaillancourt's stinging indictment of Stephen Harper and his PMO.
In defending her former boss, Bergen said the verdict was, "the judge's opinion." Bergen was upholding a Harper tradition – disrespecting the courts when its findings collided with PMO speaking lines. Her choice of words was asinine. Only Justice Vaillancourt saw all the evidence. Besides, wasn't it Dean del Mastro who famously said of the judge's verdict finding him guilty of electoral fraud "That's her opinion."
It's not a matter of opinion, Candice, it's a matter of legal record and rule of law – not rule of Steve. Time you and your party learned the difference.
As for the RCMP and prosecution lawyers, both will remain in disrepute over Duffygate until they explain how they could have been 100 percent wrong in their professional judgements of what is a crime and what is not. This fish stinks from the head. [Emphasis added]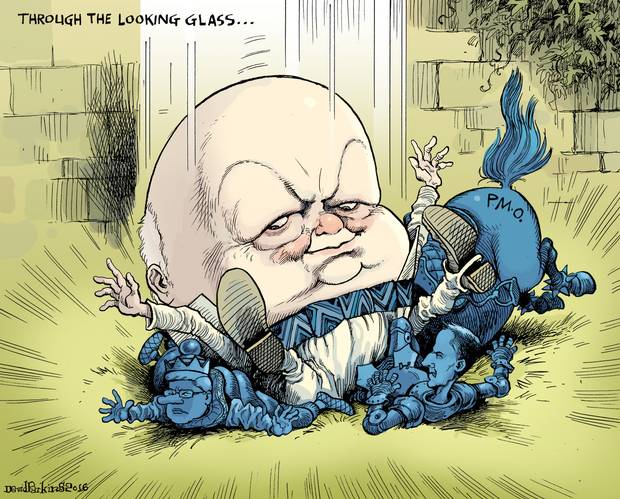 1) Nigel Wright between February 6, 2013 and March 28, 2013, at Ottawa, Ontario, did directly or indirectly corruptly give or offer to a member of Parliament for the benefit of that person, any money, valuable consideration, or office in respect of anything done or omitted by him in his official capacity contrary to section 119(1)(b) of the Criminal Code.

2) Nigel Wright a person having dealings with the government of Canada, between February 6, 2013, and May 19, 2013, at Ottawa Ontario, did, without the consent in writing of the head of the branch of that government, pay a reward or confer an advantage or benefit to Mike Duffy, an official of the government of Canada with respect to those dealings contrary to Section 121(1)(b) of the Criminal Code.

3) Michael Duffy and Nigel Wright between February 6, 2013, and May 19, 2013, at Ottawa Ontario, being officials of the government of Canada, did commit breach of trust in connection with the duties of their offices contrary to Section 122 of the Criminal Code.
As everyone now knows, only Duffy was charged.
Why did those (or other) charges against Wright never materialize?
Why haven't other PMO staff and senators involved in the wider abuses unearthed in the Duffy trial been charged?
Why were so many criminal charges laid against Duffy for relatively minor internal Senate finance issues? Was the indictment padded for effect?
Why was Stephen Harper never questioned?
How far did the Harper PMO's influence reach?
It's imperative that the RCMP and Crown now provide concrete answers about the 63-day

show trial and botched public hanging

of Mike Duffy.
Something went seriously wrong at the charging stage and the smell won't wash out.
Whoever made the charging and prosecutorial decisions must account for them now, because the administration of justice has been seriously compromised. [In typlica Harper hating Canada and Justice fashion] The trial on the central bribery charge went so off-base that the Crown's own witnesses pretty much established the defence case on their own. Duffy didn't need to testify at all, and probably did so for purely personal reasons. [Or, in on the plan with Harper to destroy the Senate?]
We now know that Nigel Wright was the chief architect of the entire Duffy pay-back scheme, conscripting the PMO's top echelon into his service. We know he relentlessly drove the plan to its conclusion, steam-rolled over senators and senior public servants with vastly more government experience, then grossly violated the boundaries of Senate confidentiality.
Mike Duffy, at best, was an unwilling ride-along.
The RCMP knew all this before they charged Duffy alone.
For his part, Duffy worried that if he didn't claim Ottawa as a secondary residence he might lose his PEI Senate seat in a constitutional challenge. He wanted an authoritative finding on his expense claims, not a face-saving shove from the PMO. We have not only Duffy's word for this, but corroborating emails and testimony by Crown witnesses.
It was Wright and the then prime minister who demanded an immediate end to the political scandal—the "Chinese water torture" as it was called. Wright pulled out all the stops to make that happen.
The PMO applied intense pressure through February 2013 to convince Duffy to go along with their plan and re-pay the expenses. To secure his compliance, they agreed, in a legal agreement drafted by lawyers, to keep him whole. At that point everyone thought the party would cover his expenses.
And the RCMP knew it.
So far, so good. As PMO lawyer Ben Perrin testified at trial,
"The potential for there to be a criminal issue here was never in our minds… We thought we were dealing with a potential violation of a Senate rule."
To that point, this was true.
Then a Senate sub-committee ordered an independent audit by Deloitte of the housing expenses, and Nigel Wright's runaway train shot right off the rails. He directed Duffy not to cooperate in the audit—he (Wright) would manage it.
Using Conservative Party bag-man Senator Irving Gerstein's relationship with a Conservative donor and professional contact at Deloitte's, Wright and the PMO worked through wholly illegitimate back-channels to obtain confidential information about the audit and attempt to manipulate its findings to fit the desired narrative.
And the RCMP knew this when they charged Duffy alone.
That tactic blew up in the PMO's face when Gerstein reported back on Thursday afternoon, March 21st. Wright's scheme to internally de-rail the Deloitte audit had failed. Not only was that audit going full-steam ahead, but it would openly criticize Duffy's non-cooperation, which Wright had directed. The whole deal with Duffy was in jeopardy, and the media and opposition sharks were circling.
The RCMP had all this evidence.
Wright and his crew then worked feverishly over the March 23rd weekend to get the $90,000 expenses repaid to the Senate by March 26th, via Duffy's lawyer's trust account. More than 60 emails passed between the group over that weekend alone. The matter was of such urgency that Wright wrote the cheque himself, thus ensuring they'd at least have repayment in place when the Deloitte audit concluded at month's end. Ray Novak, Harper's closest advisor, was copied on emails.
When the independent audit arrived with its expected criticisms of Duffy, the Senate sub-committee drafted its own negative report. Over the objections of a respected senior civil servant, Wright's PMO group directed that the Senate sub-committee edit out negative comments on Duffy's conduct, including his non-compliance in the audit. This served the dual purpose of covering up their own role in that non-compliance.
Without notice to the Liberal senate committee member, the PMO dictated changes verbatim to the majority Conservative members, who adopted the report as their own.
The RCMP knew all of this before they charged Duffy alone. It was all in Cpl Horton's report which recommended charges against Wright.
Somehow in this process, someone in the RCMP or Crown peeled Wright's name off the proposed charges.
Who made that call, and why? [STEVE HARPER? Ex Encana CEO GWYN MORGAN?]
A decade ago, in his report on the sponsorship scandal, Justice John Gomery warned of the dangers of increasingly concentrated executive power within the PMO. He warned that unchecked power by unaccountable PMO political staffers untrained in government rules would lead to

interference in our democratic institutions.

[And Harper interfering in the Ernst lawsuit?]
Appearing in Ottawa in 2008 to discuss his findings, Gomery told a Commons Committee that political staff, such as those in the PMO "often do not have the training and are not aware of what an appropriate rule of conduct might be." [Wright is an incredibly successful and intelligent person. Would Harper surround himself with dummies not knowing what they were doing, to break the rules to not only keep Harper in power, but to add more and more power, protection and permanence around the Canada and Charter hating dictator? Highly unlikely. Those that broke the rules, likely broke them intentionally, just like Encana did frac'ing Rosebud's drinking water aquifers, illegally, and in secret and then, engaging in ever increasing fraud with the regulators, to cover-up the crimes]
"For example, when a member of the public service receives a phone call from (someone in the PMO) who requests certain information, the civil servant would have great difficulty in telling the person to mind his or her own business. That is virtually impossible.

In my view, there should be a rule prohibiting any such phone calls."
Yet ten years later, in the midst of yet another scandal,

with a PMO riding roughshod over senior senators and civil servants, casually abusing the most fundamental principles of Parliamentary confidentiality and the rule of law, our RCMP and Crown looked the other way

, and threw the book at Michael Dennis Duffy.
It smacks strangely of precisely the same opaque command-and-control mindset that governed the PMO's entire Duffy strategy. Canadians need to know it doesn't emanate from the same source. As the Gomery experience shows, a change in government is meaningless if the institutions and power structure don't change.
RCMP and Crown: explain this.
Image by Montreal Simon
Duffy laid the Tories low, now party can make Senate abolition a winning proposition by Michael Den Tandt, April 24, 2016, Calgary Herald
[The Harper plan emerges more by the day]
Senator Mike Duffy laid the Conservative party low. His acquittal on all 31 of the charges against him has also handed it a possible ladder to resurrection, however.
Don't laugh: The Conservatives have a sterling opportunity now to reinvent themselves as the party of accountability, with a populist crusade for Senate abolition in the vanguard.
First, your guffaws; let's deal with them. You note correctly that Stephen Harper's PMO sparked the Mike Duffy mess and nursed it lovingly [and intentionally with Duffy onside?] into a big, history-bending bonfire; that Justice Charles Vaillancourt's ruling last Thursday excoriated the then-PM's men, and women, for what he termed "mind-boggling" behaviour; and that their machinations, though apparently not criminal, convey the sickly-sweet stench of rampant decay. Yes.
But consider the implications of Duffy's acquittal for the Chamber itself, in light of the findings of Auditor General Michael Ferguson in June of 2015 — an investigation that foreshadowed last week's big news by demonstrating, essentially, that Duffy was merely one among many who were taking advantage of loose oversight and vague rules.
"As a group, senators are responsible for governing themselves and how the Senate functions," reads the audit's catchiest line, to my ear at least. "They design their own rules, choose whether to enforce those rules, and determine what, if any, information will be publicly disclosed."
Has the Senate as a whole been exonerated? Not a bit. If anything, Duffy's acquittal casts it in worse light than before. Will the reforms introduced thus far by Prime Minister Justin Trudeau — specifically his arms-length process to select non-partisan eminent persons, seven of whom were appointed last month — provide a permanent fix? It would be nice to think so. Realism suggests otherwise.
… The argument against outright abolition — and it is persuasive — has been that it's practically impossible, given the Supreme Court's declaration two years ago Monday: "The implementation of consultative elections and senatorial term limits requires consent of the Senate, the House of Commons, and the legislative assemblies of at least seven provinces representing, in the aggregate, half the population of all the provinces … The abolition of the Senate requires the unanimous consent of the Senate, the House of Commons, and the legislative assemblies of all Canadian provinces." [The Senate is vitally important to Canada, and Canadians. Harper intentionally tainted it, intentionally to enrage Canadians to call for the Senate's blood? A nasty evil Harper plan, still in action, to by-pass the law, as Harper seemed so keen to repeatedly do, to fulfil his desires to destroy Canada, a country he publicly made clear he loathed?]
Hence the spectre of another constitutional round, along the lines of Meech Lake and Charlottetown, knowing such talks would be divisive, difficult, protracted, distracting and expensive in terms of political oxygen, and arguably dangerous to national unity. This is why the Liberals promised only reform within the confines of what's possible without constitutional talks. It's why Harper ditched the last of his Senate-reform aspirations two years ago. It's why the New Democratic Party's "roll up the Red Carpet" campaign, launched in the wake of the Duffy scandal, lacked heft.
… But here's the nub: If there is a pathway to abolition — one that forces the hands of provincial legislators, making a consensus practically achievable — it is via a national referendum in which the vote goes massively in favour of abolition. [Enter Harper – Duffy Team]
For the Tories, committing now to holding such a referendum would have three advantages. First, it would provide a focal point for rebranding in the wake of last year's bruising defeat. Second, it would rally diehard supporters who still remember the Reform Party's grass-roots outrage at spending and power without accountability. Third, it would put the party in a tactical position to beat the Liberals about the head and neck when, as seems sadly inevitable, the first spending-and-entitlements scandal of the newly reformed Red Chamber gets rolling. [Emphasis added]
Duffy walks, but the Senate question remains [Just what Harper ordered?] by Ottawa Citizen Editorial Board, April 21, 2016, Ottawa Citizen
In Duffy, the Senate expenses scandal found its poster boy, alleged to have ripped off taxpayers. There was even a bombshell, an apparent smoking gun: a $90,000 cheque from Nigel Wright, prime minister Stephen Harper's former chief of staff, used to pay back Duffy's living expenses.
For everyone who perceived problems in Harper's Ottawa, that cheque represented tangible proof that the federal Conservatives were a bunch of freebooting buccaneers for whom money bought power and loyalty.
Justice Charles Vaillancourt wasn't easy on the Prime Minister's Office in his ruling. In fact, he was scathing….
Without the intense centralization of politics and policy in the Harper PMO, it must be said, this crisis may never have achieved such heights. There may have never been a $90,000 cheque, meetings that PMO staff may or may not have been in on, or decisions made that staff may or may not have heard of. This, for the current government, and future governments, is a lesson.
But charges never appeared against Wright, the man who cut the cheque. Harper himself was never forced to testify at Duffy's trial. [All part of the plan Harper laid out with the RCMP?] …
And yet, the stink of corruption need only twig the nostrils; for those senators caught up in the RCMP investigation into misuse of funds, reputations have been damaged. The whole affair has damaged the perception of government in Canada, and it has hurt the red chamber. [Precisely what Harper has strived for, over many years]
….the notable feature of justice is that it's sober, often depressing and, frequently, not all that satisfying. [Most notably so, for ordinary Canadians] …
He is a man whose great ambition was to be a senator, who then got caught up in the mess, and landed before a judge.
With the mobs braying for his head — and who hoped the prime minister's would come off with it — little of what was expected, in so many ways, materialized. Justice served, then. But the bigger case of the Senate remains before Canadians. [How delighted is Harper, his Reform-alliance-republican party under the guise of conservative, and the rape and pillage and rights violating corporations they enable?]
….Prime Minister Justin Trudeau is not about to abolish the Senate. [Emphasiss added. Excellent, the Senate, when not corrupted by the likes of Stephen Harper, plays a vital role protecting Canada and her people from precisely corrupt, dictatorial, unscrupulous, law disrespecting, Charter hating, justice interfering governments like Harper's]
A few comments:
Sam Waters
While Duffy may be not guilty on the charges, he knew exactly what the PMO and Harper were like and had no issues with how they operated. He only had issues once they turned on him. I don't really feel sorry for Duffy, when a person lays with dogs they can't complain when they get fleas.
Barry Renyar
What a nonsense decision by the judge. If society has come to the point where there is no more common sense about obvious misused or fraudulent spending, so that we now have to have a rule or law for every action, there won't be enough book shelves in the world to hold all these laws (and unfortunately we'll need more and more lawyers, among whom many become politicians). Too bad that people get around common sense ethical behaviour by claiming there is no law written against it.
Subject: A Judge Bagged Himself Two Sneaky Ditch Coyotes Today!!!
Date: Thu, 21 Apr 2016 19:07:51 -0600
From: Stewart Shields <email hidden; JavaScript is required>
To: Prime ministre <email hidden; JavaScript is required>, email hidden; JavaScript is required
CC: Calgary MountainView <email hidden; JavaScript is required>, email hidden; JavaScript is required, Debbie carlson <email hidden; JavaScript is required>, email hidden; JavaScript is required, Doreen Mueller <email hidden; JavaScript is required>, email hidden; JavaScript is required, email hidden; JavaScript is required, grande prairie <email hidden; JavaScript is required>, email hidden; JavaScript is required, raitt <email hidden; JavaScript is required>, slave lake <email hidden; JavaScript is required>, T Banks <email hidden; JavaScript is required>, whitecourt <email hidden; JavaScript is required>
This makes up for Dean Del-Mastro escaping jail after only spending the week end!! This time political position and wealth did not win over justice!! One must now question the right of Bob Paulson the Commissioner of the RCMP to continue in his role, after his RCMP who viewed the same documentation as did the trial judge—just too big of a difference to call his judgement impartial?? Harper's group were obviously being rewarded for Harper nominating Paulson as the RCMP commissioner?? Trudeau must indicate he wants Paulson's immediate resignation!!
And what a nice chap that Nigel Wright is?? Yes indeed, an Ontario Judge bagged himself two wonderful prized coyotes today!! Harper may never land a job now, and may remain on the federal treasury forever—unless he runs to become Premier of Alberta!!
Stewart Shields
2016 04 21 (one day after 'Stephen Harper' wins the Political Book of the Year Prize by Writers' Trust of Canada): Mike Duffy verdict: Judge dismisses 27 of 31 charges and finds 'credible' senator not guilty of the other four
2016 04 21: After Duffy, a question: Who owns our justice system? by Michael Harris, ipolitics
Justice Charles Vaillancourt described that ordeal in more acid terms: "Damage control at its finest," administered with "ruthless efficiency," he called it. "The political, covert, relentless unfolding of events is mindboggling and shocking. The precision and planning of the exercise would make any military commander proud."
With those words, an Ontario Court judge lowered the boom on the dark manipulations of former PM Stephen Harper that led to a legal and personal ordeal that nearly wrecked a man's life.
The Crown's criminal case against Mike Duffy turned out to be tainted from top to bottom. They can turn off the electricity to the Justice Department any time; the red faces over there will light the place up for months.
… After years of claiming that nothing that he did as a senator was worthy of criticism, Duffy has now been vindicated by a lengthy trial process. The only thing between him and a new lease on life now is the appeal process. It remains to be seen if a disgraced prosecution will opt to appeal any of Judge Vaillancourt's 308-page verdict.
The ill will in the Conservative party establishment and among its media allies against Duffy once seemed to guarantee that he would never set foot in the Senate again. Now he can go back to work tomorrow — unless the Harperites still in the Red Chamber foolishly move to block Duffy's return by arguing he brought "shame" on the Senate.
…
People have to remember exactly what happened here. Mike Duffy was put through a brutal legal ordeal by the Harper government for purely political reasons — just as Duffy himself has always claimed. [Or, was Duffy in on it, knowing the Crown would not cross examine, ensuring Duffy getting off?] It is safe to say that Duffy would have been ruined financially by this long, costly legal battle had it not been for Thursday's stunning turn of events. [Or, if Duffy is in on it, perhaps his lawyer is too, and is not charging him, knowing Duffy will successfully sue for millions?]
He was without an income for an extended period of time. Couple that with massive legal bills, the expenses associated with running two establishments (primary or not) and the fact that he's creeping up on his 70s, and it wasn't looking likely that Duffy would ever recoup these losses.
What's the explanation for this abysmal misreading of the Criminal Code by the so-called experts? Was this ever a search for justice, or was it merely the political use of an arm of government against an enemy?
… This case is about something more than the utter demolition of a criminal case against an individual. It's also about a justice system — at both the prosecutorial and police level — being brought into disrepute. The Duffy affair, like the robocalls scandal, played out in a landscape populated by shadowy players. Very few of them ever received much scrutiny, and society never got to the bottom of either of these scandals. But there was always the whiff of scapegoating here — from the RCMP press conferences announcing the charges against Duffy (a gross exercise in PR overkill) to the absurdly long list of baseless charges against him.
… The fatal flaw in the Crown's bribery charge was this: If Duffy was guilty of taking a bribe, surely someone was guilty of offering one. Where was the Crown's common sense on that issue? The decision not to charge Nigel Wright — the person who "gave" the senator the $90,000 to repay housing expenses he denied owing — turned this element of the Crown's criminal narrative into a terrible joke. So the question lingers: Why did the Crown bring the bribery charge in the first place? [With Duffy in on it, to enable Harper destroying the Senate, long hated by extreme reform Conservatives, and which protects Canadians from dictators like Harper?]
And that leads to another embarrassing question for the prosecution. They fired a shotgun into Duffy at close range, bringing a total of 31 criminal charges against him. In the end, none of the buckshot hit the target. When you score zero in a test, the conclusion is unambiguous — you've failed, utterly. [Or, done intentionally by the Crown, in on the plan with Harper, Duffy, the RCMP, PMO, Nigel Wright, etc? All part of Harper's plant to destroy the Senate, without having to heed the constitution?]
But what's the explanation for this abysmal misreading of the Criminal Code by the so-called experts? Was this ever a search for justice, or was it merely the political use of an arm of government against an enemy [The Tory Despised Senate?] — as I suspected it was in Stephen Harper's war with Helena Guergis? Whatever the answer is to that question, and given Judge Vaillancourt's verdict on Duffy's residency claims, the Crown might be wise to re-consider its charges against Senator Patrick Brazeau and others. Simply put, the Crown was out to breakfast, lunch and dinner.
So was the RCMP. The Force conducted the investigation into Wright and Duffy and decided to exonerate the former and crush the latter. With Vaillancourt's decision, the RCMP's grasp of the Criminal Code looks as tenuous as that of the Justice Department. Canadians are still waiting for the commissioner of the RCMP to explain why Duffy was charged with taking a bribe while Wright was not charged with giving one. [Or again, intentionally done, to destroy the Senate, with all players part of the vile Harper game?]
The answer had better not be that the national police force was doing the bidding of the Harper government — or, worse, that Wright had Harper's approval to do the deal. ["Good to go?"]
Up until yesterday, Stephen Harper and PMO had escaped scot-free from Duffygate — though their role in the affair was obvious, disgraceful, and (with the exception of the 2015 election results) completely unpunished. Consider the actions of the former PM.
Donald Trump might have called Harper 'Lyin' Steve' for the multiple versions of the facts he gave about Duffygate — none of them true. The former PM insisted that the whole affair had unfolded between Wright and Duffy. In fact, more than a dozen people in his office worked on the file, pressuring Duffy to do the deal or risk losing his Senate seat.
Harper's PMO staff also sought and obtained changes to Senate reports and breached the confidentiality of an independent audit commissioned by the Senate.
Harper claimed Wright resigned. Then he said he was fired.
Stephen Harper denied knowing about the details of Wright's scheme to repay Duffy's housing expenses — as incredible a statement as any Canadian politician has ever uttered.
Harper subverted Parliament, politics, the inner workings of the Senate and his own party during his one-man government. But thanks to a fearless defence attorney and an unblinking judge, he was not able to subvert justice.
Harper looked even worse after Judge Vaillancourt found that Duffy's housing expenses were in order. Wright told Harper the same thing to make sure the PM was comfortable with taking action against someone who likely was entitled to the expenses he had claimed.
Harper unleashed the hounds anyway — because all he has ever cared about during his career is his idea of political perception. His base wouldn't understand Senate rules, even when they were being obeyed, he argued. The truth has never meant anything to him. Remember, this is the guy who congratulated the Mounties when they charged Duffy.
Harper's closest aides look just as bad as their boss. The only way they could deny knowing the details of Wright's cash gift to Duffy was through the improbable claim that they didn't read the emails from their boss.
As for Ray Novak's denials, the PM's former legal advisor, Benjamin Perrin, took care of those. Perrin confirmed in sworn testimony that Novak was in the room while the deal was being discussed, looking expressionless. Apparently the PM's deputy chief of staff and confidante had an out-of-body experience as the germane parts of the deal were being laid out.
As for the Senate, its sycophantic collective subservience to the PMO — to skullduggery, deceitfulness, autocracy and poisonous duplicity — was barely mentioned in the Duffy trial, though it's at the heart of the scandal. Judge Vaillancourt brilliantly understood that.
It was not for nothing that he castigated the Crown for not calling Senator David Tkachuk to the stand. After all, Tkachuk was top dog on the Senate's Internal Economy Board. He was the one who told Duffy his housing expenses were legitimate — a claim made by Duffy on the stand and never challenged by the Crown. And he was the one who asked for and received changes to a Senate report to bring it in line with sneaky demands from the PMO.
Conservative Senator Irving Gerstein, since retired, secretly went to a senior partner at the auditing firm Deloitte to make inquiries about their forensic audit for the Senate. Gerstein was being used to plot PMO strategy in the expenses scandal. Acting on a request from Wright, Gerstein spoke to Michael Runia. Despite the obvious impropriety involved, and the Senate's stated desire to get to the bottom of the Wright/Duffy affair, Gerstein and Runia were never called before any Senate committee to testify about their role in the scandal. The Senate's commitment to seeking the truth was non-existent. Its obsession was with the cover-up. [Like the AER, Alberta Research Council, Alberta government, with their fraud covering-up Encana breaking the law, fracing Rosebud's drinking water aquifers?]
The Senate's least honourable moment was even worse. After denying Duffy, Brazeau and Pamela Wallin due process before they were suspended without pay, the Senate changed the rules dealing with alleged expenses improprieties. Now, senators with expenses problems could go to an arbitrator or simply write a check to get out of their difficulties. Current and former Senate leaders like Conservatives Claude Carignan and Leo Housakos did exactly that after their names turned up in Auditor General Michael Ferguson's investigation into the expenses of all senators. That makes what Duffy and the others were treated to by the Senate exactly what Penny Collenette called it on a CBC radio podcast — "a kangaroo court" in a place that had forgotten what due process and the presumption of innocence mean.
As Mike Duffy told me many months ago, all roads in this fiasco lead back to the former prime minister. Today proved him right. Stephen Harper subverted Parliament, politics, the inner workings of the Senate and his own party during his one-man government. But thanks to a fearless defence attorney and an unblinking judge, he was not able to subvert justice.
The Conservative Party of Canada can now have no illusions about the man they are handing the microphone to at their upcoming convention.
Image by Montreal Simon
Whatever he says about the good old days, the echoes will be of Judge Vaillancourt's telling words. [Emphasis added]
A few of the comments:
Working Class Revolution!
.
Harper and Wright should both be charged with:
-conspiracy to defraud senate (Harper personally reviewed Wallin's expenses);
-conspiracy to bribe a senator (secret cheque to Duffy);
-bribe a senator;
-conspiracy to obstruct justice (attempt to destroy Perrin's PMO emails);
-conspiracy to obstruct a senate inquiry (along with lots of Con senate hacks);
-conspiracy to obstruct justice (talking to Perrin in courthouse lobby during proceedings)
-etc., etc.
Soph2
And how much did the crown and the senate spend on this?
creox
It's interesting that I don't feel particularly sorry for Duffy while being disgusted with the CPC under Harper all the same. What a complete and utter Mickey Mouse operation they were.
herefornow49
Right on Michael.
Harper, his minions, the Senate, the RCMP, are all at fault here..It is unbelievable what lengths the Harper government was willing to go in throwing Duffy under the bus. Always a fall guy in the Harper government. And Harper always minutes away from the scene.
The Robo call thing still eats at me.
These Reform/Conservatives changed the face of politics forever. They played dirtier then Canadians had ever seen. So glad they are gone.. At least for now.
2016 04 21; An acquittal for Duffy, an obliteration for Stephen Harper's PMO, In setting Mike Duffy free, the judge used his incendiary decision to rebuke Harper's inner circle—and give Canadians a lesson in the justice system by Nicholas Köhler, McLean's
… His ruling attacked the maneuverings undertaken by staffers in Stephen Harper's prime minister's office as they sought to limit the fallout surrounding Duffy in 2013, the height of the senate expenses scandal.
… Vaillancourt hammered the Crown again and again, asking why prosecutors Mark Holmes and Jason Neubauer failed to call key witnesses whose evidence might have contradicted Duffy's "straight forward evidence," and why Holmes in particular failed to address key issues before the court—i.e., Duffy's three bribery charges—during his cross-examination of Duffy.
The judge delivered an almost subversive indictment of the Senate as it had existed during the years at issue in the Duffy matter, then told court he was heartened things had changed, that the Senate was no longer as it was. [Thanks to Dictator Harper?]
He went on to describe "the plotting" revealed in email exchanges between Nigel Wright, Harper's one-time chief of staff, and other PMO operatives as "unacceptable" in "the context of a democratic society."
In the face of this assault, Holmes and Neubauer and Sgt. Greg Horton, the lead investigator in the matter, fairly withered in their chairs—and three years of diligent police and prosecution work evaporated before the eyes of the gathered spectators and journalists. This was an almost unparalleled spanking, and they were chastened.
…
Vaillancourt continued:
"The aforementioned exchange highlights two important aspects of Sen. Duffy's trial. Firstly, the scenario illustrates the public awareness and interest in these proceedings. Secondly, and more importantly, the exchange draws attention to the overarching touchstone principal of criminal law in Canada—namely, that everyone is presumed innocent until the Crown proves them guilty beyond a reasonable doubt.
[Except if you are the legally immune (even for gross negligence, acts in bad faith and violating Canada's Charter) AER, trying to scare a harmed Albertan who has documented evidence of many Encana non-compliances and law violations, and judged her guilty without any evidence, or a trial or hearing] 
Although the stranger drew my attention to the principal, his enthusiastic response highlighted a contrary position to the presumption of innocence. I think it is fair to say that many people may share the belief that when someone is charged with a criminal offence, they are guilty. This is not the law of the land."
With dispatch, even with a little glee, Vaillancourt proceeded to dismiss one batch of charges after another, and in doing so appeared to read from the defence's playbook. He sided over and over again with the defence, saying at bottom that Duffy could not break Senate rules that did not exist, could not have escaped oversight the Senate never undertook and that whatever vague rules did exist, Duffy had operated within them.
His glee was nowhere more vivid than when the PMO became his focus.
In Vaillancourt's handling, the brute strength of the PMO and the power of the state pursuing prosecution of an individual on criminal trial blurred. The PMO had conducted itself with ruthless efficiency with respect to Duffy, and this was a problem; the state, Vaillancourt suggested, should never be allowed to do likewise in its criminal prosecutions.
… "The email traffic that has been produced at this trial causes me to pause and ask myself, 'Did I actually have the opportunity to see the inner workings of the PMO?' " Vaillancourt asked himself. "Was Nigel Wright actually ordering senior members of the Senate around as if they were mere pawns on a chessboard? Were those same senior members of the Senate meekly acquiescing to Mr. Wright's orders? Were those same senior members of the Senate robotically marching forth to recite their provided scripted lines? Did Nigel Wright really direct a Senator to approach a senior member of an accounting firm that was conducting an independent audit of the Senate with the intention to either get a peek at the report or part of the report prior to its release to the appropriate Senate authorities or to influence that report in anyway? Does the reading of these emails give the impression that Senator Duffy was going to do as he was told or face the consequences? The answers to the aforementioned questions are: YES; YES; YES; YES; YES; and YES!!!!! The political, covert, relentless, unfolding of events is mind-boggling and shocking."
Before Vaillancourt showed up to begin delivering his ruling, Bayne had done the rounds, approaching each member of the prosecution and pumping their hands. He coupled that gladhanding with the most winningest smile. You'd think he already knew what was in the offing. [Perhaps because he was also in on the plan with Duffy and Harper to try to destroy the Senate, but wise Canadians voting Harper out in October 2015, foiled their plan?] [Emphasis added]
2016 04 21: Judge clears Mike Duffy of all charges and slams Prime Minister's Office under Harper, Justice Charles Vaillancourt rips in to 'mind-boggling and shocking' behaviour of Harper operatives by Kathleen Harris, CBC News
A judge in an Ottawa court has cleared Senator Mike Duffy of all 31 criminal charges and delivered a scathing indictment of the political operations of the office of former prime minister Stephen Harper.
Justice Charles Vaillancourt said the Prime Minister's Office under Harper treated Senators as "pawns" and described Duffy as just another "piece on the chess board."
"The political, covert, relentless unfolding of events is mind-boggling and shocking," he said. "The precision and planning of the exercise would make any military commander proud. But in the context of a democratic society, the plotting that's revealed in the emails can only be described as unacceptable."
Vaillancourt portrayed Duffy as an unwilling partner in a scheme to accept a $90,000 cheque from Harper's former chief of staff Nigel Wright to cover questionable expenses, even though they were likely legitimate,
"Could Hollywood match their creativity?" he asked.
Vaillancourt called the senator a "credible witness" and said the Crown failed to prove the case on any of the 31 charges of fraud, bribery and breach of trust. [Intentionally, serving King Harper?]
… In a sharp rebuke to the Crown counsel, he said lawyers limited their cross-examination of Duffy after his many hours of witness testimony, leaving much of that testimony unchallenged.
…
That incident, he said, underscored both the public interest in the trial, as well as the fundamental principle of criminal justice — innocent until proven guilty. 
[Except if you are the legally immune (even for gross negligence, acts in bad faith and violating Canada's Charter) AER, trying to scare a harmed Albertan who has documented evidence of many Encana non-compliances and law violations, and judged her guilty without any evidence, or a trial or hearing]
A few of the comments:
Nepenite
Forget Harper for a moment. PLEASE.
If the judge were really truly interested in justice, Duffy would have at least been found guilty of fiscal malpractice: it was clear he was expensing before he was appointed, he didn't rush to apologize for the residence kerfuffle, and he never apologized for double billing the Canadian government for expenses.
But he didn't. Instead, the judge spent the time of verdict criticizing a political party who just had the core of their justice policy declared illegal by the Supreme Court of Canada. Which is completely appropriate when you think about it.
Who cares about us taxpayers as victims? It's all about the rights of the criminal to blame society for their actions and walk away with little punishment. Duffy is NOT going to have to pay back any of the money that was spent inappropriately and we get screwed.
Want Harper to pay? Push the prosecutor to open charges on the other side as well. But don't let one criminal off because another you hate more is causing malfeasance too.
media-generated panic
there is one person who should have been in the court room and was not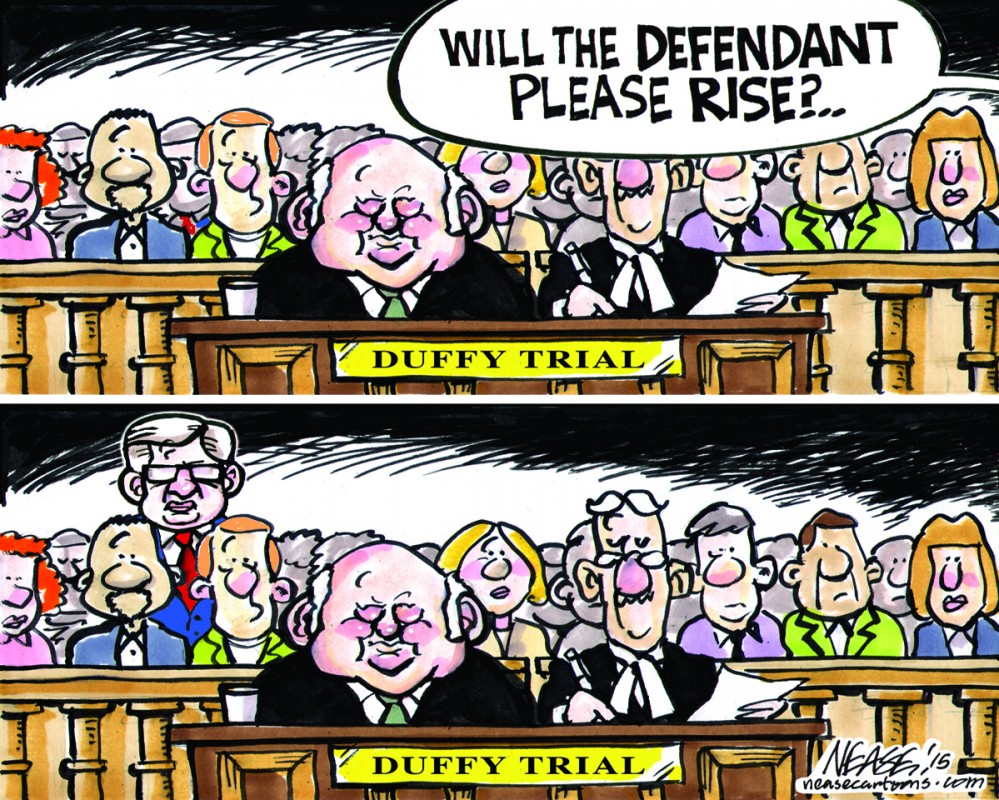 hoss44
So when is Harper going to face charges? [The Canadian legal system provides "justice" to and serves and protects corrupt politicians, their enablers and law violating, murdering, polluting corporations. Citizens get very expensive law]
alphaomego
Tomorrow, I look forward to reading about the resignation of the m.p. for Calgary Heritage. [What?  Dictator Harper resign? Or wait a short while for Canadians to get greedy again and vote Harper back onto his big oil throne?]
abaka
Anyone who thinks the current crop of Conservatives is any different from Harper is a fool. [And, anyone who thinks NAFTA signer Brian Mulroney crop of conservatives any better, also fool]
Andrew Of Richmond
What's mind-boggling and shocking is that the judge found Duffy credible. Guess even judges can be gullible.
greatguy
So how much did it cost the taxpayers for this farce?
Laughing Gor
@greatguy
It depends on how much Duffy is going to sue the taxpayers for defamation. [Also part of the Harper, Duffy, Wright, Novac, RCMP plan? To reward Duffy for his part in helping Harper try to destroy the Senate?]
Related:
2016 04 21: Duffy exonerated: Judge acquits senator of all charges, blasts Harper PMO
In a life-altering exoneration for Mike Duffy and a scathing indictment of the tactics of Stephen Harper's PMO, Justice Charles Vaillancourt acquitted the senator and former broadcaster on all 31 counts of fraud, breach of trust and bribery he was facing Thursday.
… Vaillancourt used words such as "ruthless" and "covert" to describe how the office operated in deceiving the public.
… Could senators really be made to "robotically march forward" to spill out talking points written by the PMO. The answer, said Vaillancourt, was yes, repeated many times.
Vaillancourt found Duffy not guilty on the three bribery charges because, he said, the senator was forced, "kicking and screaming every step of the way," into accepting $90,000 from Wright's personal bank account to repay money to the Senate for housing expenses he thought he'd properly claimed. "This is damage control at its finest," concluded the judge.
"Do the right thing," was invoked by Wright, and also by Duffy at times, said Vaillancourt. "Did anyone think of saying, 'Do the legal thing?'" he asked.
The wrath Vaillancourt levelled at the Harper aides was hardly ever applied to Duffy, if at all.  …
… He did, though, cast aspersions on the Crown, wondering why so much of Duffy's testimony went unchallenged and why witnesses who could have possibly refuted him were not called.
… Following the ruling, Michel Patrice, the parliamentary law clerk, issued a statement saying, "The Senate of Canada has taken note of the court decision rendered today pertaining to Senator Michael Duffy. Under the rules of the Senate, today's acquittal gives rise to the reinstatement of Senator Duffy as a member of the Senate in full standing with full salary and office resources."
… "The importance of what the judge did and said here today shows we can't rush to judgment. Political figures, public figures, are also entitled to due process. [But not Canadians harmed by oil and gas companies breaking the law?]
Asked if Duffy intends to pursue a civil suit to obtain redress for his wrongful accusations, perhaps against the Senate, Bayne said he wasn't a civil lawyer and couldn't comment.
"There's $550,000 that is yet unpaid by a group of senators whose situation is exactly the same as Mike Duffy's," he said, referring to money the Auditor General found was wrongly billed to the Senate by over 20 senators, some retired but some still sitting.
"But Mike Duffy was the only one among them singled out for criminal prosecution," he said. [Did Harper use Duffy, and was Duffy in on the plan (knowing all along he'd be found not guilty on all counts because the Crown would intentionally not cross examine Duffy on any of the charges to make sure Duffy was found innocent, and to set Duffy up for a multi-million dollar civil suit for wrongful accusations?), to assist Harper into destroying the senate, the only thing protecting Canadians from dictators like Harper, and making Duffy rich for his reward? Did the RCMP never charge Nigel Wright with offering a bribe because they were in on the plan too?] 
A few of the comments:
Quackdetector
It will be highly entertaining to watch the Prime Minister use some of this Duffy stuff to respond to the hair-on-fire, mostly inconsequential charges of cover-ups, incompetence, promise breaking and lack of seriousness levelled by the Harper Government leftovers during QP. The Harper-Wright-Duffy Affair, that will live in the collective memories of Canadians for generations, is pretty much at the apex federal government scandals. It is egregious. It exposed the black heart of the PM and his PMO for all to see if they wanted to see it. Someone should write a book about it.
donpooley Quackdetector
Mulcair says Harper owes Canadians an explanation. As if.
Avatar
Dominion_Lad donpooley
Perhaps he will, in his next ghost-written book.
…
Fuferito
At 554 comments (and counting) we've all had our fun, but let's ponder this soberly, for a sec. To reiterate what fellow posters have said.
The Senate was turned into a fund raising arm of the PMO. This cannot happen again.
The RCMP was turned into a tool for the governing party's petty vendetta against its own. An inquest with consequences is overdue.
2015: Scary! Stephen Harper's courts: How the judiciary in Canada has been remade
2013: The Courts: Jessica Ernst and the Honourable Neil Wittmann, Chief Justice, Court of Queen's Bench, Alberta
2013: alberta Energy Regulator given immunity in frac suit, OK for regulator to violate constitutional rights of Canadians; 'I have no choice but to appeal', says Jessica Ernst
2013: Report says access to justice in Canada 'abysmal'
2013: Appointment of judges politically biased in Alberta, critics say, Process favours candidates with ties to the PC party
2013: Alberta's Court of Queen's Bench Chief Justice Neil Wittmann (appointed by Harper govt) volunteers to hear Ernst Lawsuit after Harper govt promoted Justice B. L. Veldhuis (who was less than two years earlier also appointed by Harper govt to Court of Queen's Bench shortly after the Ernst lawsuit was made public)
2013: Fracking: Harper Govt Throw Wrench in High Profile Lawsuit, Judge suddenly promoted; plaintiff Ernst sees strategy to 'delay and exhaust.'
The promotion by Harper gov't immediately removed Veldhuis from case management on the Ernst vs Encana/AER/Alberta government lawsuit a few weeks after an important hearing in the case. Ernst's lawyers assured Ernst that Justice Veldhuis would for certain still rule on the hearing, but when asked in a case management phone call, they were shocked to be told: that was "not an option."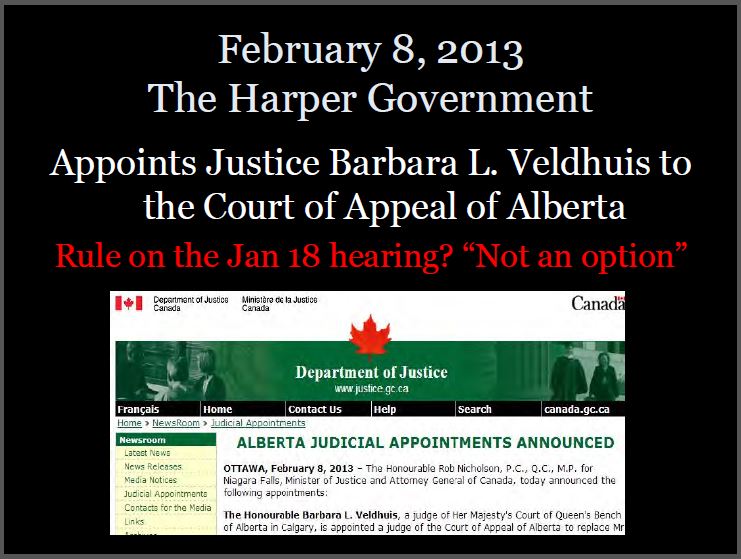 Slide from Ernst presentations
2012: Rights + Justice: Ernst frac lawsuit starts with twist Veldhuis asks for shorter Statement of Claim, Ernst agrees even though this adds significant costs to her, and ends up losing her nearly a year of time (the Alberta Court of Appeal later complained in 2014, that Ernst's shortened Statement of Claim was too short).
***
For Sharleen