Texas family wins $2.9 million fracking lawsuit, setting stage for more lawsuits to follow by Tom Boggioni, May 30, 2014, rawstory.com
A north Texas family won a $2.9 million lawsuit against a Plano-based oil company after convincing a jury that emissions from the company's fracking operations were making them sick. According to Inside Climate News, the Parr family of Wise County, Texas, filed 13 complaints with the Texas Commission on Environmental Quality (TCEQ), between February 2010 and July 2011, claiming that air pollution from gas and oil operations near their ranch were responsible for breathing difficulties, nausea, nosebleeds, ringing ears, and rashes. The Parrs' were not the only ones filing complaints, with the TCEQ receiving 77 complaints from Wise County, in the heart of the Barnett Shale drilling area.
Despite being warned by their attorney that lawsuits against oil and gas industry rarely succeed, the Parrs' sued Aruba Petroleum and last month a Dallas County jury awarded them $2.9 million in damages after finding the company "intentionally created a private nuisance" affecting the family's health.
Robert Percival, director of the University of Maryland's Environmental Law Program said, "When you don't have a strong regulatory system, a system to prevent what happened to this family, the only place left to turn for help is the courts." [Are courts helping the many harmed by industry and the energy regulator in Alberta?]
Attorney Tomas Ramirez, who represents two other families with lawsuits against the oil industry, says this may be a watershed case, "This case will be looked at very, very closely because it has set the stage in a way that has never been set before."
At stake for the oil industry is a spate of lawsuits that could be filed using the same arguments, according to Thomas McGarity, a University of Texas law school professor who specializes in environmental and administrative law. Losing this case was not good for the industry," McGarity explained. "My guess is the industry will coalesce around this case. The industry will want to stop the dam from breaking wide open…This is where they will take a stand."
Aruba defended themselves stating that only 22 of the 100 wells drilled with two miles of the Parrs' ranch are theirs, so the bothersome emissions could have come from one of its competitor's wells. The Parrs' have been attempting to sell their 40-acre ranch for two years but with no takers. The jury concluded that the value of the property decreased $275,000 because of Aruba operations.
Neighbors of the Parrs', Christine and Tim Ruggiero, also sued Aruba, but reached an out-of-court settlement with the oil company.
Aruba has asked the presiding judge to reverse the jury's verdict. Arguments over the verdict will be heard in June. [Emphasis added]
[Refer also to: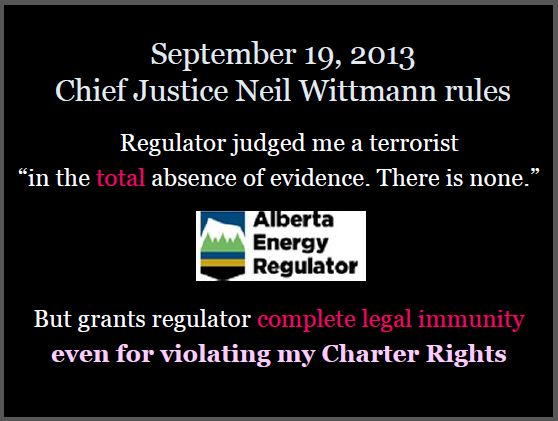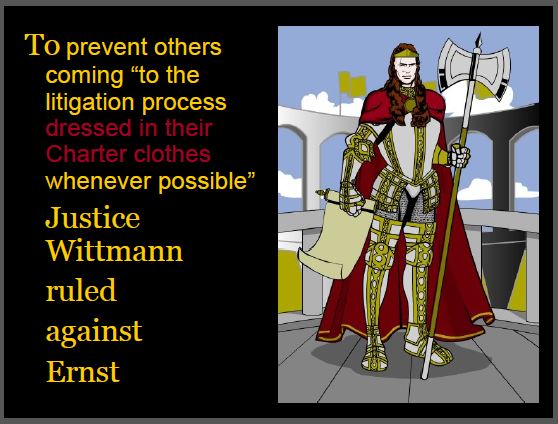 Slides above from Ernst presentations
Alberta Moves to Strike Down Ernst's Fracking Lawsuit, Landmark case could spark a flood of litigation against the province, lawyer argues
An Alberta government lawyer argued in court this week that Jessica Ernst's lawsuit on hydraulic fracturing and groundwater contamination should be struck down on the grounds that it would open a floodgate of litigation against the province.
"There could be millions or billions of dollars worth of damages," argued Crown counsel Neil Boyle. ]