EXCELLELNT LETTER! Fracking has many potential pitfalls by Larry Barzelai, MD, August 23, 2016, The Vancouver Sun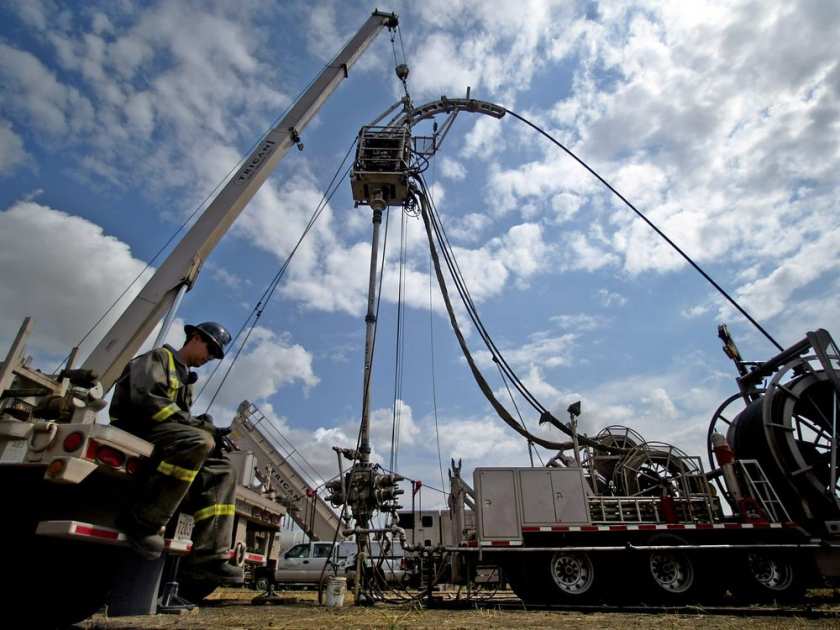 Photo by Tim Fraser 2006 08 16 for Calgary Herald's SPECIAL REPORT: WHAT LIES BENEATH. COAL BED METHANE – DAY 2 OF 4 * Rosebud, Alberta. Darryl Penner an employee of TRICAN Well Service takes a break outside of fracking operation at a site near Rosebud. Photo by Tim Fraser, Calgary Herald (For story by Tony Seskus)
Re: B.C. shouldn't allow fracking free-for-all, Opinion, Aug. 16
Ben Parfitt has written a comprehensive article on the hazards associated with earthquakes caused by the fracking process needed for LNG.
A comprehensive study was recently published by Jake Hays and Seth Shonkoff in the journal PLoS (Public Library of Science). They reviewed 685 papers published in peer-reviewed scientific journals between 2009 and 2015. Some of their startling conclusions were that 84 per cent of public health studies contain findings that indicate public health hazards, elevated risks, or adverse health outcomes associated with fracking. They also indicated that 69 per cent of studies on water quality and 87 per cent of studies on air quality indicated adverse effects associated with the fracking process.
A recent study done in rural Colorado concluded that congenital heart disease was 30 per cent higher and that neural tube defects were twice as high in people who lived close to fracking operations.
Many chemicals used in the fracking process are poisonous, carcinogenic or can cause hormone disruption in people.
All of this dovetails with the fact that fracking probably causes more greenhouse gas emissions than conventional oil and gas drilling.
Larry Barzelai, MD, member of the Canadian Association of Physicians for the Environment, Vancouver
What else don't we know? by Peter Manning, August 18, 2016, The Vancouver Sun
Re: B.C. shouldn't allow fracking free for all, Opinion, Aug. 16
Good article by Ben Parfitt. Good on the B.C. Hydro managers who warned fracking can cause dams to burst, threatening lives. They were ignored by their political masters some years ago and we only found out recently through a Freedom of Information request. You have to wonder if Hydro managers have also raised reasons to be worried about the Site C dam, but have also been ignored, and their concerns triple-deleted. [Emphasis added]
Peter Manning, Port Coquitlam
B.C. Shouldn't allow fracking free-for-all, Government is putting energy ahead of our health and safety by Ben Parfitt, The Vancouver Sun, August 16, 2016, Click link or images below to read in Press Reader.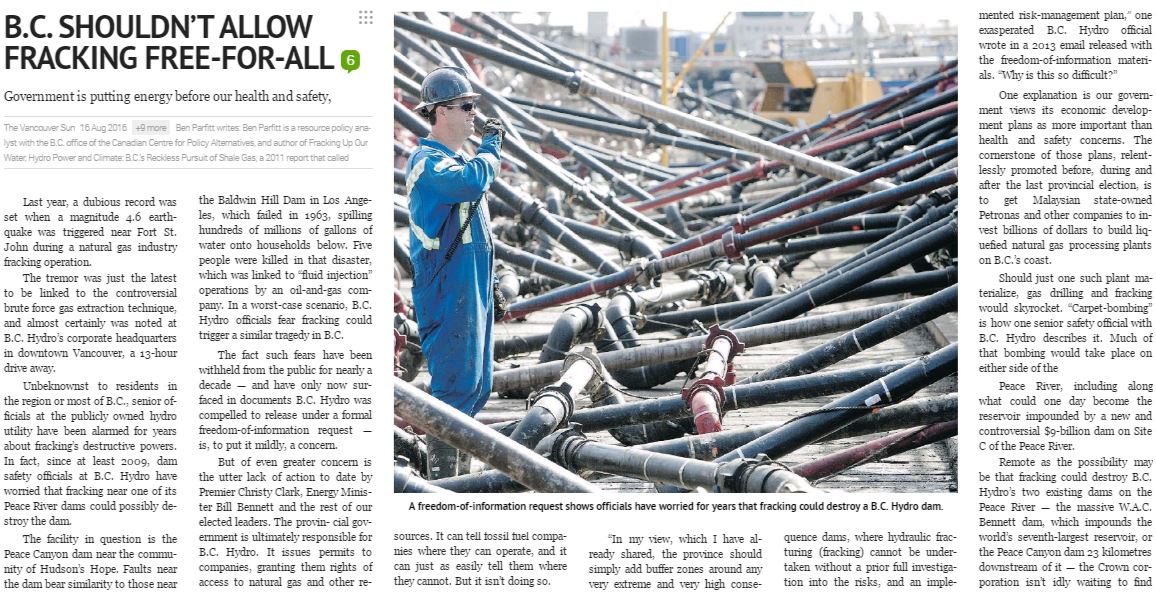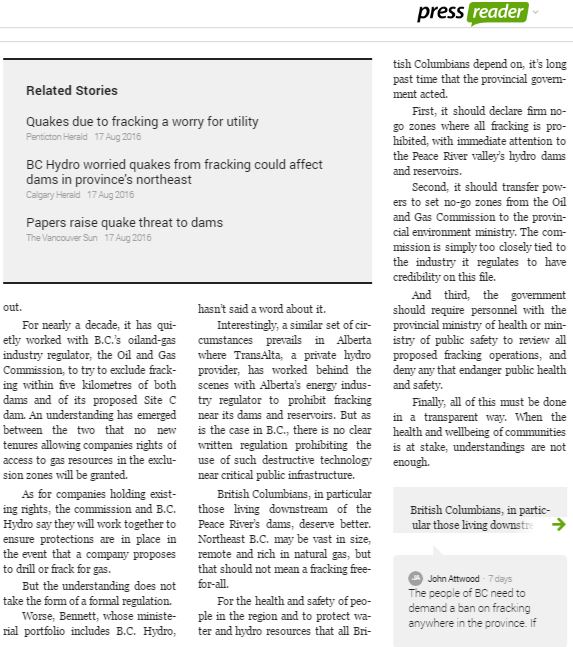 6 Comments:
Wet Coaster16 Aug 2016 6:02 AM
This is too complicated for the government of BC. Peace River residents should be exceptionally wary.
Potato Head16 Aug 2016 8:19 AM
WTF – What the Frack?
Martin Cavin16 Aug 2016 9:21 AM
More than 3 years ago an expert engineering panel discovered that a relatively minor earthquake could result in the breaching of the WAC Bennett dam, due to a serious dam deficiency. See: http://www.theglobeandmail.com/news/british-columbia/bc-hydro-in-hot-water-over-dam-repairs/article27658175/
The panel was pleased to learn that Hydro would complete the remedy by 2015 and said it should not be delayed. Then it was revealed last year that repairs won't be completed until 2019 or 2020. Hydro does this while knowing there is a risk of minor earthquakes due to fracking? Where's the accountability?
Jim Lindsay16 Aug 2016 11:20 AM
The only thing I know that makes less sense than D.J.T. is fracking!
westhawk16 Aug 2016 4:08 PM
Earthquake by tracking is dangerous unto itself an unmentioned concern is that the water used in tracking does not go back into the water table as potable water as it is so badly poisoned by the tracking solution.
NO CLEAN AIR + NO CLEAN WATER = NO LIFE (despite how much money you have)
John Attwood17 Aug 2016 1:55 AM
The people of BC need to demand a ban on fracking anywhere in the province. If and when, the O & G industry can prove that fracking is not a threat to the health and welfare of British Columbians, discussions can then begin on where fracking can take place. Until we get answers, other than "trust us", fracking must be considered a high level threat to every living being in the province. Are the energy needs of of Asia more important than our needs for clean air and water? Let's be clear … LNG will provide some jobs, but all of the benefits touted around LNG are for ASIA. LNG is not being developed for BC. [Emphasis added]
Click link or snap below to read in Press Reader: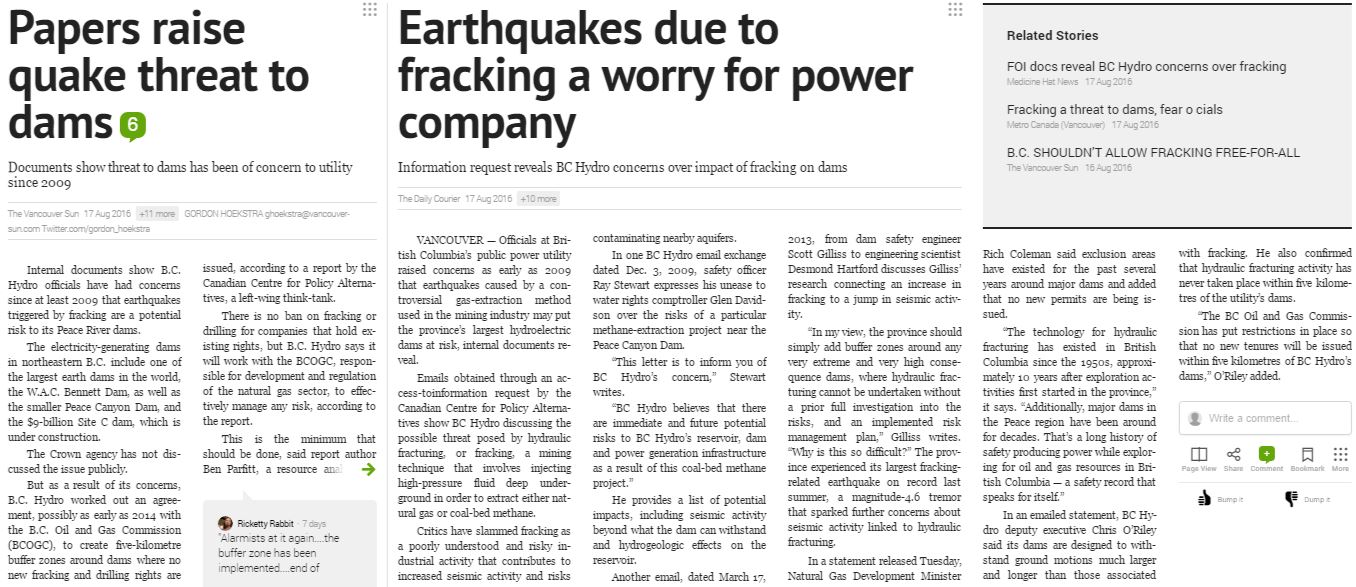 [Refer also to
2016 08 16: Known risk of earthquakes caused by oil and gas development, BC Hydro worries about fracking unconventionals near dams, specifically coalbed methane and shale gas. "Alberta Offers Lessons In Keeping Oil and Gas Industry 'Safe' From A Public Endangered By Fracking"
2016 04 26: New peer-reviewed published paper on unconventional natural gas development (excluding CBM/CSG) impacts: "At least 685 papers have been published in peer-reviewed scientific journals that are relevant to assessing the impacts of UNGD. 84% of public health studies contain findings that indicate public health hazards, elevated risks, or adverse health outcomes; 69% of water quality studies contain findings that indicate potential, positive association, or actual incidence of water contamination; and 87% of air quality studies contain findings that indicate elevated air pollutant emissions and/or atmospheric concentrations" ]