Big Tobacco ordered to put $1B in trust for class-action lawsuit members, 
Quebec Court of Appeal orders Imperial Tobacco, Rothmans Benson & Hedges to pay $1B in instalments by CBC News, October 27, 2015
On Tuesday afternoon, a Quebec Court of Appeal judge ordered two tobacco companies to pay $1 billion in security.
The Quebec Court of Appeal has ordered two big tobacco companies — Imperial Tobacco and Rothmans Benson & Hedges — to set aside almost $1 billion for members of Canada's largest class-action lawsuit.
Back in June, the two companies, along with a third big tobacco company, JTI-Macdonald, were ordered to pay $15 billion in damages to more than one million Quebec smokers. The plaintiffs were separated into two groups: some who became seriously ill from smoking and others who said they became addicted.
The case marked the first time tobacco companies have gone to trial in a civil suit in this country.
The original judgment ordered the companies to set aside $1 billion right away to ensure victims get some sort of compensation.
The tobacco companies argued that they simply didn't have the funds, saying it could cause irreparable harm to their ability to appeal and even put them on the brink of bankruptcy.
On Tuesday afternoon Court of Appeal Justice Mark Schrager ordered the companies to start paying in instalments.
"It is not acceptable that appellants merely say that they have no funds to satisfy the judgment or an order to furnish security and continue to distribute earnings because that is 'business as usual,'" Schrager said in his ruling.
"I do not question appellants' right to appeal but neither can I stand idly by while appellants pursue an appeal which will benefit them if they win but which will not operate to their detriment if they lose."
The judge said that Rothmans Benson & Hedges, which owes $226 million in security, must pay in in six instalments.
Imperial Tobacco, which owes $758 million, must pay in seven instalments.
The motion against JTI-Macdonald was withdrawn because attorneys were unavailable.
"The above amounts are less than average quarterly revenue. They are far easier to manage financially than a single lump sum," Schrager said.
The first payments are due at the end of December.
The Quebec Council on Tobacco and Health called Tuesday's ruling an important one.
"This is an important moral victory," said Mario Bujold, general manager of the council. "We now have the certainty that the victims will be compensated."
Imperial Tobacco issued a statement late Tuesday, saying it is disappointed with the Court of Appeal's decision.
"Imperial Tobacco Canada … does not believe it should have to secure a payment before all appeals are exhausted and a final judgment is rendered," the statement said. "Imperial Tobacco Canada continues to disagree with the overall judgment rendered by the Superior Court of Quebec. It is unjustified to hold legal manufacturers responsible for the personal choices of adult consumers and it will continue to defend that position as its appeals proceed before the courts." [Emphasis added]
Read the full decision here:
IMPERIAL TOBACCO CANADA LTD. ROTHMANS, BENSON & HEDGES INC. V. CONSEIL QUÉBÉCOIS SUR LE TABAC ET LA SANTÉ JEAN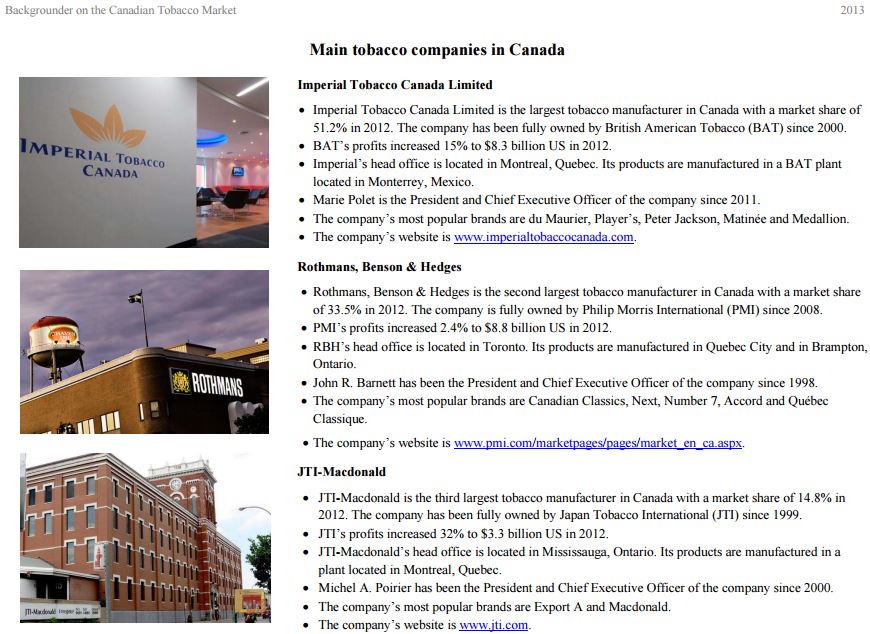 What's ahead for frac industry in multi-billion dollar class action lawsuits?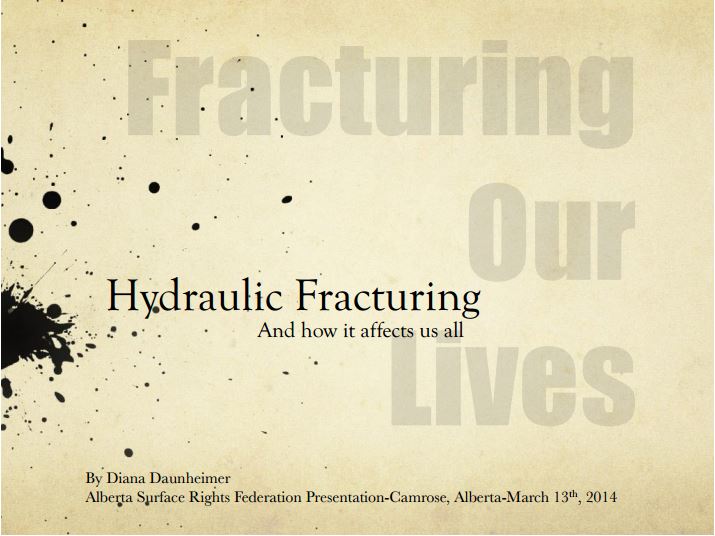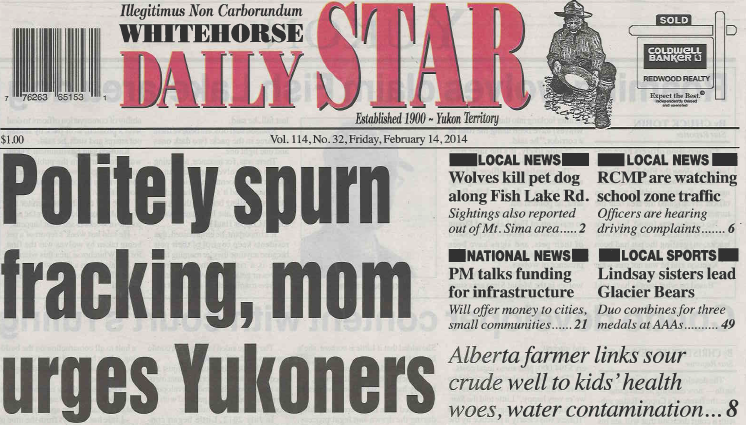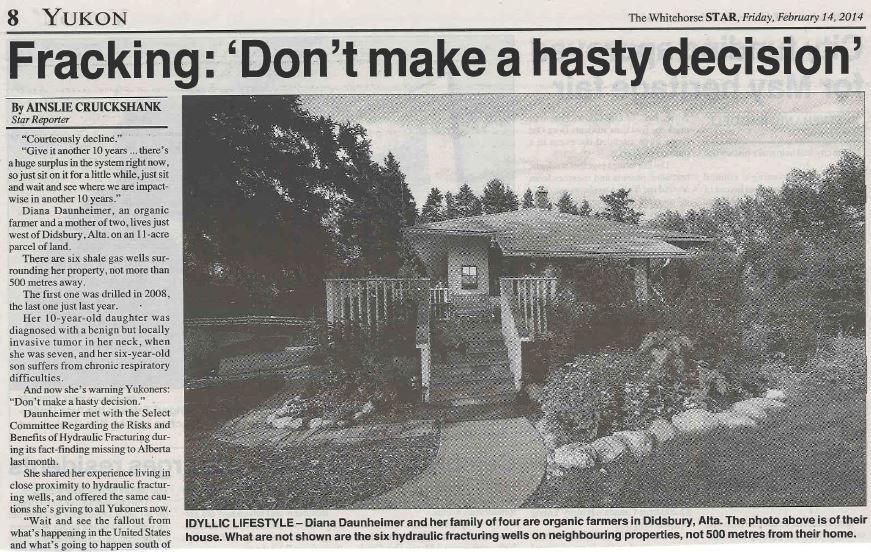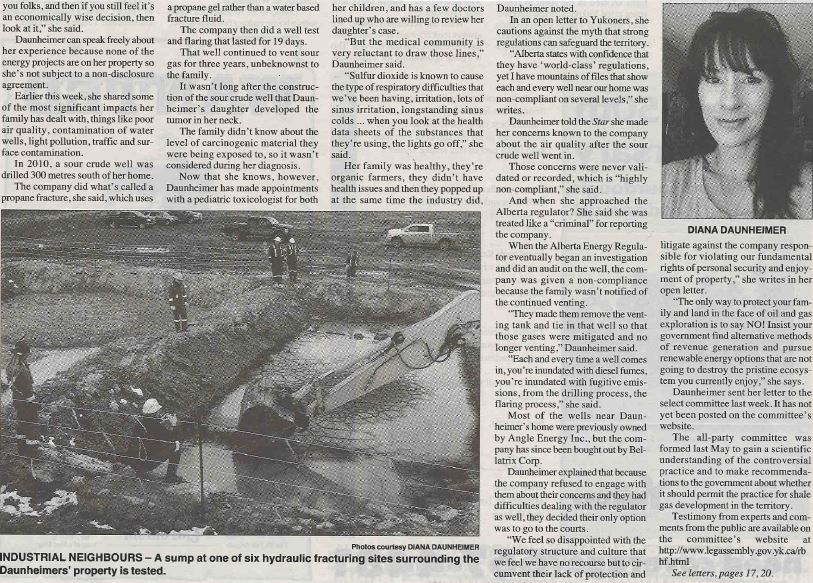 2014 02 04: Diana Daunheimer Briefing submitted to Yukon Select Frac Committee which did not publicly post it (but posted all the pro-fracking – many of them fraudulent – submissions) until the above Front Page news coverage by Whitehorse Star on Feb 14th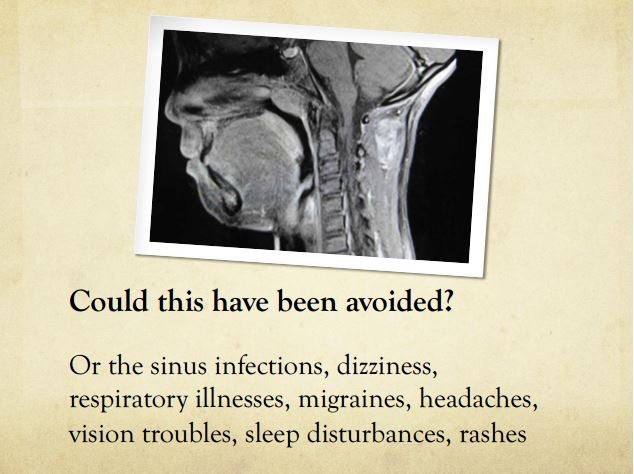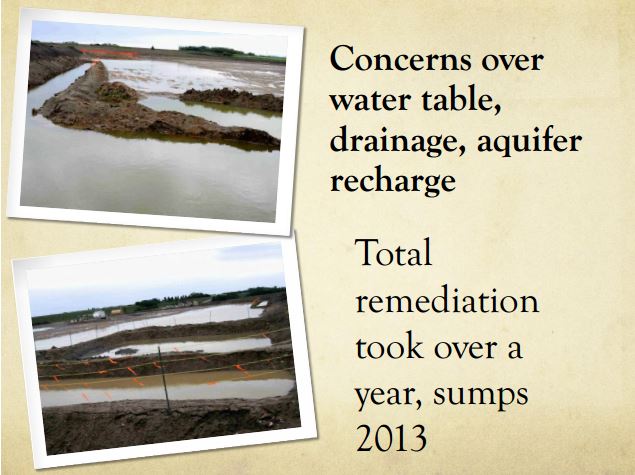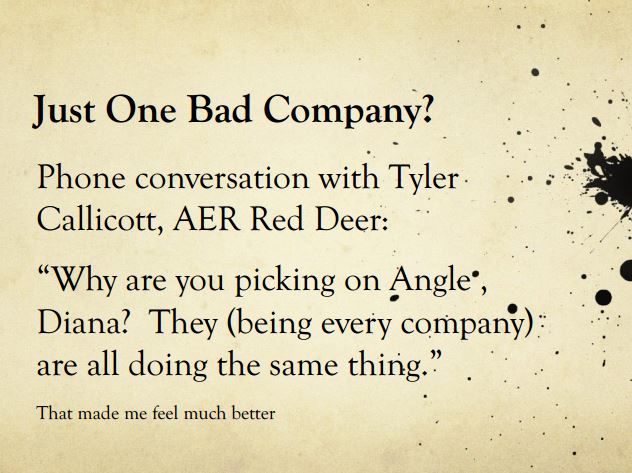 2012 06 13: Ernst letter to then Alberta Premier Alison Redford on Smoking harms compared to frac harms.
Re: Another EnCana non-compliant offer to test my water well, dated May 8, 2012, by Ms. Tanaka (attached) and EnCana's continued non-compliance with ERCB Directive 056.
…
Many Albertans are extremely concerned about the risks and toxics from hydraulic
fracturing and the oil and gas industry's notorious disdain for laws and regulations, and worse, our regulators' refusal to enforce those laws and regulations.
I read that you intend to sue tobacco companies for $10 billion dollars: Alberta seeking $10-billion in lawsuit against tobacco companies
$10 billion and not everyone made the choice to smoke. Those who did were conned
by lies of doctors, companies and governments proclaiming how good smoking was for us, and how cool we would look if we picked up the habit. Some became addicted and died hideous expensive deaths; some still are. How noble it is your government now seeks to hold those companies accountable for their deadly deception.
Premier Redford, has anyone in your government calculated what it will cost our healthcare system as masses of toxic chemicals – the same ones the tobacco companies use – endocrine disruptors, neurotoxins, carcinogens, with the added bonus of radioactive materials – are unleashed, trucked, spilled, dumped, blown-out and injected, with your blessings and incentives, day after day into our communities and families? How many billion will it cost to clean up and fix the many "crimes against humanity" fracs into Alberta's fresh ground water and make industry's methane migration stop?
(The media reported EnCana Regulatory and Land Advisor Brenda Linster saying that "as a good neighbor, the company would return the water to its pre-drilling condition if need be." My water obviously needs to be returned to its pre-drilling condition but instead of fixing it, EnCana continues to drill and frac and drill and frac near my well)
I can't remember the last time I saw a 4-year-old light up. These days society and health professionals frown on that and if parents allowed their toddlers to smoke, they probably wouldn't be under their protection for long. Fortunately, it seems most parents take the responsibility and right to protect their children seriously.
Unfortunately, as your government bows down to frac'ing and an industry intent on profit and keeping their chemicals secret, you have stripped parents of their rights to protect their children and themselves. You are effectively depositing packs of cigarettes and worse into the mouths of every family and 4-year-old in this province daring to live.
Will your government provide a hotline for toddlers that have had enough and are
looking to quit? Will you visit the homes of sick kids and explain to them why it's more
important to protect a company's toxic secrets, than to protect them?
10 Billion, that's a big number for something we have a choice in. What do you
suppose the number will be for something we don't?
Alberta government claim alleges smoking industry conspiracy
This from the article: They used "deceptive marketing practices" and engaged in
"unfair trading practices" during that period. … Officials from major tobacco companies first met in late 1953 to conspire to keep the public in the dark about the health risks associated with smoking. "The conspiracy was continued through secret committees, conferences and meetings involving senior personnel and through written and oral directives."
Alison, the above sounds like the frac'ing industry's New West Partnership secretly agreed to by the western provinces, Alberta included, to use tax dollars and the media to keep the public in the dark about health and other risks associated with hydraulic fracturing.
I look forward to your respectful, complete, honest, non-deflective reply.
Thank you.
Sincerely,
Jessica Ernst – sent by Email
DID REDFORD REPLY?  OF COURSE NOT.