The Promise: Fracking brings prosperity & jobs.
Reality: Tens of thousands of oil patch workers out of work and $300 billion in liabilities.
Former oil worker proposes solution to abandoned pipelines [and wells] 5:52 Min. by BNN Commodities, February 17, 2017
Our next guest is in the early stages of putting together a report called "Reclaiming Alberta's Future Today," or RAFT. It proposes to put tens of thousands of people back to work cleaning up as much as $[300] billion worth of liabilities in Alberta's oil patch — everything from leaking inactive wells to abandoned pipelines. We hear from Brent Nimeck, a former oil services worker.
Nimeck: Lexin is a close example of one of the 348 companies that are just like Lexin and that can go bankrupt at any given time. It's a good indicator of things to come.
…
This problem is thirty years in the making. Industry has carefully orchestrated this. I would call it a Ponzi Scheme to keep these companies alive, to allow hundreds of thousands of wells to sit inactive. … This isn't an accident, this has been carefully orchestrated.
…
This is an orchestrated fraud from multiple angles: industry, CAPP and the Alberta Energy Regulator have enabled this to happen. There's quite a bit of evidence to support that.
…
Thirty million dollars a year to deal with this problem is basically like trying to pee on a forest fire trying to put it out. It's not going to work. When the Orphan Well is unable to deal with these then the liability is going to be transferred to the taxpayers and right now the government is currently estimating the liabilities at $30 billion, but through our independent analysis and we've confirmed this at multiple sources within the energy regulator, the liabilities are over $300 billion.
That's what's on the hook for Alberta taxpayers right now – $300 billion.
BNN: That's an enormous sum of money.
…
Nimeck: The long term environmental affects of this will be devastating to the province of Alberta.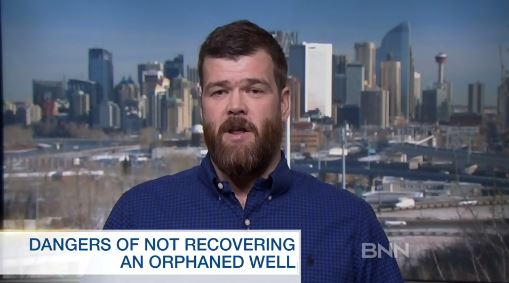 BNN: A group you're working with has a proposal called the RAFT proposal to deal with this situation. Describe it for us.
Nimeck: RAFT is simple. We've asked the provincial government to be proactive on this looming upcoming crisis of bankrupt oil and gas companies. Instead of being reactive, RAFT is proactive. To embrace this disastrous environmental legacy we have created over the last thirty years. And by doing so, we can put tens of thousands of Albertans that are out of work, back to work tomorrow.
…
It's not going to cost the taxpayers a single penny. … PSAC last year asked for $500 million from the federal government to start cleaning up wells, Brad Wall's asked for $100 million to clean up his [Saskatchewan] wells. This is a polluter pays situation. By law in Alberta, the oil companies have to clean up their mess. So, we're going to make them pay.
***
Map of all the orphan wells in Alberta in BOE, February 17, 2017
The Alberta Energy Regulator's recent enforcement against Lexin Resources, placed a large portion of the company's assets into the care of Alberta's Orphan Well Association(OWA). Currently, in the OWA database, there are 697 wells under reclamation and 1590 wells to be abandoned–however that number will rise by several hundred after Lexin's wells are added to the list.
Here is a map of wells in Alberta with the most current data from the Orphan Well Association: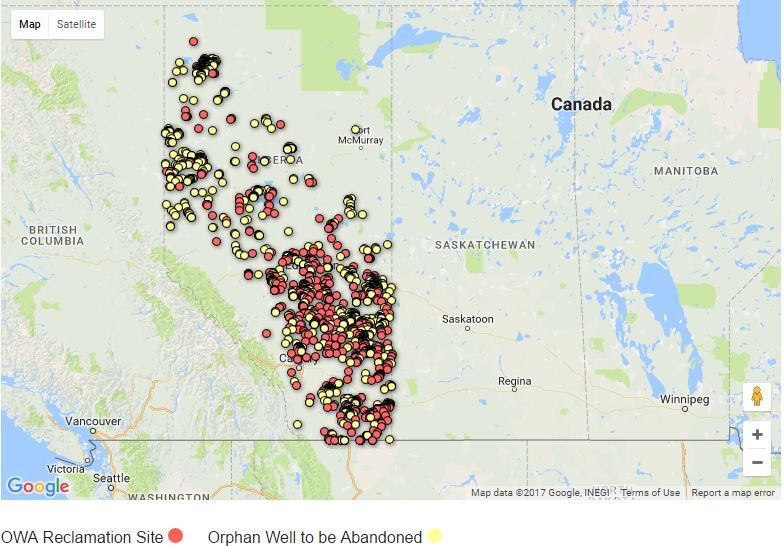 Click on map to access interactive map.  Zoom in for location details. Click on wells for name of derelict company, etc.