Cabot appeals water contamination verdict by Terrie Morgan-Besecker, April 8, 2016, The Times-Tribune
An attorney for Cabot Oil & Gas is asking a federal judge to overturn a $4.24 million verdict awarded to two Dimock Twp. couples or, in the alternative, to reduce the award to $85,500.
Jeremy Mercer, attorney for Cabot, contends the March 10 verdict in favor on Nolen Scott Ely, his wife, Monica-Marta Ely and Raymond and Victoria Hubert defied the evidence and was tainted by the "pervasive, persistent and calculated" misconduct of their attorney, Leslie Lewis.
Even if the judge finds the verdict should stand, he should vacate the monetary award to the families, which Cabot says has no relationship to the evidence presented, according to a motion filed Thursday.
A jury ruled in favor of the Elys and Huberts following a 14-day trial, finding that Cabot's negligence in drilling two natural gas wells near their homes caused their well water to become contaminated with high levels of methane. Cabot maintains the methane was naturally occurring.
The motion asks U.S. Magistrate Judge Martin Carlson, who presided over the trial, to vacate the jury's verdict based on his own evaluation of the evidence presented, which Cabot contends was insufficient to support the panel's decision.
The motion highlights several problems with the case, including that Mr. Ely acknowledged he first noticed problems with his water two months before Cabot started drilling the gas wells. Mr. Mercer also says the couple's experts failed to identify a pathway that would have allowed methane to travel from the gas wells to their properties.
Should the judge reject that argument, Mr. Mercer argues Cabot is entitled to a new trial because Ms. Lewis' misconduct unfairly prejudiced the jury against the company. That misconduct included implying Cabot threatened her clients and accusing the company of destroying and/or withholding evidence. She also repeatedly asked questions or made statements regarding evidence that had been excluded in pre-trial rulings.
The motion also challenges the jury's monetary award. Mr. and Mrs. Ely were awarded $2.6 million and their three children $50,000 to each. Mr. and Mrs. Hubert were awarded $1.4 million, while another member of their family was awarded $50,000.
Mr. Mercer argues the amount is not consistent with the evidence and should be limited to no more than $85,500. The motion does not explain how Cabot arrived at that figure. That information will likely be contained in a legal brief in support of the motion that will be filed at a later date. [Emphasis added]
Cabot Challenges 'Grossly Excessive' Damages in Dimock Water Wells Case by Jeremiah Shelor, April 8, 2016, Natural Gas Intel
Cabot Oil & Gas Corp. has asked the courts to set aside a jury's recent verdict awarding more than $4 million to four plaintiffs for alleged water well contamination in rural Dimock Township, PA.
In a motion filed Thursday in the U.S. District Court for the Middle District of Pennsylvania, lawyers for the Houston-based company argued that the jury's decision last month to award Scott Ely and Monica Marta-Ely $2.75 million and Ray and Victoria Hubert $1.49 million (see Shale Daily, March 10) was "grossly excessive."
Citing a lack of evidence linking Cabot's two Gesford wells in the area to the alleged methane contamination in the plaintiffs' drinking water wells, the exploration and production company asked the court to reduce the damages awarded to no more than $85,500.
Cabot said it was "uncontradicted" that the alleged methane contamination of the plaintiffs' water wells occurred prior to the drilling of the Gesford wells. The experts that testified "failed to identify any pathway that connected either of the Gesford wells to the water supplies at issue" and failed to show "that the methane gas allegedly in their water supplies originated from either of the Gesford wells or was from a source somehow 'freed' by the drilling of the Gesford wells," the company said.
Cabot, represented in the case by law firm Norton Rose Fulbright US LLP, also alleged that the attorney for the plaintiffs, New York-based Leslie Lewis, had engaged in "pervasive, persistent, calculated and prejudicial misconduct," including, among other things, "inviting speculation about facts not in evidence" and discussing matters that had been excluded from the case, "thereby forcing Cabot to object and approach the bench, in effect reversing the burden by imposing it on Cabot, and leaving the jury with the unmistakable impression that Cabot had something to hide." [Did the Plaintiff's lawyer do that or Cabot's lawyers?]
At the time last month's verdict was issued, Cabot said it was "surprised" by the jury's decision and planned to challenge it.
The case stems from allegations dating back to 2009. Dozens of residents from the small Susquehanna County community filed a federal civil lawsuit in November of that year against Cabot, alleging that the company contaminated their groundwater supplies through drilling activities. Cabot has consistently denied those claims, arguing that any methane present in the water is naturally-occurring and treatable (see Shale Daily, Jan. 26, 2009).
[Like this?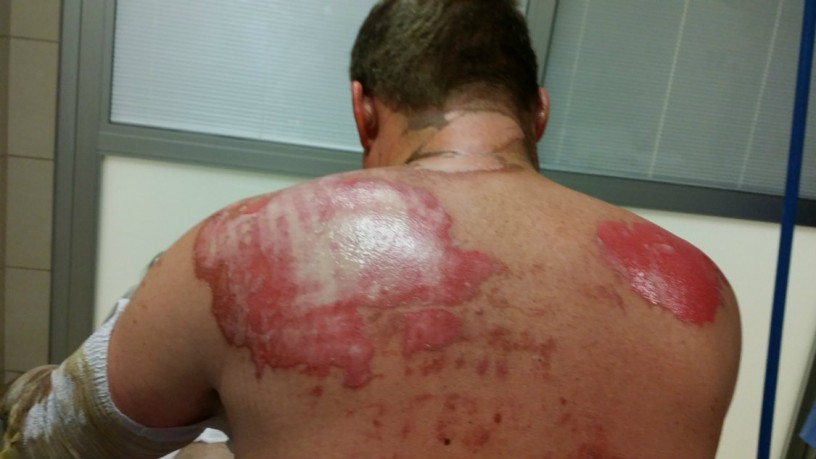 Cory Murray's burn injuries from industry's fugitive methane in his drinking water well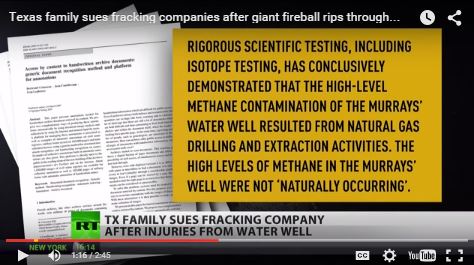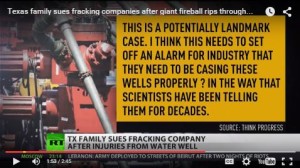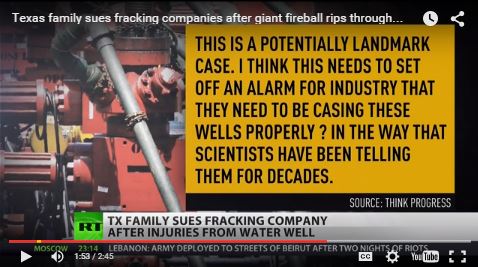 And like this?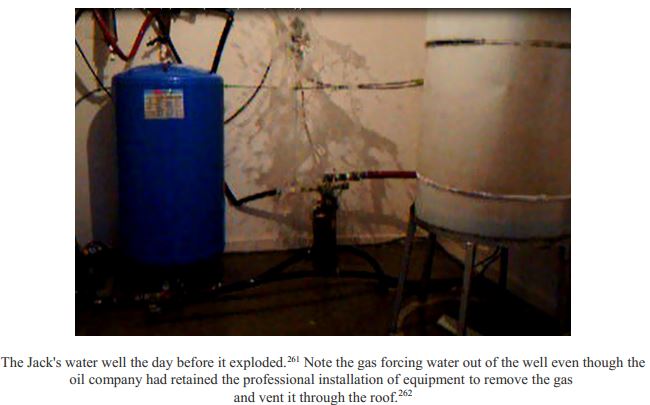 May 2006, Photo below: Bruce Jack in hospital the day industry's fugitive methane and ethane contaminating his drinking water well exploded during investigation by two industry gas-in-water testers. Peter Watson (now CEO of Canada's National Energy Board), Deputy Minister of Alberta Environment at the time, unscrupulously dashed to Jack's bedside that day to synergize him with regulator promises later broken.
The Friday before the explosion, Jack called Ernst to telll her that the "Best in the World" AER was refusing his objections to more fracing near his home, advising him that drinking water contamination is no grounds for objection.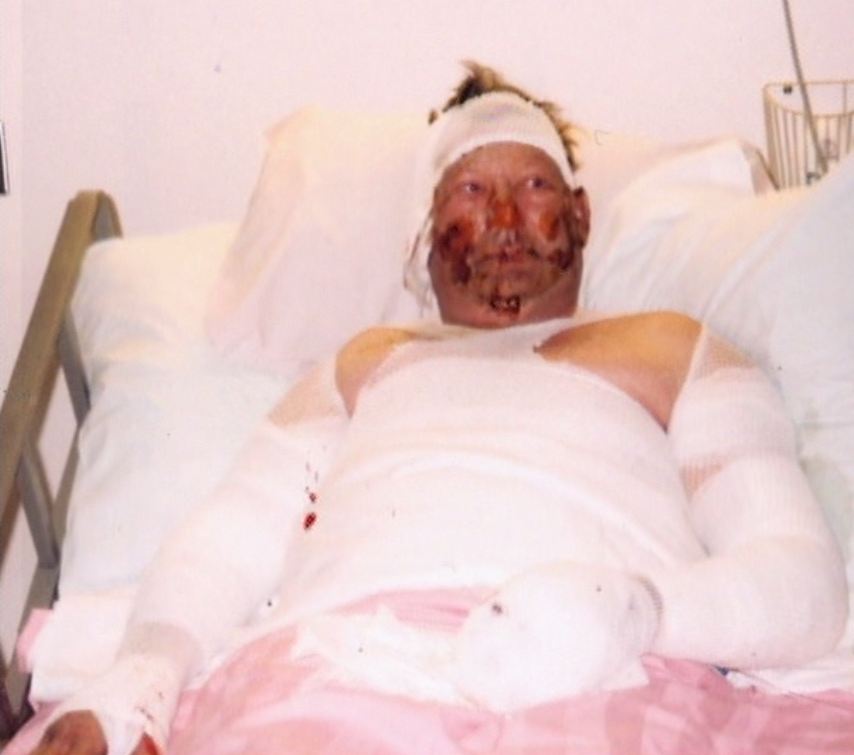 And like this? Ernst's water poured and ignited after venting industry's fugitive methane and ethane from her contaminated well:

***
In 2012, 40 residents settled with Cabot outside of court for an undisclosed amount, but two families pressed ahead with the lawsuit (see Shale Daily, Aug. 16, 2012).
… Still, a 2009 DEP investigation determined that Cabot was responsible for the methane contamination in water wells serving 19 households. Cabot settled with the DEP in December 2010 without accepting blame but nevertheless agreeing to pay the affected residents $4.1 million and provide whole-house gas mitigation systems (see Shale Daily, Dec. 17, 2010). [Emphasis added]
Pennsylvania Jury Awards Two Families $4.24 Million in Fracking Lawsuit by Eric T. Chaffin, April 8, 2016, West Virginia Legal Examiner
A Pennsylvania jury has awarded two families $4.24 million in a fracking lawsuit that has been ongoing for nearly seven years.
The Hubert and Ely families claimed that Cabot Oil & Gas Corporation, which has been drilling in northeast Pennsylvania since 2008, contaminated their well water with methane. The two families were the last of 40 that sued Cabot over claims of methane contamination in Dimock township. The others settled with the company in 2012.
Jury Compensates Families for Contaminated Water
... Cabot began drilling in shale formations near Dimock in 2008, and shortly after that, the families alleged that their water was contaminated. Though Cabot insisted the methane was naturally occurring and not the result of their fracking operation, the Environmental Protection Agency (EPA) in 2013 concluded that drilling for natural gas had caused "significant damage" to drinking water aquifers in the area.
According to an EPA report, the process of fracking, which involves forcing sand and chemicals underground to release trapped natural gas, had caused methane to leak into the domestic water wells. An EPA slide show explained that methane was released during the drilling, and perhaps during the fracking process and other gas well work. … Dimock is the same are that was featured in the documentary "Gasland," as an area that had been negatively affected by the industry.
… Despite the recent jury verdict, Cabot continues to assert that the methane was not the result of their fracking, and has promised to file motions to have the verdict set aside. [Emphasis added]
Marcellus driller asks judge to throw out $4.24M Dimock verdict by Andrew Maykuth, April 7, 2016, Philly.com
Cabot Oil & Gas Corp. on Thursday asked a federal magistrate to set aside a Scranton jury verdict last month that awarded two Dimock, Pa., families $4.24 million for their claims that Cabot's shale-gas operations contaminated their drinking water.
The gas driller alleged that misconduct by the families' attorney, Leslie Lewis, tainted the jury, and that the testimony of two neighbors who had earlier signed settlements and non-disclosure agreements with Cabot should not have been permitted.
As an alternative to the "excessive" award, Cabot suggested that the judge reduce the amount to no more than $85,500.
Cabot, which is based in Houston, maintained that its drilling was not responsible for the elevated level of methane in the families' water wells.
The eight-member jury found that Cabot's drilling was negligent and created a nuisance for the families of Scott Ely and Monica Marta-Ely and Ray and Victoria Hubert. [Emphasis added]
[Refer also to:
Jury awards two Dimock Twp. families $4.24 million after Cabot offered a few thousand to Gag & Settle; Cabot plans appeal alleging 'improper conduct' by the families' lawyer
Shred Fraud? "Better Shred than Read!" Tory Cover-up Saga Continues: Document shredding rules not followed by Alberta Environment, investigation finds. "344 boxes of executive records were destroyed between May 1 and May 13," including related to litigation
2014 12 10: Alberta Government Won't Appeal Decision to Allow Jessica Ernst to Sue
!!! Regulators launch inquiry after WFAA questions EOG gas well records related to Cody Murray's water well explosion. Will the AER ever investigate Encana illegally fracing Rosebud's drinking water aquifers?
Texas: Cody Murray and family sues fracking companies after giant fireball rips through drinking water well, injures members
Annother frac lawsuit: Cody Murray from Texas left permanently disabled from burns after fracking causes water well to explode
Dr. John Cherry Shale Gas Recommendation: Frack 'n Track Us. Cherry needs to sign his family up first. How'd he like his loved ones to be subjects of a polluted-ass-tracking study living with thousands of fracs & refracs, even into his drinking water supply, for a decade and more?
Why so many time extensions in Aruba's appeal of Parr's $3 Million Jury win on frac poisoning? How long will the legal system allow delays? It's two years now since the Parr's win
And, are companies gagging faster with more money, bullying, threats and aggression, so they can keep fracing & polluting down the street?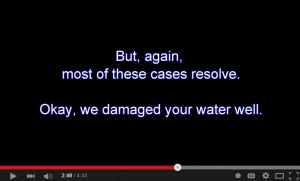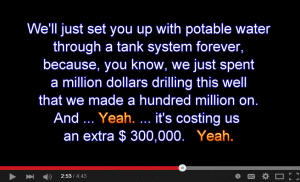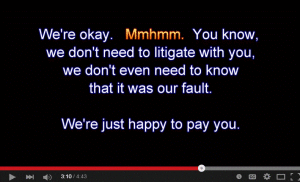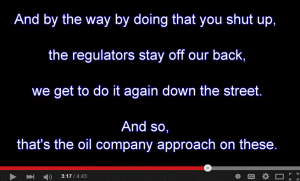 Legal Advice on what to do when frac'ers contaminate your drinking water by Glenn Solomon, Counsel for the Alberta Energy Regulator, December 1, 2014