'Incumbent' city, province pursue polluter pay principle in West Village, say councillors by Trevor Howell, April 22, 2016, Calgary Herald
City councillors say it's time for the provincial government to enforce the polluter pay principle after a new analysis of the CalgaryNEXT proposal shows it would cost as much as $140 million to clean-up contaminated land in the West Village.
[Are these demands just happening because corporations want the sites to make money from sports and entertainment?
Ordinary families poisoned by rape and profiteering oil and gas companies are left to suffer without help from the government or regulator to enforce polluter pay principle?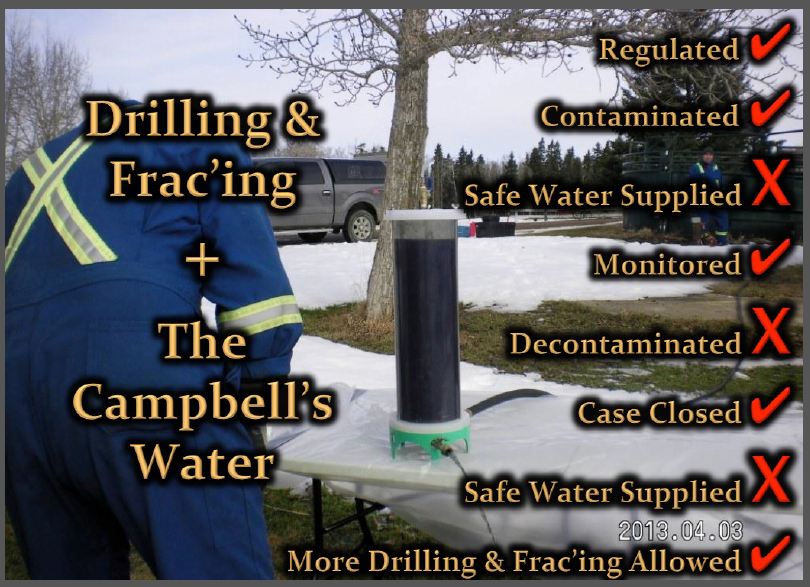 After 8 long abusive years of "investigations" and endless reports admitting industrial source contamination, and no safe alternate water supplied by the companies responsible or the government's "Water for Life" program, the AER slammed the door shut on Ronalie and Shawn Campbell, ranchers near Ponoka.
No safe water.
No help.
Slide from Ernst presentations
The Calgary Municipal Land Corporation's environmental analysis of the West Village and Canada Creosote Ltd. sites west of 14th Street and near the Bow River suggest environmental remediation could cost $85 million to $140 million and take between eight and 10 years. [How many years of delay has it already been?  How much toxic pollution has contaminated the Bow River and communities?]
A predecessor of Domtar Corporation owned and operated the plant on a 15-hectare parcel of land between 14th Street and Crowchild Trail before it closed in 1962. The operator left behind an estimated two million litres of creosote, a toxic wood preservative.
Council previously directed city administration and the CMLC to examine the CalgaryNEXT proposal, conduct an environmental assessment and cleanup costs, and to closely examine potential tax revenue generated through a community revitalization levy. [Why the fancy name to make ordinary families pay for corporate pillage and profiteering, yet again?]
The 173-page assessment was released Wednesday, which concluded the project "not feasible in its present form or location" and recommended the city, Calgary Sports and Entertainment Corp., Calgary Stampede and the land corporation consider other sites.
It also recommends city administration and the CMLC collaborate with Alberta Environment and Parks on addressing the contamination issues in the West Village.
"Now that we've quantified the issue and have a better understanding it's time to pursue the polluter," [Or, was it just another delay tactic, in endless years of similar delay tactics, lots of talk, no clean-up?] said Coun. Druh Farrell, noting that process would likely take years to work its way though the courts.
"(It's) an important principle and we have a new provincial government that seems more open to holding polluters to account," Farrell said.
Both Premier Rachel Notley and Environment and Parks Minister Shannon Phillips indicated last year the NDP government is committed to holding the polluter financially responsible for remediating the site. [But not Encanca for breaking the law, fracing and contaminating Rosebud's drinking water aquifers, and not for other oil and gas companies fracing and contaminating the drinking water and health of Alberta families?]
CMLC considered several remediation techniques, including excavation and disposal, excavation and incineration, excavation and bio-stabilization, in-situ treatment, costing $65 million to $110 million. It also looked at a much cheaper option, a $2.9 million enhanced [??] containment wall. [That will surely leak, like all other containment wall attempts before it, including at the toxic site in Turner Valley. Which technique do you think the NDP will let the company choose?]
In the mid-1990s, the province spent $12.5 million to clean up globs of creosote from the river and installed a containment wall and wells to prevent the carcinogenic liquid from entering the river and tainting groundwater.
But recent studies have shown the containment wall is not working as designed and that tainted water is likely moving over, around, and under the wall, and seeping into the Bow River.
Legal experts previously consulted by the Herald have said earlier rulings by Canada's top courts suggest Alberta's government could demand Domtar pay a portion or all of the cost to remove or remediate the contaminated soil.
"We need to find the money outside of a community revitalization levy to do that environmental (clean up)," said Coun. Evan Woolley.
"This is an environmental liability on our books (and) … I just think it would be incumbent on the province or us to figure out a way to clean this up as quickly as possible while pursing the polluter pays outcome," Woolley said. [Emphasis added]
Two of the comments:
Dianne McCollum
This is the way ALL corporations work….they collect the profits, taxpayers pick up as much of the liabilities as possible….limited liability for pipelines, brankruptcy rules, regulations absolving corporations of the need to do anything other than provide jobs and make profit. What could go wrong.
Jim Swarthout · Haverford College
The city has owned this property on at least two occasions between 62 and now. Their hands are just as dirty in this fiasco. My question would be, what about the creosote that may migrate under the river into communities north of the river?
Legal precedents in Alberta could mean Flames' arena site gets cleaned up by a third party by Geoffrey Morgan,  August 24, 2015, Financial Post
The empty streets of Lynnview Ridge, a community in this city's southeastern quadrant, offer a precedent for forcing polluters to pay to clean up contaminated sites decades after the companies have moved on, lawyers say.
That precedent could provide some hope for the owners of the Calgary Flames NHL franchise as they seek to build an $890-million sports complex, with a combination of private and public money, on a site west of downtown that has been contaminated with coal tar creosote since 1962. Wide-ranging estimates for clean up costs would add between $50 million and $300 million to the price to develop the site for an arena.
[How much to unfrac the frac'd caprcok from hundreds of gas wells frac'd in fresh water zones across Alberta? Is it even possible to unfrac them, repair them, replace the frac'd drinking water supplies?]
"Under Alberta's main environmental statute, the Environmental Protection and Enhancement Act, there is a fundamental polluter-pays principle that's enshrined in the legislation," said Gavin Fitch, an environmental lawyer and partner with McLennan Ross LLP.
Fitch represented a group of residents on Lynnview Ridge in Calgary, where houses were built on a site that had been contaminated with petrochemical products decades earlier. The Lynnview Ridge residents found their basements smelled of hydrocarbons years after Imperial Oil Ltd. closed and remediated a nearby refinery.
He said Imperial purchased all of the houses on Lynnview Ridge, compensating the residents for the contamination – even though the company had not operated in that area for more than 30 years. [With Gag Orders? Did homeowners lose on the buy outs? Who paid their legal costs? Did the regulator fine Imperial? How much?]
In this case, he said, it was residents who complained, and that forced the province to act and pursue Imperial. [Residents community-wide complained about contaminated caused by Encana's illegal fracturing. What did the Alberta government do other than bully, shame, blame the victims and re-victimize them and cover up Encana's illegal acts?]
"It's typically the environment department that will get involved and mandate a cleanup and they can go after a current owner, or a previous owner or even an occupier if their activity is what caused the pollution," Fitch said.
Asked whether Calgary Sports and Entertain Corp., which owns the Flames, the CFL's Calgary Stampeders as well as the local lacrosse and Western Hockey League teams, is pursuing the company that polluted the site of their proposed new arena,president and CEO Ken King said, "No, nor do I anticipate we will." [Why not?  Getting too many donation/bribe dollars from big corporations?  Too many high priced seasons tickets?]
"The file is in the hands of the Calgary Municipal Land Corp. now; they will deal with it as they see fit," King said in an interview Monday.
Calgary Municipal Land (CMLC) manages the city's real estate holdings and is responsible for the development of Calgary's East Village, a community revitalization project on the opposite side of downtown from the Flames' proposed arena.
"All we would seek is some degree of expediency in dealing with the file," King said.
Documents from the Alberta government identify Montreal-based paper producer Domtar Corp. as the company that operated as Canada Creosote Co. and left the coal-tar contamination in the ground when it closed operations in Calgary in the 1960s. Domtar did not respond to requests for comment.
King would not single out Domtar as the source of the creosote contamination west of downtown Calgary.
"I don't really have a view in terms of whose fault it is or whose responsibility it is, but it's somebody's and we would be anxious, as everybody else in the city now would be, to understand how that might work itself out," he said. His proposal for the area includes a new home for the Flames and the Stampeders and a field house for local sports.
Jillian Henderson, a spokeswoman for the city, said in an emailed statement that Calgary had not sought compensation from the Canada Creosote Co. for the contamination. "The province is the appropriate regulatory agency to determine responsible parties," she said.
The city also stated in a post on its website on Friday that it was not responsible for the area's clean-up costs.
"In 1997, a Release Agreement was signed between the Province and the City stating the Canada Creosote site contamination was not caused or contributed to by the City," a statement on the city's website reads.
The provincial environment ministry did not immediately respond to a request for comment on whether the province had ever tried to force any previous owners of the land to remediate the creosote contamination.
If the province does act under EPEA to remediate the land for a new sports complex, the case could take years to come to a resolution. [Like the very expensive frac'd mess Encana created and continues to create at Rosebud?
Fitch said the Lynnview Ridge case came to a close after several years, and the site now continues to sit empty. The province sent residents who continue to live nearby a letter in 2009 stating the area was free of contamination. Imperial did not respond to a request for comment.
Today, barren lots where houses once stood line the site's empty streets and are separated from the rest of the neighbourhood by fences. [Welcome home.]
Asked whether Calgary Sports and Entertainment had a specific date by which the site west of downtown needed to be cleaned up, King said "there's no deadline," but added the contamination represents a challenge to the massive project moving forward. [Emphasis added]