California governor, once environmental hero, harshly criticized for refusing to ban fracking by Juliet Williams with Associated Press Ellen Knickmeyer, February 5, 2015, Calgary Herald 
In the 1970s, the environmental movement had no bigger political hero than California Gov. Jerry Brown. He cracked down on polluters, ended tax breaks for oil companies and promoted solar energy. Forty years later, in his second go-around as governor, conservationists are among his harshest critics.
Climate change is one of Brown's key issues, and he said in his inaugural address last month that his goal is to have California get half its energy from renewable sources within 15 years.
But because he has refused to ban hydraulic fracturing for oil….
"Climate leaders don't frack," said Kassie Siegal of the Center for Biological Diversity, a group that praises Brown's programs to boost renewable energy. "The oil and gas boom threatens to undercut all the other progress that our state may make on climate."
Fracking opponents have planned their largest protest so far, a rally Saturday in Brown's hometown of Oakland that they hope will attract thousands. More than 100 environmental and community groups have signed on, and protesters are being bused in from around the state.
Some began their protest Friday outside Brown's San Francisco office. Police said 12 people were arrested when they briefly blocked public access to the building.
These days, Brown rarely engages with his critics. He barely campaigned for re-election last year and holds few public events.
The exception is appearances promoting the use of solar energy or other environmental initiatives. Still, Brown has noted that Californians love their freeways and gas-guzzling vehicles. "As we speak, protesters and non-protesters are burning up gasoline that is being shipped from Iraq, from Russia, from Venezuela and all sorts of other places, and coming in on trains, so whatever we don't do here we are going to get from someone else until we get that moratorium on driving — which I haven't heard proposed yet," Brown said in response to a reporter's question Friday.
California is the No. 3 oil producer in the nation and has added an average of 300 wells each month for the past decade, about half of them using hydraulic fracturing, which involves forcing fluid, sand and chemicals underground to break rock formations and extract oil and gas. A fifth of the state's oil production comes through fracking.
Through a spokesman, Brown declined to comment on the protest, referring questions to the California Department of Conservation. In a prepared statement, chief deputy director Jason Marshall avoided using the term fracking, instead calling it "well stimulation." [Same masquerade used by Encana in its Statement of Defence in the Ernst vs Encana lawsuit, and by other companies around the world to con the public into thinking they are not fracing or that it's safe when they frac. Sexualizing fracing to mislead the public is a steep low for Encana and others in the oil and gas industry.]
"We have no direct evidence that any harm has been caused by the practice in California," he said. "We believe the regulations we've created, atop existing well construction standards, will protect the environment." [When it comes to oil and gas industry "regulations," believing and reality are often two different things]
California regulators have also authorized oil companies to inject production fluids and waste into federally protected aquifers more than 2,500 times, risking contamination of underground water supplies, an Associated Press review found.
[ Refer also to: California authorizes oilfield dumping into drinking water ]
State officials are conducting a series of fracking reviews as California sets up its first comprehensive regulatory framework, after Brown signed a bill imposing new rules.
Oil producers say they will be the toughest regulations in the nation; environmentalists say they were watered down after legislators caved in to oil companies.
Brown is also seeking to ramp up targets set in the 2006 global warming law signed by Republican Gov. Arnold Schwarzenegger. Last year he persuaded lawmakers to devote revenue from fees charged to polluters to help fund the proposed $68 billion bullet train, which Brown touts as an environmentally friendly approach to transportation.
Environmentalists want Brown to follow the lead of New York Gov. Andrew Cuomo, a fellow Democrat who banned fracking last year. But reports by the California Council on Science and Technology contend the kind of fracking done in California is less risky, with little horizontal drilling to expose large areas underground to potential contamination. [Emphasis added]
Blockade Delivers Climate Message to Calif. Gov. Brown: Stop Fracking, Demonstrators have erected 16-foot fracking rig, and remain 'jubilant and defiant' while awaiting arrest by Sarah Lazare, February 6, 2015, Common Dreams
Campaigners—who hail from labor, indigenous, student, and community organizations—were awaiting arrest at the time of publication, and their spirits remained "jubilant and defiant," Brooke Anderson, organizer with Climate Workers and Movement Generation, told Common Dreams.
The action was organized by the Bay Area Climate Justice Action Council, which brings together a broad array of organizations and affinity groups, and it comes just one day before thousands of people are slated to mobilize for the March for Real Climate Leadership in Oakland on Saturday.
"Idle No More is out here today to pressure Governor Brown from fracking in California," Pennie Opal Plant, organizer with the San Francisco Bay Area chapter, told Common Dreams. "The collusion at every U.S. government level with the fossil fuel industry is so outrageous that everyone should be out in the streets and protesting the demolishing of our water, our earth, and our air."
Brown, a Democrat, has sought to portray himself as a leader on climate change, but continues to allow the shale gas industry to frack within the state, including in areas near elementary schools, farms, and residential neighborhoods. Campaigners are outraged at his tacit promotion of this water-intensive drilling process, especially as California grapples with a historic drought.
They point out, furthermore, that refineries, pipelines, incinerators, and fracking wells are disproportionately placed in communities where poor and working class, immigrant, and people of color live.
"Fracking poisons the food that we eat, that we feed to our families, and that we serve to our customers," Veronica Garcia, organizer with labor union UNITE HERE 2850, declared in a press statement released ahead of the action. "The oil industry is affecting our communities. It's happening in our backyards, not the bosses' backyard."
… The Idle No More movement, meanwhile, is leading a Round Dance in the street, bearing a large parachute calling for climate justice.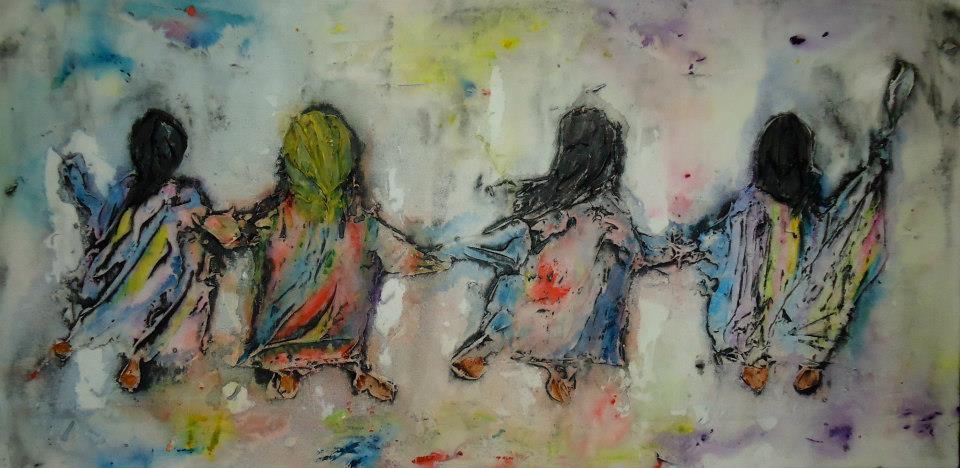 Seven labor organizers have blockaded the doors to the state building, bearing a banner that blares, "Labor against fracking."
A group of 15 to 20 people from the the Buddhist Peace Fellowship are sitting on the steps of the state building meditating, amid banners that read, "Mindful of Fracking Disasters"—a direct appeal to Brown, who identifies as a Buddhist. [ Like Encana's aquifer-fracing, chemical and frac data withholding, secretive, punitive ex CEO Gwyn Morgan? Refer below]
Many of the people who are being blocked from entering the building have, in fact, expressed support for the goals of the action, and some have even pledged to call Brown to urge him to say no to toxic drilling, say organizers.
According to Anderson: "As soon as we sat down to block the building it started to rain, the first measurable drop of rain in 2015. Mother Earth is on our side and taking direct action too." [Emphasis added]
Gov. Jerry Brown's fracking problem by Mark Hertsgaard, February 5, 2015, LA Times
California Gov. Jerry Brown has done more to fight climate change than perhaps any other elected official in the United States. So what accounts for the environmentalists heckling him during speeches and planning to confront him Saturday at an Oakland March for Real Climate Leadership? One word: fracking.
…
Joined by former Gov. Arnold Schwarzenegger, Brown has been hyping California's bipartisan climate leadership as a model other governments should emulate by committing to ambitious emissions reductions at the make-or-break global climate summit in Paris in December. But can Jerry Brown truly be a climate action champion if he does not reject fracking?
Oil and gas industry officials insist that the practice is safe and economically beneficial. [Why not publicly release their fracs gone wrong, water contamination, air pollution, earthquake, perf and frac data instead of fact-less, data-less insisting?] …
Opponents dispute the safety argument and condemn diverting vast amounts of water to fracking amid California's historic drought. (Fracking a single oil well can require 2 million to 8 million gallons of water that is then left too polluted for human or agricultural use.) Scientists have also concluded that fracking, which aims to shatter underground rock to free oil and gas, has helped cause earthquakes in Ohio and Oklahoma — no small consideration in California.

"People living next to these oil and gas operations are being hurt," said Assemblyman Das Williams (D-Santa Barbara). Williams was commenting on on an analysis of health impacts released last month by a coalition of nurses, environmentalists and community leaders, which found that fracking exposes nearby residents to as many as 15 different toxic substances.
New York Gov. Andrew Cuomo recently banned fracking in his state after a review of its public health effects.
[Brown] no longer describes fracking the Monterey Shale as "a fabulous economic opportunity," but he has not spoken out against fracking, much less banned it, as he could do through executive order.

… Why pick a fight with the powerful oil and gas industry unless he has to?
… Publicly, he has deflected fracking questions by saying he's awaiting the results of a study of fracking's economic, health and environmental implications that he and the Legislature ordered last year. It's due July 1.

It's hard to imagine Brown green-lighting a continuation, much less an expansion, of fracking in California. It seems more likely that he will wait until this summer and, citing the completed state study, declare that fracking has no place in California's future. [Emphasis added]
[Refer also to:
2014 12: PM Harper appoints Suzanne Côté, partner at law firm representing Encana in Ernst vs Encana, to Supreme Court of Canada
Cote pointed to a series of federal government memos from the 1960s that, she said, proved the government was aware smoking was harmful.
[Regulators and governments globally are similarly aware how harmful fracing is, there are hundreds of peer-reviewed papers out now clarifying the many harms and that regulations can't "mitigate" them. Regulators and politicians deregulate, cover-up and lie for companies. Worse, in western Canadian provinces under the New West Partnership, they use taxpayer funds to pay for millions in ads that falsely promote fracing as clean, safe and good for us, just like the tobacco industry claimed about smoking.]