"The announcement could happen today or tomorrow," Politico reporter Colby Bermel wrote in a tweet on Thursday.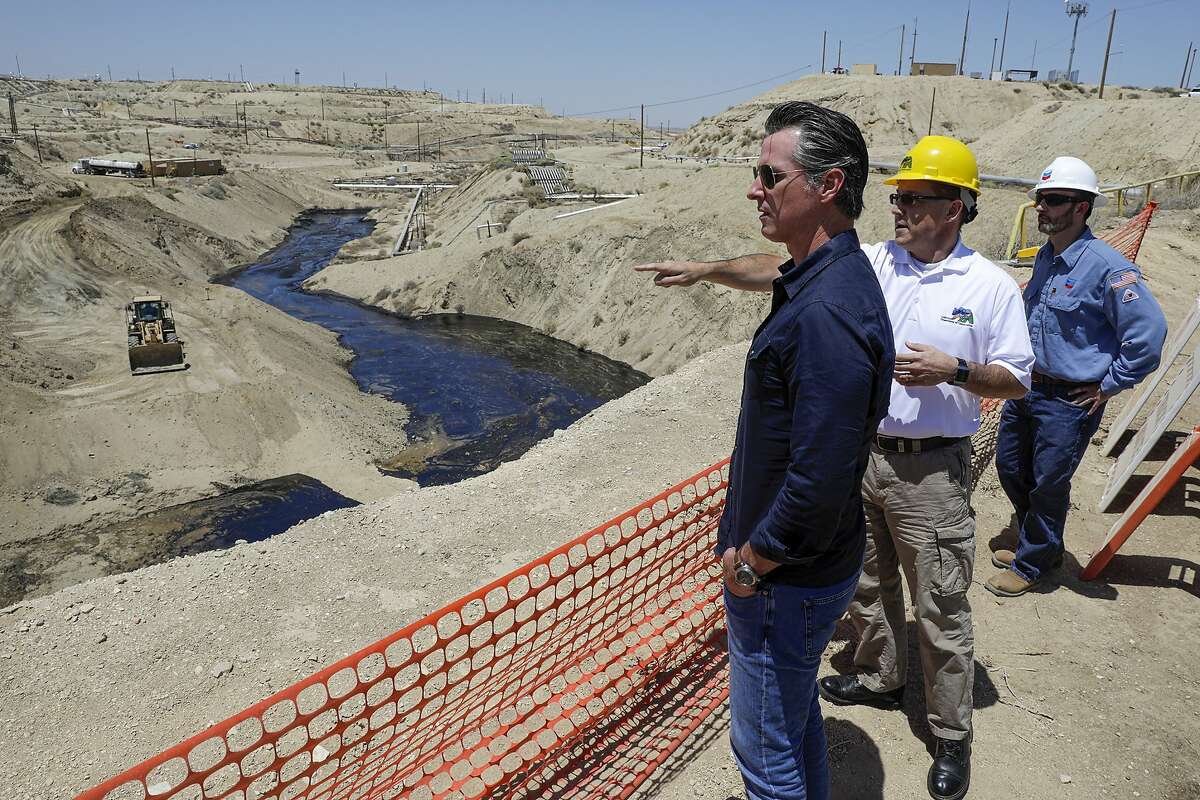 FILE – In this July 24, 2019, file photo, Gov. Gavin Newsom, left, is briefed by Jason Marshall, of the California Department of Conservation, Division of Oil and Gas, center; Billy Lacobie, of Chevron, while touring the Chevron oil field in McKittrick, Calif. Newsom says he is encouraged by Chevron's efforts to clean up what has turned into the state's largest oil spill in decades. California Gov. Newsom moved Wednesday, Sept. 23, 2020 to end issuing new hydraulic fracturing permits by 2024, a delay criticized by many environmental groups but characterized as legally and politically realistic by another. (Irfan Khan/Los Angeles Times via AP, Pool, File)Irfan Khan / Associated Press
SACRAMENTO — Gov. Gavin Newsom is preparing a plan to phase out the oil extraction method known as fracking in California, according to environmentalists who were briefed on the effort.
Newsom is facing pressure to act from environmentalists who oppose fracking, or hydraulic fracturing, after a bill that would have banned it and some other extraction methods died in the Legislature last week.
Several members of environmental groups told The Chronicle on Thursday that they had been notified of an imminent announcement by Newsom to rein in fracking. Politico, citing unidentified environmental, legislative and industry sources, said the governor would ban new fracking permits starting in 2024.
The governor's office said it had no information to share and did not respond to a request for further comment.
Fracking, in which high-pressure liquids are injected into the earth to release oil and gas deposits, accounts for only about 2% of California's oil production, according to the state Department of Conservation. But it's long been a controversial method because of what climate activists see as unacceptable dangers, including the possibility that it can contaminate groundwater.
Several environmentalists said Thursday that they would be disappointed by any fracking measure that does not eliminate new permits well before 2024 and restrict existing operations.
Kassie Siegel, director of the Center for Biological Diversity's Climate Law Institute, said that although she had not been briefed on the plan, she was skeptical of what she'd heard about a potential 2024 timeline.
"A fracking ban is essential," she said. "But we need it now, not years down the line — 2024 doesn't make any sense." Climate Change
Alexandra Nagy, director of Food & Water Watch California, said in a statement that fracking is especially problematic now because operators use large amounts of water, and the state is in a drought.
"Banning new fracking permits three years from now does nothing to help people whose communities are being drilled and fracked today," she said. "Now that the governor finally acknowledges he can take this action, he needs to do it now."
Newsom asked the Legislature last fall to ban fracking, on the same day he said the state would end the sale of new gas-powered cars by 2035.
The governor said he would support legislation to halt new fracking permits by 2024. At the time, he said he could not ban fracking without legislative approval, although many environmentalists disagreed.
Democratic state Sens. Scott Wiener of San Francisco and Monique Limon of Santa Barbara responded by introducing a bill that would have halted new fracking permits next year and gradually prohibited several more common forms of oil extraction by 2035.
Wiener and Limon's legislation, SB467, was met with resistance from the oil industry and labor groups, which said it would eliminate nearly all California oil production and cost thousands of jobs. The bill failed to clear its first committee hearing last week.
Wiener is now considering introducing a pared-down version of the bill that would require 2,500-foot buffer zones between oil wells and homes, schools and other public places. A similar bill stalled in the Legislature last year.
Refer also to:
California SB 467 "End Fracking & Harmful Drilling Act" proposes to ban all new frac'ing and other risky techniques like cyclic steaming, acid fracs, and water and steam flooding by Jan 2022 and completely by 2027. How many companies will sue to try to kill the ban and what will Trump's judges do?
California: Suspected methane leak destroys home in explosion, injures two people inside, seriously damages house next door; Gas levels too high to safely investigate, source unknown: "The methane could be from abandoned oil wells under the home or nearby oil fields"
California temporarily bans new frac'ing and high-pressure steam injection. How many companies will attack the ban with lawsuits & threaten to leave town like cry baby Encana?
Over $19 Billion in retirement savings for teachers, state troopers and public workers lost over last decade by California & Colorado state pension funds investing in fossil fuels.
McKittrick, California: One day after Chevron announced it had finished cleaning up months-long, nearly 1.4 million-gallon leak in Cymric Oil field, another leak started with a second larger one appearing the next day spilling about 84,0000 gallons of oily fluid into a stream bed. Chevron appeals state's $2.7M fine
California regulators still allowing industry to inject toxic oilfield waste into drinking water aquifers, violating Safe Drinking Water Act; Companies will sue if ordered to stop. Alberta regulators break the law too, letting industry frac into drinking water aquifers, AER's law violations even enabled by Canada's top court
California: Chevron's steam injection disaster, oil & wastewater gushing to surface grows more than 500,000 gallons to 1.3 million gallons. "Permits in these legacy oil fields are often given with a wink and a nod."
"Newly revealed" steam injection disaster, this one by Chevron in California. About 800,000 gallons (~3 million liters) oil & water seeped into stream bed, off and on since May. CNRL seemed unable to stop their steam injection caused seep in Alberta, will Chevron be able to stop this one?
Encana/Ovintiv named in 3 lawsuits by 2 California counties and 1 city claiming damages, that Encana and other companies deliberately presented misinformation about climate change and hindered action to address it
California Farmer Blames Fracking Waste Water Injection For Water Quality Issues; Files Lawsuit Against Companies Involved While "Regulator" Enables the Pollution
Bullies! Chevron, Aera Energy Sue to Block Monterey County, California's Voter-Approved Frack Ban; Lakes Oil sues Victoria gov't (Australia) for $2.7 billion in lost future possible profits because of frack ban
Oil and Gas Lobby Fights California Regulators to Keep Injecting Drilling Wastewater into Protected Aquifers
USGS Study: Oil drilling may have caused 1933 California 6.4M Long Beach earthquake that killed about 120 people and caused massive damages. "There may be no upper limit" to the size of earthquakes caused by the oil industry
U.S. judge halts fracking plan for federal lands in California; Fracking's Risks Are Too Obvious to Ignore
Preliminary Hazard Assessment of Chemical Additives Used in Oil and Gas Fields that Reuse Their Produced Water for Agricultural Irrigation in The San Joaquin Valley of California. Technical Report
US EPA Takes Frac Deregulation to the Extreme: California and EPA Poised to Increase Oil and Gas Waste Injection into Protected Aquifers, Even as Need for Safe Groundwater Grows
California: Another new study proving oil and gas companies are fracing freshwater formations: "As many as one of every five oil and gas projects occurs in underground sources of fresh water"
LIFE, DEATH AND CHEMICALS: Welcome to your fruits and vegetables farmed atop California's toxic tar sands, and meet Juan Delgado
New Study: Toxicity of acidization fluids used in California oil exploration raise water contamination and public-safety concerns
California: Carson introduces ban on fracking, acidizing of oil wells, and similar operations
First research links Californian quakes to oil operations. Is that why it took so many decades for such research to be done?
"Abnormally dangerous and ultra hazardous activity." Did TRC or Chevron's fracing kill Robert David Taylor? What happened to California regulators' vows to make steam injections safer? "Safer?" Why not make it "safe?"
Public and Corporate Health Fraud? Where's the regulator? Huge natural gas leak in California has impact of burning 300 million gallons of gasoline, is sickening residents, could take months to fix, class action lawsuit filed
Water Raping Frackers Remain Jail Free. Another Alberta drought-stricken county declares agricultural disaster; California drought regulators fine farmers with historical water rights $1.5 Million for taking water
In California, Big Oil finds water is its most prized commodity. Isn't it everywhere in the world, where there is still some?
Hell Called … They want their 'Salad Dressing' Back: California farmers use oil firms' waste to irrigate food. "There has been a gentleman's agreement to promote deregulation"
Feed benzene, petroleum hydrocarbons, acetone, methylene chloride to your loved ones? In California almonds, artichokes, olives, garlic, broccoli, nectarines, canned tomatoes, celery, apricots, strawberries, cauliflower?
California farmers rely on Chevron's wastewater to irrigate. Some refuse: "I would rather let my trees die" than use Chevron's water. Compare to the Chevron Tapes that allegedly show the company covering up contamination in Ecuador
California: first ever, statewide, mandatory water restrictions "to save water in every way possible" except "the water-intensive industry of enhanced oil production or 'fracking'"
California now says 2,500 wells dumping frac waste into protected aquifers, up from 532 in February. Regulators order oil drillers including Chevron Corp. and Linn Energy LLC to halt operations at 12 injection wells (two were issued cease and desist orders) because they may taint groundwater suitable for drinking and irrigation
Un-Frack CA: Largest anti-fracing demonstration in US history; More than 8,000 demand that California Governor Gerry Brown ban fracking
California authorizes oilfield waste dumping into drinking water aquifers, Governor Jerry Brown, once environmental hero, refusing to ban fracking
Shell May Nix $90M Legal Settlement With Carson, California, Contaminated with Methane and Benzene, Because Gag Order Breached
Federally commissioned report, California Council on Science and Technology: Fracking is at shallower depths than previously realized, "It turns out that they're fracking right around the water table"
Compton California hit with lawsuit by Western States Petroleum Association; Claims that the city doesn't have the right to try and avoid frac pollution
California Halts Injection of Fracking Waste, Warning it May Be Contaminating Aquifers
Santa Cruz becomes first California county to ban fracking in unanimous 5-0 vote
Arvin California: Expert Says Independent Air Sample of Evacuated Home Shows Relatively High Levels of Chemicals Linked to Hydraulic Fracturing
California proposal for state-wide fracking moratorium advances in state Senate
Oil rigs dumping billion of gallons of toxic frac waste off California coast with OK from feds
California farmers ask governor for fracking moratorium to save water
Drought Emergency Declared in California as Residents Urge Halt to Fracking
285 homes in Carson, California contaminated by Shell, experts fear dangerously high levels of methane could cause a massive fireball
Fracking Study Shows California Dangers, Finds Richard Meehan Consulting; Ground Rupture in the Baldwin Hills: Fracking 2012
County sued over denial of oil drilling plan, Excelaron files $6.24 billion lawsuit against San Luis Obispo County California
Mystery of fracking chemicals worries Californians
California Regulators Turn a Blind Eye to Fracking
Toxic chromium found in Chicago drinking water- Detected levels are more than 11 times higher than California's new standard
After Encana/Ovintiv illegally frac'd my community's drinking water aquifers, chromium in my water went up by a factor of 45. Regulator water testing found hexavalent chromium in Rosebud Hamlet monitoring wells, but did not tell any of the impacted residents. I obtained the data by FOIP, went public with it.