Carson introduces a ban on fracking, acidizing of oil wells by Sandy Mazza, March 16, 2016, Daily Breeze
Two years after first considering a ban on aggressive oil well-stimulation methods, Carson has introduced a prohibition on fracking, acidizing and similar operations and will add further oil industry restrictions next month.
The City Council heard from the public Tuesday night before introducing the legislation, which will be ratified at its next meeting. City staff has, since last year, conducted extensive studies, public hearings and a comprehensive overhaul of regulations on the oil and gas industry, which has a strong presence in the industrial suburb.
"It's time for us to take a stand and say what we're going to do," Councilwoman Lula Davis-Holmes said. "We've bent over backwards, met with the oil industry, met with the residents, met with the attorneys. Let's pass this ordinance. It's up to us as the City Council to protect residents. Our residents have been held hostage long enough about fracking."
Beverly Hills banned hydraulic fracturing, or fracking, a process that requires large volumes of water and chemicals directed deep underground to break up shale rock. Other Los Angeles County communities have considered doing so, with several issuing resolutions opposing well-stimulation practices. However, most cities deferred to state law on the issue. The state passed its first fracking regulations two years ago but is still studying the environmental, health and geologic implications.
[Compare: Dr. John Cherry Shale Gas Recommendation: Frack 'n Track Us. Cherry needs to sign his family up first. How'd he like his loved ones to be subjects of a polluted-ass-tracking study living with thousands of fracs & refracs, even into his drinking water supply, for a decade and more?]
"California has not conclusively established whether a city may ban fracking," said City Attorney Sunny Soltani. "They have not explicitly prohibited cities from regulating well-stimulation methods. The entire country, essentially, is dealing with similar issues."
Luis Perez, a project manager for Ventura-based Marine Research Specialists, an environmental consulting firm that helped prepare the ordinance, said the city's geology isn't conducive to fracking. But consultants developed a two-tier approach to ensure it wouldn't occur within city limits.
"Fracking is labor intensive, water intensive and not something someone can do in the dark of night. It's very unlikely fracking will occur in the Los Angeles basin," Perez said, adding that past attempts in Inglewood failed. "A second part of the ban creates operational prohibitions that would ensure no fracking or acidizing takes place by disallowing large volumes of acid and water at the site unless approved by the city manager."
[Daylight Frac Only Reality Check: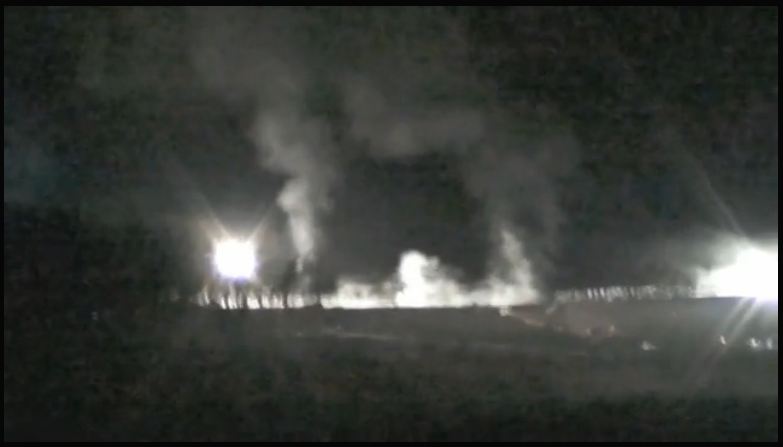 Hold your breath, all night long. Night frac in Rocky View County, Alberta. FrackingCanada Fracking Rocky View County ]
The ordinance limits oil companies from making more than 15 truck trips to a site in a 24-hour period and prevents them from storing large amounts of water and acid, but it gives them recourse to appeal to the city manager for leniency on any of the restrictions. However, council members insisted they be notified if that takes place.
ENERGY GROUP MIGHT SUE OVER ISSUE
Still, an attorney representing pro-industry Californians for Energy Independence threatened to sue if council members went forward with the prohibitions.
"At the end of the day, what you guys are taking on is a symbolic action. But it's a symbolic action that has consequences for the oil and gas industry across Southern California," said attorney Benjamin Hanelin, adding that the city should defer to state regulations on well-stimulation methods because it's such a complicated matter. "A ban on well-stimulation methods is bad public policy. I think it's become evidently clear how difficult this issue is, and I think that's evidenced by the fact that it took two years for the planning commission to get back to you on this. This is sticky, tricky, thorny stuff." [So is watching your children die of cancer]
TOPIC SINCE 2014
City leaders in March 2014 took a united stance against fracking by issuing a temporary moratorium on any and all new drilling operations. At the time, Occidental Petroleum Corp. was seeking city authorization to drill 200 new oil and gas wells. Several council members reversed their votes the following month, lifting the moratorium after heavy political pressure from across the state.
Ultimately, Occidental dropped its proposal in early 2015 when oil prices bottomed out. But, despite the company's attempts to get community buy-in, the process left residents highly distrustful of the oil industry and its political allies.
"We've been a leading city in being brave enough to fight those things that other cities won't fight," said resident Dianne Thomas. "We're going to win this battle. If we are unfrackable, then why are they so concerned about us passing a ban on fracking? We're doing this for the safety and for the health of this community."
… On April 5, the council will consider a complete overhaul of the city's oil and gas regulations. [Emphasis added]
[Refer also to:
2014: Shell May Nix $90M Legal Settlement With Carson, California, Contaminated with Methane and Benzene, Because Gag Order Breached
In 2008, the Los Angeles Regional Water Quality Control Board found that the soil in Carousel was widely contaminated with unhealthy levels on benzene, a known human carcinogen that can cause blood disorders and birth defects. The Board deemed Shell the responsible party, and residents who claimed they had been harmed — either with illnesses or declining property value — sued the company in 2009.
Shell has denied that they are fully responsible for the contamination, saying more blame should be placed on the companies that actually developed the homes (The developers are also being sued by the residents). Nevertheless, after five years of litigation, Shell agreed to pay $90 million to end the lawsuit. It has also been working on a cleanup plan, estimated to cost $146 million, for the last six years.
2014: 5-0 Vote: Carson, California, slaps moratorium on oil drilling over fracking concerns
Carson is no stranger to oil drilling. More than 600 wells have been drilled in the Dominguez field, which has produced more than 270 million barrels of oil since its discovery in 1923. The city also continues to grapple with the cleanup of the Carousel housing tract, where soil tests in 2008 revealed contamination from benzene and petroleum. A local water quality board has ordered Shell Oil to clean up the mess. But city officials frustrated with the pace of the project, last year declared a local emergency in an effort to place more pressure on the company. [Emphasis added]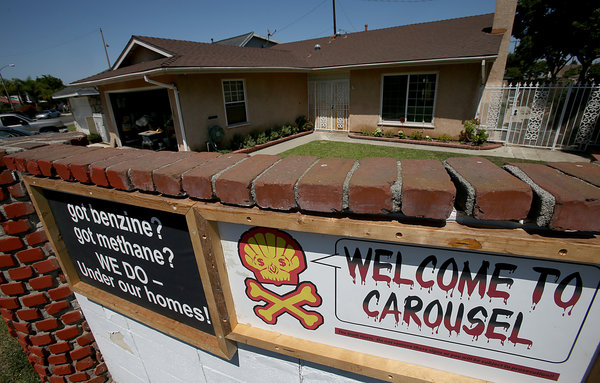 July 23, 2013 Photo by Luis Sinco, Los Angeles Times
2013: 285 homes in Carson, California contaminated by Shell, experts fear dangerously high levels of methane could cause a massive fireball ]