Calmar families asked to leave homes again this summer in effort to staunch methane leak by Sheila Pratt, February 25, 2015, Edmonton Journal
Excellent interview: Ralph Olson talks about an abandoned well next to his home in Calmar that is leaking methane and that Imperial Oil is trying to fix. Video by Bruce Edwards, Edmonton Journal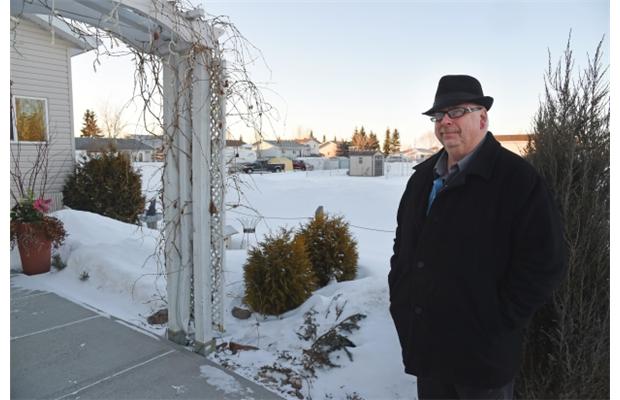 Travis Simeniuk's family is one of 15 who must leave their Calmar homes for three weeks this coming summer as Imperial Oil again tries to plug an old oil well that leaks methane gas.
"It's short-term high inconvenience for long-term gain for the community," Simeniuk said Wednesday. But Imperial Oil needs to find alternate accommodations for his family nearby so he can commute to his job in Edmonton, he added.
The company met with about 15 families who live near the leaking well behind closed doors Wednesday evening.
Clint Blize said the plan Imperial offered at the meeting was similar to an effort in 2013 when he also had to move out for three weeks. While moving is inconvenient, people are just anxious to get the well fixed, he said.
"We just hope it works this time. As long as this goes on, we can't do anything about selling our house," he said.
Company spokesperson Andy Biblow said the planned disruption this summer will be much shorter than two years ago, when five houses adjacent to the well had to be torn down before a drilling rig was brought in to try to staunch the leak.
That attempt to plug the 1950s-era well failed and the company was given permission to vent the methane gas for a year.
The amount of methane produced is equivalent to the gas from seven furnace pilot lights, Imperial says, and poses no risk to health or the environment. [Is Imperial telling the truth?]
A drilling rig will be moved into town in July to make a second attempt to stop the leak. If successful, the town now plans to turn some of the vacant land around the old well head into a park after the requisite two-year wait.
"This time is quite different; it's just the drilling," said Biblow, who declined to give details of the compensation plan for families who must relocate.
Simeniuk said what puzzles him the most is why the town allowed housing to be built so near an old wellhead in the first place. "I would not build a house next to an old well," he said. [New and unconventional wells leak more methane than older and conventional wells]
That also bothers Ralph Olson, who lives 30 metres from the leaking wellhead and who lived through the noisy, dusty summer of 2013 as houses next door were torn down.
"My house has lost $75,000 in value and Calmar put our taxes up — it's the worst experience of my life," said Olson, who worked in the oilpatch before starting his own business.
But his neighbour Glen Carter said he's not upset about the leaking well. "I'm not worried about it; it will get fixed," said the longtime oilpatch worker. Imperial already plugged two other leaking wells in Calmar, one near the school and another near a park. [Did they really? And if they did, how long will the patchwork last? Emphasis added]
Imperial Oil to resume drilling in Calmar to end methane leak by Sheila Pratt, January 27, 2015, Edmonton Journal
About 15 Calmar families will be moved temporarily this summer when Imperial Oil brings a drilling rig into town in a second attempt to plug an old oil well leaking methane.
Imperial announced it will start preparations in mid-June and move, for three weeks, any families within 50 metres of the wellhead when drilling starts, company spokeswoman Kelly Killeen said. [What about all the families, within 50-100 metres? Regs in Alberta say no oil and gas well drilling within 100 metres of homes, buildings, water wells.]
"Our primary objective with this project is to protect public health and safety, and to minimize inconvenience to residents as best we can," Killeen said.
For Ralph Olson, it will be "another noisy, disruptive summer." Olson lives next to the old well site on Evergreen Crescent in the middle of town. He has already been through one disruptive summer in 2013 when the company demolished five homes near his as part its first attempt to plug the leak.
At that time, the company brought a rig into town, drilled down a kilometre, scraped out the well and pumped down cement to plug the leak.
But that effort was unsuccessful as the well continued to vent even greater amounts of methane into the atmosphere.
"The noise, all that heavy equipment moving, the back- up beeping, the 24-hour generator noise, it's going to be noisy all summer," Olson said.
After discussions with the Alberta Energy Regulator, the company decided to go back into the well this summer, says a letter sent this week to residents. Imperial provided few details and will work out plans with residents. "Imperial is in ongoing discussions with residents and relocation plans are being developed as part of those discussions," Killeen said.
The company will likely have to drill through the cement down to the leak.
The leaking well on Evergreen Crescent was discovered by Imperial in 2008, about six months after Olson moved into his home in the newly approved subdivision. Imperial plugged two other leaking wells in Calmar, one near the school and another near a park.
Imperial says the leaking methane poses no threat to people's health or the environments. About 2.3 cubic metres a day now bubbles out of the well.
Olson said he was told that volume of gas going into the atmosphere is about the same as what is burned by seven pilot lights on a furnaces. [Efficient furnaces don't have pilot lights, and pilot lights can be turned off.  Leaking energy well can't]
The Alberta regulator requires old wells that are abandoned to be "incapable of flow." [What about water wells leaking methane and other gases after Encana frac'd the aquifer that supplies them?] The seal must hold for two years before being certified.
"Imperial is in ongoing discussions with residents and relocation plans are being developed as part of those discussions," Killeen said. The residents meeting will be held February 25 at 6:30 p.m.at the Royal Canadian Legion Hall in Calmar. [Emphasis added]
Water trumps gas every time by Edmonton Journal Editorial Board, December 11, 2014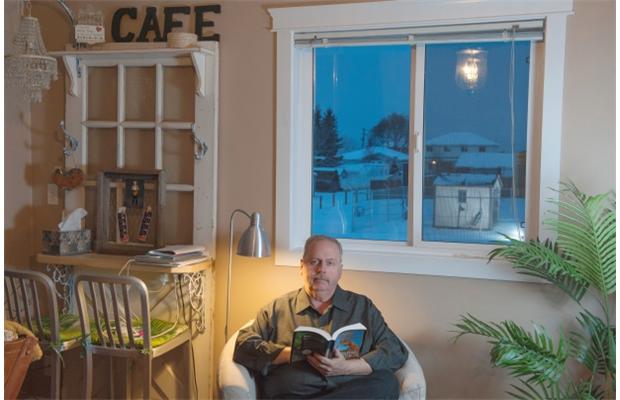 Six months after Ralph Olson moved into a quiet cul-de-sac in the small community of Calmar, a neighbour discovered an abandoned gas well in her backyard. The capped well is now housed in a shed and five homes were torn down for reclamation. The shed is clearly visible from Olson's dining room window. Photograph by Shaughn Butts, Edmonton Journal
Just as vacationers bank on the promise that "What happens in Vegas, stays in Vegas," it would be nice to think what happens underground in Alberta's oil and gas sector stays underground — to believe that years of drilling and fracking could proceed consequence-free.
Albertans know better.
Hundreds of thousands of wells have been drilled across Canada over the years. Sometimes things go wrong, even years after these wells are theoretically sealed off, as detailed this week in a three-part Postmedia series. Gases such as methane can unexpectedly leak into the air; those same gases, along with chemicals used in the oil extraction process, can move in unexpected ways underground.
Even attempts to repair problem wells can go wrong. Witness Calmar, southwest of Edmonton, where an abandoned well in a residential subdivision was found to be leaking methane in 2008 and is now in even worse shape, despite millions of dollars and diligent efforts by Imperial Oil.
Complicating the issue is the fact wells come in a variety of forms. There are conventional oil wells, wells drilled for fracking for natural gas, and wells sunk to inject steam and extract bitumen. Then there's the question of what happens when you put more steam pressure into old oilfields, where wells have been closed off.
Plus, Alberta's geology is varied.
That is precisely why this country, and this province, must invest more into research and monitoring. Though most wells are drilled and decommissioned without issue, there is much we don't understand about why things can go wrong. Take the example of a 2012 "communication" incident near Innisfail, where fracking fluids pumped down one well spewed back up a neighbouring well.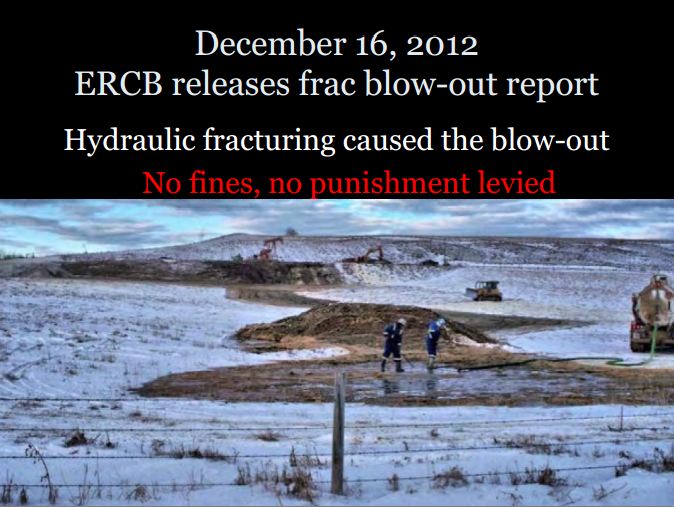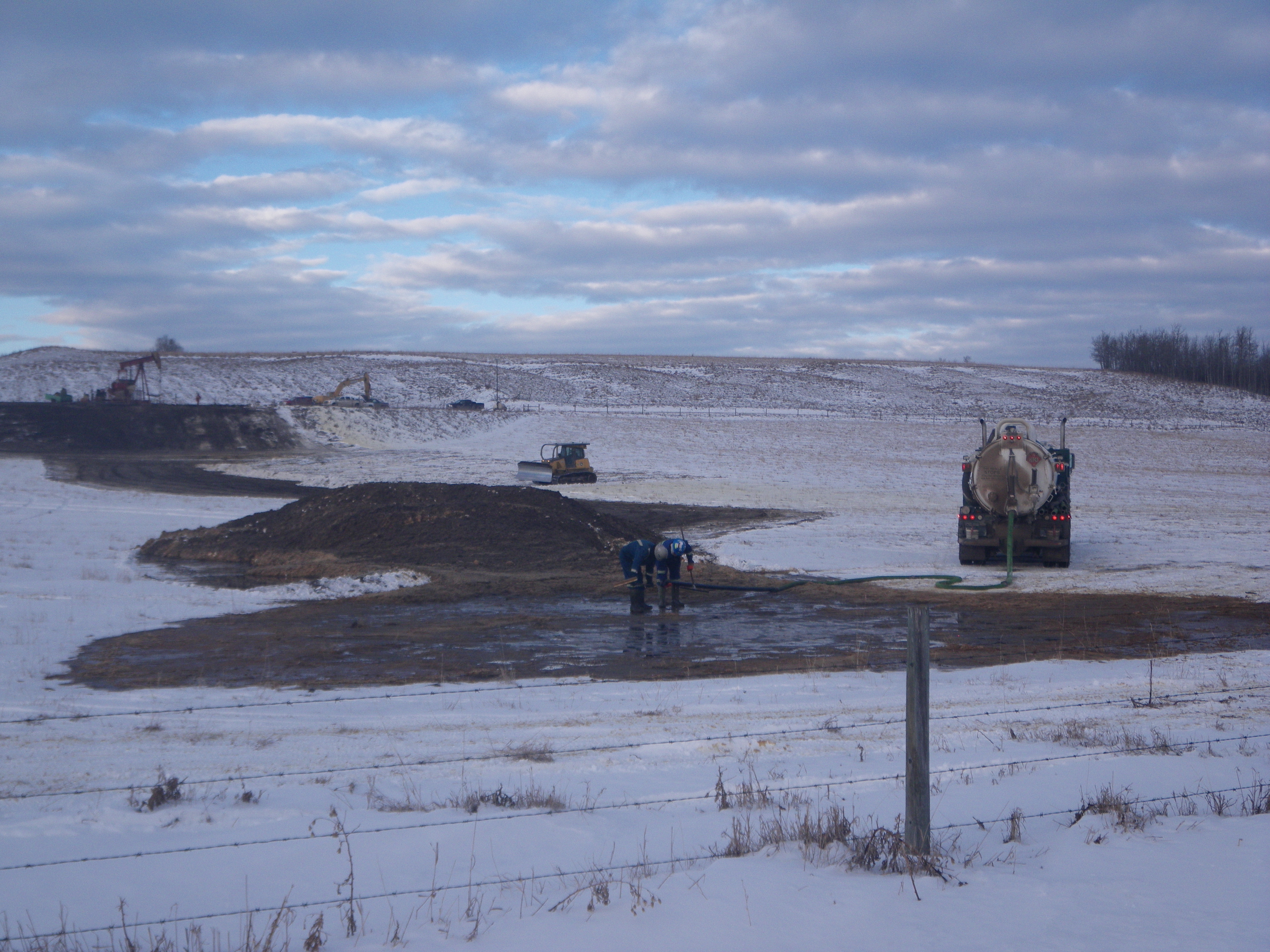 Slide from Ernst presentations, photos of the Innisfail frac hit by Alberta Surface Rights Group
As fracking and drilling activities expand, there is a growing responsibility on governments to be good environmental stewards and guardians of public health. Accurate, comprehensive data can only lead to more informed decisions. That means the public needs to know what chemical cocktail is being pumped underground.
The province would also be unwise to ignore the judicial equivalent of a warning shot delivered in November. A Court of Queen's Bench judge ruled that government departments like Alberta Environment can be sued by individual landowners if there is the possibility of negligence by that agency.
A study published this week in the Proceedings of the National Academy of Sciences by Princeton University researchers detailed how a study of 19 abandoned wells in northwestern Pennsylvania selected at random found that all were leaking at least some methane, one of the worst contributors to the greenhouse gas effect. They also noted that 15 per cent of those wells emitted gas at a rate thousands of times greater than the lower-level wells.
The study estimates abandoned wells are a sizable contributor to that state's methane emissions, something that should not be ignored.
Is Alberta conducting such research? It should.
Important questions about groundwater also must be addressed. While the province relies heavily now on glacier-fed rivers for its water needs, groundwater will become increasingly important as glaciers shrink or even disappear.
Alberta must map the groundwater to determine if some places ought to be protected from drilling.
The energy industry is the engine of the provincial economy — all the more reason to ensure it's developed in a sustainable, responsible way.
Returning to our Sin City analogy, there is always a price to pay for overindulging that shows up as a hit to the wallet, a pang of remorse or even a hangover. Governments, with industry and scientists, must give sober thought to the consequences of leaking wells.
Editorials are the consensus opinion of the Journal's editorial board, comprising Margo Goodhand, Kathy Kerr, Karen Booth, Sarah O'Donnell and David Evans. [Emphasis added
[Refer also to: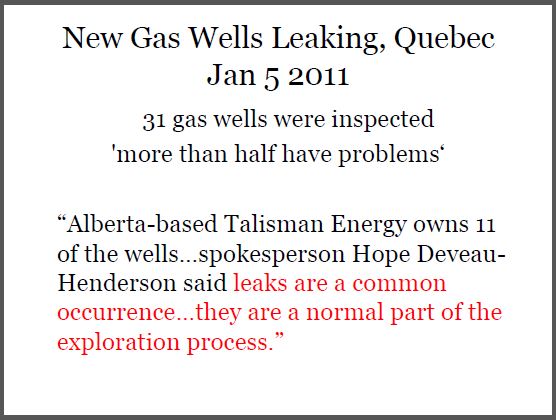 The companies were ordered to fix the leaks, they tried, all failed 
2014 12: Trouble Beneath Our Feet: Leaking Energy Wells a Burning Issue; Big problem, Expensive to Fix, Impossible to Completely Stop
2014 08: Gas Minister's Leaky Well Comments 'Ignorant,' Scientist Says
Cornell engineer takes issue with Coleman's claim that BC is leak-free
2014 07: Are Suspended/Abandoned Oilfield Wells Dangerous? Oil Field Worker Critical After Being Burned in Robertson County Explosion
2014 06: Canada's 500,000 Leaky Energy Wells: 'Threat to Public'
Badly sealed oil and gas wellbores leak emissions barely monitored, experts find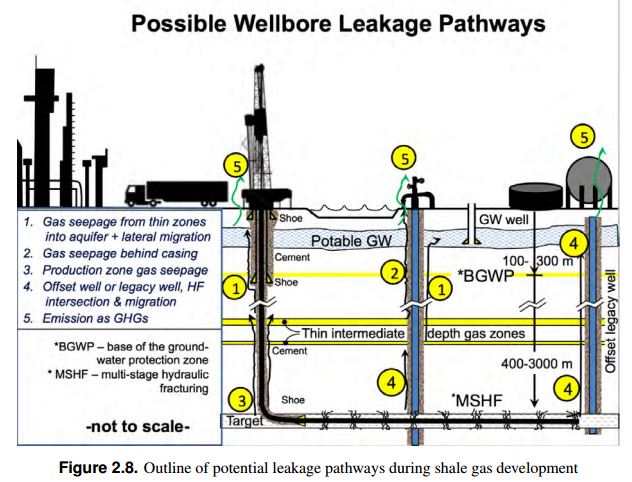 Five ways gas wellbores can leak. Source: "Towards a Road Map for Mitigating the Rates and Occurrences of Long-Term Wellbore Leakage."
2014 06: Two-tiered Alberta: Urban, but not rural, home owners and businesses get inspections and protections from leaking abandoned energy wells and stratigraphic test holes: St. Albert residents sitting on abandoned oil and gas wells
2014 05: Shale Gas Plagued By Unusual Methane Leaks, Scientists investigate high levels of damaging gas released in fracked areas
2014 06: Abandoned Oil Wells Spouting Significant Levels of Methane: Study
Princeton researcher measures leaks that risk groundwater, and increasingly the climate
2014 05: 'Natural Gas Is a Bridge to Nowhere': Cornell Methane Expert, Much-hyped industry in BC plagued by leaks of potent warmer
2014 03: Leak in 100 year old shallow natural gas well caused serious methane migration into Waynesburg Medical Center; Methane build-up rendered the center uninhabitable!
2013 08: Imperial Oil shown the door in dispute with Bilozers over contaminated land between Calmar and Devon
2011 12: Fracking Contamination 'Will Get Worse': Alberta Expert, Tighter regulations to protect groundwater needed, says U of Alberta geochemist
Muehlenbachs, who has been fingerprinting leaking gases since 1994, says that hydraulic fracking, which injects water, chemicals and sand into rock formations at high pressures, may create more leaks in wellbores overtime. (As industry searches for deeper and more extreme hydrocarbons, it must blast open tight rocks with more brute force over larger land bases than conventional operations.)
"They'll frack each well up to 20 times. Each time the pressure will shudder and bang the pipes in the wellbore. The cement is hard and the steel is soft. If you do it all the time you are going to break bonds and cause leaks. It's a real major issue. "
…
Asked if Alberta's oil patch regulator or B.C.'s Oil and Gas Commission had approached one of the world's leading experts on how to fingerprint leaking gases from gas formations, Muehlenbachs replied quickly.
"No," said Muehlenbachs. "No one pays any attention to me. The Alberta regulators are only interested in optimizing production."
2012 11: Anthony Ingraffea: Fluid Migration mechanisms due to faulty well design and / or construction
2012 11: Mountain View County will inform residents about new abandoned energy well rules
2011 10 Province may change well abandoned well setback rules
2011 07: Calmar residents know the drill as company works to cap abandoned well
2011 04: Calmar Homeowners Suing Town of Calmar and Aztec Home Sales Inc over Leaking Wells
2011 04: Imperial Oil leaking natural gas wells a nightmare for homeowners near Edmonton
2010 12: Crying foul over Calmar gas well, Calmar residents upset about lack of compensation, loss of property values
2010 06: Alberta Premier Ed Stelmach demands answers to why Calmar homes put in danger and built over abandoned gas well
2010 10: Leaking gas well forces families out in Calmar neighbourhood
2005 01: Investigators say an accumulation of gases appears to have caused the explosion that destroyed the Rosebud water tower and sent a Wheatland County employee to hospital
2005 01: EnCana Corporation Site Investigation Report by Hydrogeological Consultants Ltd.
The 2005 report by HCL (scan of a large file, takes time to load) shows Encana injected 18 million litres of nitrogen based frac fluid directly into Rosebud's drinking water aquifers. In total, more than 70 million litres were injected into Encana's 5-14 gas well under high pressure.
After data collected by HCL indicated Encana had contaminated Rosebud area water wells, Encana cemented shut the 5-14 well shut (it seems to prevent monitoring and data collection on the illegal gas well), which would make the nitrogen and methane migration problem much worse.
On Page 22 of their report, HCL dismissed the high nitrogen levels in Rosebud drinking water, by claiming it "is similar to the nitrogen concentration of a gas sample from a water well completed in the upper part of the Horseshoe Canyon Formation southwest of Calmar, Alberta."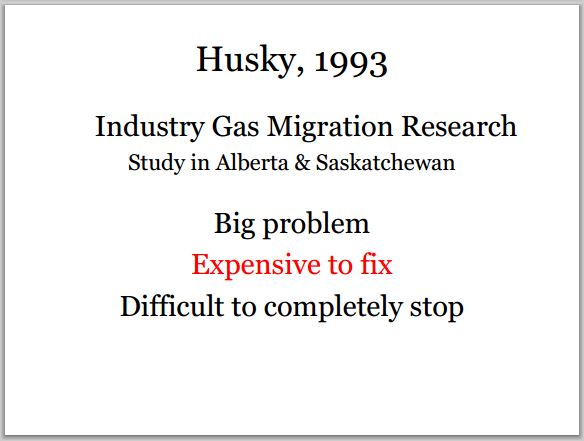 Slide from Ernst presentations
Source: 1993 Husky Oil's Gas Migration Research Update in FrackingCanada The Science is Deafening Industry's Gas Migration