Canada's energy regulators get tougher, but it's for all the wrong reasons by Claudia Cattaneo, September 3, 2015, Financial Post
The Alberta Energy Regulator (AER) forced Nexen this week to wind down operations of the $6-billion Long Lake oilsands project.
By ordering the shutdown of almost 100 Nexen Energy ULC Alberta pipelines last week, the Alberta Energy Regulator (AER) forced the company, the wholly owned Canadian unit of China's CNOOC Ltd., to wind down operations of the $6-billion Long Lake oilsands project.
The process is ongoing and will take two weeks to complete. It's uncertain how long the operation will be offline and how long it will take to resume production.
But it won't be like flicking a switch and the cost will be extensive. Long Lake is a steam-assisted gravity drainage project integrated with an onsite upgrader that was producing around 50,000 barrels a day. Based on oil at U$50 a barrel, Nexen stands to lose in the range of $17.5 million in revenue every week.
Two weeks ago, the National Energy Board (NEB) delayed a month-or-so of final arguments on the proposed Trans Mountain pipeline expansion after discovering that a consultant it hired, Steven Kelly, had provided evidence nearly two years ago in support of the Kinder Morgan Canada Inc. project. The company had to hire a new consulting firm, Muse Stancil, to replace the evidence, resulting in delay.
Meanwhile, Enbridge Inc.'s Line 9B reversal and Line 9 expansion to move Western Canadian crude to Ontario and Quebec that were supposed to be up and running late last year are still trying to meet NEB requirements.
"We are in the midst of NEB-directed hydrostatic testing of three line segments (which is going well) and expect to be able to submit the results of that testing to the regulator before the end of the year," said Enbridge spokesman Graham White. "They will then have to assess and let us know any next steps."
The examples highlight how Canada's energy regulators are getting tougher in response to a perceived loss of public confidence in their [abusive, No Duty of Care, legally immune, Charter violating?] oversight, court challenges of their decisions and political pressures.
That's on top of project proponents going overboard on their own to win approvals — thousands of meetings with stakeholders, major project changes, big cash on the table to win [bribe? con?] support.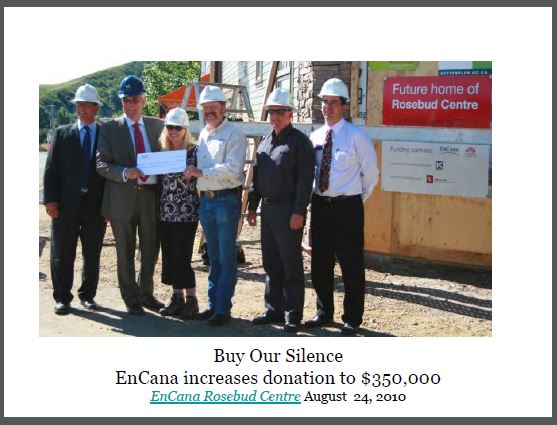 Enbridge, for example, offered to aboriginals along the right of way of the proposed Northern Gateway pipeline up to half the equity, so far with no success. TransCanada's application to the NEB for its Energy East pipeline project took 18 months of planning and 30,000 pages. The Trans Mountain project team conducted 159 open houses, consulted with thousands of people and had 24,000 "points of engagement" with aboriginal communities. Malaysia's Petronas offered $1.14 billion in benefits in May in exchange for consent to build its LNG project, which, as it turned out, wasn't good enough. [Perhaps the people don't want mega billions in health impacts, wildlife and fish disease and deaths, pollution, destruction including fires and explosions, spills, lies, empty promises, smearing belittling and shaming, bullying, noise and more noise, liabilities and cancers in exchange for the puny bribe?]
Imagine what that money could buy. [Imagine what the endless oil and gas industry liabilities and pollution will cost that shareholders, companies, subcontractors, politicians, and regulators will refuse to be held accountable for!]
Yet there is little objective evidence that Canada's regulatory system has failed or needs to be tougher.
[Reality Check: 
"There could be millions or billions of dollars worth of damages," argued [Alberta] Crown counsel Neil Boyle.
"Ernst next heads to the Supreme Court of Canada to overturn the regulator's heavy-handed decision to ban her from further communication. We hope she wins that one, too." ]
Energy installations, some decades old, work day in and day out without incident. 
[Reality Check:
Nexen Pipeline Spill: Where are apologies from Encana, Alberta government, AER for lying, covering-up Encana secretly fracing Rosbud's drinking water aquifers, continuing to lie while children were being burned by the water after the community's water tower exploded?
What's AER Chair, Ex-Encana-VP Protti going to fine Encana for fracing Alberta drinking water supplies? $16K fine for Apache pipeline spill not even a slap on wrist; Why is AER suddenly spurred into waving? Trying to look like a regulator?
2013 05 22: Crude Awakening: 37 years of oil spills in Alberta
Alberta's had an average of two crude oil spills a day, every day for the past 37 years.
That makes 28,666 crude oil spills in total, plus another 31,453 spills of just about any other substance you can think of putting in a pipeline – from salt water to liquid petroleum.
It sounds like a lot. And it isn't a number the provincial government throws around often. …
The [AER] database provides a granular portrait of mishaps involving the oil in oil country.
But maybe more telling is what it doesn't include: The regulatory body's database is messy and missing data in many places; it doesn't include any spills from some of the biggest pipelines – those crossing provincial or national borders. These fall under National Energy Board jurisdiction. For the 53 per cent of spills from somewhere other than a pipeline, such as oil wells and pumping stations, anything under 2 cubic metres (2,000 litres, or about twelve and a half barrels) doesn't get counted. [Emphasis added]
Pipeline spills are not the exception in Alberta, they are an oily reality, Since 2006, province's pipelines have spilled the equivalent of almost 28 million litres of oil
Alberta report commissioned by ERCB (now AER) reviewed pipeline rules, not leaks; Review finds "best in class" pipeline rules not strong enough to protect water
Plains Midstream pleads guilty, fined $1.3 million for two Alberta pipeline spills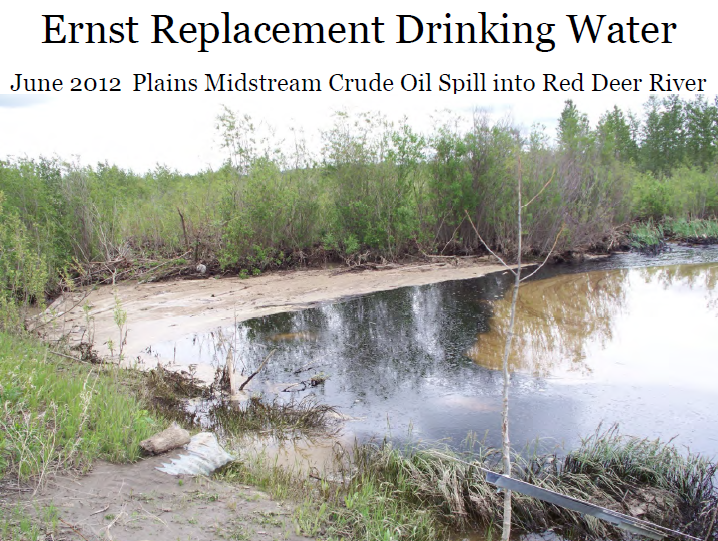 Alberta Health Services Warning: Drinking water contamination in Kneehill County: Toxic Selenium and Uranium found in private water wells; Metals testing not mandatory before fracing, waste dumping and injection, not even when companies frac into drinking water aquifers
Hydraulic fracturing with gelled propane by Gasfrac/Crew Energy Inc./Caltex Energy Inc. contaminated groundwater near Grande Prairie: ERCB Investigative Report and groundwater monitoring by Alberta Environment
Hydraulic Fracturing in Canada, Federal Environment Commissioner Scott Vaughan Reports Concerns, List of Fracking Substances in Canada Still Secret
Why was a 2012 Health Canada Report, admitting significant health hazards and risks to groundwater and air from hydraulic fracturing, kept from the public?
Harper government cutting more than $100 million and about 500 jobs related to protection of water
Cumulative frac harms: Who's looking? Canada Water Network? Synergy group extraordinaire with Alberta Government Bev Yee on the Board who helped cover-up Encana fracing Rosebud's drinking water aquifers?
Alberta regulator investigates another CNRL well leak in troubled leaking Primrose field; Cenovus spills 1300 gallons of drilling fluids at Cold Lake
CNRL $68 Million Primrose "Down-and-dirty" Lawsuit. "No-one needs an excuse to bad mouth the Regulator, they hand out opportunities."
Apache spills another 1.8 million litres of toxic wastewater near Zama, Third Apache pipeline leak discovered in northern Alberta
More than 75 Alberta environmental regulators now paid by energy industry
When 2 wells meet, spills can often follow
Enbridge pumping station spills 230,000 litres of heavy crude northeast of Edmonton
Alberta residents angry after oil spills into nearby lake, Premier Alison Redford promises a full investigation
2007: Alberta oil spills, blowouts double in past year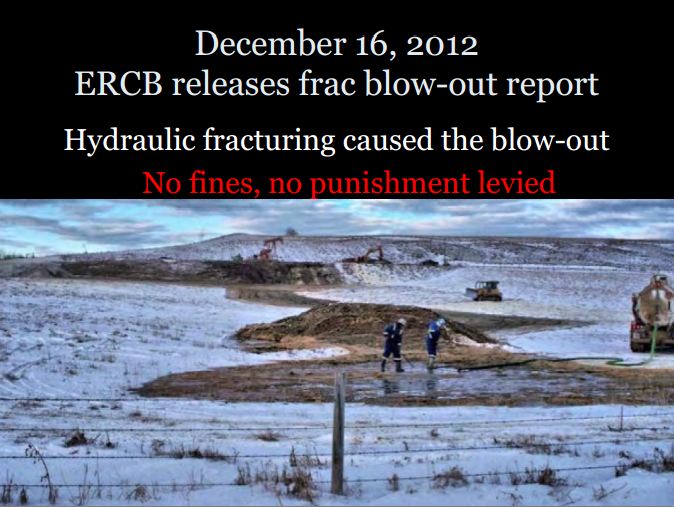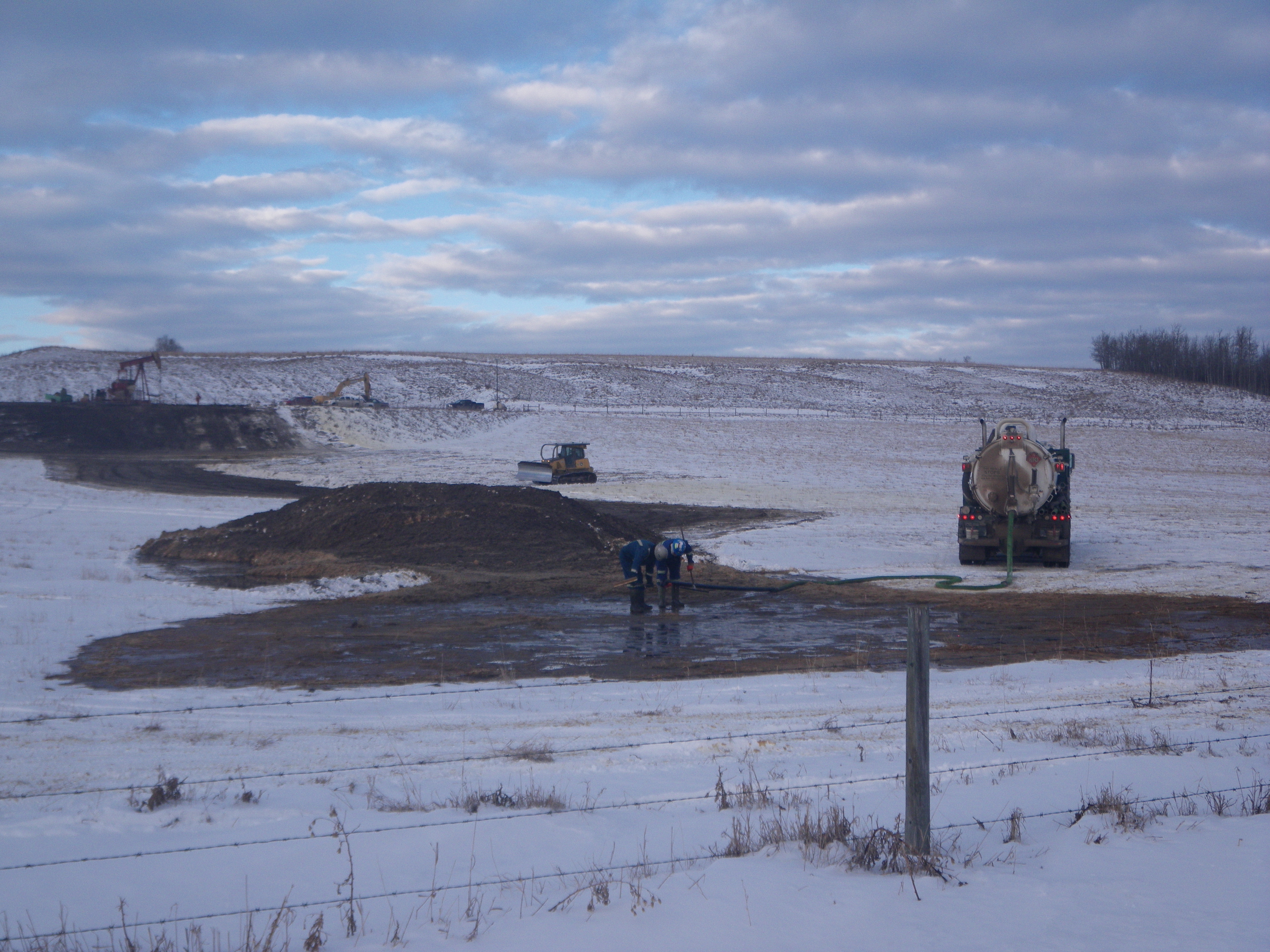 "No duty of care," legally immune, Charter violating Alberta Energy Regulator (AER) may order vertical compulsory pooling; "communication between…separate pools having…different ownership had been induced by hydraulic fracture stimulation"
Alberta Energy "Regulator" allowing more than 22,100 oil and gas wells to violate the rules for years. What other law violations is the AER allowing?
SPECIAL REPORT: Sour gas from oil wells a deadly problem in southeast Saskatchewan, Human and animal deaths linked to hydrogen sulphide emissions
Canada's National Pollutant Release Inventory [NPRI] Oil and Gas Sector Review; Chemicals injected and fugitive or venting emissions (e.g. H2S) by oil and gas industry exempt from reporting
AER, Alberta's new energy regulator seeks the world's trust, as Alberta's caprock is frac'd "to Hell"
Alberta Environment: Cold Lake frac'd bitumen leak has contaminated groundwater
Fracing the Caprock to Hell: Athabasca Chipewyan Knew that Cracked Caprock Could Cause Bitumen Leaks in Cold Lake – Canadian Natural Resources Ltd. Finally Agrees
The AER caves again: Modified Primrose steaming plan approved, Regulator approves limited resumption at Canadian Natural operations despite serious bitumen leaks to surface
Alberta's Energy Regulator (AER) continues to deregulate, more 100% industry funded deregulation to come
Lawsuit filed by Rick Bilozer accuses Imperial Oil of contaminating family's farm between Devon and Calmar
Alberta Government, regulators, health agency and company silent for years as groundwater contamination spreads and families poisoned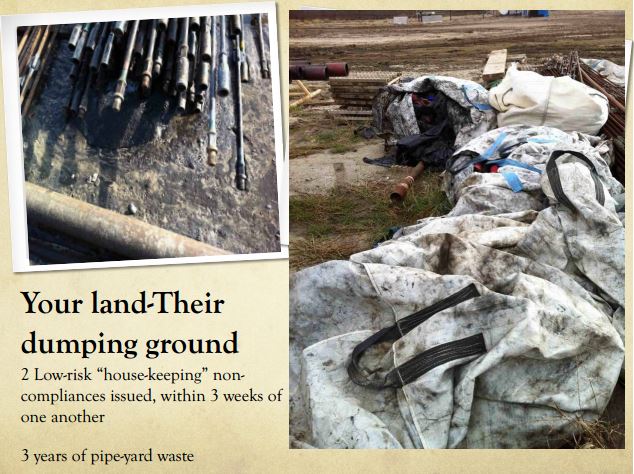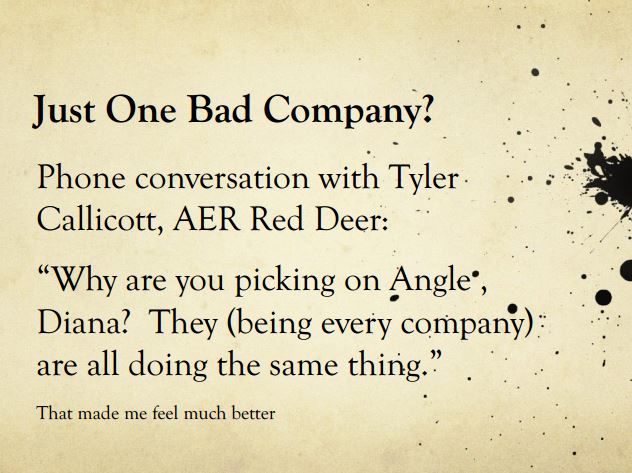 Slides from Diana Daunheimer presentations
etc.
etc.
etc.
Reality Check list would take months to complete.]
Other countries hold up our regulators as models to emulate. [All the better to frac, spill, pollute and harm health and home with?]
In a presentation to the Alberta government, senior oil and gas company Canadian Natural Resources Ltd. said Australian engineering firm Worley Parsons completed a study last year that compared the regulatory stringency, transparency and compliance of 10 leading oil and gas countries or regions.
"The study shows that Alberta has a world-class regulatory framework and is a leading jurisdiction," the company said. [So. What does "world-class" and "leading" mean? Best in Spilling? Jurisdiction with most daily toxic spills? Best in Polluting Class? Best in Allowing and Covering-up Health Harm? "World-class" can mean anything enabling regulators, polluters and politicians want it to mean, including deregulating to allow harm and pollution without accountability or truth, while enhancing private profit and escape from legal liabilities and decimation of the public interest.]
Industry has no choice but to take regulators very seriously. The order that led to the shut down of Long Lake was actually the result of Nexen flagging on its own to the regulator that it had discovered a number of problems, primarily related to documentation of maintenance activities. The company even proposed an action plan.
"We consider regulatory compliance to be of the utmost importance in our operations, and Nexen is committed to continuous improvement and cooperation with the AER," spokesperson Diane Kossman said in a statement.
The Long Lake shutdown followed the Aug. 28 suspension of 15 licenses for 95 pipelines, as the AER continues to investigate a pipeline spill July 15 that leaked 31,500 barrels of a mixture of bitumen, produced water and sand.
For all the toughness, results are hard to measure.
What we do know is that costly and unpredictable regulatory reviews make Canada even less attractive as a place to be in the energy business, and it's not gone unnoticed.
As international energy consulting firm, IHS CERA, noted in a July report on the oilsands: "Over the past decade, the oilsands have been subject to increasing environmental concerns and scrutiny… This has contributed to new regulations, greater oversight by governments, and lengthier regulatory review of new projects. Overall this has translated into additional costs for the industry as well as uncertainty regarding further regulation."
The upside? At a time of distrust for all institutions, no oil industry clampdown will ever be good enough. [Emphasis added]
An excellent and much more honest report on the AER and industry's endless harms the regulators and politicians allow companies to get away with:
Diana Daunheimer • 14 minutes ago
First and foremost Ms. Cattaneo, the AER has done nothing in the Nexen situation. The spill was discovered and disclosed by Nexen. Deficiencies in pipeline maintenance and documentation were also self-disclosed. The shut-down was voluntary and not "forced" by the AER and an "action plan" is an automatic response to any high-risk enforcement levy. The AER has prepared some press releases and sent staff to stand around and gawk at the mess, that is the total of their contribution.
Why is it the FP will let writers skewer the truth so ruthlessly?
Why no mention that the AER has also paid U of Penn State Law Department approximately 2 million dollars to write a glowing report on how the AER is "best-in-class"? Why no mention of all the other "objective evidence", such as the over 870 other documented incidents and 55 investigations, since late June of 2013, that anyone can review on the Compliance dashboard on the AER website, which would include Plains Midstream pipeline rupture, the South Rosevear acid gas migration and subsequent sulfolane contamination of groundwater and water wells, CNRL Primrose flow to surface events, the Keyera Simonette line contamination with sour gas, the Crew Energy frac fluid aquifer contamination, the Syncrude fire that spilled liquid amine, the list is so long. How could a journalist miss such obvious evidence?
On the home front here, we have reams of confirmation that the AER is failing regulatory protocols, spectacularly, complete with a recording of AER inspector, Neil Berry, stating it is a companies "discretion" and "prerogative" to follow mandated directives. The AER has refused to provide and knowinlgy permitted companies to violate providing mandated on and off site air quality testing for energy resource projects, refused to send our family proper public notifications for an adjacent well site, condoned local companies refusing to provide emergency response plans when requested, falsified a technical report on our family, altered inspections to create compliance and consistently employ the tactic of outright ignoring requests and correspondence, very effectively preventing any and all remediation or action. Industry actually has every choice to not to take the regulator seriously because the regulator does not even take themselves seriously.
Readers and landowners must understand the AER has no public interest mandate. Although they advertise that time and time again, there is no wording in the Responsible Energy and Development Act to support this fraudulent claim. And if the AER fails their regulatory requirements, they are not liable, as written into REDA. The AER has created perfect system for energy totalitarianism, by design, with the former VP of Encana and the creator of CAPP, Gerald Protti at the helm.
Taking anything Ms. Cattaneo has to write on this subject at face value is irresponsible, as she is incredibly blinkered on the matter, like the AER, the coffers of the FP have direct ties to the industry. There are very valid reasonings for all the distrust. When will integrity, accuracy and equality return to the forum of modern journalism? [Emphasis added]