SNC-Lavalin (Gwyn Morgan Chairman SNC Lavalin and Director of Encana, was CEO when the company intentionally and illegally frac'd Rosebud's drinking water aquifers) paid $160-million in Libyan bribes, RCMP says
2013: Legal counsel for SNC Lavalin chairman Gwyn Morgan, issues cease and desist letter to website bearing the same name"
Gwyn Morgan This excellent website is no longer, unfortunately. The banner at www.gwynmorgan.ca in 2013 before Morgan's lawyers at Bennet Jones demanded its removal:

Click for background on the banner. "The devil is in the details – an unofficial compilation of news stories relating to Gwyn Morgan (and the Fraser Institute by association)" including much information on the SNC Lavalin file.
POETIC JUSTICE Minority Interests: A poem about Ex-Encana CEO Gwyn Morgan
2006 05 20: POETIC JUSTICE Minority Interests by John Allemang, The Globe and Mail [Now why is this wonderful poem no longer on the Globe site?]
News item: Commons committee rejects former oil-and-gas executive Gwyn Morgan for a federal position after questioning remarks he made about violence among Jamaican and Asian immigrants.
Forgive our best-loved CEO
Whose best-laid plans were soon laid low
By MPs who smelled some disgrace
In his home truths on crime and race.
Gwyn Morgan knows of what he speaks:
Vacations that can last for weeks
Show smart men all the skills you lack
When you're a poor, Jamaican black.
And if you're Asian, so much worse:
While you live off the public purse,
And claim to be a refugee
(Though business titans clearly see
Their empires threatened by your knives),
Right-thinking white men give their lives
To fear-filled warnings we won't hear,
Not even for a buck a year.
The wisdom gained from piping gas
Should give you licence to kick ass,
And help root out each off-white foe
Who might dilute your status quo.
How can they term your rants uncouth?
When you've been gifted with the truth,
You have to call a spade a spade
And show that you are unafraid
To tell the Fraser Institute:
"Beware the man who shuns a suit."
Tough talk's your thing, you always say,
Which makes it strange you ran away
When all those PC nags you hate
Declined to let you set us straight —
So different from the glowing raves
You're used to from your workplace slaves.
PRIME MINISTER HARPER NOMINATES FIRST CHAIRPERSON OF THE PUBLIC APPOINTMENTS COMMISSION April 21, 2006, Prime Minister of Canada
Prime Minister Stephen Harper was pleased to announce today the nomination of Gwyn Morgan as the first Chairperson of the new Public Appointments Commission. This proposed appointment will be referred to the Standing Committee of the House of Commons on Government Operations and Estimates for review. The Government of Canada looks forward to receiving the results of the Committee's review as soon as possible.
"Gwyn Morgan is an outstanding Canadian and, throughout his career, has been a champion of transparency and ethics in the private and public sectors," stated the Prime Minister. "I am delighted that he has accepted this new challenge that will lead to more open, honest and accountable government for Canadians. And, he has agreed to do it for $1 a year."
Gwyn Morgan, from Calgary, Alberta, has led the building of one of the world's leading oil and gas companies and Canada's largest energy company, EnCana Corporation. Mr. Morgan was President and Chief Executive Officer of EnCana from 2002 until stepping down on January 1, 2006. Mr. Morgan is counted among Canada's most respected business leaders and his accomplishments have been recognized through numerous awards and honorary distinctions, including being named Canada's most respected CEO in 2005 in a survey conducted by Ipsos Reid.
The mandate of the Public Appointments Commission is to oversee and report on the selection process for Governor in Council appointments to agencies, boards, commissions and Crown corporations. The Commission will develop guidelines, review and approve the selection processes proposed by Ministers to fill vacancies within their portfolios, and report publicly on the Government's compliance with the guidelines.
"By establishing the Public Appointments Commission, the Government is implementing a key component of its overall plan to strengthen accountability in government as outlined in the Federal Accountability Act," stated the Prime Minister. "The Commission will provide the necessary oversight to ensure that the selection of individuals is based on merit and is done in an open and transparent way."
The Public Appointments Commission is provided for in the Federal Accountability Act which was tabled in the House of Commons on April 11th, 2006.
* * * * *
PUBLIC APPOINTMENTS COMMISSION
The mandate of the Public Appointments Commission is to oversee and report on the selection process for Governor in Council appointments. The Commission will ensure that competitions for government appointments are widely publicized and fairly conducted.
In carrying out its mandate, the Commission will:
establish guidelines governing selection processes for Governor in Council appointments to agencies, boards, commissions and Crown corporations;
approve the selection processes proposed by Ministers to fill vacancies within agencies, boards, commissions and Crown corporations for which they are responsible;
monitor, review and evaluate selection processes in order to ensure that they are implemented as approved; and,
provide an annual report to the Prime Minister, to be tabled in both Houses of Parliament, on the Government's performance in following the code of practice.
…
Gwyn Morgan, from Calgary, Alberta, is one of Canada's most distinguished business leaders. A petroleum engineering graduate from the University of Alberta, he led the building of one of the world's leading oil and gas companies and Canada's largest energy company, EnCana Corporation. Mr. Morgan was founding President and Chief Executive Officer of EnCana from 2002 until stepping down on January 1, 2006. Mr. Morgan has been recognized through numerous awards and honorary distinctions, including being named Canada's most respected CEO in 2005 in a survey conducted by Ipsos Reid of 250 business leaders in Canada. An inductee to the Alberta Business Hall of Fame, he has served on the Boards of a number of organizations in the private and not-for-profit sectors, including HSBC Bank of Canada, the SNC-Lavallin Group, Alcan Inc., the Public Policy Forum, the Fraser Institute and the Calgary University Hospital. Mr. Morgan was also the co-chair of the Calgary Fundraising Committee for the Northern Alberta Children's Health Centre, co-Chair of the Governor General's Canadian Leadership Conference, and is an honorary Colonel (retired) of the 410 Tactical Fighter Squadron, Canadian Air Force.
Gwyn Morgan is recognized for his self-discipline and integrity, and his strong belief that a corporation should be a positive social and ethical force.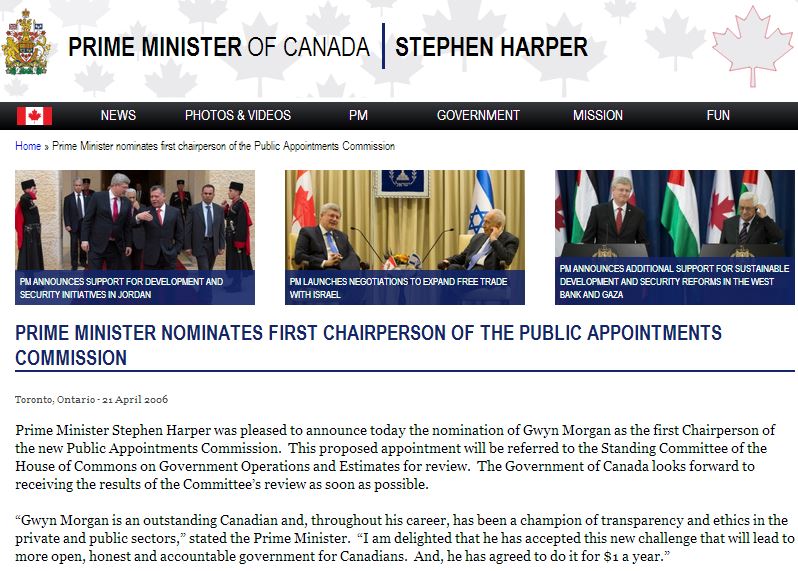 Source: http://www.pm.gc.ca/eng/news/2006/04/21/prime-minister-nominates-first-chairperson-public-appointments-commission
Chief Executive Officer of EnCana: 2002 to 2006, stepped down from the Board of Encana on October 25, 2006
2005 Canada's Outstanding CEO of the Year award recipient
Chief Executive Officer of Alberta Energy Corporation (which Mr. Morgan joined in 1975 during start-up operations) until 2002 when it became Encana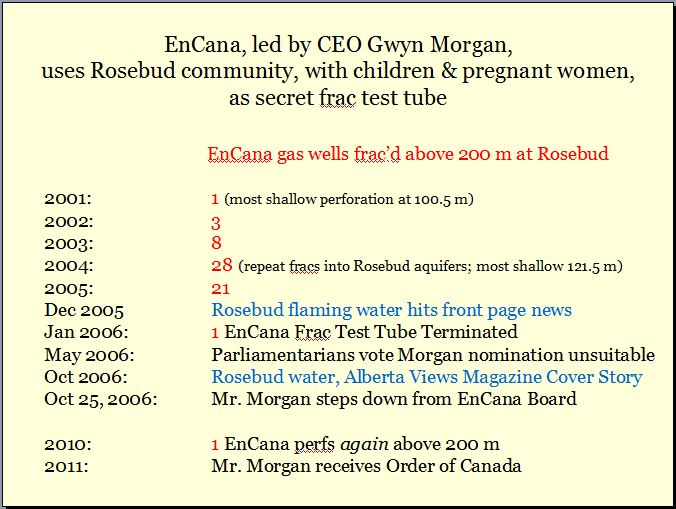 From fracking to SNC-Lavalin: The truth about corporate kingpin Gwyn Morgan
SNC-Lavalin to replace chairman Gwyn Morgan, CEO of EnCana when the company frac'd Rosebud drinking water aquifers in 2004
HSBC is expected to pay US authorities a record $1.9bn (£1.18bn) to settle allegations that its failure to enforce anti-money laundering rules, Swiss Probe $139M SNC-Lavalin Laundering Case, Gwyn Morgan SNC-Lavalin Chair says company aiming at improving compliance
SNC-Lavalin will face criminal charges
Swiss Probe $139M SNC-Lavalin Laundering Case, Gwyn Morgan SNC-Lavalin Chair says company aiming at improving compliance, but won't comment on allegation $22.5M payment linked to MUHC superhospital project
SNC Lavalin Board of Directors
SNC-Lavalin hit with $1.65 billion class-action lawsuit
Gwyn Morgan, President and past CEO of Encana honoured by University of Alberta
A toxic practice, a poisonous relationship: what's the connection between water for fracking and SNC-Lavalin's Chair Gwyn Morgan, past CEO of Encana?
The Gwyn Morgan File: EnCana's Grip on BC (Part Two of Two)
The Gwyn Morgan File: Rise of a Shale Gas Baron (Part One of Two)
Meet Christy Clark's Hard Right Advisor Gwyn Morgan
Burning Waters: UVic Partner's environmental record questioned
Eminently Unsuitable: Gwyn Morgan
Tories name EnCana founder to vet appointments
EnCana's 'field of dreams' has Colorado locals crying the blues
Alberta Energy Corporation, became Encana, CEO Gwyn Morgan defends company conspiring with RCMP for staged bombing of a gas well
SNC-Lavalin board at fault in corruption scandal, Firm suffered from bad board makeup by Joe Castaldo, Dec 10, 2012, Canadian Business
When Pierre Duhaime left police headquarters in Montreal after posting bail for fraud charges on Nov. 28, the former SNC-Lavalin CEO zipped the collar of his jacket up all the way to his nose, obscuring his face from cameras. Though Duhaime is the one cowering from scrutiny, the board at SNC-Lavalin has its own set of questions to answer.
An unprecedented scandal has enveloped Canada's largest engineering and construction firm over the past year. In March, Duhaime left SNC-Lavalin after an internal investigation found he violated the company's controls to approve $56 million in payments to commercial agents, money the company couldn't trace. The payments were requested by Riadh Ben Aïssa, the executive vice-president of construction. He, too, left the company, and has been sitting in a Swiss jail cell since April, accused (but not charged) by authorities in that country of corruption and money laundering related to contracts in North Africa. The charges against Duhaime in Quebec relate to a contract SNC-Lavalin won to build and maintain the McGill University Health Centre. Quebec authorities also charged Ben Aïssa, who oversaw the hospital project.
While the allegations have not been proven in court, the $56 million in improper payments uncovered earlier this year suggests the board of directors did not have a firm grasp on the company's activities. Further, the improvements SNC-Lavalin made to its internal controls after that probe don't appear to be enough to address the underlying governance issues. "You need to clean house," says Richard Leblanc, an associate professor at York University. There are at least two obvious problems with the board, he says. Many of the directors do not have extensive experience in emerging markets, which account for a large chunk of SNC's business. Another problem is that four of the directors have been on the board for 10 years or more. Directors can hardly be considered independent and objective after serving for such a long time, Leblanc says.
But even tough, seasoned board members can do only so much to prevent bad behaviour. "If someone wants to commit fraud, they will find a way to do it," says Richard Powers, a senior lecturer at the Rotman School of Management.
Other companies facing scandals have nonetheless made proactive moves to restore credibility. In February, HSBC disclosed it could face charges in the U.S. related to a money-laundering probe, and that a separate investigation was under way into its dealings with Iran. The same day, HSBC replaced two board directors with no discernible expertise in banking and risk management. One of those replaced was Gwyn Morgan, the chairman at SNC.
No one has left SNC's board since the scandal began earlier this year. The most recent to depart (apart from Duhaime) was Sen. Hugh Segal in 2011 after 13 years. A shakeup is unlikely, given the entrenched nature of the board, at least until more is known about the charges against Duhaime and Ben Aïssa. Only then can SNC-Lavalin hope to rebuild its reputation.
SNC-Lavalin chair's defence of scandal criticized as 'weak, unpersuasive,' Garfield Emerson, corporate lawyer, governance advisor and director of CAE Inc. and Canadian Tire Corp., has taken the unusual move of criticizing the public musings of Gwyn Morgan, former chairman of embattled SNC-Lavalin Inc, in an open letter by Peter J. Thompson, July 29, 2013, National Post
In the rarified corridors of the highest corporate echelons in Canada, it is rare for the denizens of this cozy club to criticize one another. A deep-rooted culture of mutual accommodation strengthened by personal relationships has long bred reluctance to confrontation. Thus when a long-standing member of the fraternity smashes this old rule, and does so publicly, the chattering class should take note.
That's what Garfield Emerson, corporate lawyer, governance advisor and director of CAE Inc. and Canadian Tire Corp., has done in an open letter criticizing the public musings of Gwyn Morgan, former chairman of embattled SNC-Lavalin Inc., in a Toronto newspaper as "weak, defensive and unpersuasive."
Mr. Morgan, former chairman of SNC-Lavalin who left the company in May shortly after the Montreal-based engineering giant became entangled in wide sweeping corruption charges and an RCMP investigation, recently penned a column, "Lessons I learned from SNC-Lavalin's woes," in which he says he wanted to "set a few things straight."
Basically, Mr. Morgan speaks of shock and disbelief at learning about illicit payments worth tens of millions of dollars in early 2012 while on a business trip to Hong Kong. "The following 16 months turned out to be the most disturbing and challenging of my four-decade career in business," he wrote in a column in the Globe and Mail.
Mr. Morgan, a celebrated member of the Canadian business establishment as founding CEO of Encana Corp., writes about the damage control that ensued and SNC's attempts to get to the bottom of the crisis. Among the bon mots in this sordid corporate tale, Mr. Morgan, who is also a director of at least four major global companies, earnestly concludes the corruption scandal raises fundamental questions about governance. "Why didn't these errant behaviours come to the board's attention earlier? Shouldn't we have known about these payments? Were we, as some have suggested, 'asleep at the switch'?"
Enter Mr. Emerson, a long-time blue chip director of numerous Canadian companies, and no stranger to corporate crisis having lived through the demise of Livent Inc., who mocked Mr. Morgan's takeaway points from the bribery scandal as "weak, defensive and unpersuasive." In a letter to the editor, Mr. Emerson bluntly dismisses Mr. Morgan's "conveys" about the role of directors, independent directors, internal and external auditors as "corporate governance 101." In other words, they are pedestrian conclusions hardly befitting a director of Mr. Morgan's experience and stature.
"It is unconvincing that he only learned these lessons from knowledge of alleged defalcations by long-time senior executive officers of SNC's management," declares Mr. Emerson.
And even where they found some common ground on Mr. Morgan's point that "corporate culture must be built upon a bed rock of strong ethical values that penetrate every level in the company" — Mr. Emerson was searing in his sarcasm. [Ethical values? Really? By intentionally fracing into and contaminating a community's drinking water aquifers and stepping down as CEO when the news of Encana's crimes hit the media?]
The former SNC chairman may have been "directly on point," Mr. Emerson writes, but he failed to acknowledge that he was an integral part of the problem. "What Mr. Morgan did not learn was that the chairman of the board and the board, as the leadership of the company, are responsible for assuring that the company they direct and supervise has established the right corporate culture and management they appoint practices strong ethical values."
That kind of blunt talk is refreshing and highly unusual, which is why such candor is unlikely to disrupt established Canadian corporate behaviour.
****
Comments to the awful Herald article below pimping JWR:
Bruce Meyer
How long before Wilson-Raybould is a liberal cabinet minister again? SNC got what they wanted with a fine that represents a small percentage of the profit they made in Libya and Trudeau gets his indigenous representative back. Win/Win for everyone but the Canadian taxpayer
Trevor Yeats
SNC Lavalin may just get away with a fine, but the stink of Political interference, will not be as easily wiped off Trudeau's face. Even though the Trudeau cheerleaders want this to disappear, this stain on Trudeau's reputation will be there for a long time. [Yes, but, the stain on JWR will last much longer and with harsher harm to her career than his. She so blew it, not only for herself and career, but for all Canadians seeking "justice" in Canada's dirty courts. Now, after the glorious judicial clusterfuck, JWR touts "justice" was served?]
Baz Dionysos
From a financial perspective, this plea deal was far better for SNC Lavalin than the deferred prosecution agreement would have been. They would have had to pay way more in restitution under a DPA, still have had to submit to third party oversight but the company itself would get no criminal record (unlike some of its directors and employees who made the company act the way it did). Under this plea deal, they pay a $280 Million fine, third party oversight for 3 years, and SNC Lavalin Inc. does get a criminal record, which will be embarrassing for the company if it ever gets pulled over for speeding and the cops run the name through the database.
Garbage article, fluffing JWR for some strange reason: 'Justice system did its work' says Wilson-Raybould as SNC-Lavalin pleads guilty, fined $280M, The firm says it now hopes to move on from the long-running saga that sparked a massive political scandal for Justin Trudeau by Brian Platt, Dec 18, 2019, Calgary Herald [There is no "justice" system in Canada. It's a "legal" system, a cruel, expensive, establishment-controlled, shelter for criminal corporations and criminal "regulators."]
Former justice minister and attorney general Jody Wilson-Raybould claimed a measure of vindication Wednesday as SNC-Lavalin pleaded guilty to one count of fraud and agreed to pay a $280 million fine. [JWR's lame betrayals and corrupt selfish attention seeking behaviours have nothing to do with this guilty plea. It's just for show. A show to keep Canadians conned and subservient to the "rule of law."]
Settling criminal charges relating to its activities in Libya means the company can finally move on from its long-running battle to avoid a corruption trial in Quebec — and it also marks an endpoint to a massive political scandal for Justin Trudeau, which saw two cabinet ministers, the clerk of the privy council, and the prime minister's top advisor all resign in the spring of 2019 over allegations of attempted political interference in the case.
"I have long believed in the essential necessity of our judicial system operating as it should — based on the rule of law and prosecutorial independence, and without political interference or pressure," Wilson-Raybould wrote on Twitter.
"Ultimately, that system was able to do its work — as democracy and good governance requires — and an outcome was reached today. Accountability was achieved. 2019 began with very public questions about the rule of law in our country. I am glad to see it end with that principle being upheld. The justice system did its work. It is time to move forward and for the company to look to its future."
When the Public Prosecution Service of Canada had decided not to offer SNC-Lavalin a chance at a deferred prosecution agreement, Wilson-Raybould was informed but didn't get involved. She later alleged senior government officials had inappropriately pressured her to issue a directive overruling the prosecutors.
In a statement on Wednesday, SNC-Lavalin announced that one of its divisions, SNC-Lavalin Construction Inc., has pled guilty to a single charge of fraud and will pay the fine. The agreement, entered in the Court of Quebec, includes a three-year probation order where an independent firm will monitor the company's compliance and ethics activities.
Federal prosectors have dropped the other charges against the company, including allegations of bribery relating to construction projects in Libya from 2001 to 2011, the statement said. It also said it does not expect the guilty plea by its subsidiary to affect the rest of the company's ability to bid on future Canadian government contracts. [Just how did "justice" work in this case? Not at all.]
"This is a game-changer for the company and finally allows us to put this issue behind us," said Ian Edwards, SNC-Lavalin's president and CEO. "I apologize for this past misconduct and welcome the opportunity to move forward." [just another Canadian anti-justice get out of jail free deal for a criminal corporation!]
SNC-Lavalin has been fighting to get out from under the criminal charges ever since they were laid in 2015. It lobbied extensively to have the Canadian government adopt a deferred prosecution regime, where companies can avoid a trial and a guilty verdict by negotiating a compliance agreement with prosecutors.
The Liberal government created this regime in a budget bill in 2018, setting up a process for what is officially called a remediation agreement. But Director of Public Prosecutions Kathleen Roussel decided to proceed with a trial, determining SNC-Lavalin's case didn't qualify for a remediation agreement. The company fought unsuccessfully to have Roussel's decision overturned, both with the government and at the Federal Court.
There was also still the lingering question of whether Wilson-Raybould's successor as justice minister, David Lametti, would decide to intervene in the case. In a statement issued Wednesday, Lametti said he was informed about the plea deal by a memo, as required, but otherwise had no part in it.
"This decision was made independently by the (prosecution service), as part of their responsibility to continually assess and determine the appropriate path for cases under their jurisdiction," he said. "Canadians can have confidence that our judicial and legal systems are working as they should." [Pfffft! Nope, no confidence or trust in our lying scam of "legal" system. By his double speak quote, Lametti is half honest, admits it's a "legal" system. Lawyers rarely make that damning statement in public. JWR spins it out of orbit]
University of Ottawa law professor Jennifer Quaid, who followed the case closely, said that SNC-Lavalin will be happy to have structured the plea deal in a way that avoids the possible ten-year ban on federal contract bidding that may have come with a corruption conviction.
"The short story is the company got what it wanted," Quaid said. "They did pay a price in terms of taking an extra year and all the scandal. That has impact. And clearly they did plead guilty…But I think the company has come out pretty well."
Quaid had agreed with prosecutors that SNC-Lavalin was not a good candidate for a remediation agreement, given what was known about the allegations and the involvement of company executives. But she said the downside is for the public interest and transparency, as the details in this settlement won't be published like they would have with a remediation agreement.
"There's a lot more information (with a remediation agreement), it comes with detailed description of facts," she said. "We would have had more information about how the fine was calculated. 280 million sounds like a big number, but how did they get to that? What does it represent?"
Wednesday's plea deal comes on the heels of the conviction of a former top SNC-Lavalin executive last Sunday. The criminal cases are separate, but both relate to allegations of corruption and fraud in Libya going back roughly two decades.
On Dec. 15, a jury found former SNC-Lavalin executive Sami Bebawi guilty of paying off foreign officials and pocketing millions as he worked to secure contracts for the Canadian engineering company in Libya.
With files from The Canadian Press.
SNC-Lavalin pleads guilty to fraud during its 2001-2011 activities in Libya
Company will pay a $280M penalty over 5 years and be placed on probation [When will Gwyn Morgan be placed on probation, and no longer given a platform in our media to spew, enable corporate crimes?] by CBC News with files from Shawn Lyons, Geneviève Garon and The Canadian Press, Dec 18, 2019.
Over 3,000 comments as of 11:30 pm, Dec 18, 2019
A division of SNC-Lavalin Group Inc. has pleaded guilty to fraud over $5,000 in relation to the company's activities in Libya, ending the criminal case at the centre of one of the year's biggest political controversies.
SNC-Lavalin Construction, the division in question, paid $127 million to two shell companies between 2001 and 2011, according to an agreed statement of facts presented in a Montreal courtroom Wednesday.
Duvel Securities Inc. and Dinova International Inc. both listed as the sole beneficial owner Riadh Ben Aissa, a former top executive of the company who pleaded guilty in Switzerland to bribery and laundering millions to win SNC-Lavalin contracts in Libya.
About $47 million of that money was then used to reward Saadi Gadhafi, son of the late dictator Moammar Gadhafi, for helping SNC-Lavalin secure lucrative construction projects.
The company also paid for Saadi Gadhafi's personal expenses, including decorating his Toronto condo.
Quebec Court Judge Claude Leblond accepted a joint recommendation that will see the company's construction division pay a $280-million fine over five years, and be placed on probation for three years.
[JWR has the gall to call this SNC Lavalin clusterfuck "justice?" Oh right, she's a lawyer!]
Five other fraud and corruption charges filed against SNC-Lavalin, SNC-Lavalin Construction and SNC-Lavalin International were dropped.
Federal prosecutor Richard Roy cited as mitigating factors the guilty plea and measures the company has taken to reform its practices to minimize the risk of recidivism.
The fine, he said, reflects the severity of the crime that was committed. [Bullshit! Just another enabling lawyer keeping the system raping along. A billion dollar plea deal would be reasonable perhaps, given the severity of the crimes.]
"Our duty is to provide for efficient, proportionate and deterrent sentencing," he said. [Pffft, more legal arrogance and enabling of our demented foul legal system. How many years has this taken? How many millions of dollars in legal and other fees paid for by Canadian taxpayers? Likely double the pitiful fine. SNC will be partying it up this holiday season.]
"The sentence must be a deterrent, generally, but must not be crippling and vindictive. And we believe that the result in this case achieves that."
Settlement is fair, company says [Proving the fine is much too small]
The company said it accepts the consequences, as well as a condition — it will hire an independent monitor who will submit annual reports on the company's business dealings to the court. Those reports will also be posted on SNC-Lavalin's website.
"We are pleased to settle these legacy issues and remove these legal uncertainties overhanging the company," said Kevin Lynch, chair of the company's board of directors, in a release.
"We feel this settlement is fair, and we deeply regret this past behaviour which was contrary to our values and ethical standards," he said.
Under federal law, a conviction could result in a bidding ban for federal projects for up to 10 years. It could also prompt a ban on bidding for projects backed by the World Bank. [Like the deal creepy Weinstein and the lawyers cozily made for themselves, SNC Lavalin, investors and lawyers get a great deal. Everyone else gets pissed on.]
The company said it does not believe the guilty plea will affect the eligibility of SNC-Lavalin Group companies to bid on future projects. The construction division has not bid on any new contracts since the charges were laid in 2015.
SNC-Lavalin stock trading was halted on the Toronto Stock Exchange ahead of the news.
The shares rose 20.5 per cent in early afternoon when they resumed.
Trudeau violated ethics laws
The company had tried to resolve the case by securing what's known as a deferred prosecution agreement (DPA), which would have avoided a trial and possible criminal conviction in exchange for paying a fine.
An Ethics Commissioner's report concluded that Prime Minister Justin Trudeau violated ethics laws when he tried to persuade his then-justice minister Jody Wilson-Raybould to reverse her decision to not grant the agreement.
Wilson-Raybould eventually quit cabinet and was kicked out of the party over the matter. She was re-elected as an Independent in the last election. [Voters are quickly seeing their mistake]
… Quebec Premier François Legault said he is happy there will be consequences for one division of the company.
He said so far, he has heard that the company will be able to protect jobs.
Refer also to:
SNC-Lavalin to replace chairman Gwyn Morgan, directors in board revamp, Bribery probe of SCN-Lavalin reaches former spy watchdog
SNC-Lavalin to replace chairman Gwyn Morgan, CEO of EnCana when the company frac'd Rosebud drinking water aquifers in 2004
SNC Lavalin Chairman Ex-Encana Gwyn Morgan on Promised Land: Time to fight back against Hollywood's misinformation
VW's Deepwater Horizon? "There will likely be criminal charges filed against VW executives." Will Gwyn Morgan be criminally charged for Encana illegally fracing a community's drinking water aquifers under his profit-taking?
Local emergency declared in B.C. as Imperial president apologizes for toxic leak; When will Gwyn Morgan and Encana apologize for intentionally fracing Rosebud's drinking water aquifers and refusing to come clean with the toxic chemicals injected?
Jody Wilson-Raybould has moved out of Hill office by Rachel Aiello with files from CTV News' Michel Boyer, December 18, 2019, CTV News
OTTAWA — Independent MP Jody Wilson-Raybould has moved out of her Parliament Hill office.
After weeks of wrangling between the former Liberal cabinet minister and the House of Commons administration, Wilson-Raybould tells CTV News that she reached an agreement and has packed up and relocated to another office within the parliamentary precinct.
This agreement to vacate what she called her "average-sized MP office" comes after she called the controversy around the office space she inhabited when she was in cabinet a "distraction."
Following each election, Parliament Hill offices are allocated based on party standing. Cabinet ministers and members of the party that formed government receive offices first, followed by the Official Opposition, and then the parties that came third, fourth, etc.
As an Independent MP, Wilson-Raybould was last on the list to be allocated an office and was asked to move out of the space she had. As of last week Wilson-Raybould told CTV News that she was working with the House to find a solution.
This development comes on the same day that The Canadian Press announced it was naming Wilson-Raybould the newsmaker of the year for her involvement in the SNC-Lavalin scandal and subsequent reelection as an independent MP.
Dec 16, 2019
THE PERKS OF PUBLIC OFFICE are tough for politicians to give up when they're no longer in the job. When once they were somebody, now they're nobody special.
That seems to be the case with Jody Wilson-Raybould, the Independent MP for Vancouver-Granville.
Wilson-Raybould barely managed to hold on to her seat in the federal election, and now she's trying to hold onto the offices she had when she was a cabinet minister.
As an Independent MP, surely the loneliest of all jobs in Ottawa, she's at the rock bottom of the list for dibs on offices. The Liberals want her current offices for another cabinet minister but she's sitting tight. [One of the most arrogant Canadian politicians I've ever seen, after Steve Harper.]
According to Wilson-Raybould, this isn't a news story, it's a distraction. Typically, a politician's definition of news is anything that makes them look good, while their definition of non-news is anything that makes them look bad.
One can't help but wonder what the distraction is from, though if there is one it's of her own making.
What made her think, as an MP without a party, she would be entitled to stay in ministerial offices when so many other MPs have to move?
I've been in quite a few MPs' and ministers' offices, and there's a big difference between them. Typically, an MP has three rooms, one at the doorway where a secretary works, another to one side where the MP works, and maybe another for other staff.
Minster's offices, on the other hand, are expansive panelled suites of a half dozen rooms befitting the office. Wilson-Raybould's current suite has six offices and a private washroom. This could get embarrassing if she has to be forcibly removed to less comfortable digs.
Best she re-assesses her entitlements, moves on and moves out.