Canadians value, worry about country's supply of fresh water: poll by Shawn McCarthy, March 20, 2017, The Globe and Mail
Canadians [excluding Albertans] see fresh water as the country's most important resource, but worry the country faces a growing risk to the quality and adequate supply of clean water, a new poll from the Royal Bank of Canada says.
The release of the survey Monday comes after President Donald Trump released a proposed budget that week that would eliminate programs and regulations that protect the Great Lakes and other binational waterways. Mr. Trump's proposed cutbacks are sparking new fears about the future quality of shared Canadian-U.S. water resources.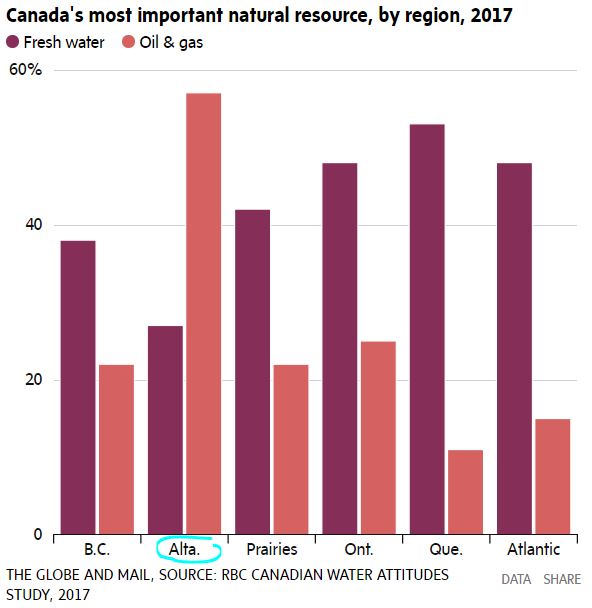 …
Canadians have long seen the country's abundant water resource as a critical part of its natural heritage, and 91 per cent of RBC respondents say it is part of Canada's national identity. Some 45 per cent of respondents consider water to be the country's most important natural resource, a view that is consistent across the country, except in Alberta where oil is by far the top mention.
There is a tendency to take it for granted and Canadians remain "world-class wasters," Mr. Sandford said.
While concern about the state of water quality is far below worry about the economy or the availability of affordable health care, the RBC survey shows Canadians feel part of the country faces a risk of deteriorating water quality. Topping the list of concerns are the the dumping of toxins, the impacts of climate change, and the run-off of pollutants from land to water.
…
A few of the comments: