Gasfrac : Court Approves Deal For Purchase Of Operating Assets And Services by RTT News, March 28, 2015
Gasfrac Energy Services Inc. (GFS.TO) said that it has obtained the approval of the Court of Queen's Bench of Alberta in respect of a definitive asset purchase agreement entered into between GASFRAC and a third party oil and gas service industry partner, whereby GASFRAC would purchase certain fracking assets and related services.
The Purchase Transaction will assist GASFRAC in maintaining continued operations following completion of the previously announced sale transaction involving STEP Energy Services Ltd. announced in March 3, 2015, under the supervision of its board of directors and Ernst & Young Inc., the court appointed monitor.
The company has also entered into an indicative term sheet with the same third party which contemplates, creditor and court approval and customary closing conditions, a proposed CCAA plan of compromise and arrangement, pursuant to which such third party would acquire 100% equity ownership of GASFRAC, as an operating entity.
The Purchase Transaction and proposed Plan will not affect the completion of the Asset Sale Transaction contemplated to be completed in early April, 2015.
The Purchase Transaction is expected to be completed prior to the end of March, 2015 and the Plan is anticipated to be completed in June, 2015.
Chesapeake Energy Corporation (NYSE:CHK) Teams With GasFrac To Test Waterless Fracking by Standley Adam, March 18, 2015, US Market Daily
Chesapeake Energy Corporation (NYSE:CHK) has announced it is partnering up with GasFrac Energy Services to begin testing waterless fracking at its Ohio oil wells. Chesapeake is the most active driller operating in the Utica shale play and has determined its Tuscarawas County well to be the best candidate for testing waterless shale fracking. The company noted that one of its partners, EV Energy Partners has already attempted to use the technology. This information led to the VP of the company's northern division to decide to try it on their own well in an effort to maximize value.
Waterless Solution
GasFrac is a small, publicly traded company operating out of Alberta, Canada and they made news last year when it began testing its own waterless fracking well. It partnered with EV Energy on that venture. The well was fracked with liquid butane and mineral oil, as opposed to the common method that uses water. Waterless fracking is attractive as it removes the need for massive amounts of water to instigate the process. Fracking involves injecting fluids into cracks in the shale formations to cause them to release gas or oil. The waterless method is more economical and efficient. It also addresses environmental concerns.
[Reality check: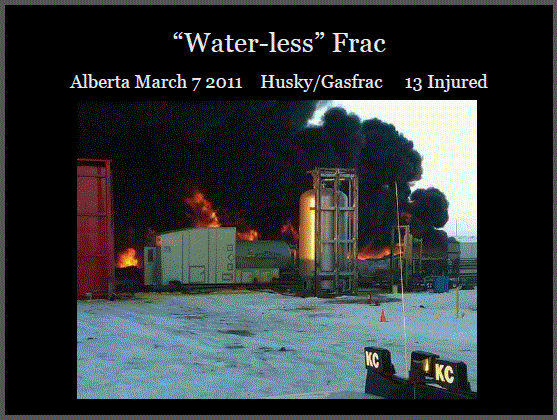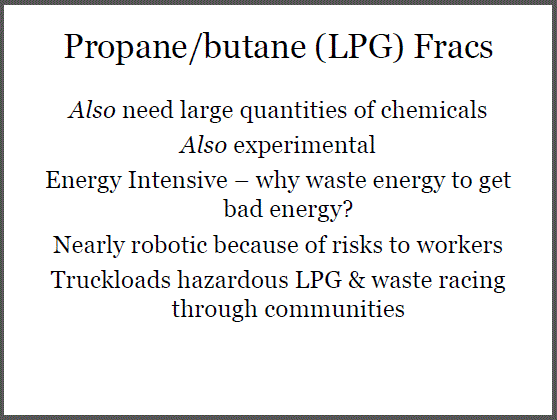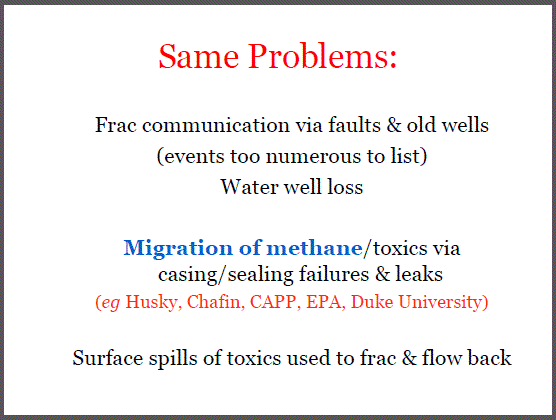 Slides from Ernst presentations in Ireland, 2012
Early Stages
The testing is in the early stages so it is still to be determined if the new process will be of any value to the company. One of the most attractive aspects of the waterless method is the way it addresses environmental concern. …
Technicals
The stock is on a serious downtrend and until it finds a solid base there isn't much to be desired of it. Technically it is in a free-fall and without a substantial consolidation it remains a sell.
[Refer also to:
March 3, 2015: GasFrac Energy Services Inc., based in Calgary, selling "substantially all" assets and technology to undisclosed oil and gas company
January 2015: Frack Loophole Closes Itself as Napalm Clusterfracker Goes Bankrupt
The New York Frack Babies thought they were going to make an end run around the proposed generic guidelines by fracking themselves with gelled LPG (ie. Napalm) instead of water. But the contractor they were negotiating with, Gasfrac, just filed for bankruptcy – along with hundreds of other oil field service providers. Plus there was that thing about their liability coverage – they kept blowing people up. So they ran out of pizzas. Imagine that.