Robert David Taylor
2015: "Abnormally dangerous and ultra hazardous activity." Did TRC or Chevron's fracing kill Robert David Taylor? What happened to California regulators' vows to make steam injections safer? "Safer?" Why not make it "safe?"
… But state and federal authorities say in many cases oil companies are allowed to bypass those safety requirements or avoid them through a regulatory loophole.
Taylor, 54, and two co-workers were dispatched to Well 20 on June 21, 2011. Chevron had been trying to control the well since 1997, spending more than $2 million. The company stopped injections near the area to try to ease the problem, but neighboring oil producers kept up high-pressure injections. More than 30 surface expressions existed within a mile of the well.
As the crew walked the site, surrounded by a landscape dense with new and old wells and miles of pipes and casings, the ground gave way beneath Taylor. He fell feet first into a cavity burbling with 190-degree water and hydrogen sulfide.
Co-workers rushed to the brink but could not reach him. As they extended a length of pipe for him to grasp, Taylor slid further into the 10-foot diameter crater.
His wife stood vigil beside the sinkhole until rescuers could retrieve his body 17 hours later.
Chevron called Taylor's death a "tragic and isolated incident," and said it has a "long track record of safely conducting cyclic steaming in the Midway-Sunset Field."
Afterward, California's oil and gas regulators vowed to make urgent reforms. Taylor's death would mean something, they said. It would be the beginning of a major overhaul of the way the oil companies conduct steam injection.
Four years later, however, there has been little progress. The state has not acted, either by revising regulations or enforcing existing rules. Cyclic steaming was specifically exempted from the state's new hydraulic fracking regulations. …
… The California Division of Occupational Safety and Health closed the case after a two-month investigation, finding no violations. "They kind of concluded that it was like an act of God," said Peter Melton, a spokesman for the agency. …
Taylor's family, barred by state law from suing Chevron, has filed a wrongful-death suit against a contractor, saying negligent construction in the oil field contributed to the sinkhole. …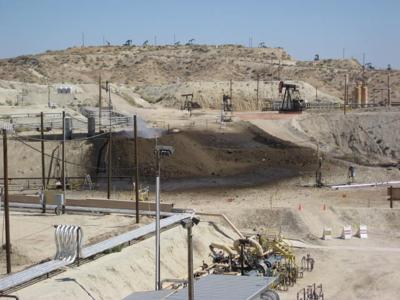 A jury trial is about to begin in a years-long dispute between two Kern County oil companies accusing each other of damaging their property and limiting production on a scale of tens of millions of dollars.
TRC Operating Co. Inc. of Taft filed suit in July 2014 against San Ramon-based Chevron U.S.A. Inc. in Kern County Superior Court seeking compensatory damages and interest. Chevron counter-sued for damages in May 2017.
At issue in both suits is whose steam injections and other oilfield work caused seepage and related problems that led to state-imposed restrictions at the companies' neighboring operations in the Midway-Sunset Oil field near Taft.
The situation gained notoriety after the seepage contributed to the formation of a sinkhole that swallowed Chevron supervisor Robert David Taylor on June 21, 2011.
Taylor's death led his family to file a lawsuit that ended in a financial settlement, the terms of which have not been publicly disclosed.
TRC says Chevron failed to properly abandon a well it spent more than $1 million trying to fix over a period of years. TRC's suit claims Chevron's attempt to fix the seepage, also known as a "surface expression," relied on the negligent design, construction and installation of a French drain at the site.
The lawsuit also accuses Chevron of negligent use of an oilfield technique called cyclic steaming, which injects vapor underground at high pressure to make crude less viscous and create fissures through which oil can be brought to the surface.
TRC termed Chevron's actions "subsurface trespass" and said because of that, its production — previously about 1,000 barrels per day — had to be curtailed for four years because of state concerns about nearby surface expressions. It estimated its out-of-pocket remediation costs as $10 million.
"For many years prior to the summer of 2011 TRC safely operated our wells in the Midway-Sunset field," a TRC spokesperson said by email Thursday. "Chevron's mismanagement of its operations meant that starting that summer and for years after we were forced to shut in a large portion of our field."
"TRC has since been able to resume normal operations," the statement continued. "We look forward to the jury hearing how Chevron's operations interfered with our business and hope we will finally be compensated for the losses we suffered by Chevron's negligence."
Chevron declined to offer a public statement on the upcoming trial. But its cross-complaint pointed to numerous surface expressions on TRC's property at Midway-Sunset. It accuses TRC of creating or allowing conditions to occur that permitted fluids to migrate onto, and damage, Chevron's property.
The suit says TRC's actions, including excavation it claims crossed onto Chevron's property, caused or exacerbated trouble at the well Chevron had tried to abandon. It asserts TRC "intentionally, recklessly and/or negligently" caused steam and reservoir fluids to migrate through the subsurface and emerge to the surface on Chevron's property.
Chevron's cross-complaint blames state regulatory orders for the lost production TRC is trying to recover financially. It says that if TRC can collect money from Chevron based on compliance with state orders, then Chevron should be able to recover lost profits and damages from the state.
Frac'ers only care about money, more money, and more money, ego and power and more power. This God awful case and Robert David Taylor's boiling death proves that frac'ing, no matter what kind, with acids or steam or gases, must be banned. Everywhere.
The trial before Judge David Lampe is expected to begin in early August and then go to the jury for deliberations in mid-September.
Steam frac'ing in Hell Ravaged and Raped by Big Oil Alberta:
CNRL reports aquifer is contaminated with BTEX 10 km from closest seepage site, How far from steam injection site?
More on CNRL high pressure steam injection at Primrose and the Alberta Energy Regulator caving to its funder instead of regulating
CNRL $68 Million Primrose "Down-and-dirty" Lawsuit. "No-one needs an excuse to bad mouth the Regulator, they hand out opportunities."
Satellite data sound alarm on safety of high pressure injection; data shows significant ground deformation (subsidence and uplift) in area of CNRL leak, 10 times faster than lower-pressure injection
Where's the regulator? CNRL releases into formation another 7000 gallons of Crude Bitumen at Primrose, Cold lake, does not yet know how to repair the problem, or past releases
CNRL Cold Lake Bitumen Geyser Continues, Despite Company Claims
Fracing the Caprock to Hell: Athabasca Chipewyan Knew that Cracked Caprock Could Cause Bitumen Leaks in Cold Lake – Canadian Natural Resources Ltd. Finally Agrees
The AER caves again: Modified Primrose steaming plan approved, Regulator approves limited resumption at Canadian Natural operations despite serious bitumen leaks to surface
Alberta Regulator Quietly Halts High Pressure Steam Injection for Bitumen Mining Near Fort Mac, After several leaks, production frozen while technical review is conducted
Alberta Environment: Cold Lake frac'd bitumen leak has contaminated groundwater; Nikiforuk: Caprock Integrity, Risks of steam-assisted bitumen recovery too little discussed
"You can fix a wellbore, but you can't repair a fractured cap rock,"