Subject: Alberta's Unemployment Must Be Hung Around Kenney's Neck!!
Date: Fri, 13 Sep 2019 13:43:16 -0600
From: Stewart Shields email hidden; JavaScript is required
To: email hidden; JavaScript is required, United Conservative Party of Alberta email hidden; JavaScript is required, goodale email hidden; JavaScript is required, email hidden; JavaScript is required, email hidden; JavaScript is required
CC: email hidden; JavaScript is required, email hidden; JavaScript is required, Doreen Mueller email hidden; JavaScript is required, innisfail email hidden; JavaScript is required, letters email hidden; JavaScript is required, Liberal Canada email hidden; JavaScript is required, Ministerial Unit email hidden; JavaScript is required, Ministre / Minister (EC) email hidden; JavaScript is required
The first thing I noticed when reading the attacked story is the city of Medicine Hat is prepared to abandon all their 2000 useless wells—no questions asked?? Why can our Kenney government not bring the industry who promised like the City of Medicine Hat to bring leases back to the condition they found them?? Kenney has went far beyond what is needed to protect the energy industry with his $30 million "war-room" —While industry at the very same time show little to no respect for their unemployed service folks who are willing to go back to work to abandon and do reclamation on the forgotten stack of idle wells industry are now refusing to take action on?? This total refusal while members of the industry are reporting returns they have never realized in the past 25 years– is not sitting that well with the public owners of the resource!!
There was an understanding that industry through- if necessary– the use of the industry owned "Orphan Well Association" would abandon and carry out reclamation on idle leases when access to public reservoirs was greatly desired!! Albertans has more than lived up to their part of any agreement by supplying industry with a steady stream of the owners royalty production!! No one from the public is asking for anything "Rash" or what has not been promised!!
The Public Owners have been more than patient in over 30 years watching donations and loans of public funds- some in the hundreds of thousands go to the Orphan Well Fund for abandonment purposes- while the industry who is the responsible party –offer a measly $15 million!??
The Owning public have been served by "Petro-Pussy" governments who spend millions on protecting the Public's development operators —-at the expense of their owning public –who up to now have remained docile and meek in accepting their production royalty given as Candy to a greedy industry?? And remained meek and docile when industry "Sweet-Hearts" visited them to try and scare them into approaching their governments to nationalize these useless wells and abandon them while industry was buying back their public shares –Thank You!! These type of sneaky undertaken acts were never appreciated or respected as was the heartless layoffs suffered by industries service workers who are prepared to go to work to abandon wells until there are no more to work on!! Kenney must have Alberta unemployment hung around his neck– for not forcing a greedy industry now flush with cash –to back up their promise to Albertans or be restricted from any entry into public reservoirs until the owning public are satisfied the industry fully recognizes their position and duties– that governments have lacked the balls to enforce!!
Stewart Shields, Lacombe Alberta
Gas City throws in towel on 2,000 money-losing natural gas wells
by Chris Varcoe, September 13, 2019, Calgary Herald
How precarious is the state of Alberta's natural gas industry these days?
Just take a look at the City of Medicine Hat, proudly known as the Gas City, which has owned its own petroleum production arm for more than a century.
Today, it's producing about 6,500 barrels of oil equivalent (boe) per day from shallow natural gas and oil fields in southern Alberta and Saskatchewan.
The average cost of its gas production is about $2.78 per thousand cubic feet (mcf). The spot price for gas at the AECO hub closed Thursday at 80 cents per mcf, about $2 below U.S. benchmark prices.
You don't need a sophisticated computer model to understand this gap means the city-owned utility has been hemorrhaging money.
Facing such economics — and an expected cash loss of $35 million this year from its natural gas and petroleum resources division — the city is throwing in the towel on the lion's share of its producing gas wells.
Medicine Hat officials announced Wednesday the division will abandon more than 2,000 of its 2,600 active wells over the next three years and accelerate abandonment and remediation work.
The city's natural gas and petroleum resources division will eventually shrink from about 105 field and office employees to around 25 to 40 staff, although some may be redeployed by the city.
The decision wasn't made lightly, said Brad Maynes, the city's commissioner of energy and utilities.
"We are very proud of our gas history and our legacy . . . The city has benefited so much from gas over the years," Maynes said in an interview.
"We said to our residents, you should be very, very proud of this history, but we have to evolve to a new reality."
Natural gas has long provided energy, created jobs and generated wealth in Medicine Hat. Its petroleum assets have contributed more than $600 million to Medicine Hat's treasury over the past four decades, the city said.
But part of the industry is facing a fiery test these days.
Following the failure of Trident Exploration Corp. last April, Medicine Hat's decision should serve as a wake-up call to the acute issues facing the sector, particularly shallow gas producers.
By the time the 2,000 wells are abandoned, the city unit's total production is expected to fall to about 2,500 boe per day, only a quarter of the level seen four years ago.
"We have been producing for over 100 years and we've had a great experience in the gas business, but the last three, four, five years have been very difficult for us," said Maynes.
"We could just not see ourselves returning to profitability."
…
The provincial government has taken steps to improve the environment for these producers. In July, it announced interim changes to relieve some of the municipal tax burden on shallow gas producers.
… For Medicine Hat, three years of low prices and big losses were too much to ignore.
It's still Gas City, but unless something changes dramatically, it's going to be producing a lot less gas in the coming years.
Refer also to:
Medicine Hat, AB Malcolm Canneries Gas Explosion, Mar 1913, Alberta Explosions, City's deadliest industrial accident, 100 years later by Collin Gallant, March 16, 2013, Medicine Hat News
That Medicine Hat had all hell for a basement was self-evident at the turn of the last century. Cheap and available natural gas was the main selling point for early city fathers in luring industry to the burgeoning town. But, as obvious as the advantages were, so too were the dangers.
Pockets of gas escaping relatively crude wells and piping systems would regularly catch fire, burning homes and businesses, but few were prepared for what transpired on the afternoon of March 19, 1913.
The explosion at the Malcolm Canneries, still the deadliest industrial accident in the city's history, will be remembered in a set of special ceremonies on Tuesday.
"I think it was a very large surprise for everyone, especially the firefighters; nobody had ever envisioned that there could be an explosion of that magnitude," said Wayne Lust, a 33-year-veteran firefighter and historian for the Medicine Hat Fire Service.
Having pieced together that day from eye witness accounts published in the News, as well as details of an inquest, Lust believes the event was a catalyst for the fire service. It quickly moved to build two more stations, the third and fourth in a town of 10,000, and modernize with motorized engines.
The early days of the department are dotted with buildings destroyed by relatively minor gas explosions, chronicled by Lust and colleague Gerald Rayner in the department's official history book.
"It was quite common for a businessman to walk into his shop in the morning, turn on the gas lamp and blow up the building," said Lust.
The explosion at the cannery, however, was an eyeopener.
Five were left dead, including three firemen and two onlookers, when a massive collection of gas ignited and brought the walls of the vacant abattoir down upon them. Twelve others were hit by flying bricks and were hospitalized.
A city engineer inside was left alive but trapped between flattened joists. Another engineer, stationed at the gas main outside the huge building, miraculously survived after he was flung 60 feet. The man he was helping, Jonathan Brier, a volunteer fireman and city gas worker, was found crushed at the shutoff.
Over the years Brier's grave has been lost but on Tuesday a fire service honour guard will visit the final resting places of two other firemen, Reginald Rimmer and William Stewart. Members of Stewart's extended family will attend the private service, then join the public at the Firefighters' Memorial at Fire Station No. 3 for an 11 a.m. ceremony.
"It's a recognition of the fact that they paid the ultimate price," said Fire Chief Brian Stauth. "It's a chance to remember the sacrifice they made and remind us that this can indeed be a dangerous occupation."
Lust is currently piecing together the story so the names can be added to the national firefighter's memorial in Ottawa.
Records from the era are incomplete but he believes gas began to track back into the building through a wooden sewer pipe running past an nearby well.
The building, which stood beyond the right-field fence of the present day Athletic Park, was originally built as a woolen mill but was being refitted to pack beef.
On the tragic afternoon a caretaker lit his pipe and saw flames flicker along the walls of the ground floor.
A fire crew extinguished the initial blaze, then began searching for the gas source by cutting through the floor with an axe.
Lust says according to an inquest held shortly after, the men found flames on the sewer pipe and cut into it to douse the source. Instead they felt a rush of gas as they broke in.
Men turned to run or cover up.
A police sergeant who was standing guard at the door testified that he saw men rush towards him but a moment later the building was completely destroyed.
The top two storeys seemingly vaporized as they lifted up three feet, according to witnesses, then collapsed inward.
"They (the firemen) actually saw the flame being pushed back down the hole that's when the explosion happened," said Lust.
"You read about walls flying, people thrown 60 feet, but no one was actually injured due to burns or the fire."
Also killed on the day was 12-year-old Harry Green, who was watching the firemen work through a window when the gas touched off. His mates at Montreal Street School collected $21 a princely sum in 1913 to buy a funeral bouquet. F.C. Bohannan, a Boston native, was site-seeing when the fire broke out and was struck by debris.
"You have to think about Medicine Hat at the turn of the last century," said David
Panabaker, general manager of the gas utility. "The place was booming. There were people drilling wells all over town, and the question is how you maintain safety."
The query was partially answered by the city in 1902, said Panabaker, when it moved to gain control over all gas production and distribution, but old, abandoned and badly capped wells remained.
"The reality at the time was there was no regulation," said Panabaker.
"At that time if you owned a house with a yard you may well have been able to drill a well."
Those days are long gone.
Also to consider, he said, early wells would have had pressure 10 times greater than today, and gas would not have been treated with mercaptan, which gives gas a distinct rotten egg smell.
"You basically had high-pressure odourless gas floating around the neighbourhoods," said Panabaker. "Obviously it's dangerous and I can't imagine what it would have been like, quite frankly."
FAST FORWARD TO 2016:
Download AER's report which the regulator is still keeping secret.
The AER (100% industry funded, controlled & led) and Alberta Health are not even distributing it to the families the authorities know are living in explosive and or toxic risk caused by industry's leaking gases venting near and or into homes, businesses, parking lots, streets, schools, billion dollar airport expansion and churches.
2016 11 10: AER Monique Dube et al Secret: 'D79 Abandoned Well Methane Toxicity Preliminary Assessment'
2016 11 01: Alberta Health 'Methane from Leaking Abandoned Wells Health and Safety Issues' in Appendix 2 of AER's Dube et al D79 Report
Alberta Health's 'Methane from Leaking Abandoned Wells Health and Safety Issues' is dreadfully incomplete and shoddily pathetic, but admits methane's harmful health effects: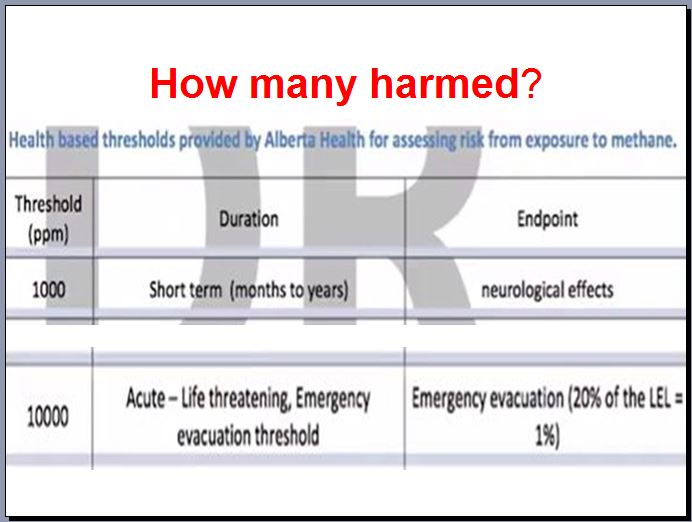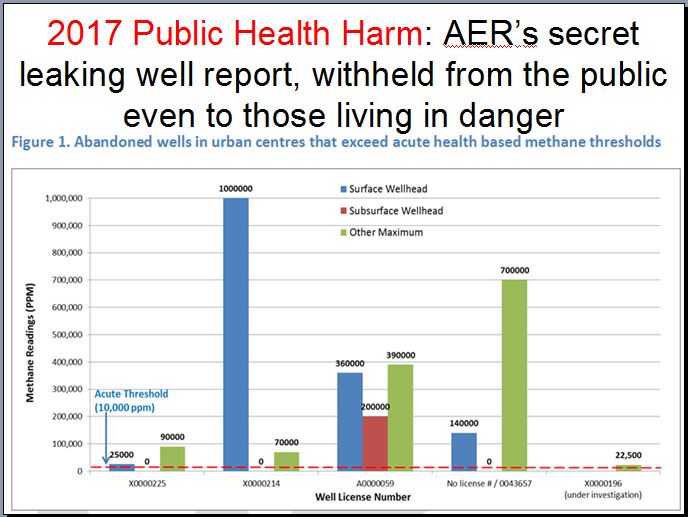 Note the red dotted line in graph above: "Acute-Life Threatening, Emergency Evacuation Threshold"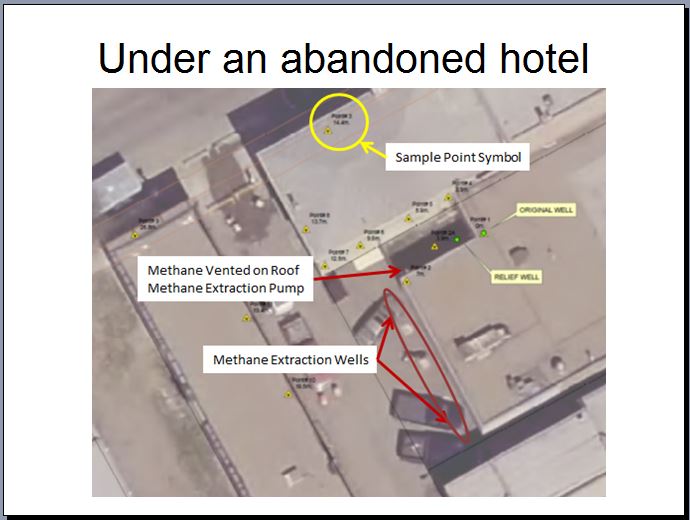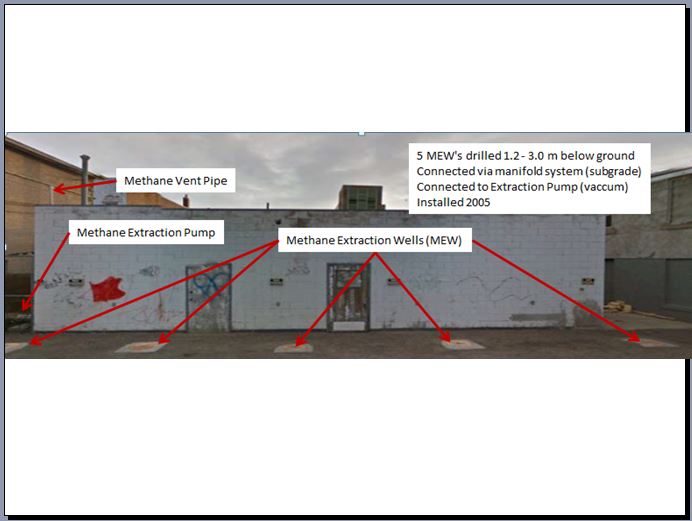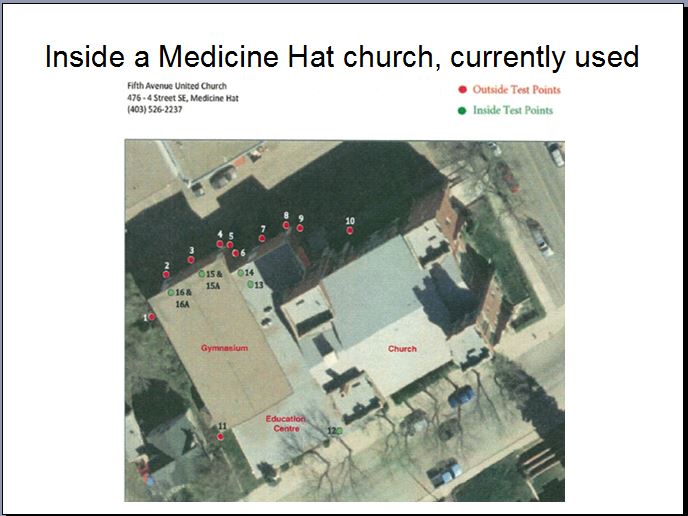 Slides above and below from Ernst's 2017 speaking tour in England & Northern Ireland
2017 04 02: After decades of lies to landowners and the public by CAPP, industry & energy regulators, University of Guelph Study Proves Potentially Explosive Methane Leaks from Energy Wells Affects Groundwater, Travels Great Distances, Poses Safety Risks. Will the lies stop now? Not Likely. Will groundwater monitoring begin now? Not Likely.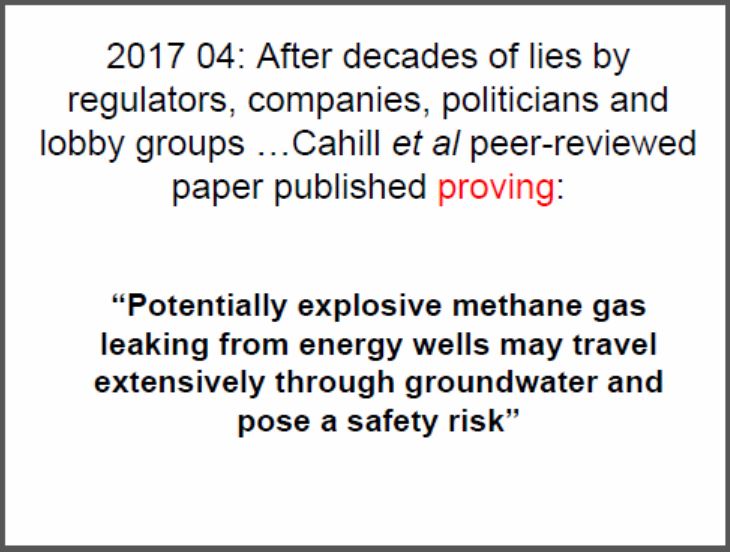 2017 04 05: New University of Guelph study on methane migration in sand aquifer in Ontario: "Potentially explosive methane gas leaking from energy wells may travel extensively through groundwater and pose a safety risk"
"For larger leaks over longer times and greater areas, these findings would indicate that the groundwater would become unusable," he said.
Leaky wells could pose a significant danger to the environment in a number of ways, said Cahill, who is now at the University of British Columbia.
"Methane is 30 times more potent than carbon dioxide at trapping heat when in the atmosphere, so we need to consider both the air and the groundwater when monitoring for leaks. The impact to groundwater is likely to be long-term and persist long after a methane leak is fixed," he said.