Water-monitoring well shows presence of gas northeast of Greeley Sharon Dunn, January 27, 2016, Greeley Tribune
In two years of round-the-clock inspection, water analysts in recent months isolated one case of water contamination in a monitoring well in a heavily drilled area northeast of Greeley.
Analysts with Colorado Water Watch, a water-monitoring partnership between the Center for Energy Water Sustainability at Colorado State University and Noble Energy, in November found evidence of thermogenic gas — which originates from oil and gas exploration — in a water monitoring well in an area that has been heavily drilled for years.
The gas found would not be considered "toxic" to groundwater, which in this area could feed water wells and irrigate crops, but rather more of an explosion risk in certain situations, said Ken Carlson, director of the program.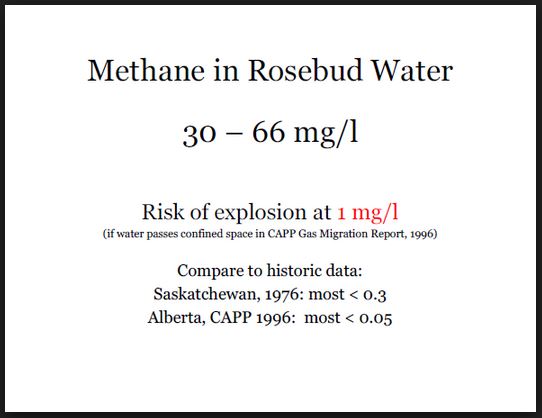 Sampling by Alberta Environment of Debbie Signer's contaminated well water at Rosebud found 110 mg/l.
The non-historic data above were from sampling of citizen water wells by Alberta Environment after Encana illegally frac'd Rosebud's drinking water aquifers.
Slide from Ernst presentations
"The sky is not falling," Carlson said when contacted about the anomaly, which is noted on the Colorado Water Watch website. "There isn't a hazard here, we don't think, because it is irrigation water."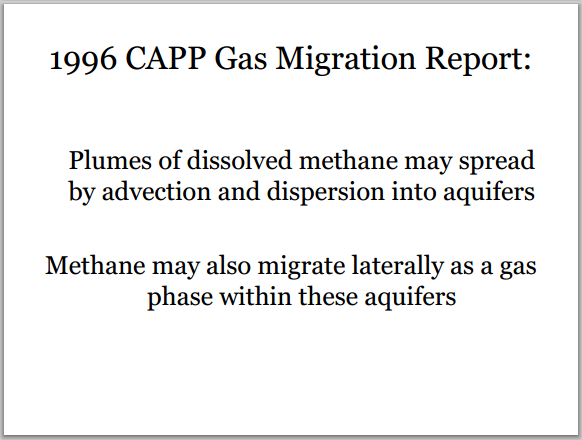 What if industry's hazardous gases migrate into Mr. Calson's house and blow up it up?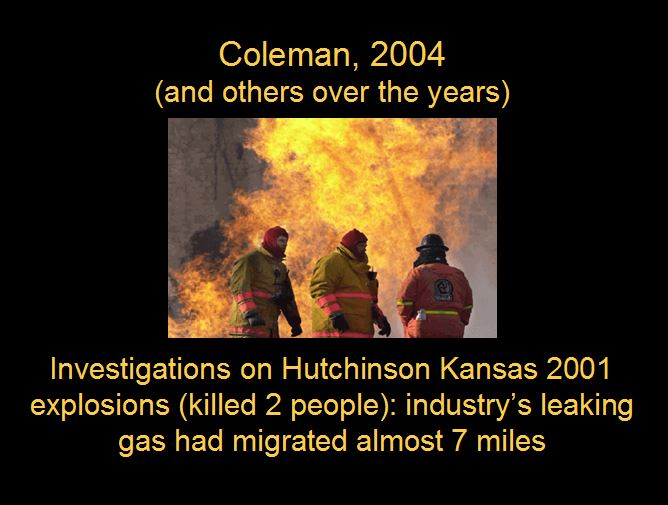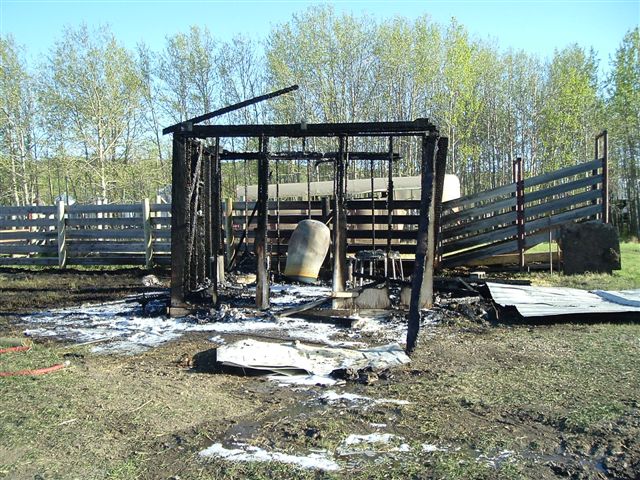 May 2006, Spirit River, Alberta: Jack's water well, day after industry's migrating methane and ethane blew it up, along with Jack and two industry gas in water testers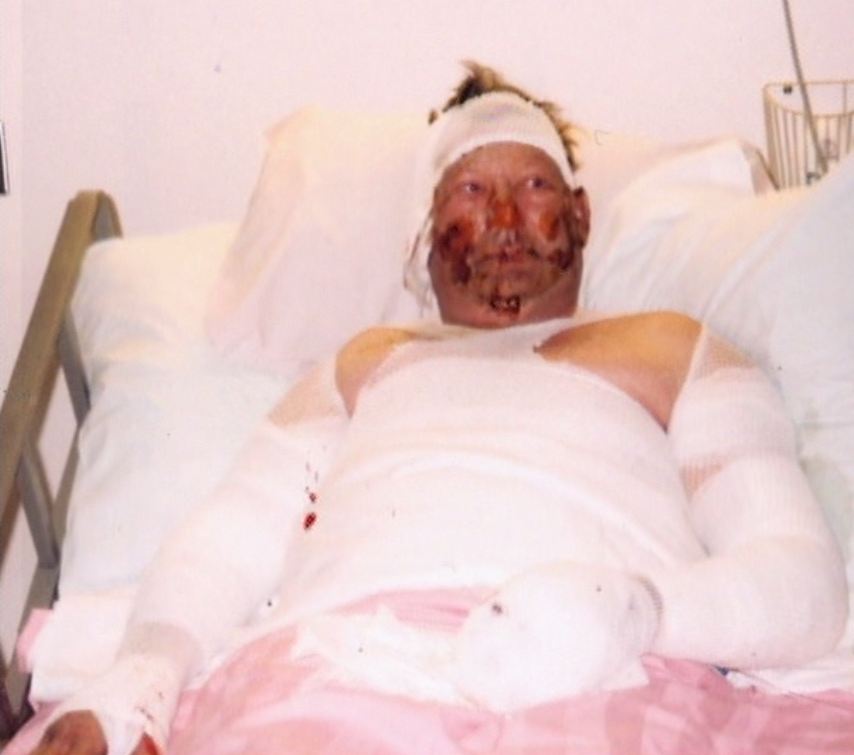 Bruce Jack in hospital, day after his "drinking water" blew him and other men up.
No hazard?
Slides from Ernst presentations.
Investigation by the Colorado Oil and Gas Conservation Commission so far has not pinpointed a source of the contamination. [Did the regulator look? Or do they use the same no lookie investigation strategies as the AER to conclude no linkie to polluters?] The area is surrounded by several Noble wells, some which were drilled for several years ago.
Colorado Water Watch, billed as an independent watchdog of water in areas of oil and gas drilling, started its first water testing in February 2014 in a pilot project with Noble Energy. The plan was to drill 10 water-monitoring wells within a half-mile of Noble wells and monitor water levels 24/7.
Throughout the Wattenberg Field in recent years, there have been a few other instances of gas leaking from wells, usually older, legacy wells, which were built with lesser casing standards than recent wells.
"One thing most of us believe is that the risk is not these new horizontal and hydraulically fracked wells that are being put in (today) …" Carlson said. "The risk is more the 20- to 40-year-old wells done at a time when we didn't have nearly the knowledge and didn't have nearly the barriers built in in the casing. … It's all speculation" until a source is pinpointed.
In November, however, Carlson's team had drilled the last of its test wells in the pilot project on a farm southeast of Lucerne. They expected similar results to other tests in the previous two years from monitoring wells.
"It was sort of a shock, really," said Carlson, noting the gas was found in the water during the well testing for baseline levels, which is used for comparison to future samples. [Why then drill monitoring wells after oil and gas wells were already in place?] "We were expecting, particularly with the initial one, (to be fine). We've had hits, so to speak, or events or anomalies (on other wells), but they haven't been oil and gas-related. They've been agriculture-related. This is the only time we've actually seen oil and gas-related contamination."
The sampling found gas only and not carcinogens associated with oil and gas liquids, such as benzene. Analysts found a methane concentration of 50 milligrams per liter; 20-25 [milli?]grams per liter is typically considered a threshold for the potential to cause explosions. [Not according to the oil and gas industry. CAPP warned in the 1990's that as little as 1 mg/l puts water at risk of exploding if it passes a confined space. See slide above] As an example, if such a concentration of water was pumped into a shower, from which steam was emanating, if you lit a match, it could potentially explode, Carlson explained. He added, however, water from this well is not being used domestically. [What when the gas migrates in the aquifers and into a domestic water well? Has that already happened, and will the regulator claim the data then as "baseline" so nature did it?]
Carlson quickly notified COGCC authorities, which began an investigation, which involved testing area water wells, as well as integrity testing of surrounding oil and gas wells. The agency reported, "if any oil and gas wells are found to lack integrity or are otherwise identified as a source of the dissolved gases found (in wells) COGCC will require the wells to be plugged or repaired to prevent further impacts."
Noble Energy spokesman Brian Miller would not comment on the situation, but issued the following statement:
"Noble Energy is a partner in Colorado Water Watch, along with CSU, COGCC and others. COGCC requested Noble Energy to identify and evaluate wells within a three-quarter mile radius from the CWW monitoring well. [When it's proven that industry's leaking gas migrated nearly 7 miles, killing two people, the regulator choosing such a tiny radius is typical of no lookie investigations by North American's captured non-regulating regulators] Noble Energy is working cooperatively with COGCC to undertake the evaluation and identify any potential source." [To help the regulator avoid the most damning data the way the AER and Alberta Environment do? Why is the guilty party involved at all in the investigation? Since when do bank robbers help the police fingerprint the bank vault?]
The COGCC investigation is ongoing, said director Matt Lepore in a statement:
"It's important to note that investigations concerning groundwater are technically complex, involve many steps and sources of information, and take time to complete. The agency is undertaking thorough reviews of surrounding water well information to determine whether more sampling is warranted and to determine any potential impact to domestic water wells." [It's extremely complicated to know what leaking energy wells to avoid, and which contaminated water wells to avoid, and then, to be able to manage the lies and propaganda to not get caught covering-up for the polluter]
He said investigators will keep a keen eye on anything that may indicate a lack of wellbore integrity in surrounding wells. Testing can actually match substances found in wells, much like a fingerprint. [Or rather, keen no lookie, no linkie?]
Carlson said the program was set up for exactly this reason — to find anomalies and alert authorities to get the problems fixed.
"I think people might find solace in that COGCC is on top of it, and Noble is on top of it, and we have a university-based system looking for this type of contamination," Carlson said.  [Emphasis added]
[Refer also to: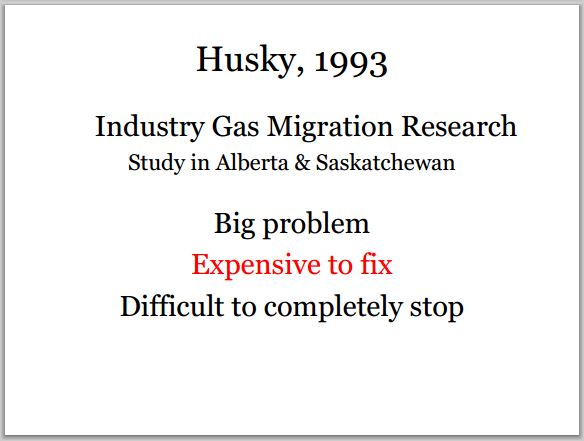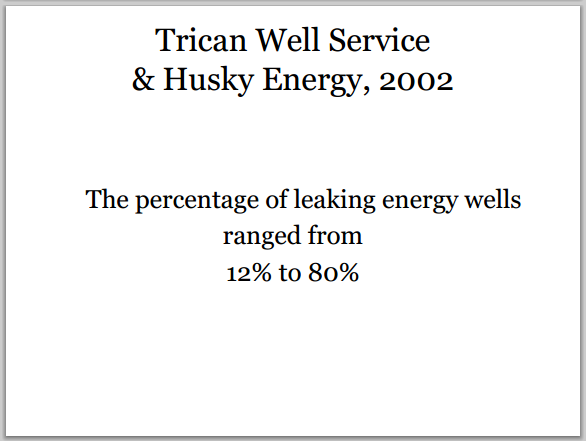 2005: Investigators say an accumulation of gases appears to have caused the explosion that destroyed the Rosebud water tower and sent a Wheatland County employee to hospital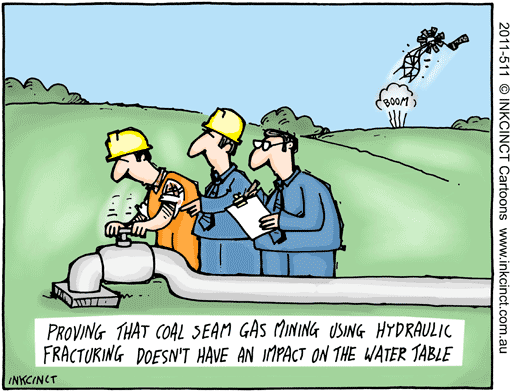 2014: Trouble Beneath Our Feet: Leaking Energy Wells a Burning Issue; Big problem, Expensive to Fix, Impossible to Completely Stop ]