Communities want more input in urban drilling decisions by Amanda Stephenson, May 12, 2014, Calgary Herald
It was the news Lethbridge residents had been hoping for. The southern Alberta city, population 90,000, had spent two years opposing a plan by Calgary-based Goldenkey Oil Inc. to drill three exploratory wells in an empty field inside city limits, about one kilometre from the backyards and fences of a fast-growing housing development.
Lethbridge's mayor and council, both local school boards and the city's realtor association were united in vocal opposition to the proposal. A petition against the project garnered 13,000 signatures, but it seemed likely the final decision would ultimately rest with the Alberta Energy Regulator — unless the provincial government could be convinced to implement new rules governing oil and gas drilling in urban areas.
And then, amid the public furor and the ongoing government deliberations, Goldenkey pulled out. Forfeiting the $500,000 it had paid for the mineral rights and hundreds of thousands more spent to get the project to this point, the company announced on April 30 that it would abandon its plans.
"There's a lot of excitement here," said Dave McCaffrey, a spokesman for the community group No Drilling Lethbridge. "The community here is elated with the results."
It was an unusual turn of events, but not the first time an energy company has come face-to-face with an urban drilling controversy in Alberta. In 2012, residents of the northwest Calgary neighbourhood of Royal Oak protested plans to drill an oil well just behind a shopping centre. The company involved, Kaiser Exploration Ltd., eventually gave in to public pressure and moved the well more than two kilometres away.
In that situation, just as happened in Lethbridge, the prospect of oil and gas activity within a stone's throw of a residential neighbourhood fuelled fears about property values, traffic patterns, odour, health, and safety.
Both cases highlighted a reality which seemed to come as a surprise to some urban dwellers: in Alberta, municipalities have no ability to evaluate oil and gas proposals the same way they do other industries within their boundaries. Municipalities can register their concerns with the Alberta Energy Regulator, but they can't say no to a drilling project, force it into an area zoned for industrial activity, or demand certain setbacks from existing development.
In Lethbridge, the proposed drilling project conflicted with the city's 25-year development plan for the area, and yet council had no ability to reject it.
City of Calgary Ward 1 Coun. Ward Sutherland was president of the Rocky Ridge Royal Oak Community Association at the time of the Kaiser Exploration controversy, and is now the City of Calgary's point person on urban drilling. He believes Alberta's decades-old energy development policy dates from a time when oil wells were in the middle of wheat fields, and is in desperate need of an update that reflects the realities of urban [and rural growth] growth. "I think it's mandatory that the province has specific rules and safety standards in place and those can't be compromised," Sutherland said. "But I also think municipalities should have veto rights when an application does occur."
The provincial government launched a review of the rules surrounding urban drilling back in 2012, in response to the Royal Oak situation.
Mike Feenstra, spokesman for Energy Minister Diana McQueen, said an internal departmental study has already been completed, and the government is now about to begin an engagement process involving municipalities, industry and other stakeholders.
Critics are frustrated the process is taking so long. Alberta's Liberal Party and NDP are both calling on the Progressive Conservative government to immediately ban all new drilling in urban areas, while Wildrose Energy critic Jason Hale has expressed disappointment that the government has "taken no reasonable step" toward creating a comprehensive policy that takes into account the concerns of communities.
For the government, however, drafting such a policy may require a difficult balancing act. There are already hundreds of wells operating within urban limits in Alberta — 10 in Calgary and 19 in Lethbridge alone.
Bob Schulz, a professor with the Haskayne School of Business at the University of Calgary, said sweeping changes to the rules governing urban drilling could put the government at risk of compensation claims from energy companies whose investments have been compromised. But he said the government also can't afford to underestimate the concerns of the public, especially since energy development and its repercussions are increasingly high-profile.

"The awareness of environmental issues is higher now than it was before," Schulz says. "Look at the Gateway pipeline, Keystone XL, Energy East — they're all seeing people react differently than they would have 10 years ago, so it's no surprise that urban drilling is also seeing more activist concerns. It's the general trend."
For its part, Goldenkey Oil no longer owns the mineral rights to any lands within city limits, and spokesman David Hill said the company has little interest in what may come out of the province's review. "I don't think they (Goldenkey) have a keen interest in lobbying for urban drilling, because they've lost their opportunity," Hill said. "This company has always taken the high road and they're just working with the system the best they can. They're not trying to make any political statements at all about what has or has not happened."
In Lethbridge, McCaffrey said he and other residents opposed to urban drilling will savour this victory, but have no intention of letting their guard down. "We absolutely must stay active. Although we're pleased with the results on this project, nothing has happened that would prevent drilling from occurring in the future," he said. "Until municipalities have the power to say no to these projects, we could be fighting this battle again." [Emphasis]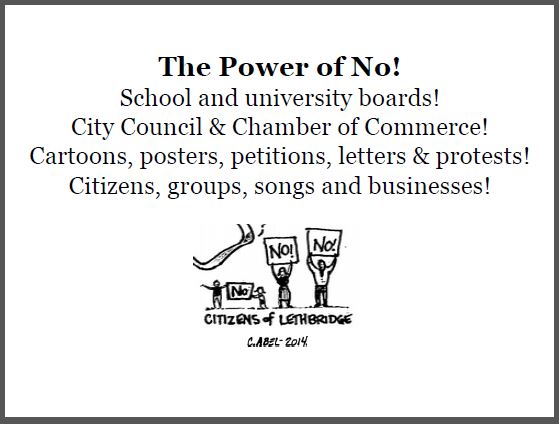 Slide from Ernst presentations