Court defends political dissent after N.L. man sent to psychiatric hospital for criticizing police shooting by The Canadian Press, April 17, 2017, Calgary Herald
ST. JOHN'S, N.L. — The Newfoundland and Labrador Court of Appeal has issued a ringing defence of political dissent, in the case of a man held involuntarily at a psychiatric hospital after he sent a series of angry tweets about a police shooting.
Andrew Abbass was detained and taken to the psychiatric unit at Western Memorial Hospital in Corner Brook, N.L., on April 7, 2015, two days after the fatal shooting of Don Dunphy in Mitchells Brook, N.L.
Abbass had expressed anger about the death on social media, prompting Royal Newfoundland Constabulary officers to go to his home. They took him to hospital, where two physicians "completed the necessary paperwork that resulted in his involuntary admission," according to a new appeal court decision.
Abbass, who has since been released, challenged his detention in provincial Supreme Court, claiming he was not suffering from a mental disorder and that the doctors' certificates of involuntary admission did not cite grounds for his detention. But the judge declined jurisdiction, and dismissed his application.
The appeal court said the lower-court judge should not have declined jurisdiction.
"Mr. Abbass felt that what the police and physicians did was without proper authority. He sought the vindication of having a Supreme Court judge affirm this,"

said the three-judge court, which included Justice Malcolm Rowe, who has since joined the Supreme Court of Canada. [He was appointed to the Supreme Court after the Ernst vs AER hearing]
"The courts must always be there for the vindication of the citizen with what he or she views as the wrongful exercise of authority. Mr. Abbass was denied his day in court. He should have had it."
If the police can take you away once and the physicians confine you,

maybe they will do so again.
[So, what the Supreme Court of Canada ruled in Ernst vs AER, and what the court did to Ernst (defamed her in their ruling), sets up the AER to legally do to other Albertans what the AER did to Ernst?  Abused their power, violated her Charter rights, to try to silence her speaking out about the regulator covering-up Encana's and the regulator's law violations. And, sets up legalized abuse of power by any energy regulator in Canada, including the National Energy Board, chaired by Peter Watson, who abused his power trying to intimidate and silence Ernst when he was Deputy Minister of Environment and helped the AER cover-up Encana's crimes.]
In its ruling, the appeal court said the first psychiatric assessment of Abbass took 19 minutes before a doctor certified a certificate of involuntary admission. The certificate noted the patient showed some signs "consistent with paranoia," and said he needed observation and assessment.
The second certificate was completed five minutes later,

and noted Abbass had expressed anger about the shooting. The doctor added: "In order to establish Mr. Andrew Abbass' personal safety as well as public safety, further observation and assessment is necessary in a secure facility as the least restrictive measure at this time."
The appeal court said both certificates appeared to rely on second-hand facts and made no attempt to identify the mental disorder in question.
It said the judge owed a duty to Abbass to look further into the circumstances of his case, which "appear to be extraordinary."
[What about the duty owed by the Supreme Court of Canada justices to Ernst in Ernst vs AER? It appears the majority justices were only interested in serving the oil and gas industry's enablers by using the Ernst appeal to destroy Canada's Charter rights for civil Canadians. Ernst's valid charter claim against AER is also extraordinary and now, thanks to the Supreme Court, Ernst's documented evidence of abuse of power by the AER will never be seen in court. And Ernst will never get her day in court because the Supreme Court clearly indicated to the remaining defendants and Alberta courts that only the oil and gas industry matters, that Canadians harmed by it do not, and that Canadians harmed by the oil and gas industry – no matter how terribly – must not be allowed their day in court. ]
"If anger about political events and words of defiance to authorities are dealt with as signs of mental illness …. warranting involuntary committal, then our society is in a dangerous place," it said.
[Compare this ruling to the Supreme Court of Canada's ruling in Ernst! Incredible how obvious the Supreme Court's bias shows against Canadians harmed by the oil and gas industry's enabling regulators and who dare to take their abuse of power to court!]
"Such anger and defiance are characteristic of political dissent. As the history of authoritarian societies has taught us, confinement in a mental institution is a particularly insidious way of stifling dissent, directly and through intimidation.
[Again, compare to what the AER did to Ernst! And how badly the Supreme Court of Canada ruled in Ernst vs AER compared to the Newfoundland and Labrador Court of Appeal. The courts are clearly indicating have rights in Canada, but not when it comes to violations by the oil and gas industry!  Terrifying, creepy and infuriating. Did the Supreme Court of Canada justices abuse their power too in Ernst vs AER?]
"Was this the intent of the police in this case? Did the physicians simply lend their authority to what the police asked them to do? Did they assume that a person who acts in the way Mr. Abbass did needs help and further assessment and observation, without turning their minds to the specific limited statutory criteria that would justify his deprivation of liberty?"
It added: "The reality is that if you are involuntarily confined, you are viewed differently; you are seen as less credible. That is not how it should be but that is how it is. As well, there is the intimidation factor. If the police can take you away once and the physicians confine you, maybe they will do so again." [Is that why Abella defamed Ernst in her ruling and why the four justices led by Cromwell were silent about her defamation?  To stop the world from watching the Ernst lawsuit? To discredit Ernst?  To stop Albertans from seeking Ernst's help and research results? To stop media reporting on the Ernst case?]
The decision did not elaborate on what Abbass allegedly said on Twitter.
An RNC constable shot Dunphy on Easter Sunday 2015. Const. Joe Smyth, a member of then-premier Paul Davis's security detail, has testified he shot Dunphy, 58, once in the left chest and twice in the head in self defence after he aimed a rifle at him.
Smyth has said he went to Dunphy's home to check out political comments Dunphy had made on Twitter. [Emphasis added]
[Compare to:
2017 01 25: Jessica Ernst Open Letter to Chief Justice Beverley McLachlin Regarding False and Seriously Damaging Statements in Justice Rosalie Abella's Supreme Court of Canada Ruling, Ernst v AER
2017 02 06: Comment to Osgoode Hall Law School Dean Lorne Sossin's review of SCC Ernst vs AER, Damaging the Charter: Ernst vs Alberta Energy Regulator: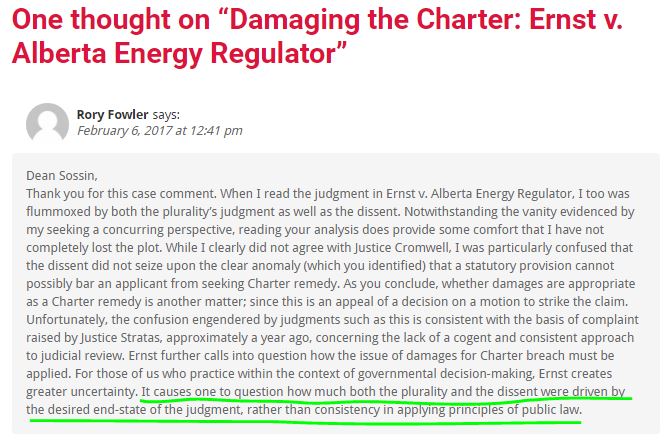 ***