The Port of Cork has cut ties with a US firm which could have led to fracked gas being imported through, and stored in, Cork Harbour by Eoin English, January 14, 2021, The Irish Examiner
The site in the lower Cork harbour where the liquified natural gas terminal was to be located. File picture
Environment Minister Eamon Ryan said he had been informed that a memorandum of understanding (MoU) signed in 2017 between the Port of Cork company and a liquefied natural gas (LNG) development company in the US expired on December 31, 2020.
And he said he had been told the port company "has no intention to renew it".
The Green Party in Cork welcomed the news and said it effectively meant the end of any potential LNG plans for Cork Harbour.
The details are contained in the minister's response to a parliamentary question from Green TD Neasa Hourigan.
The port company signed the MoU with US company Next Decade and its partners in 2017 to explore a joint development opportunity for a new Floating Storage Regasification Unit (FSRU) and associated LNG import terminal infrastructure in Ireland.
The LNG would be sourced from Next Decade's proposed Rio Grande LNG export facility at the Port of Brownsville in South Texas. The company uses fracking in some of its explorations.
The Port of Cork stressed at the time that the signing of an MoU is a very early stage in a long consultative process.
But it came under intense pressure to abandon the process.
In later 2019, there was a near-unanimous vote by Cork's city councillors in support of a Green Party motion which called on councillors to write to the Port of Cork and the then environment minister, Richard Bruton, to formally request that the port company cease any work to develop facilities in the harbour to "enable the importation of LNG extracted using hydraulic fracturing.
However, efforts by the Green Party in Cork County Council to stop the project were blocked in October 2020.
In his response to Ms Hourigan, Mr Ryan said the programme for government sets out that as Ireland moves towards carbon neutrality it does not make sense to develop LNG terminals that import fracked gas.
He said his department was carrying out a review of the security of energy supply of Ireland's electricity and natural gas systems which is focusing on the period to 2030 in the context of ensuring a sustainable pathway to 2050.
The review will include a technical analysis and a public consultation, which is expected to be completed by the end of this year, he said.
Green Party councillor for Cork City North East Oliver Moran welcomed the news.
He said party members met Bekah Hinojosa, a resident from Texas, in 2019, who explained first-hand the effect that extracting gas through fracking has on the local environment, especially for already marginalised communities.
Eamon Ryan has confirmed to Neasa Hourigan and @CorkGreens that Cork LNG is scrapped!

"The Port of Cork has advised that the Memorandum of Understanding expired on 31 December 2020. … it does not make sense to develop LNG terminals that import fracked gas." https://t.co/PvJ5ErN66B pic.twitter.com/jPy6DBUW99— Oliver Moran (@oliver_moran) January 14, 2021
"Fracking means injecting liquid into the earth and breaking up rocks under the ground to release gas. This has the effect of contaminating groundwater and unsettling the earth, even affecting birth outcomes," he said.
Ireland banned fracking in 2017. The support from across the city and county in opposing the importing of fracked gas through Cork after that has been tremendous.
"The message is very clear, Cork does not welcome fracked gas. We know we have to make the transition to a low-carbon economy but fracking and all of its effects has no place in that. Not here, not anywhere."
Long long time ago:
2012, Ernst presenting at the Rainbow Ballroom of Romance, first Ireland and N Ireland speaking tour (gruelling, every community wanted more more more):
2012 03 06: Jessica Ernst packs hall at Ballroom of Romance
But this was no social outing that saw a full house of up to 350 people on Friday 24th February spilling out the door. … The men at the door were straining as if there lives depended on it, because it did. …
Ernst argues that Ireland should "do a conservative socio-economic assessment of what Ireland stands to lose — in current jobs, industry, your infrastructure, your health. And even the water itself. What is the value of Ireland's rivers and loughs? Often in these things, we look at the supposed short-term gains, but we don't look at what we put at risk." When asked what she would suggest as a course of action for Ireland on fracking, her message is simple: wait. "The best advice I can give to people in Ireland is that the wise man learns from the mistakes of others. Watch the mistakes happen everywhere else," she says.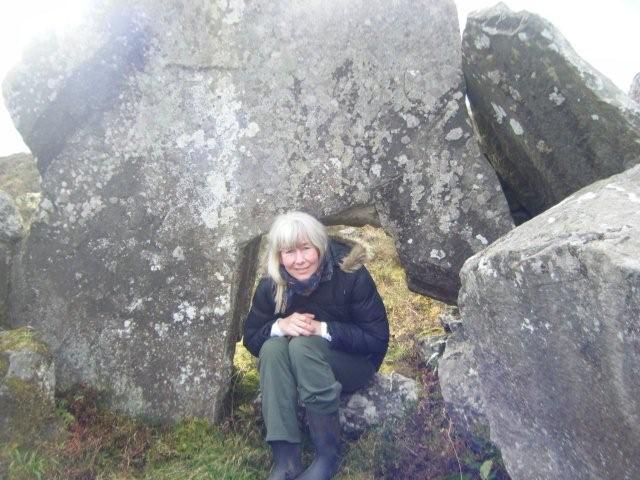 Jessica Ernst in borrowed boots (and coat) at Prince Conaills Grave near Kiltyclogher in Leitrim Co, Republic of Ireland
The Irish did not allow themselves to by synergized by the industry and its enablers. Does it ever show and do me proud.
2012 12 28: 'No backing for fracking' in Northern Ireland
2013: Second speaking tour in Ireland, N Ireland and UK:
Ernst presenting in Co Clare:
Fracking concerns, Interviews in Ireland with Cillian Murphy, Business Owner, Eddie Mitchell, Leitrim Farmer, Carroll Odolan, Physician and Martin McKeown, Geologist, and Jessica Ernst
Ernst presenting in Dublin:
2017 01 16: Condolences from Republic of Ireland on the Supreme Court of Canada denying Ernst her guaranteed right to seek remedy for her valid Charter claim against Alberta's energy regulator:
We're winning here because of you. When you told your story in the ballroom of romance in Glenfarne that night you turned the tide against the fracking industry. We're going to ban fracking this year but you banned it first in the hearts of those local people. They believed you because of you honestly and your integrity. And you did it with Love.
We appreciate you. You reminded us to fight in a way that represented our values. That's why we're winning.
2017 05 31: Ireland "Victory for the long term." Frac bill passed in Dail! "The scientific evidence overwhelmingly shows that permitting fracking in Ireland and Northern Ireland would pose significant threats to the air, water and the health and safety of individuals and communities here."
2017: Ernst presenting in Malton, N Yorkshire, on third speaking tour in N Ireland and UK:
2017: Republic of Ireland, Love Leitrim to Celebrate their Frack Ban on Global Frackdown Day, Sat October 14, Rainbow Ballroom of Romance, Glenfarne
Refer also to:
2020: "Sheer Delight:" After 13 year legal battle, Irish High Court quashes all Shannon LNG permissions; Opens window for ban on imported frac'd gas
2020: European Court of Justice rules against regulator for approving USA New Fortress Energy's frac'd gas import terminal in Ireland; All permits and permissions for Shannon LNG to be quashed. Bravo to Friends of Irish Environment and its unstoppable legal team of James Devlin, John Kenny and Fred Logue (unlike Ernst's quitting lying lawyers, Murray Klippenstein and Cory Wanless, and Canada's lying top court pissing on the Charter to enable law-violating AER).
2020: Legal Wow in Ireland: Plans to fast-track Shannon 'fracked gas' LNG terminal hits legal bump, Friends of the Irish Environment wins right to challenge inclusion of project on 'rapid' EU development list (entitles projects to "most rapid treatment legally possible" including "overriding public interest").
2019: Shale gas frac'ing wasted 'millions of taxpayers' cash', say scientists; Frac quakes force Tory Gov't to Ban Frac'ing. Fracking Free Ireland Welcomes the Ban in Press Release to all TDs & MPs while industry spins itself silly
2019 07 11: Some courts uphold the Rule of Law (unlike in Canada)! Irish High Court delivers killer blow to US Fracked Gas Imports by 'New Fortress Energy' (Shannon LNG)
2019: N Ireland citizen letter, with copy Andrew Nikiforuk's Slick Water, to Dept for the Economy, Minerals and Petroleum Branch, lodging objection to Tamboran's application to frac.
2019: Jessica Ernst Submission to "No Fracking Fermanagh" (Northern Ireland) Petition
2016: Concerned Health Professionals Ireland call for frac ban: 'Extremely strong" evidence fracking harms human health
2015: What happens when communities firmly and loudly say "NO!" to fracing and the endless fraud that goes with it? Canadian company Rathlin Energy pulls out of Northern Ireland!