Nothing to warn about? UK may legalize fracking under homes without prior warning by rt.com, December 19, 2013
Hydraulic fracturing may soon take place under thousands of homes across the United Kingdom without their owners' knowledge. Based on a proposed law change the burden of notifying homeowners will be lifted from energy companies, the Guardian reports. Planning Minister Nick Boles said a change in UK law will allow gas companies to put in drilling applications without notifying those in the area whose property could be affected…. [Emphasis added]
Fracking could be allowed under homes in Britain without owners' knowledge, Planning minister says law will be changed so companies do not have to directly notify people about gas drilling in their areas by Rowena Mason, December 18, 2013, The Guardian
Fracking could take place under thousands of homes without their owners' knowledge after ministers said companies would no longer have to notify people directly about potential gas drilling in their areas. Nick Boles, the planning minister, said the law would be changed to allow gas companies to put in fracking applications without sending out letters to tell people about possible drilling beneath their properties. Instead, companies will be required to publish a notice in a local newspaper and put up site displays in local parishes, as well as conducting a wider consultation. Campaigners said the announcement was a blow to all communities likely to be affected by fracking, following concerns about minor tremors caused by test drilling for shale gas near Blackpool, and the potential for flaring, air pollution and contamination of water.
However, the government said it would be too burdensome for gas companies to tell everybody within a wide radius of drilling that it might take place under their homes. It would mean a "disproportionately large number of individuals and businesses" would have to be personally informed, Boles told MPs in a written statement. Ministers have repeatedly dismissed safety and environmental concerns about fracking, saying it will be tightly regulated and developed responsibly. The announcement comes after a report on shale gas found two-thirds of the UK's land could be made available for fracking companies to license, with new areas opened up in the Midlands, Cumbria and Wales. … "The associated underground extraction takes place very deep below the Earth's surface, over a wide geographical area," Boles said. "As a result, it is often not possible to identify the exact route of any lateral drilling. … Tony Bosworth, energy campaigner for Friends of the Earth, said it was unacceptable when the government had already accepted that fracking could have "potentially significant local impacts".
"People should be notified personally if firms want to drill or frack for oil and gas under their homes. Removing that right is a further blow to local communities who are rightly concerned about the impacts of fracking," he said. Ministers should be strengthening rules to protect local people, not weakening them in yet another sop to an industry that wants to keep us hooked on dirty fossil fuels." [Emphasis added]
WATCH: Fracking in Ponder, Texas: the real cost 9:24 Min. by Suzanne Goldenberg, Deia Schlosberg and Mustafa Khalili, December 14, 2013, The Guardian
In north Texas, the pumping heart of the oil and gas industry, an energy company are drilling five wells behind Veronica Kronvall's home. The closest two are within 300ft of her tiny patch of garden, and their green pipes and tanks loom over the fence. As the drilling began, Kronvall, 52, began to suffer nosebleeds, nausea and headaches. Her home lost nearly a quarter of its value and some of her neighbours went into foreclosure.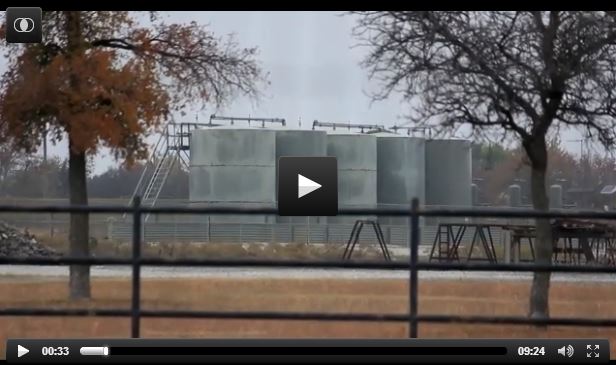 [Refer also to:
UK taxpayers to pay for fracking pollution if companies go bust, Minister rejects proposal to amend regulations to make companies sign a bond to pay for potential pollution incidents but creates legislation for tax breaks for industry
 Source: FrackingCanada: Fracking Rocky View County
 Source: FrackingCanada No Duty of Care
 Source: FrackingCanada How the West was Lost