Municipal Act not a cure-all by Dave Mabell, April 18, 2017, Lethbridge Herald
Should municipalities have authority over oil and gas drilling within city limits?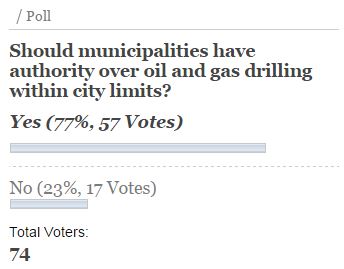 Results as per 10:10 pm April 18, 2017
They place more emphasis on environmental protection. But changes to the province's Municipal Government Act offer no protection against oil or gas drilling in Lethbridge neighbourhoods.
That's one of the concerns voiced by Mayor Chris Spearman, following release of the provincial government's latest draft legislation governing Alberta's cities and towns. And there's no assurance of stability in the province's grants to local government, he adds.
Spearman welcomes news that provisions in Bill 8: "An Act to Strengthen Municipal Government" add environmental protection as a core "municipal purpose."
But it still leaves Lethbridge wide open for drilling rig operators exploring for oil or natural gas deposits, the mayor warns.
"It appears to stop short of granting municipalities any authority over activities like urban oil and gas drilling, which in our view have environmental implications."
That issue was raised several years ago, when the province's energy officials granted a Calgary company permission to drill near Lethbridge's western boundary, close to new high schools and new homes in the fast-growing Copperwood neighbourhood.
After Lethbridge citizens mounted a sustained protest, the company abandoned its project.
While drilling activity could derail the city's plans for new westside subdivisions, so could an unexpected halt to the province's grants in support of civic services.

[Threats by the NDP to make Lethbridge behave like good silent obedient Albertans elsewhere (outside of Calgary that is)?]

Proposed changes to the municipal act, Spearman says, "don't respond to our numerous requests to stabilize municipal funding so we can effectively plan for and address infrastructure and service requirements."

"It's unrealistic to require municipalities to prepare three-year operating and long-term capital plans when we are so reliant on provincial grants that can change without notice," he points out.

The bill is also illogical in calling for three-year plans, the mayor says, after the government changed municipal governments' term of office to four years. A year after election, he explains, Lethbridge council members start working on a four-year operating budget. Two years later, they prepare a four-year capital improvement plan which will guide the incoming council.

"More thought needs to go into that," he suggests.

The new government bill, announced by Municipal Affairs Minister Shayne Anderson, is the second follow-up to a "discussion guide" released in 2016. The latest version, Spearman points out, also mandates collaboration and partnerships between neighbouring municipalities and school boards.

That's been happening here for many years, the mayor points out.

"We have already collaborated with Lethbridge County to develop a new Intermunicipal Development Plan," he says. "We are also collaborating with the county on an airport master plan, and we provide various services from time to time."

Spearman says the city is also consulting its Blackfoot Confederacy neighbours on matters like municipal development plans, as required under the new legislation. And for many years it's partnered with local school boards – another new requirement – to fashion joint-use agreements covering schoolgrounds and adjacent city parks.
Referring to another section of the draft legislation, Spearman says a proposed maximum "tax ratio" between residential and non-residential taxpayers will have no impact here. Bill 8 says one tax rate – for heavy industry, for example – can be no more than five times the residential rate. In some places, he says, that ration has been as high as 18:1.
"Our ratio is 2.39 to one, which is well below."
Speaking for county council, Reeve Lorne Hickey has raised no specific issues, while expressing general approval f the draft legislation
"We are pleased to see the progress that has been made with revisions to the Municipal Government Act and look forward to it coming into effect this fall," he says.
"The province has done a very thorough review process and we are happy to have been included in that process." [Emphasis added]
[Refer also to:
2015 07 31: Alberta Views: A well of uncertainty. Excellent article on Alberta's Urban Drilling Problem, focusing on Lethbridge and Calgary saying "NO!"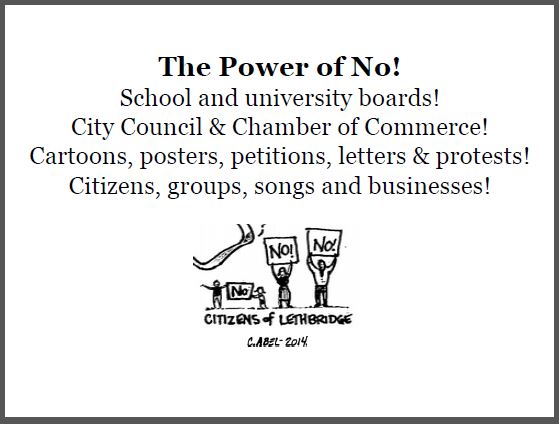 From cartoon below by C Abel
2015 05 29: Look out Lethbridge! Long Fortune Petroleum leases rights to drill oil or gas near family homes and schools. Office of the Energy Minister promises more information soon
2015 05 21: Alberta NDP promises to ban gas but not oil drilling in urban areas. Will Goldenkey or another foreign company return to frac Lethbridge?
2015 03 11: To frac and prevent a Lethbridge-style unified "NO!"? 'Embarrassing' new Taber bylaw outlaws swearing, restricts public assembly. To Synergize with Harper's Bill C-51?
2014 07 25: Alberta Energy Consultation: KEEP OUT! Lethbridge Community and Groups Excluded from Urban Drilling Meeting
2014 05 04: The Power of NO! HUGE VICTORY BY THE PEOPLE, BUSINESSES, COMMUNITY AND CITY OF LETHBRIDGE: Goldenkey withdraws from Penny Project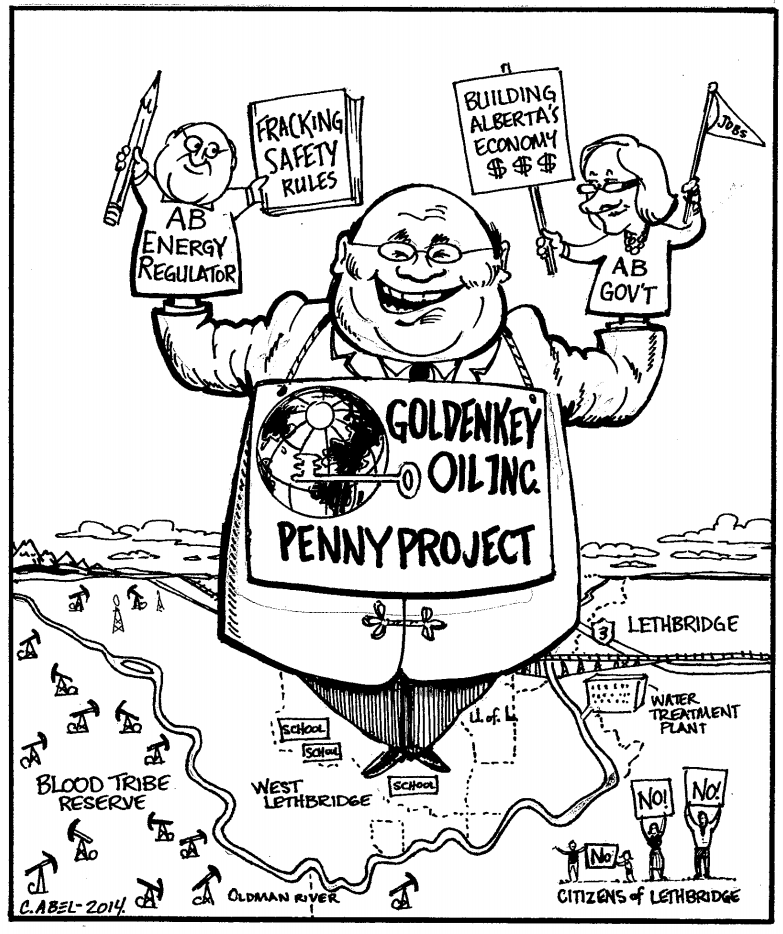 2014 04 17: Lethbridge Youth Advisory Council Opposed to Potential Oil Drilling
2014 04 17: Astounding! Another 2,070 anti-drilling Lethbridge signatures sent to Alberta MLA Greg Weadick, on top of the more than 11,000 signatures already submitted
2014 04 02: UNBELIEVABLE! Goldenkey Insults Blood Tribe and Lethbridge residents after being publicly exposed making glaring error or lying
2014 03  29: Goldenkey CFO regarding Lethbridge Penny Project: "We've heard many things and we may give up this one" and suggested frac waste water injection nothing to worry about even though it has been proven to cause damaging earthquakes
2014 04 01: The Power of "No" Review of presentation by Jessica Ernst in Lethbridge, Alberta
2014 03 25: Jessica Ernst Exposes Drilling and Fracking Crimes in Alberta & Exchange Between Lori Brave Rock and Jessica Ernst; Segments of Lethbridge presentation
2014 03 25: "In Bad Faith" Presentation by Jessica Ernst in Lethbridge: Experiences of an oil and gas industry scientist
2014 03 24: Front Page! Energy fight to be detailed: Jessica Ernst presents in Lethbridge March 25 and World Water Day Poster Competition Winners to be Announced
2014 03 21: WOW! University of Lethbridge to file Statement of Concern with Alberta Energy Regulator regarding proposed Goldenkey project
2014 03 18: 11,000 City of Lethbridge signatures opposing drilling delivered to legislature; Consider long-term health effects & Bravo to Lethbridge realtors
2014 03 14: Frac Cartoon: University of Lethbridge Fracked in the Future (2018)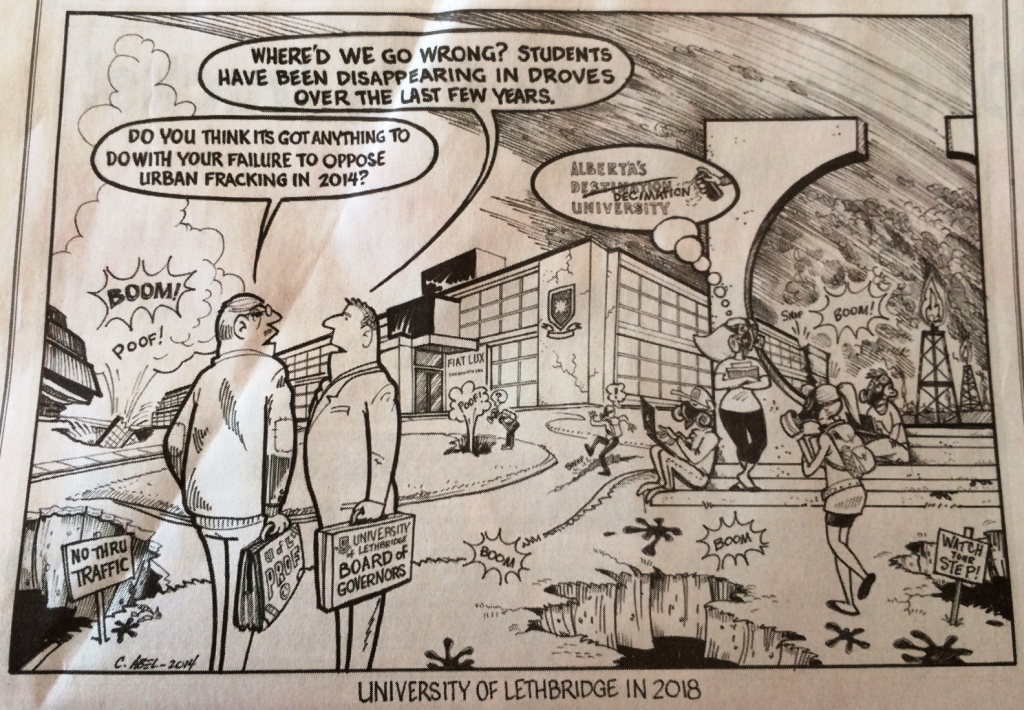 Source: Lethbridge Herald, March 15, 2014
2014 03 05: University of Lethbridge Faculty Group Opposes Fracking in city of Lethbridge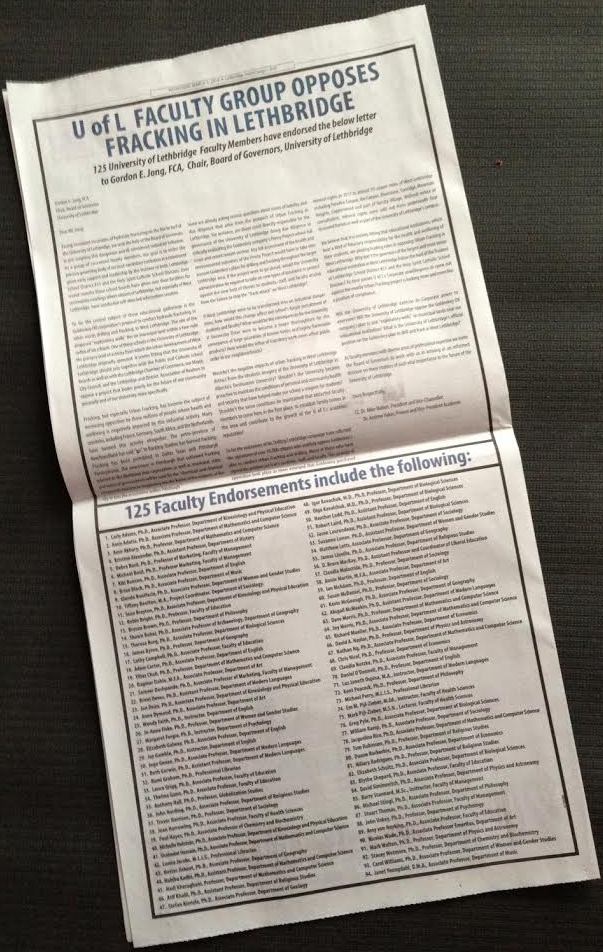 2014 03 05: C Abel Ernst v Encana (Redford) cartoon in Lethbridge Herald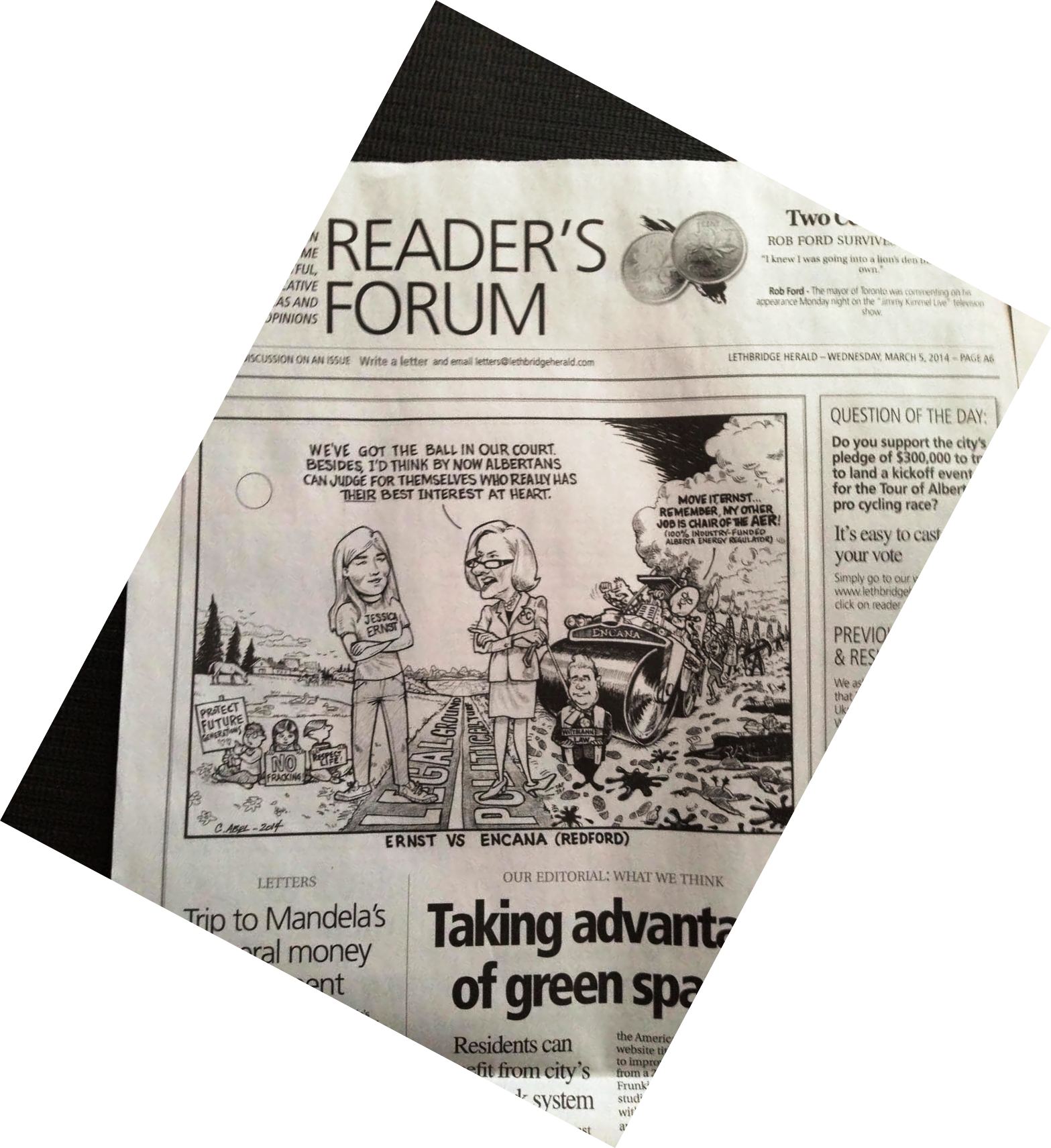 2014 03 04: Alberta urban drilling freeze? Yes, says Lethbridge city mayor and Chamber of Commerce
2014 03 03: Lethbridge City Council uanimously approved resolution calls for AER to halt acceptance of urban-drilling applications and for Municipal Government Act to be amended to give municipalities a formal say in rejecting urban drilling
2014 03 02: Drilling and fracking in Lethbridge would undo years of city planning
2014 02 28: Should University of Lethbridge take a stand on urban drilling and fracing issue? 119 from the university community signing it should be opposed
2014 02 28: Alberta Tory MLA Weadick says he's been against drilling in Lethbridge since 'day one'
2014 02 27: HOLY SMOKES! Lethbridge Chamber of Commerce opposes Goldenkey Oil's bid to drill; demands Alberta government order moratorium on all urban drilling
2014 02 25: More than 700 citizens attend Lethbridge City Council urban drilling panel
2014 02 21: Alberta Progressive Conservatives and Energy Minister Diana McQueen: Glaringly Empty Seat on Political Panel in Lethbridge
2014 02 20: Don't allow drilling and fracking to destroy our clean water in Lethbridge and county; 1,000+ Health Professionals Call on President Obama to Stop Fracking
2014 02 20: Alberta "Progressive" Conservatives, including Energy Minister Diana McQueen, pass on drilling forum at Lethbridge
2014 02 20: Opposition to drilling in Lethbridge strong, more than 75% against oil and gas drilling inside city limits, 60% "strongly opposed"
2014 02 19: Say no to drilling and fracing in Lethbridge and return power to the people!
2014 02 16: Lethbridge: The Drilling Stops Here!
2014 02 13: Bribery Bribery! Alberta Premier Redford says she's well aware of urban drilling concerns but doing nothing about them, except promising the loudly opposing community of Lethbridge a new school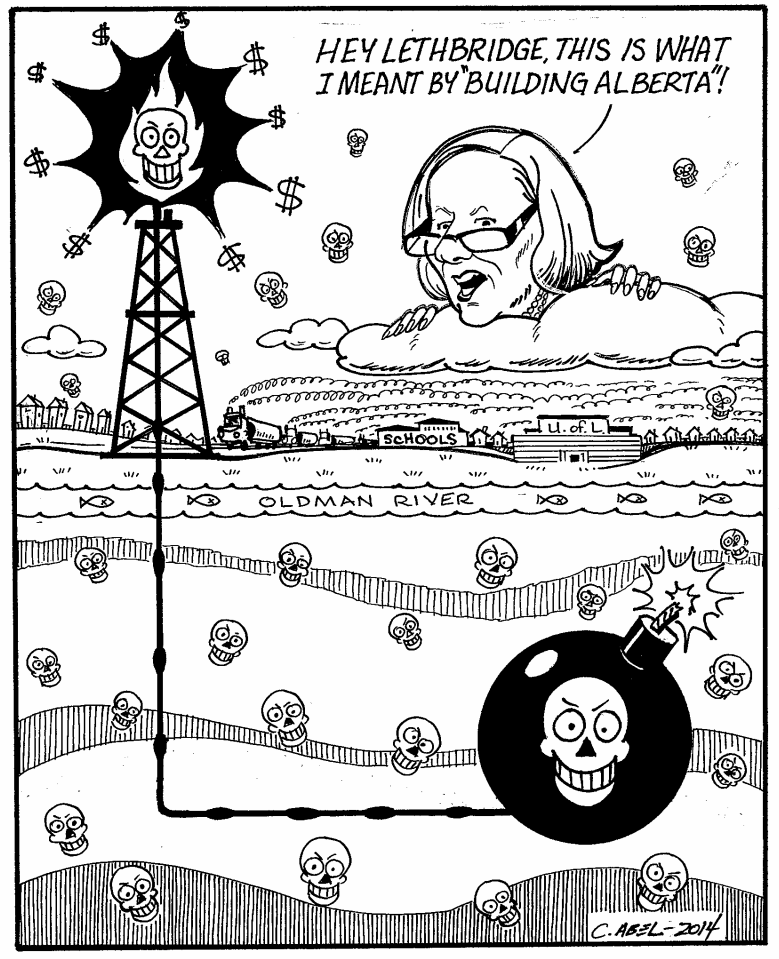 2014 02 28: Lethbridge: More drilling wells within city limits by Goldenkey?
2014 02 28: Lethbridge: 'Black Spots' drilling and fracking protests planned
2014 01 28: Drilling in the City of Lethbridge "is about money"
2014 01 27: MLA Dr. David Swann Speaks Out About Dangers Of Proposed Drilling Project in City of Lethbridge
2014 01 25: Are GoldenKey's exploratory wells in the city of Lethbridge tip of iceberg?
2014 01 25: Pipelines, facilities and active and abandoned energy wells can throw wrench into city planning; Trying to give city of Lethbridge more say
2014 01 24: Lethbridge's Urban Drilling Problem Just Got Worse; Goldenkey Oil Inc. licensed 23 sq km within city limits where more than 10,000 people live
2014 01 20: Frack Attack on Lethbridge Alberta Canada
2014 01 15: 'Call to action' draws crowd in Lethbridge, No Drilling Lethbridge volunteers going door-to-door to educate residents and get petition signed
2014 01 13: Lethbridge residents and council fight proposed sour oil drilling and fracing by Goldenkey Oil. Inc. in city limits and near school
2014 01 08: FOIP results: 'Red flags' with urban drilling in Lethbridge?
2014 01 07: Public forum planned by city council on Lethbridge oil drilling; council worries about health impacts and drilling sterilizing land designated for home developments
2014 01 06: Proposed drilling in Lethbridge carries too many risks: Letter by Dr. Tyson B. Brust
2014 01 05: Opposing fracking in Lethbridge needs support of our MLAs; What about financial impact? Property values could drop 4 to 16%
2013 12 30: Many reasons to not allow drilling in Lethbridge
013 12 21: School board in Lethbridge wants stakeholder status; School district opposes proposed oil-drilling and frac'ing project in west Lethbridge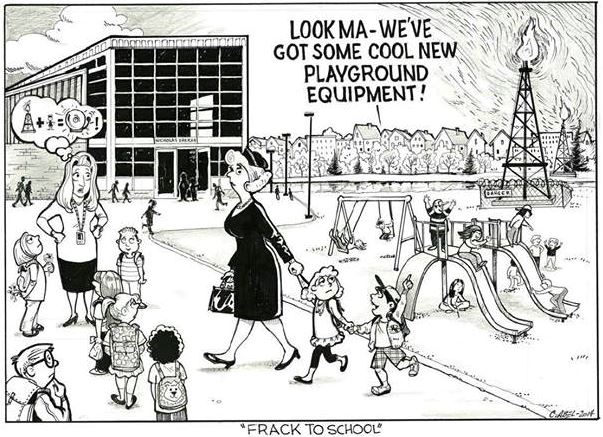 2013 10 17: West side landowner Jenny Skinner and Sheila Rogers, Chair Lethbridge branch Council Canadians protests oil drilling by Goldenkey Oil in Lethbridge
2013 10 08: McKillop Church gets in on fracking debate with information session in Lethbridge, Alberta; opposition to oil exploration in the city continues to grow
2013 09 29: Oil drilling with possible hydraulic fracturing and secret chemicals in Lethbridge city limits is cause for concern
2013 09 02: Former Lethbridge pastor's assets frozen as $500-million lawsuit moves forward
2013 03 05: University of Lethbridge confirms 2013 Honorary Degree Recipients: Alberta Court of Queen's Bench Chief Justice and former Lethbridge resident Neil Wittmann a recipient
2012 08 21: NDP voicing concerns in Lethbridge about gas fracking
NDP Environment Critic, Rachel Notley was in Lethbridge Tuesday. She says in the last year, the province has approved 5 million cubic meters of water to be allocated for fracking. She says there is lots of work to be done and plenty of questions to be answered before water should be simply given out to the fracking industry. Notley says there are too many questions about fracking safety and the impact on Alberta's water supply.
[What traitors Notely and her NDP gang have turned out to be.  "Envioronment" Minister Shannon Phillips is from Lethbridge and was part of the No Drilling Lethbridge campaign.]
2011 11 24 Jessica Ernst at the University of Lethbridge, Alberta
2011 09 27: Lethbridge locals protest fracking
2011 09 27: Lethbridge locals protest fracking, Protesters band together in southern Alberta to ask for a province-wide ban on the drilling practice
2011 09 11 Report on the POWERS Frack Alberta Workshop
2011 09 10 POWERSAlberta Frack Workshop Speakers Andrew Nikiforuk and Jessica Ernst, Cochrane Ranchehouse
2011 09 07: Local group to present workshop on 'dangers' of fracking ]