Taranaki Regional Council spends $85,000 fighting BSA decision by Jeremy Wilkinson, July 15, 2016, Taranaki Daily News
The Taranaki Regional Council have spent $85,000 worth of legal fees fighting about a Radio New Zealand segment on landfarming. [Listen to the 2013 12 17 podcast]
The Broadcasting Standards Authority dismissed the council's complaint in December 2014 but an Official Information Request by Radio New Zealand revealed on Friday the total cost of the council's legal fees for fighting the national broadcaster.
Airing on December 17, 2013 the RNZ segment featured an interview with the council's director for environment quality, Gary Bedford, on the council's procedure for allowing oil industry waste to be disposed of onto landfarms.
Landfarming involves spreading waste from oil drilling – and previously fracking waste – onto farm land to be gradually broken down over time.
The council complained to the BSA that RNZ had engaged in "attack style journalism", "had caused significant public alarm" and listeners were led to believe there were land pollution and food safety problems in Taranaki.
However, the BSA ruled the reporting was both fair and accurate and did not uphold the council's complaint despite numerous referrals by the council to the BSA between December 2013 and 2014.
Sparking the complaint was RNZ confusing drilling waste with fracking waste, a distinction the council deemed was imperative.
Fracking waste contains proppant, used to hold open fractures in the gas bearing formation, whereas drilling waste came in the form of mud and sludge.
Fault was placed with Bedford by the BSA for using fracking and drilling waste interchangeably throughout the 40-minute-long interview, failing to distinguish or highlight the difference between the two wastages.
"If the parties were talking cross-purpose, this was Mr Bedford's doing and was not due to any failure on the part of the broadcaster," the decision said.
Taranaki Regional Council's director of corporate services Mike Nield said "the council continues to disagree with the Broadcasting Standards Authority's decision not to uphold the Taranaki Regional Council's complaint about the Radio NZ broadcast."
"The Council has no further comment to make on this matter." [Emphasis added]
Stop farmers from using oil wastewater on crops by Carolyn Norr, July 14, 2016, The Sacramento Bee
Highlights:
Oil companies are selling wastewater to irrigate fruits and vegetable fields in California
Consumers should be protected from dangerous chemicals in their food
Gov. Brown and state regulators need to step in and stop hazardous practice
I have an almost 2-year-old, which means I spend a lot of time calling out, "That doesn't go in your mouth! That's not food!" I remove the staples, batteries and pebbles he is attempting to sample and offer him what I hope is a healthy snack instead.
Yet recently I learned that many fresh fruits, vegetables and nuts could contain some very inedible ingredients – chemicals used in oil and gas extraction.
Though few of us realize it, more than 100 farms in our state use oil wastewater for irrigation. It's been going on for more than 20 years, but in our parched state, fossil fuel companies are increasingly selling their toxic wastewater to farmers to irrigate crops.
As consumers, we have no way to know how much of this is reaching our kids or what it is doing to their bodies or ours. That's why Saturday hundreds of parents will be at local grocery stores to ask shoppers to join us in calling on Gov. Jerry Brown and the State Water Board to stop this practice. More than 250,000 have already signed a petition asking for an immediate ban.
Many people have heard that fracking creates large amounts of toxic wastewater, but other oil and gas technologies also produce tainted water that is being used to irrigate fruits and veggies sold all over California.
The danger here is clear: Plants take up the water they are irrigated with. I have done the experiment with my older son where we put a stalk of celery in a glass of water with red food coloring, and the celery turns red. If we swap benzene for the food coloring, it becomes an experiment I don't want to do – especially not with my kids as guinea pigs.
I find it infuriating the state is allowing this practice without even knowing exactly what this wastewater contains.
What we do know is that there are hundreds of chemicals used in fossil fuel operations, some of which are known to cause cancer, kidney failure and liver damage. The Center of Biological Diversity found that oil wastewater contained dangerous levels of benzene, chromium-6 and toluene – chemicals that are all linked to cancer and reproductive issues.
As a parent, I can't afford to wait any longer for regulators to act as they did, tragically, in places like Flint, Mich.
As clear as this seems, it does raise some deeper questions about our food, our safety and our energy production. If we don't use the wastewater on our crops, what should we do with it? Injected back into the ground, it contaminates our groundwater. Meanwhile, how will our farmers manage to irrigate their crops?
I can't think of a single safe thing to do except to not create this poisoned water in the first place. We should replace fracking and harmful oil development with renewable energy and conservation, and keep all our food safe for kids to eat. [Emphasis added]
Council fracking complaint dismissed by Blanton Smith, December 9, 2014, Taranaki Daily News
The Taranaki Regional Council laid a complaint with the Broadcasting Standards Authority following a Morning Report item, on 17 December 2013, about the disposal of fracking waste, saying it was misleading, unfair and unbalanced.
In the news item is was reported waste from fracking was being applied to farmland in Taranaki in an operation known as landfarming.
It also reported the TRC was misleading the public by claiming this practice was consistent with the international best practice of Canada's Alberta Energy Regulators (AER).
The TRC complained allegations arose because the report confused drilling waste (solids like mud and sludge) with liquid waste from fracking.
However,

the BSA found the basis for any alleged inaccuracy was the language used by the council's Director of Environment Quality Gary Bedford.
[!!!]
At no time during an interview for the report did Bedford distinguish between the two types of waste, the BSA decision said.
"If the parties were talking cross-purpose, this was Mr Bedford's doing and was not due to any failure on the part of the broadcaster," the decision said.
The TRC also argued the terms 'farmland' and 'agricultural land' in the report were misleading because landfarms are not used, and are often unsuitable, for grazing stock.
However, the BSA found while the item's introduction referred to farmland elsewhere in the report it was made clear waste was not being dumped on active farmland where animals graze.
The BSA was satisfied the item did not breach standards and the report was an accurate and fair reflection of what Mr Bedford had told the reporter.
It is legitimate and important in our free and democratic society to challenge and criticise public bodies on matters of strong public interest, the BSA said.
TRC chief executive Basil Chamberlain said the council was disappointed with the BSA's decision and stood by its view that significant parts of the RNZ report would have left listeners with a false impression on an important issue.
"The BSA emphasises in its decision that public bodies need to expect to face assertions they regard as unfair and broadcasters' freedom of expression needs to be protected," Chamberlain said.
"The Council fully supports informed discussion and routinely responds to queries and provides information to the media. We will continue to do so.
"However, the council is concerned to make sure that the public is accurately informed, particularly regarding issues of public concern. That's why we complained to the BSA about this particular report and we will be considering our options over the next few days," Chamberlain said.
He said, the Council follows accepted good international practice [Alberta's!!!!] for landfarming in the controls it sets and by closely monitoring the activity, the science available on landfarming in Taranaki clearly shows it is environmentally safe when properly conducted within council controls and the environmental outcomes have been positive, with minor exceptions. [Emphasis added]
[Refer also to: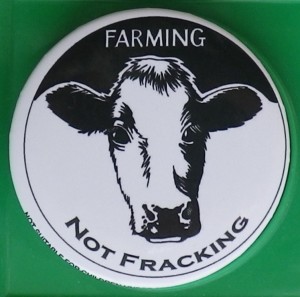 2015 10 30: What's in the milk? AER orders Bonavista to deliver safe water to cows at Edson, but not to Albertans living with dangerous levels of Encana's frac'd gases in their water & homes
2014 03 11: New Zealand farmers to face random milk testing if oil and gas drilling waste spread on their farms
2013 10 31: New Zealand milk dumped as toxic oil and gas drilling mud taints 14 Fonterra milk tankers
2013 06 27: Fonterra to stop taking milk from farms with oil and gas waste
2013 12 17: Fracking waste disposal on New Zealand farmland questioned; Alberta Energy Regulator "insists" frac waste is disposed of in industrial waste facilities! Who believes the Alberta Energy Regulator?
2013 12 17: Click to listen to the Radio New Zealand podcast of concern in first article above
"The Taranaki Regional Council Director of Environment Quality Gary Bedford says he knows landfarming is safe because the council is following Alberta's lead. He says the Canadian province is regarded as implementing international best practice."
Like this?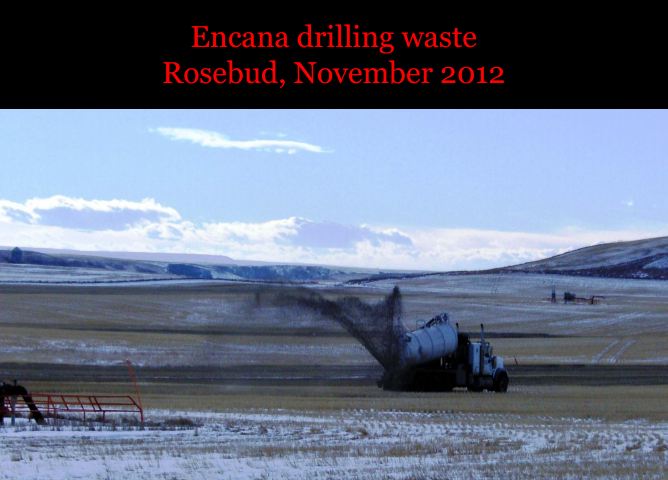 Encana's drilling waste dumped (landfarmed) on foodland at Rosebud, Alberta eight years after the company secretly and illegally fracturing directly into the community's drinking water aquifers at a location on the horizon in this photo.
Doe anyone farming the land, breathing the waste blowing in Alberta's wild winds, or drinking it in their well water know what toxic chemicals Encana added?