Encana sells Colorado assets to Broe Group partnership for $900M, Private equity firm partners with Canada Pension Plan Investment by Alicia Wallace, October 8, 2015, The Denver Post
The Broe Group, a Denver-based conglomerate, in partnership with the Canada Pension Plan Investment Board plans to acquire the entirety of Encana's oil and gas assets in the Denver-Julesburg Basin in Colorado for $900 million.
Encana's assets in northeast Colorado span 51,000 net acres and include more than 1,600 wells. In the first half of the year, the site produced an average of site 52 million cubic feet per day of natural gas and 14,800 barrels of oil per day, officials said.
As part of the agreement, expected to close in the fourth quarter of this year, a newly formed entity of Broe and CPPIB will oversee the assets as a standalone business. Broe officials are assembling a management team, officials said Thursday.
"At nearly $1 billion in total value, this is a milestone transaction for The Broe Group and represents the kind of investment we are actively seeking," Claude Pumilia, chief operating officer and chief financial officer of The Broe Group, said in a statement. "We are pleased to be partners with CPPIB to acquire an asset with significant proved reserves, strong production, and attractive well performance and returns. The combination of the management expertise of The Broe Group with the financial strength of CPPIB will drive the success of this new venture."
Late last year, Encana's operations in the town of Erie spurred noise complaints that eventually landed the energy firm in hot water with the state. After months-long back-and-forth, Encana and Erie reached a new agreement in August that involved the placement of noise limits and implementation of monthly leak inspections.
In a statement emailed Thursday, Encana officials said the buying entity plans to honor that operating agreement.
Encana also will continue to maintain its operations.
"Encana remains committed to Denver," officials said. "We have a strong workforce here that continues to serve as the center for U.S. operations."
As a private equity firm, the Broe Group has a multibillion-dollar portfolio of investments in real estate, rail and health care technology. [Emphasis added]
Encana sells former core assets in Colorado for $900 million US by Dan Healing, October 8, 2015, Calgary Herald
Encana Corp. is selling its DJ Basin assets in Colorado — liquids-rich lands identified as core assets two years ago — for US $900 million to an entity 95 per cent owned by Canada Pension Plan Investment Board.
The sale announced Thursday will allow Calgary-based Encana to pay down debt but removes an asset that has been producing 23,500 barrels of oil equivalent per day, about six per cent of corporate production. About 63 per cent of output is oil and natural gas liquids, the side of the business Encana has made its priority over natural gas.
"As we advance our strategy we continue to focus our portfolio and capital on our four most strategic assets, the Permian, Eagle Ford, Duvernay and Montney," said Suttles in a news release.
"Our efforts to transform our portfolio, improve efficiency and grow margins are increasing returns and strengthening our balance sheet, positioning Encana for success throughout the commodity cycle."
The company adjusted its asset priority list after entering the oil-rich Texas Permian last year with its US$6.8 billion deal to buy Athlon Energy Inc.
Financial analysts criticized the price in Thursday's deal, with Arthur Grayfer of CIBC World Markets pointing out he had modelled US$1 billion to $1.2 billion as the potential proceeds from a sale. He added, however, the sale improves his outlook for Encana's debt-to-cash flow ratio.
"Transaction metrics amount to $38,400/boe/d, which seems relatively light given that the assets were located in the heart of the Wattenberg field, which is one of the most productive fields in the DJ Basin and offers multiple Niobrara and Codell formations with good economics," wrote analyst Amir Arif of Cormark Securities in a morning note.
Leo Mariani, a U.S.-based analyst for RBC Dominion Securities, said in a report the price reflects poorly on the valuation of neighbouring Colorado assets owned by other companies.
"The purchase price equates to just under $40,000 per flowing boe and does not ascribe much, if any, value to the undeveloped acreage," said Mariani in a note to investors, adding Encana counts about 83 per cent of its acreage as developed. "We believe this weaker headline transaction price may be seen as a negative for some of the Wattenberg players today and may specifically weigh on shares of PDC Energy."
Analyst Nick Lupick of AltaCorp Capital applauded the debt reduction part of the transaction.
"Although the sale of the DJ Basin does not immediately advance Encana's goal of increasing its liquids weighting (DJ being two-thirds liquids), the sale does nonetheless continue to help lower the company's leverage which, at the end of Q2 had net debt at about $5.6 billion," he wrote in a note.
"Overall we view today's divestiture as being positive."
He speculated Encana's next likely sale might be its offshore Nova Scotia Deep Panuke gas wells or the Piceance Basin gas assets in Colorado. [More Encana liabilities to be shouldered by Canadian pensioners?]
In Toronto, Encana shares closed more than six per cent higher at $11.76. They've traded between $7.44 and $23.93 in the past 52 weeks.
In a news release, CPPIB head of natural resources Avik Dey said the Encana purchase offers attractive economics and aligns well with its strategy for the energy sector, adding he's looking forward to working with the Broe Group, the purchaser of a five per cent interest.
"The DJ Basin is one of the leading oil and natural gas plays in North America and Encana's assets and operations have long been regarded as top-tier by industry standards," Dey said. [Is the basin at its dying end? Canadian pensioners to carry the clean up of Encana devastation left behind?]
Claude Pumilia, Broe chief financial officer, said in the release his Colorado-based organization will offer management expertise to the joint venture. Its energy affiliate, Great Western Oil & Gas Co., is a top 10 driller in Colorado, but the company is also involved in commercial real estate, railroad and port transportation and heath care technology.
Encana said its proceeds from divestitures in 2015 will total US$2.7 billion including the DJ Basin deal. It expects to have reduced its net debt in 2015 by $3 billion by year-end. In August, it announced a deal to sell its natural gas assets in Louisiana for US$850 million. [Emphasis added]
[Refer also to:
2015 09 10: New Oil and Gas Codes in the DJ Basin, Erie, Colorado town board approves new code for operators
The town of Erie, Colorado, passed a new code for in-town oil and gas operations, affecting major oil and gas companies like Anadarko (ticker: APC), Noble Energy (ticker: NE), Encana (ticker: ECA) and Synergy Resources Corp (ticker: SYRG).
The new code creates two types of review processes for companies looking to drill near Erie; one with stricter rules, but a faster permitting process, and a second that requires companies to meet state standards, but with a more arduous review process.
The first option restrictions against noise, and setback rules, that exceed the standards of the state of Colorado, but in exchange, Erie has agreed to streamline the permitting process for operators who voluntarily choose the stricter rules. The second option allows operators to meet standards based off state regulations, but will require public hearings and approval from the town's Planning Commission and Board of Trustees before the company is given final approval.
The measure passed by a vote of 6-to-7, with the one dissenting vote coming from Trustee Dan Woog, who said he would like more time to discuss the changes with the Colorado Oil & Gas Association (COGA). COGA Community Outreach Coordinator Anne Carto called some of the new options "unachievable" for oil and gas operators.
Mayor Pro Tem Mark Gruber said that a third option also exists, in which companies can create an operator agreement with the city of Erie, much like Encana did in August, reports The Denver Business Post. [Why does Encana refuse such mitigation in Alberta?]
As part of the operator agreement reached with ECA, the company agreed to hold neighborhood meetings prior to submitting state permits, observe noise regulations five decibels lower than state regulations and setbacks more than 1,000 feet from homes for eight pad sites in the agreement area, as well as to perform leak inspections exceeding state requirements.
2015: As unconventional ponzi scheme implodes, Are Encana's greedy law violations taking the company down?
2014 07 25: BJ Basin: Encana vows to fight Colorado offset vote, CEO Suttles says move to separate homes and wells is 'detrimental'
2014 05 07: Encana to double oil output with $3.1-billion Eagle Ford Texas purchase; Encana debt about $7.1-billion end 2013, 2.5 times its adjusted earnings before interest, taxes, depreciation, amortization [Why Encana's change in focus?]
… He revealed his new plan last November, announcing plans to focus on five plays in North American, down from about two dozen. Mr. Suttles declared the company's operations in the Montney in northeast British Columbia and northwest Alberta; the Duvernay in west central Alberta; the DJ Basin liquids play in Colorado; San Juan oil zone in northwest New Mexico; and the Tuscaloosa marine shale in Mississippi and Louisiana.
2014 06: Encana spends $3.1 Billion to enter Eagle Ford shale, but breaks 2006 written promise to provide necessary water to water well owners harmed by Encana's ultra shallow fracing
… In the US, the company is looking to accelerate efforts in the DJ Basin in Colorado, the San Juan Basin, and the Tuscaloosa Marine Shale.
2014 02 09: When drought occurs, fracking and farming collide
The move to tap petroleum-rich shale reserves in some of the country's driest regions, including Colorado, may be setting up a battle between oil and water. The water is needed for hydraulic fracturing….
… In Colorado, Ceres found that 97 percent of the wells are being drilled in highly or extremely highly water-stressed areas…. 
…
A vertical well in the DJ Basin uses about 350,000 gallons of frack water; a horizontal well uses about 10 times as much, according to industry data. "Hydraulic fracturing is happening in places that are already facing high competition for water," said Monika Freyman, senior manager of the Ceres water program. Steps are already being taken in Colorado to address the potential conflict, industry representatives and regulators say.
… "There are things being done to resolve the friction with this new water user," said Ken Carlson, head of the Center for Energy and Water Sustainability at Colorado State University. … "But there is no doubt there are some winners and losers in the DJ Basin," Carlson said.
The CSU center, which has received financial backing from the industry, is working with companies on the use and management of water and ways to increase recycling. In the gas-rich Piceance Basin, Encana Corp., one of the top operators, recycles 90 percent of the fluid and water from its wells, said company spokesman Doug Hock. But in the DJ Basin, Encana has not been able to achieve those rates because of geological and economic factors, Hock said. "Every basin is different, and in the DJ, where they are drilling for oil instead of gas and using heavy gels, recycling is harder," Carlson said. "Less than 10 percent of the water is being recycled."
… In Colorado, the DJ Basin on the Eastern Plains and the Piceance Basin on the Western Slope were areas of drilling activity and water stress.
2012: In Erie, DJ Basin, oil and gas companies to pay twice as much for water
2012: Encana Fracking operation in Erie, DJ Basin, begins near two elementary schools, wakes up neighborhood
2012: Erie DJ Basin to become ground zero of national movement against hydro-fracking
As opposition to hydraulic fracturing (fracking) escalates nation-wide, Erie Rising, a group of concerned parents in Erie, Colorado will convene on June 2 to protest the oil and gas behemoth Encana's plans to frack for natural gas near three local schools and a childcare center, and the state of Colorado's inadequate protection of its residents from the dangers of fracking. Americans from coast to coast, in rural, suburban and urban communities alike are increasingly affected by, and concerned about the effects of fracking on their health and vital resources. On June 2, the event in Erie will give voice to those immediately affected by fracking there, and to all Americans marred by the process, becoming ground zero for the national movement to expose the dangers associated with fracking. … Representatives from Erie Rising will read aloud a letter they sent to Encana asking them not to frack near these institutions. Why: An increasingly controversial form of energy extraction that often uses a cocktail of toxic chemicals, fracking has been linked to asthma, neurological problems and blackouts. Areas near fracking wells have also experienced water contamination and increased airborne pollution. A recent study by the University of Colorado's School of Public Health found that people living within half a mile of fracked wells have a 66 percent greater chance of developing cancer.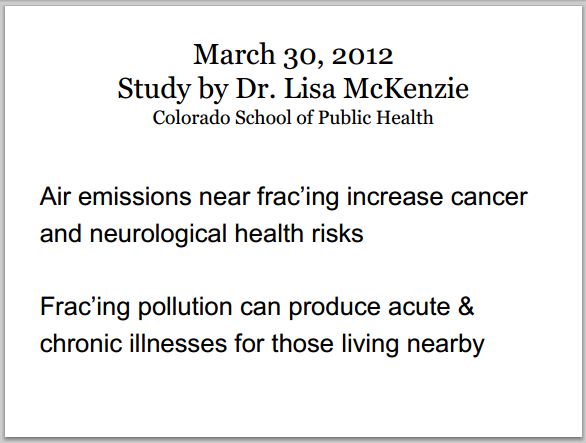 Slide from Ernst speaking events
2012: Erie trustees vote to draft emergency fracking moratorium
Fracking practices and impacts dominated the conversation in Erie in 2012
Rod Brueske silently protests outside the meeting room at Boulder County Courthouse in December.
1. Erie among first municipalities to pass fracking regs, unrest continues
In 2012, Erie was at the forefront of Colorado's geologic, economic, ecological and ethics debate surrounding the oil and gas industry practice of hydraulic fracturing, or fracking — through which oil and gas operators pump a water/sand/chemical mixture into the ground to loosen up subterranean deposits of gas.
In a highly charged vote in late August, the Erie Board of Trustees decided to let a six-month moratorium on new oil and gas operations expire while entering into agreements with energy producers that will place tough regulations on their operations.
Several Erie trustees hailed the agreements, known as memoranda of understanding, or MOUs, as the toughest rules yet to be placed on oil and gas operators anywhere in the country. The agreements, which involve Anadarko Petroleum Corp. and Encana Oil & Gas, passed 6-1.
… But dozens of residents packed Town Hall to plead with their elected leaders not to sign off on the agreements and to instead extend the moratorium until results come in from a Colorado Department of Public Health and Environment air quality monitoring study.
Trista Rucks, who lives in downtown Erie, said people are leaving town or choosing not to locate in Erie because of the oil and gas drilling.
"They don't want to be in the middle of frackland, and neither do I," she said. "I didn't move to Commerce City, I moved to Historic Downtown Erie."
The town clerk had to open an overflow room at Town Hall to accommodate the crowd, many of whom joined together in a boisterous anti-fracking rally and march before the meeting. Protesters held signs that read "MOUs are meaningless" and "No new permits for oil and gas."
A growing group of residents, led by activist group Erie Rising, has been urging the town's elected leaders all year to put a stop to gas extraction operations in Erie, claiming emissions from well sites are contaminating the air and causing health problems such as respiratory illness, bloody noses and asthma.
But Erie's trustees said repeatedly that they don't have the authority to permanently ban drilling because it is a state-regulated activity. Several trustees said the regulatory agreements are a great compromise that allows the town to control drilling without running afoul of state law.
The agreements outline conditions that Anadarko and Encana will have to meet when drilling in town.
… Public comment has been testy at times, with several residents saying they wouldn't stop fighting drilling in town.
"Even though we cannot stop you from letting the moratorium expire or signing these agreements, we're not going away," resident Jennifer French said.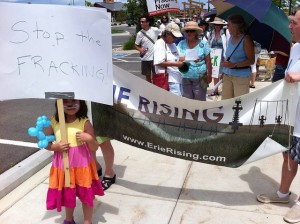 The Encana Corporation attempted to discredit Erie Rising's petition, which was signed by over 21,000 people….