Doctor Battles Gag Rule in Fracking Statute by Eleanor Smith, February 13, 2015, The National Trial Lawyers
A Luzerne County, Pennsylvania, kidney specialist has been involved in a three-year legal battle against a state law that prohibits him from sharing what he believes to be crucial treatment information to his patients.
In a case before the Third US Court of Appeals, Dr. Alfonso Rodriguez is challenging Act 13, the state's fracking law, which prohibits the disclosure of the chemicals and fluids used by natural gas-drilling companies in hydraulic fracking. The law allows for such a disclosure only to doctors who agree to sign a strict confidentiality agreement.
The Office of the Attorney General (OAG) is currently urging the appeals court to uphold the controversial Act 13 due to the prominence of natural gas thousands of feet below Philadelphia's surface. …
A "gag rule"
Uproar over the fracking act first arose immediately after its passage in February 2012, when the medical community began expressing concerns about what it deems a "gag rule." Their concern was met with assurances by state officials that the medical provisions of the law concerning confidentiality were designed to remove roadblocks rather than create them.
Rodriguez believes the law to be overly broad and a very vague restriction on free speech that will force him to violate ethical rules in treating his patients.
Rodriguez, who frequently treats patients harmed by exposure to the fluids used in the extraction of natural gas through the process known as hydraulic fracking. Under the act, these patients, who are frequently made incredibly sick by this exposure, cannot even discuss with their doctor the chemicals to which they have even been exposed. The most commonly affected patients Rodriguez sees are those who have been exposed to fluids in a blowout while completing well work.
Rodriguez's attorney, Paul Rossi, says, "He is the doctor fracking-fluid exposees go to." Rodriguez, concerned with the vagueness of the law, hired Rossi to draft a patient letter notifying them that "his ethical obligations to communicate with them may be curtailed" due to the implications of Act 13's medical provisions. Rossi has continued to represent Rodriguez in his suit against the Secretary of the Department of Environmental Protection (and a handful of other various state officials) since its filing in August, 2012.
No standing
Pennsylvania federal Judge A. Richard Caputo ruled in October 2013 that Rodriguez lacked the requisite standing necessary to challenge the state law. Said the judge:
"Plaintiff does not allege that he has been in a position where he was required to agree to any sort of confidentiality agreement under the act . . . Therefore, to the extent that plaintiff's alleged injury-in-fact is an inability to exercise his First Amendment rights, he has not yet indicated that he has been prevented from engaging in any sort of communication as a result of the act. Similarly, plaintiff has failed to indicate that he has been forced to waive any of his fundamental constitutional rights."
Rodriguez is primarily concerned about the alleged infringement of his First and 14th Amendment rights preventing him from sharing information about the contents of fracking fluids and chemicals with fellow medical colleagues, possibly causing delays in advances in the medical community regarding the treatment of this chemical exposure. The U.S. District Judge disagreed in dismissing his case, finding the damages alleged by Rodriguez were much too speculative to allow his case to proceed.
Agreeing with the state of Pennsylvania that the law had not prevented Rodriguez from providing the appropriate medical care to any of his patients, the court held Rodriguez lacked any injury-in-fact that could warrant standing in the case.
Rodriguez argued the state had no compelling interest in enacting a law protecting drilling companies from disclosing the contents of fluids used for fracking, has treated multiple workers following well blowouts in the region. One patient's symptoms included low platelets, anemia, rash and acute renal failure that required extensive hemodialysis and exposure to chemotherapeutic agents.
Attorney General's statement
The OAG, according to a statement made on Monday, January 5, 2015, believes the law correctly balances the needs of patients with the intellectual property concerns of the state's burgeoning gas drilling industry. According to the OAG's brief:
"[The law] does not restrict Dr. Rodriguez's right to free speech. …Rather, it simply requires oil and gas companies to provide medical providers with information involving trade secrets if the medical providers will sign a confidentiality agreement. This constitutes a proper balancing by the General Assembly of the intellectual property rights of a member of the oil and gas industry with the health and safety of individuals who may have been exposed to chemicals used in hydraulic fracturing."
Attacking once again the standing of Rodriguez to bring the lawsuit, the OAG argued, "The district court correctly determined that Dr. Rodriguez lacks standing because he cannot demonstrate that he has suffered an injury or that his alleged injury is traceable to the commonwealth of Pennsylvania or the attorney general."
While the law does not place any affirmative duty on doctors and allows the choice of doctors to enter into a confidentiality agreement that would then require drillers to share the fracking fluid information, Rodriguez continues to believe more is required to uphold his sworn professional duty to the medical community and his professional code of ethics. [Emphasis added]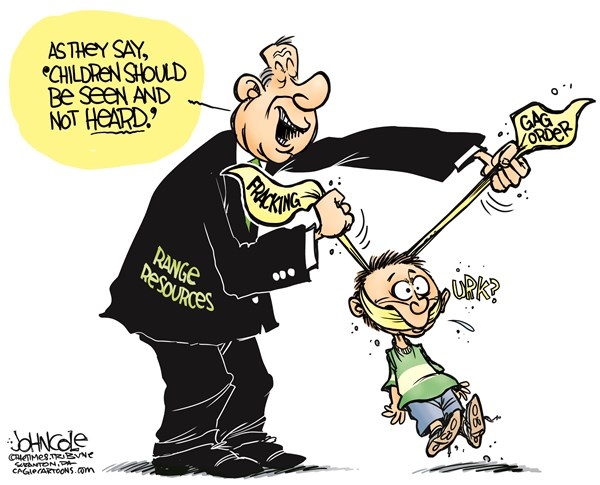 [Refer also to:
2014 12 17: New York State to ban fracking because of red flags to public health. Health Commissioner Howard Zucker: "Would I let my child play in a school field nearby? After looking at the plethora of reports, my answer would be no."
2014 12: State of Science on Harms by Fracking to Public Health and Water: Health Professionals, Scientists Release Analysis of 400 Peer-Reviewed Studies on Fracking along with Major Scientific Compendium Update
New Analysis and Science Answer Governor Cuomo's Concerns about Science: Studies Overwhelmingly Show Public Health Hazards and Risks
Anthony Ingraffea, PhD, Dwight C. Baum Professor of Engineering, Cornell University, said, "In 2008*, when New York State first declared a moratorium on fracking, only six peer-reviewed papers on the health and environmental impacts had been published. Now there are more than 400, and the vast majority show a clear and present danger. What's more, many problems are unfixable by regulations of any kind. It was a wise governor who said 'wait' in 2008*. And it is wise to continue to wait."
2014 10: Why was a 2012 Health Canada Report, admitting significant health hazards and risks to groundwater and air from hydraulic fracturing, kept from the public?
2014: Study: Toxic Chemicals, Carcinogens at Levels Far Exceeding Federal Limits Near Frac Sites, Will almost certainly lead to cancer increase in surrounding areas
2014: Only a frac ban will protect health, livability in Denton Texas; Frac regulations poison us, "There is no escaping the harmful chemicals. … We feel like prisoners in our own home."
2014: Fracking Injuries, deaths and dangers for workers and communities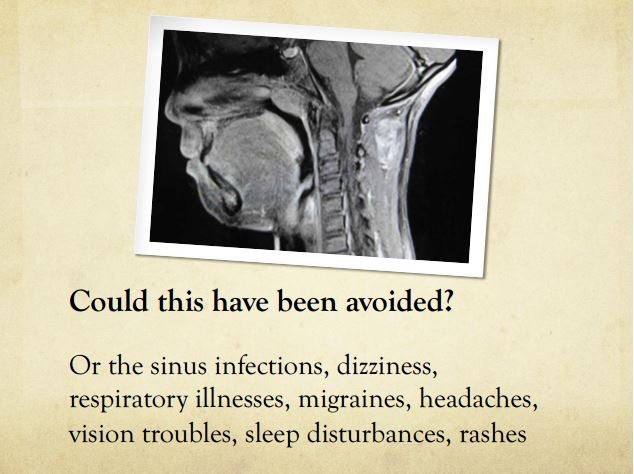 Slide from Diana Daunheimer presentations
2013: Encana's fracking fluid blows out nearby Parko Oil well in New Mexico, Encana promises to but does not pay the cleanup costs
2013: Drillers Silence Fracking Claims With Sealed Settlements
2013: Will Fracking Become the Next Mass Tort?
2013: Pennsylvania Supreme Court Says It's Unconstitutional For Gas Companies To Frack Wherever They Want; Act 13, Gas Industry Takeover Law thrown out by State's Highest Court
"By any responsible account," Chief Justice Castille wrote, "the exploitation of the Marcellus Shale Formation will produce a detrimental effect on the environment, on the people, their children, and the future generations, and potentially on the public purse, perhaps rivaling the environmental effects of coal extraction."
2013: Fracking giant Halliburton nixes North Carolina's chemical disclosure rule
2013: Northest Territories fracking water license allows for company to keep 'trade secrets'
2013: Researchers Find Cancer Risks Double When Two Carcinogens Present at 'Safe' Levels
2012: Doctors fight "gag orders" over fracking chemicals
2012: Fracking Moratorium Urged By U.S. Doctors Until Health Studies Conducted
2012: The Big Secret? Fracking Fluids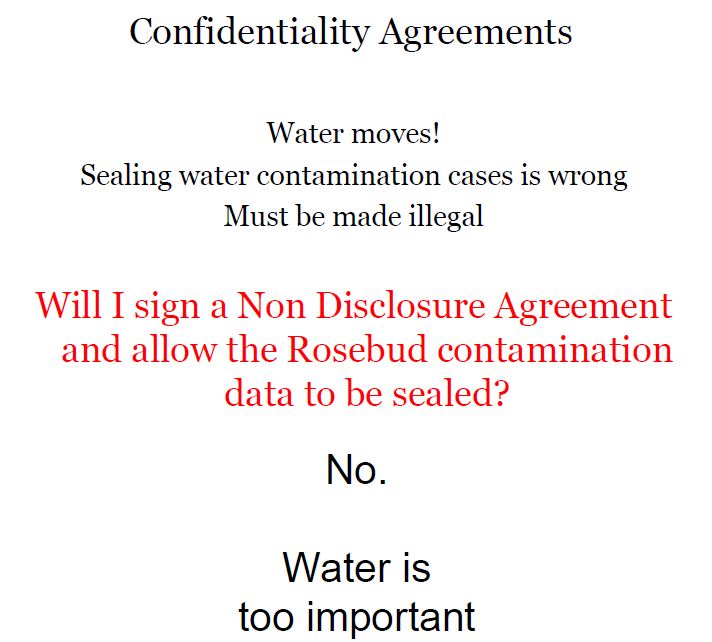 Slide above from Ernst presentations, 2011 and onward
2008: A Toxic Spew: The near death of emergency room nurse Cathy Behr
2007: Confidentiality Agreements, The Problem: Confidentiality agreements in lawsuit settlements can be harmful, even deadly, to the public ]