Gas company NAM is liable for Groningen earthquake victims' stress DutchNewsNL, March 1, 2017
Gas company NAM is responsible for the 'immaterial' damage suffered by people living in the Groningen earthquake zone as well as the actual damage to their homes, judges in Assen said on Wednesday. [Canada needs judges like this!]
The case was brought by 127 locals who say they have been subject to stress and anxiety because of the damage caused by the earthquakes. Thousands of homes in some parts of the province have been hit by subsidence as the ground settles following the extraction of natural gas.
Research last year found that only 60% of householders felt safe in their homes after they had suffered quake damage.
Lawyer Pieter Huitema said after the verdict that he would now be claiming financial compensation at a follow-up case. 'It could range from €3,000 to €30,000 per person,' he said. 'Experts will take a look.' NAM, a joint venture between Shell and ExxonMobil, has already been held responsible for paying for the physical damage to property.
A condemned and shored-up cafe. Photo: Graham Dockery
Dutch Quakes Rattle Exxon, Shell by Sarah Kent, June 26, 2017, Wall Street Journal
Big gas field is causing tremors, exposing energy firms to criminal probe and rising bills
GRONINGEN, The Netherlands — For decades, the giant Groningen gas field beneath the flat, green farmland in the north of this country counted among the greatest prizes for Exxon Mobil Corp. and Royal Dutch Shell PLC.
Then the earthquakes started.
The exploitation of Groningen — the biggest gas field in Europe — has been causing tremors for over two decades, rattling a bucolic province with no previous history of quakes and exposing two of the world's biggest energy companies to a criminal probe and rising reconstruction bills.
Amid a public outcry, the Dutch government has imposed increasingly strict limits that have more than halved Groningen's gas production since 2013. Now, authorities are proposing another 10% cut in hopes of further reducing earthquakes.
And a Dutch public prosecutor is preparing to open a criminal investigation into responsibility for the earthquakes.
Shell and Exxon are pushing back through their joint venture, Nederlandse Aardolie Maatschappij BV or NAM. The venture says cutting output even more is "out of proportion and not effective," and would create uncertainty [that's what oil companies say everywhere, when their billions in profits might be even just slightly reduced] about the legal framework for its operations. It warns that continuous changes to the production level may ultimately threaten the business's profitability.
NAM said it is considering formally contesting the government's decision.
It also expressed surprise at the Dutch court order to the prosecutor to open a criminal investigation this year, since the authorities had previously found no grounds for such action. The state will take a decision on whether to prosecute once the investigation is complete.
[When will Alberta have the guts and integrity to press criminal charges against Encana for illegally fracturing Rosebud's drinking water aquifers and endless other law violating polluters in the province?]
Groningen was expected to be one of the world's largest gas producers for decades to come. Last year, it made up almost 10% of both Exxon and Shell's total gas production globally and its reserves are among the companies' largest undeveloped resources. [Perhaps greed is causing the quakes? Too much extraction too quickly?]
Moreover, the field's profits have been lucrative for the Dutch government, which not only collects taxes from NAM but is also a 40% stakeholder in the field. Since production began, the field has generated almost EUR300 billion ($335 billion) for Dutch coffers.
Exxon named restrictions on Groningen as a factor contributing to a nearly 4% decline last year in its global natural-gas output. Shell said Groningen issues were largely responsible for a decline of 636 billion cubic feet in proven reserve estimates for its European joint ventures, equivalent to nearly 2% of the company's total gas reserves at the end of 2016.
Under the current arrangement,

the government bears 64% of the costs related to compensation to residents, efforts to reinforce buildings, lawsuits and other items.
It isn't the first time seismic activity has caused controversy in the energy industry. A U.S. debate has raged for years over whether water injection related to drilling has caused earthquakes in Oklahoma and Texas. Earthquakes like the ones in Groningen are less known and less understood.
Groningen's quakes were first officially linked to gas production in the 1990s, nearly 30 years after work on the field began. Decades of production have caused pressure in the porous ground containing the gas-bearing reservoir to decrease, according to the Shell-Exxon venture and the Dutch government. That increased the stress on natural faults, resulting in the earthquakes, the company and government say.
The tremors have caused widespread damage, though no deaths, in a province of nearly 600,000 people.
A large majority of the temblors registered low magnitudes of

between 1.5 and 2,

and early on NAM dismissed them as little more than a nuisance. But the public and authorities snapped to attention in 2012, when an earthquake of magnitude 3.6 rippled through Groningen province.
[In Alberta, the AER doesn't even require any action by companies causing quakes of 4.0M or less!]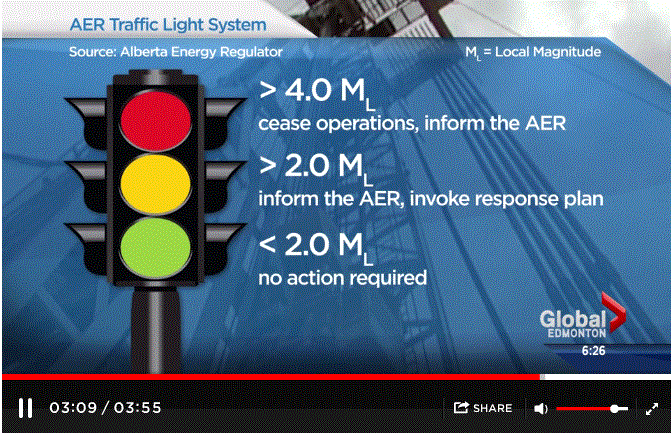 The region's homes and infrastructure, built on flat land, weren't designed to withstand even such low seismic instability. The tremors occur where Groningen's gas lies — just under 2 miles below ground level. That relatively shallow depth, and more significantly the soft, clay-like topsoil in much of the region, make for stronger ground movements than expected from earthquakes of such magnitude, according to the Netherlands State Supervision of Mines, which regulates gas extraction.
"The impact on the houses and streets is a split second. There are no rocks in between," said Hans Alders, a Dutch government official appointed to oversee efforts to strengthen and repair the province's buildings and infrastructure.
In a 2015 report, the Dutch Safety Board said NAM and the country's Ministry of Economic Affairs failed to "act with due care for citizen safety" and didn't adequately research the risks posed by earthquakes.
The government said it has recognized that mistakes have been made and has implemented the report's recommendations.
NAM hasn't disputed the findings and has made several public apologies. It has acknowledged liability for earthquake-related damage and paid out hundreds of thousands of euros in compensation, poured millions more into a fund to stimulate the region's flagging economy and put aside more than EUR1 billion, mostly for a program to strengthen and repair buildings in the area. The bill is expected to grow.
NAM said while it would meet all its liabilities, it isn't possible to predict the exact costs of strengthening and repair in the years ahead.
The gas company could also be on the hook for nearly EUR8 billion to fully compensate residents throughout the region for losses to property value and psychological damage, said Pieter Huitema, a Groningen lawyer who brought two successful civil suits on those issues.
NAM is appealing both lawsuits and said all numbers relating to the size of potential liabilities are unsubstantiated. The company said it already has a system to compensate residents for lower property values and needs more clarification on how to establish psychological damages. [NAM = NASTY!]
Both Shell and Exxon said they are confident NAM could produce gas safely. "Safety is, and always has been, our primary focus," Exxon said in an email.
The earthquakes have unexpectedly persisted — albeit at a lower level — despite the Dutch restrictions on Groningen output. That unpredictability

, and a belief that NAM failed to present an adequate plan to mitigate it, prompted the Dutch regulator to recommend the further output reduction earlier this year.

Jelle van der Knoop, president of the residents' association Groninger Bodem Beweging, said many residents want gas production to end altogether.

"The sooner they stop, the sooner there will be no earthquakes," Mr. van der Knoop said. [Emphasis added]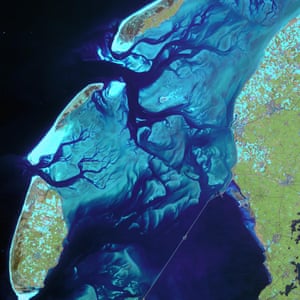 The world's largest unbroken intertidal system of sand and mud flats could sink beneath the waves by the end of the century due to sea level rise and subsidence caused by gas drills funded by Barclays and other international banks.
The Unesco world heritage site at the Wadden Sea on the Dutch coast stretches over 10,000 sq km. Its saltmarshes, sandy shoals, dunes and mussel beds host millions of migratory birds every year, as well as thousands of basking seals.
But the storm-weathered Frisian coastline may be living on borrowed time. One report this month predicted that it would be submerged by 2100 if current global warming trends and planned gas extractions continue.
"It is more likely that the area will drown than that it will survive," said Rolf Schuttenhelm, the paper's author. "The equation is quite simple. If sea level rise and subsidence combined are larger than the maximum speed of sedimentation – and they are – then with time, the drowning of the tidal system becomes inevitable."
Geese, oystercatchers, spoonbills, pelicans and flamingoes would lose their havens if the flats disappeared. The loss would also sound a death knell for communities which have lived for millennia behind the dykes that dot the Friesland coast.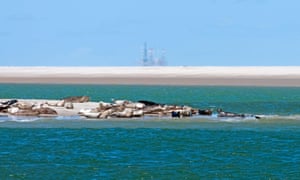 Natural subsidence and gas drills are depressing the Frisian territory, which is mostly below sea level. The North Sea is also rising by 1.8mm a year, a rate likely to accelerate as climate change takes hold.
NAM, a Shell-Exxon partnership, plans to start a gas drilling operation next year and three other wells could soon follow

. Local people from 14 villages have formed a movement to resist them.
"It's all about money," said Willem Schoorstra, an award-winning Frisian novelist from the group. "We had one talk with NAM and they constantly repeated that they would help us make the clean energy transition. But it's crap. We don't buy it. They only want to invest in it when they are drilling. They hold on to their old ways and destroy everything for the sake of money."
Beneath such talk is an attachment to the low-lying, ancient ground on which Romans, Vikings and Franks have trodden.
"It's the quietness, the view, the smell," says Schoorstra, "the birds, the starry skies, the little whispers from the cockles, mudworms and mussels. You can go there twice and the whole landscape has changed. It is where the kids have their first love affairs."
The Wadden Sea tide ebbs and flows twice a day, bringing sand, silt and nutrients which blanket the mud flats in algae. This holds the sand banks together and provides food for the shellfish and smaller creatures that feed the birds and make the ecosystem's life cycle turn.
Johan Rispens, a local shrimp fisher, asks:
"What will happen to our dykes when they drill for gas under the Wadden Sea? Will they crack? Will there be earthquakes? Why is it even necessary to take the gas from under the sea?"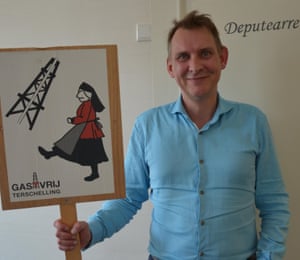 Campaigners say some local house prices have fallen by as much as €50,000 (£44,000) each in the last five years due to fears of subsidence and the drilling-related earthquakes that have damaged an estimated 100,000 homes in neighbouring Groningen province.
Michiel Schrier, the Socialist governor of Friesland's provincial capital Leeuwarden, says: "After the earthquakes in Groningen, people woke up and now every time a contractor wants to take gas from the ground, the communities are revolting and coming together in protest. These movements are getting bigger."
Gas has been drilled on Ameland island off the Wadden Sea coast since 2006, and Schrier has himself taken part in many of the anti-drill demonstrations.
NAM argues that it can contain subsidence by keeping "a hand on the tap" – to turn their operations off if geological monitoring shows cavities appearing which might not be filled by sedimentation. [Would be too late by then]
But the geological processes at work can take years to become apparent, and NAM's technical blueprint was dismissed by the government's mines supervisory board last week for a second time. NAM now has until November to address their report's shortcomings, after which it could face fines of €500,000 a week. [Why are Alberta, Saskatchewan, and BC so incredibly stupid and do not fine oil and gas and mining companies when they break the law and or cause damages?]
"We need a proper study and that's what is not happening at the moment," said Wouter Van der Zee, the manager of the mines supervision board. "The predicted amount of subsidence and the uncertainty band were just unrealistic."
If Shell does not correct inadequacies in its methodology, "we may have to advise our minister to reassess the gas production [plans] under the Wadden Sea," Van der Zee said.
Jeroen Jansen, a senior ecologist for Shell and NAM stressed that boreholes would be drilled from just outside the world heritage site to extract gas from the 200 billion cubic metre field that is directly underneath the mudflats.
The drill was needed "so we can secure a safe, reliable and affordable energy supply in the future," he said. "We are aware that the Wadden Sea is of high ecological value. If there would be a risk [of collapse], we would not do it." [Does NAM have any credibility anymore after what it's been doing in Groningen?]
Subsidence of 1mm a year under the flats and 3-4mm a year under the salt marshes had taken place since 2006, he said, as a result of the 25 wells drilled in the Wadden Sea area since 1985.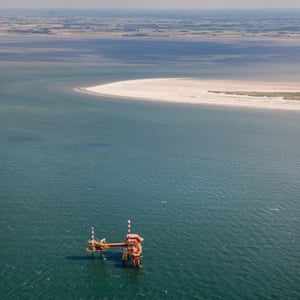 A spokesman for the Dutch government said: "In the transition period towards a fossil fuel-free society, natural gas still has an important role to play. Whether we will eventually extract gas from the Wadden Sea is a different matter. We are still in the midst of a review procedure."
Gas is seen in the Netherlands as a bridging fuel to a low-carbon future, because it emits just over half as much CO2 as coal. [Not true] This is still 18 times higher than concentrated solar power and 40 times higher than onshore wind.
In Friesland, the widespread suspicion is that their government listens most attentively when money talks. "The Netherlands is a small country but we are very far from the Hague," Schrier said. "They have a contract to deliver gas to other countries and it's a big income for them."
The issue reached boardroom level earlier this year when Rabobank announced an embargo on new finance for gas exploitation under the Wadden Sea. The bank is a major mortgage provider in the area. ING and ABN Amro, two other major Dutch banks, quickly followed their lead.
However, campaigners say that Barclays, Royal Bank of Canada and the ABP and Delta Lloyd pension funds are still keeping their investment options open.
Candice Macdonald, a spokeswoman for Barclays, said that day-to-day interaction with one of the drilling firms, Tulip Oil, was now being undertaken by Global Natural Resources Investments (GNRI) after a management buy-out of the bank's natural resources equity office.
"Barclays retains a minority [30%] stake in Tulip," Macdonald said. "Tulip has ceased all development activities on the Wadden Sea project and has no intention to restart at the current time."
GNRI did not respond to calls for clarification but the firm's environmental policy says that they will not back projects that break local laws. In a report on the financing of the gas projects, Barclays did not rule out work on the project resuming, subject to a "clarification of the Dutch mining law".
Back at the Wadden Sea, Renate de Backere, a world heritage site guide surveys the remote muddy wilderness and sighs when asked about the inevitability of subsidence.
"It's a naturally occurring process but now we humans have created a situation where it's hardly in control anymore," she said. "The Wadden Sea is in danger because if there are no mudflats anymore, there will be no places for the seals to rest, the birds will not be able to access food any more, and the ecosystem will become a sea." [Emphasis added]
Rabobank is against shale gas extraction by Kees de Peace, July 1, 2013, Trouw
Rabobank refuse to lend to businesses that deal with the extraction of shale gas money.Even farmers who lease their land to energy companies with the intention of shale gas out of the ground, do not get loans from the bank. … Here and there by negligence and badly beaten wells question of pollution of soil and water. Thereby colliding gas interests and agricultural interests increasingly with each other.
Rabobank is the largest agricultural lender.  The bank considers the production of what it calls "unconventional fuels" such as oil from tar sands and shale gas from deep bedrock, as polluting and do not contribute to it. A spokeswoman for the office of Rabobank in Utrecht confirms this arrangement. Which is based on the 'Position paper on oil and gas activities' that the bank has recently issued. … The position of Rabobank applies worldwide, says the spokesperson, but is mainly used in practice in the U.S..
NETHERLANDS:'Rabobank turns against shale gas' by Presseurop, July 1, 2013, Trouw
The country's largest bank is refusing to lend to companies that wish to invest in shale gas. The Amsterdam daily reports that Rabobank "does not want to contribute to energy which it believes to be polluting," and has said as much in a recent position paper on its business and sustainable development. For the moment, this decision will mainly have an impact on the bank's operations in the US, where Rabobank is the leading lender to farmers, and where the drive to develop shale gas is such that it has been called "a second gold rush". [Emphasis added]