Fracker's Legal Defense: "We're Not Frackers" by Chip Northrup, September 20, 2013, Shale Shock Media
"We're stimulators" – according to Encana, who is being sued by my pal Jessica Ernst, Canadian Fractavist Folk Hero. In their nano-pleading, Encana denies that they fracked the well that contaminated her water – they use the industry euphemism for it – "they stimulated the gas well" that contaminated her water.  As soon as I read that I started laughing, then started typing . . .
If the First Rule of Frack Club is to not talk about Frack Club, the 2nd rule is to deny you're a fracker. When someone takes them to court for fracking their water supply – say they're "stimulators" It sounds better.
It doesn't matter what they frack the well with –  water, Napalm, a Nuclear Bomb, or air  – when the well bore leaks, it can contaminate ground water. Even in Canada, eh ?
It also doesn't matter whether they fracked coal bed methane or shale for gas – when the well bore leaks, it contaminates groundwater. Even in fracking Canada.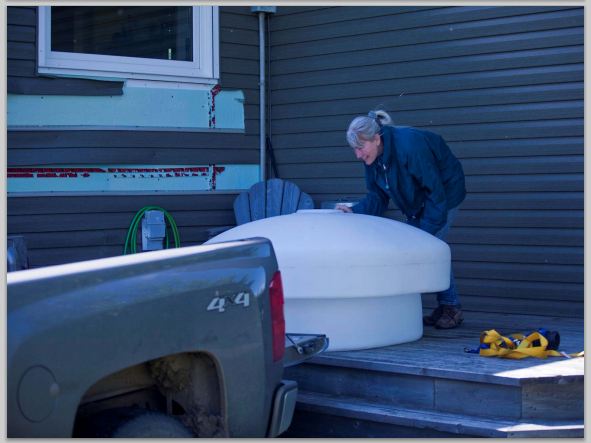 2013, Jessica still living without safe water: trying to load the water tank. Hard and heavy work for one person.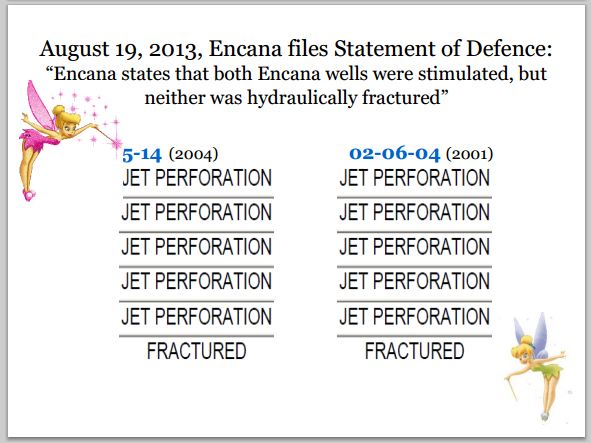 Data in the above slides snapped directly from Encana's data on file with the energy regulator (previously EUB, name changed to ERCB after the EUB was caught breaking the law and spying on innocent Albertans, name recently changed again to AER)
Encana Files Defence in Lawsuit with Fracking Folk Hero, Landmark case could change how shale gas industry is regulated in Canada by Andrew Nikiforuk, September 20, 2013, The Tyee.ca
Dernières nouvelles de la poursuite de Jessica Ernst French Translation of Andrew Nikiforuk's article by Amie du Richelieu, September 20, 2013